PSA: Bingeclock Tells You How Long It Takes To Binge Every Show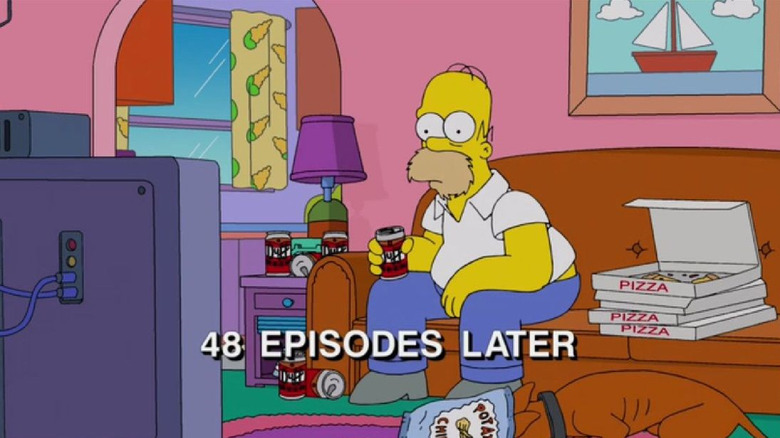 20th Television
This pandemic ain't' over, friends. Because the U.S. of A. can't act right, we're going to be stuck at home for far longer than our neighbors across the oceans. However, it's not all bad. For the past year, folks have been tuning into their streaming services and their physical media collections more and more, now that there's time to finally take the wrapping off that box set, and we've got the perfect tool to plan your next binge.
Most of the streaming services available offer complete series run of the TV shows we grew up on and the ones we may have missed out on during their original run periods. HBO Max touts its original shows like "The Sopranos," "The Wire," and "Game of Thrones," as well as the currently-running limited series "The White Lotus," while Hulu has nearly every trashy reality show you can imagine. Netflix will be rolling out the welcome mat for iconic 90s sitcom "Seinfeld" in early October, and "Stranger Things" remains available just in time for spooky season. The horror-focused service Shudder boasts "Creepshow," a series revival of the 1982 George A. Romero classic, each episode helmed by a different filmmaker. 
But many of these shows tend to stay in our watchlists for a while, don't they? It's easier to simply pick a 90 minute movie rather than commit to 3+ seasons; it could be quite the time sink, even if you're just revisiting the show. Wouldn't it be convenient to know just how long it would take to get through a show before you press play? We've got you covered. 
Bingeclock is a fantastic resource for boob tube watchers. The website's premise is simple: plug in the show's title, and Bingeclock will calculate how long it takes to marathon every single episode, watched back to back. The future is now.
Just One More Episode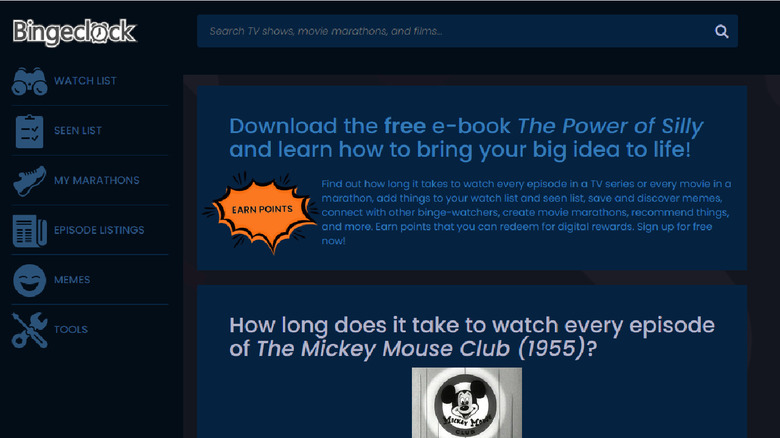 Bingeclock
The calculator is free to use, and you'll find it at the top of the page as soon as the site loads. Their calculations update whenever any new episode airs, keeping your time management as a priority even with currently-running shows. There is also an option to figure how long it takes to watch specific seasons, if you (like me) bailed on "The Walking Dead" after Glenn took a Louisville Slugger to the dome or if you can't stand to see your favorite outlaw biker get the same treatment again in "Sons of Anarchy." 
Though the site started for television, its visitors can now plot out their movie marathons as well; the "Star Wars" and "The Matrix" (perhaps in anticipation of the upcoming sequel) franchises are both trending in the marathon section as of this writing.
For those who sign up for a free account, however, bonus features await. Bingeclock members can create watchlists and track what they've seen, earning points along the way to purchase digital icons like a popcorn bucket, a VHS tape, and a lil' 35mm film reel for your profile (if there's one thing cinephiles love, it's bragging about how much they watch). 
When you finish up a show, just hit up the Bingeidea suggestion engine and let the algorithm lead the way for your next viewing experience. The Premiere Anniversary Calendar allows you to time your marathon in sync with a show's premiere anniversary date, and if you're feeling lucky, the Random Episode Generator will roll the dice on your behalf and pick an episode of your comfort show, "So you don't have to!" So order some takeout (tip your delivery driver!), grab the good blanket, and settle in. Because now prime time is all the time.