The Wheel Of Time And The Witcher Images Are All About Wooing Game Of Thrones Fans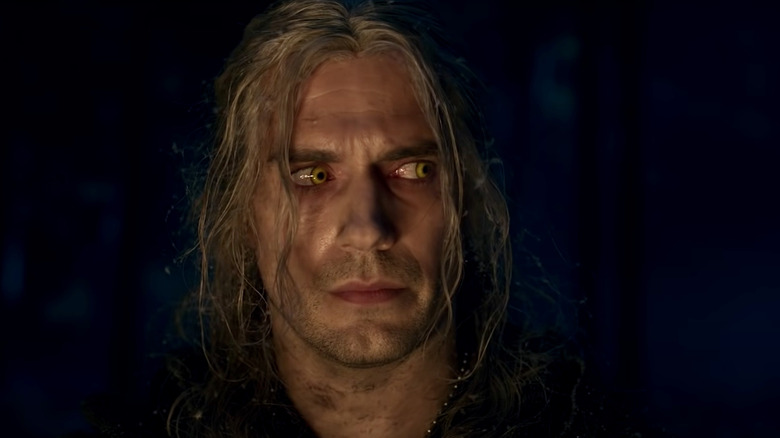 Netflix
If you're going through fantasy withdrawals, have no fear: "The Wheel of Time" and "The Witcher" are here to transport you to other realms, where swordplay and magic are on tap.
Since "Game of Thrones" went off the air in 2019, there's been a sizable gap to fill in terms of prestige fantasy dramas. HBO will attempt to fill that gap itself with the prequel, "House of the Dragon," but that series won't arrive until next year.
In the meantime, there are shows like "The Wheel of Time," starring Rosamund Pike, and "The Witcher," starring Henry Cavill. "The Wheel of Time" is making its series premiere on Amazon Prime Video in November, and "The Witcher" will return for a second season on Netflix in December. So you'll be able to stream both of these series before the end of 2021.
In its fall TV preview, Entertainment Weekly debuted a new promo image for each series. First up is "The Wheel of Time," where you can see Pike and her co-star, Daniel Henney, standing outside what looks like a burned cottage:
If you don't have time to go back and read all fifteen books in Robert Jordan's "The Wheel of Time" series, you could just try keeping up with this show from day one. According to EW, Pike plays "Moiraine, a member of the female-only mystic order called the Aes Sedai who must save three young village men ... from dark forces. She knows one of them is the long-prophesied messiah known as the Dragon; she's just not sure which one."
Get Your Fantasy Fix with Rosamund Pike and Henry Cavill
In "The Witcher," Cavill returns as the sword-wielding Geralt, as you can see above. "The Witcher" is also based on a series of six novels by Andrzej Sapkowski. Since we probably can't expect to see George R.R. Martin wrap up his "Song of Fire and Ice" book series anytime soon, you could always check out these novels if you're strapped for fantasy reading. Six books seems a little more manageable than fifteen. (I say that as someone who only has time for audiobooks recently).
We saw a trailer for "The Witcher" season 2 back in July, and it made it look like the lynchpin of this season will be the relationship between Geralt and his surrogate daughter, the so-called Child of Surprise, Ciri (Freya Allan). With their platinum hair, they could both pass for Targaryens.
Cavill had this to say about how watching over Ciri affects Geralt:
"While he hasn't necessarily been someone who craved children, he does take quite naturally to being a protector. What I'm trying to do is bring [out] more of that intellectual, philosophical, wise Geralt. But that doesn't preclude classic, grumpy Geralt — he's still in there."
"The Wheel of Time" premieres on Amazon Prime Video on Friday, November 19, 2021. "The Witcher" season 2 hits Netflix four weeks later, on Friday, December 17, 2021.