Star Wars Bits: The Mandalorian, Star Wars: Hunters, George Lucas Docuseries, Tom Kane, Star Wars: Visions, And More!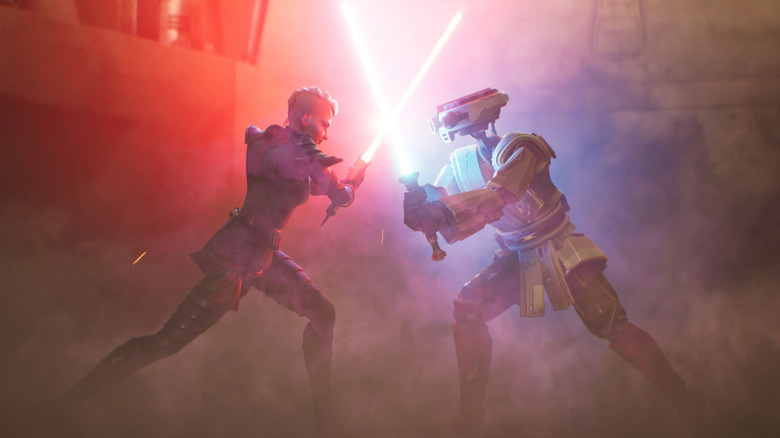 Lucasfilm
In this edition of Star Wars Bits:
"The Mandalorian" season 2 wins seven Emmy Awards
A new "Star Wars: Hunters" trailer debuts
An in-depth preview of "Star Wars: Visions"
A six-part Docuseries on George Lucas & ILM?
Marvel's upcoming "Star Wars" comics
And more!
The Mandalorian Season 2 Wins Seven Emmy Awards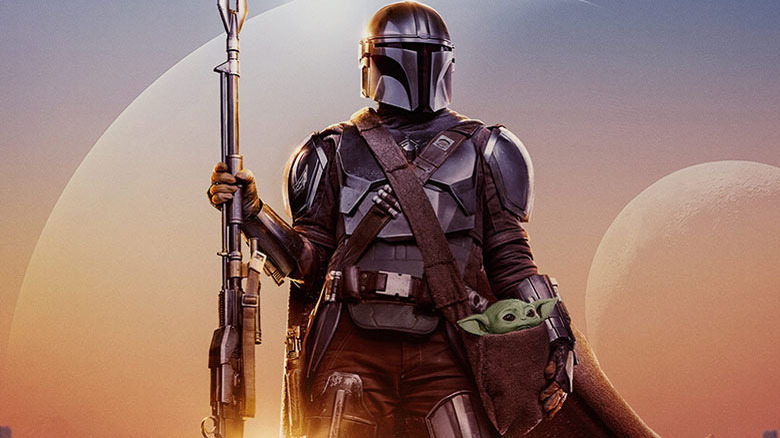 Lucasfilm
Last weekend, season 2 of "The Mandalorian" was honored with seven Creative Arts Emmy Awards: 
Outstanding Prosthetic Makeup (to Brian Sipe, Alexei Dmitriew, Samantha Ward, Scott Stoddard, Pepe Mora, Cale Thomas, Carlton Coleman, and Scott Patton); Outstanding Cinematography For A Single-Camera Series (Half-Hour), to Matthew Jensen for "Chapter 15: The Believer"; Outstanding Sound Mixing For A Comedy Or Drama Series (One Hour), to Bonnie Wild and Shawn Holden for "Chapter 13: The Jedi"; Outstanding Music Composition For A Series (Original Dramatic Score), to Ludwig Göransson for "Chapter 16: The Rescue"; Outstanding Special Visual Effects In A Season Or A Movie (to Joe Bauer, Richard Bluff, Abbigail Keller, Hal Hickel, Roy K. Cancino, John Knoll, Enrico Damm, John Rosengrant, and Joseph Kasparian); and Outstanding Stunt Coordination to Ryan Watson.
Season 2 of the Disney+ Original Series has received a total of 24 nominations, including Outstanding Drama Series, Outstanding Supporting Actor in a Drama Series (Giancarlo Esposito), and Outstanding Directing for a Drama Series (Jon Favreau, "Chapter 9: The Marshal"), among others. To see what other awards "The Mandalorian" brings home, check out the 73rd Emmy Awards when they air Sunday, September 19, on CBS and Paramount+.
A New Star Wars: Hunters Trailer Debuts
An all-new cinematic trailer for "Star Wars: Hunters" has been released. The trailer, which you can watch above, introduces us to some of the characters we'll encounter in the upcoming competitive combat game, including the dark side warrior Rieve, the Mandalorian Aran Tal, and the Wookiee Grozz.  Here's the synopsis:

"Set after the fall of the Galactic Empire, "Star Wars: Hunters" will connect players in real time to battle in arena settings inspired by iconic Star Wars locales. Compete as daring bounty hunters, heroes of the Rebellion and hold-outs of the fallen Empire in an action game that immerses you in fast-paced and visually stunning Star Wars conflict."
From Zynga and Lucasfilm Games, "Star Wars: Hunters" will be available free to download for the Nintendo Switch, on the App Store and on Google Play in 2022.
An In-Depth Preview of Star Wars: Visions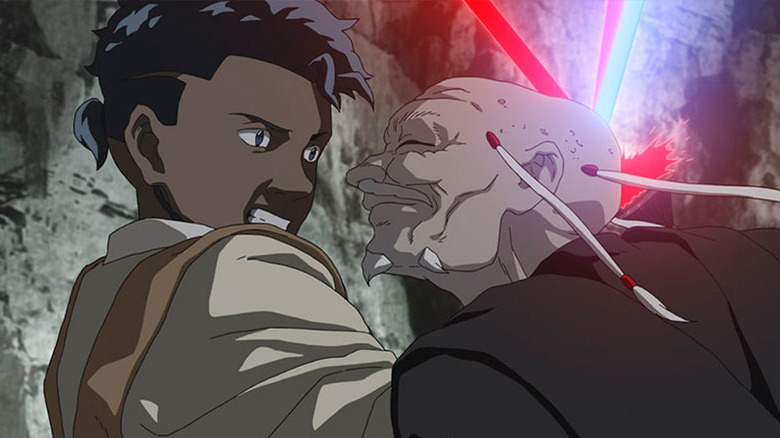 Lucasfilm
"Star Wars: Visions" arrives September 22, exclusively on Disney+, and you should be very, very excited. To get ready for the anime-inspired anthology series, StarWars.com has a fantastic series of articles introducing fans to the heroes, villains, droids, and ships of the series. Here are some of my favorites!
Sith Bandit Leader, "The Duel"
An homage to the Japanese tradition of female samurai warriors of feudal Japan called "Onna-Musha," the Sith Bandit Leader from "The Duel" is "a cool and cunning assassin reminiscent of the famous female warrior from Japanese cinema in the '70s, Lady Snowblood," Leach says.
F, "The Village Bride"
"From her cloak, to her mask, to her one letter name, F is mysterious, hidden, cautious due to a great tragedy in her past," Rimes says. "Despite her Jedi heroics in an earlier time, she is really much more of an observer here as she takes in an unfamiliar world and village and must decide: will she step back into her old Jedi life and reveal herself?"
TD-4, "Lop and Ochō"
Accompanying Lop on her journey in Geno Studio's "Lop and Ochō" is TD-4, a droid that Shirasaki thinks will capture fans' hearts. "TD-4 is more like a loyal dog to Lop — always by her side," she says.
The studios creating the nine shorts include Kamikaze Douga – "The Duel"; Geno Studio (Twin Engine) – "Lop and Och?"; Studio Colorido (Twin Engine) – "Tatooine Rhapsody"; TRIGGER – "The Twins" and "The Elder"; Kinema Citrus – "The Village Bride"; Science Saru – "Akakiri" and "T0-B1"; and Production I.G. – "The Ninth Jedi."
A Six-Part Docuseries on George Lucas & ILM?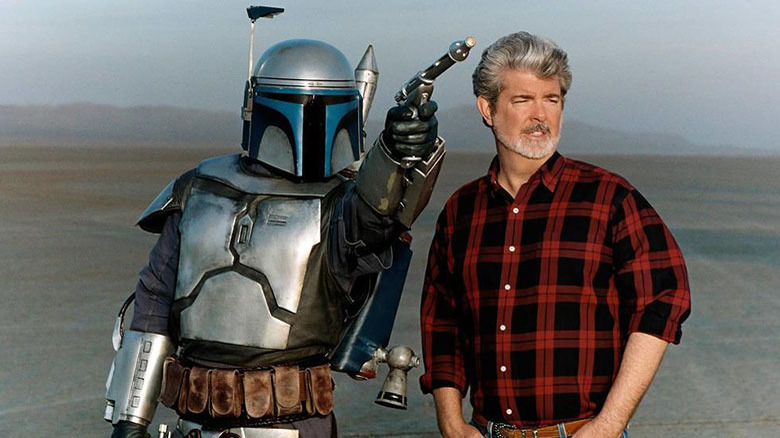 Lucasfilm
Apparently, longtime Lucasfilm contributor and screenwriter Lawrence Kasdan ("The Empire Strikes Back," "Raiders of the Lost Ark," "Return of the Jedi," "Star Wars: The Force Awakens," and "Solo: A Star Wars Story") will be directing a six-episode docuseries about George Lucas and Industrial Light and Magic (ILM).
Speaking on Score: The Podcast, composer James Newton Howard revealed that he's finished scoring the series:
"My friend Larry Kasdan is directing a six-part documentary on George Lucas and ILM, which is amazing... I've scored it, pretty much. It's in the box."
As a massive fan of all the "Star Wars" documentaries over the years, most notably "Empire of Dreams: The Story of the Star Wars Trilogy," I'm very excited about the prospect of a new docuseries devoted to "The Maker" by one of greatest collaborators. There's no release date for the untitled project — nor has it been confirmed by Lucasfilm — but it's likely that the series will debut on Disney+ at some point in the future. We'll keep you posted as more information becomes available!
The Art of Star Wars: The Mandalorian Season 2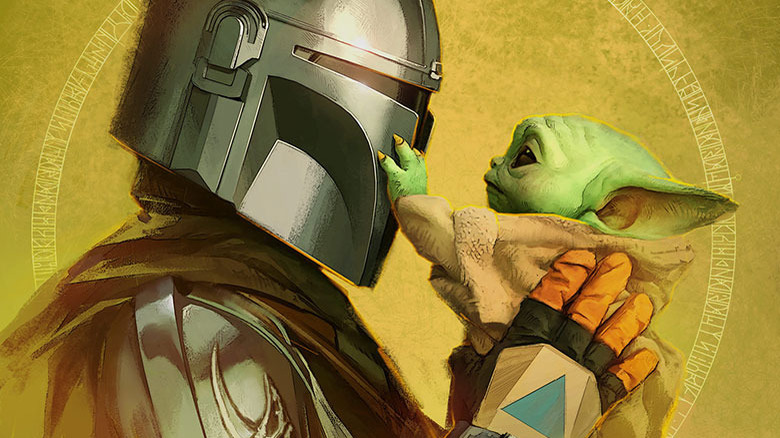 Speaking of exciting behind-the-scenes projects, Lucasfilm and Abrams recently announced that "The Art of Star Wars: The Mandalorian Season 2" is hitting store shelves in time for the holidays. Written by Lucasfilm's Phil Szostak, the hardcover book arrives December 14 and comes filled with concept art, character, vehicle, weapon, and creature designs, as well as interviews with key crew and creatives, including Jon Favreau and Dave Filoni. It also features a beautiful cover by the legendary Doug Chiang, created exclusively for this release.
"The Art of Star Wars: The Mandalorian Season 2" is available for pre-order now. 
Marvel's Upcoming Star Wars Comics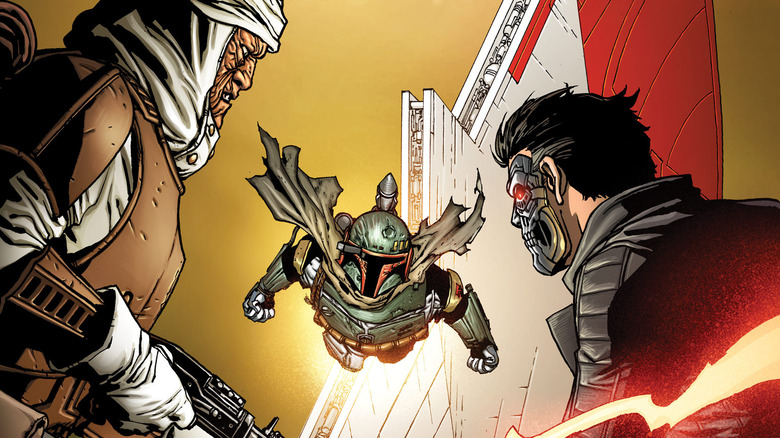 Lucasfilm
Marvel's epic "War of the Bounty Hunters" crossover event continues with "Star Wars: Bounty Hunters" #16, from writer Ethan Sacks and artist Paolo Villanelli, with a cover by Giuseppe Camuncoli. StarWars.com has an exclusive preview of the upcoming issue, which features Dengar and Beilert Valance facing off against Boba Fett! 
From writer Charles Soule and artist Steven Cummings, "Star Wars: Crimson Reign" #1 will kick off the middle chapter of a trilogy that started with "War of the Bounty Hunters," continuing the story of Qi'ra and the Crimson Dawn crime syndicate. Here's the synopsis:
The story that began with "War of the Bounty Hunters" continues here, in the second installment of a trilogy that will reshape the history of the Star Wars Galaxy during the Age of Rebellion. Featuring the return of beloved characters, shocking twists, epic feats of the Force and a story that will reach from Star Wars' darkest underworld all the way to the Imperial palace on Coruscant, "Crimson Reign" is a Star Wars saga like no other!
You can check out several covers from the upcoming issue at StarWars.com, as well as preview all the Marvel "Star Wars" titles coming in December, including "Star Wars: The High Republic: Trail of Shadows" #3, "Star Wars: The High Republic" #12, "Star Wars" #20, "Star Wars: Doctor Aphra" #17, "Star Wars: Bounty Hunters" #19, and "Star Wars: Darth Vader" #19.
Star Wars Voice Actor Tom Kane Retires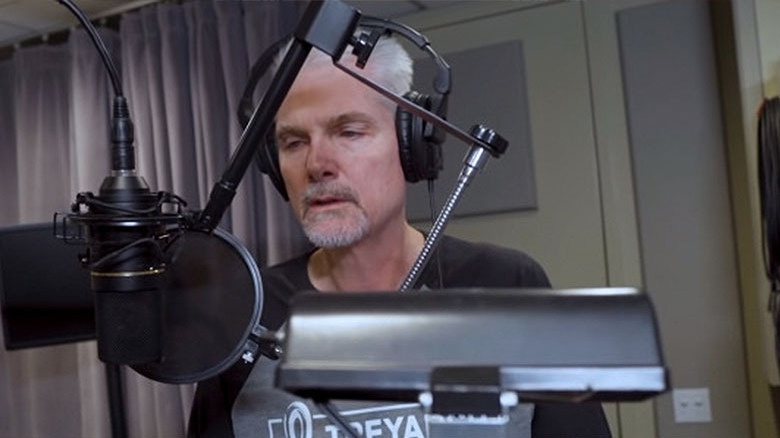 In a post by his family, voice actor Tom Kane, best known by fans for voicing Yoda and Wullf Yularen in "Star Wars: The Clone Wars" and Admiral Ackbar in "Star Wars: The Last Jedi," is no longer be able to perform and is retiring after the debilitating stroke he suffered last year. While it's incredibly sad that Tom won't be able to continue acting, I'm happy to hear that he is recovering and is being cared for by his family. The entire Star Wars fan community wishes him the best going forward!
Fellow "Star Wars: The Clone Wars" voice actor Stephen Stanton shared a tweet with information on how you can reach out to Tom:
As you may know, #StarWars actor Tom Kane suffered a debilitating stroke & has been forced to retire. Via his daughter, if you'd like to reach out you can mail him at:
TOM KANE
PO BOX 23606
OVERLAND PARK, KS 66283
For autograph inquiries you can email tomkaneVO@gmail.com 🙏 pic.twitter.com/902d9jQAui

— Stephen Stanton (@Stephen_Stanton) September 14, 2021
Star Wars: The High Republic Updates
In the latest episode of "Star Wars: The High Republic Show," host Krystina Arielle provides a timeline update, reveals a massive handcrafted model of the Starlight Beacon, and finds out if personal and emotional attachments are forbidden for Jedi in the High Republic era. Plus, take a deep dive into the latest releases with authors Cavan Scott and Justina Ireland, as well as Lucasfilm Publishing's Jennifer Heddle.
LEGO's Celebrate the Season: Halloween Compilation
And finally, the LEGO YouTube channel recently released "Celebrate the Season: Halloween Compilation," a delightfully spooky collection of animated shorts celebrating Halloween. Here's the synopsis:
The LEGO Star Wars universe is getting in the Halloween spirit in these Celebrate the Season shorts. From Grogu and The Mandalorian to the Bad Batch, watch your favorite characters get into some frightful situations and celebrate with classic Halloween activities... with a Star Wars twist.
This Week! in Star Wars
On "This Week! in Star Wars," host Kristin Baver gives us the lowdown on all the latest news from that galaxy far, far away!
This week in Star Wars, we get ready for battle with a brand new Star Wars: Hunters trailer, take a look at the just-revealed cover of The Art of The Mandalorian Season 2 featuring Grogu, meet some of the new characters in Star Wars: Visions, and get ready to trick-or-treat with Mando in some adorable LEGO Star Wars: Terrifying Tales shorts on StarWarsKids.com and the Star Wars Kids YouTube channel. Plus, we brush off our acting skills to celebrate Star Wars: Revenge of the Sith wrapping principal photography back in 2003.