V/H/S/94 Trailer: The Found Footage Horror Series Is Back And Going After Your '90s Nostalgia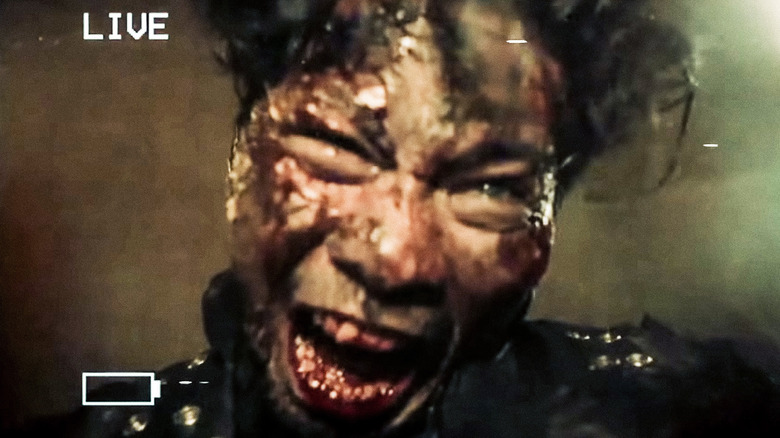 Shudder
Just when you thought it was safe to throw out that old VHS player in the attic, the trailer for "V/H/S/94" is here to win you back with another gruesome collection of found footage horror stories.
Jane Austen didn't quite have it right: it is a truth universally acknowledged that a horror fan in October must be in want of an anthology to watch. For many, it's George A. Romero's 1982 classic "Creepshow" with its wacky EC Comics vibe, while a younger crowd might reach for their copy of Michael Dougherty's robust Halloween-specific '07 collection "Trick 'r Treat." Personally, I'm an Amicus girl and I pop Roy Ward Baker's "Asylum" in the DVD player as soon as the leaves go brown. 
For those with a taste for adventure, the "V/H/S" films bump the needle a little higher with segments that go beyond entertainment and into far more unsettling territory. The first, titled simply "V/H/S," stormed onto the scene in 2012 under the sponsorship of Bloody Disgusting, sporting videotapes containing various stories, each from a different director. Two sequels and a spinoff ("Siren") later, the franchise is back again and twice as mean with "V/H/S/94."
V/H/S/94 Trailer
The "V/H/S" movies follow the same setup every time: four segments, bookended by one wraparound story in which a separate party stumbles upon and watches each found footage tape (the exception being "V/H/S: Viral," which has only three segments and a wraparound due to Todd Lincoln's non-found footage "Gorgeous Vortex" film being cut — though it is included on the DVD bonus features). "94" will, for the first time in the franchise, tie the segments together explicitly with the wraparound. As the title suggests, it's set in the mid-90s. The synopsis is as follows:
In "V/H/S/94," after the discovery of a mysterious VHS tape, a brutish police swat team launch a high intensity raid on a remote warehouse, only to discover a sinister cult compound whose collection of pre-recorded material uncovers a nightmarish conspiracy.
"V/H/S/94" is a Shudder Original, joining the streaming service alongside 2021 original Shudder bangers "Kandisha" by the French "Inside" filmmakers Alexandre Bustillo and Julien Maury, and Ryan Kruger's nutso South African thriller "Fried Barry," among a slew of other fresh, freaky content on the genre streaming service.
This latest installment in the anthology franchise heralds the return of "V/H/S" alumni Simon Barret ("Seance") and Timo Tjahjanto ("The Night Comes For Us"), and gives a grand welcome for directors Jennifer Reed ("Knives & Skin"), Ryan Prows ("Lowlife") and Chloe Okuno ("Slut"). As the cherry on top, David Bruckner of "The Night House" produces the festival of scares.
There Will Be Blood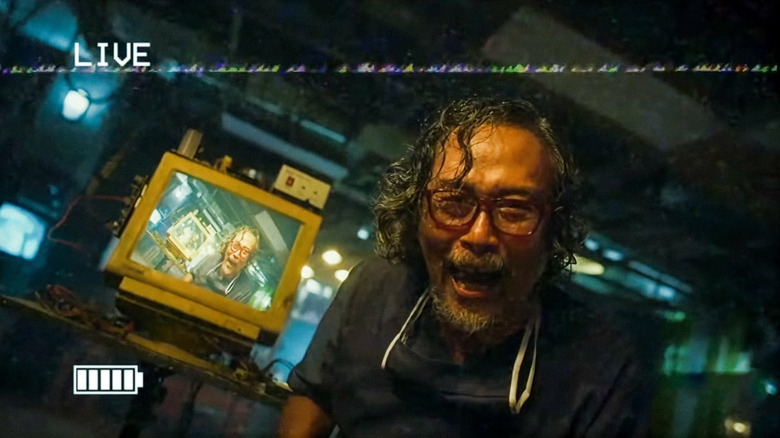 Shudder
The horror genre loves to make fun of cops and torture cops; they manage the former in Wes Craven's "The Last House on the Left" and the latter as recently as Darren Lynn Bousman's "Spiral: From the Book of Saw." So, bringing a SWAT team to their eventual doom is less of a cop-hating thing and more of a genre tradition upheld, really. 
We can expect the body count to rise both among the team and in each video segment (there generally aren't survivors or the footage wouldn't need to be "found," though if there is anyone alive at the end of a segment, they're usually not... approachable).
Jennifer Reeder handles the wraparound, handing the narrative off to her fellow storytellers. Simon Barrett's entry is set in a funeral home, where a new employee must record an overnight wake and, from the looks of it, doesn't have an easy shift. Chloe Okuno's entry entails a TV reporter investigating a local legend about a rat man who lives in a storm drain, while "Lowlife" director Ryan Prows' short, "Terror," follows a militia group who acquire a supernatural weapon, and plan to use it just how an anti-government militia group might. 
For those blessed enough to be familiar with the high-octane camerawork and balls-to-the-wall mayhem of Timo Tjahjanto's "Safe Haven" (a personal favorite of the series entire) in "V/H/S/2," it's easy to tell which bits of the trailer are clips from his segment, wherein a mad scientist creates an experimental creature. My VCR is ready.
"V/H/S/94" arrives at Shudder on October 6, 2021.