Threshold Clip Takes You On A Foreboding Road Trip [Exclusive]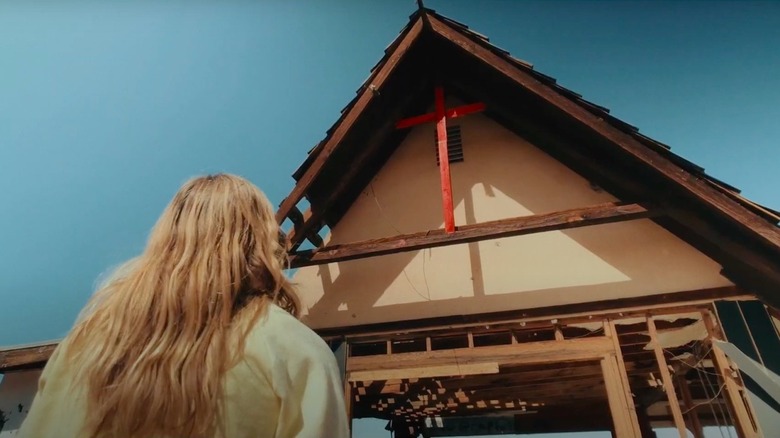 We may receive a commission on purchases made from links.
You might know Arrow Video as the purveyor of many fine classic genre movies like "Hellraiser," "Tremors," many giallos and Spaghetti Westerns, or even their recent stunning 4K reissue of David Lynch's "Dune." But the Blu-ray label also takes chances on standout indie efforts, such as their recent deluxe home video release of the mystery thriller "Threshold" from co-directors Powell Robinson and Patrick Robert Young ("Bastard"). Now Arrow has provided us with an exclusive clip from the film, which you can check out below!
Threshold Clip
The sophomore feature from the duo was shot ingeniously on two iPhones over a 12-day road trip with a crew of only three. It tells the story of Leo (Joey Millin) who comes back into contact with his estranged, drug addict sister Virginia (Madison West). After getting clean thanks to the help of a mysterious cult, Virginia is now bound to a man she's never met, and with a curse hanging over her head, she and her brother go on a cross-country trek to track down the mysterious stranger. The movie has been compared favorably to Ben Wheatley's "Kill List" (2011) and Justin Benson and Aaron Moorhead's "Resolution" (2013).
Here is the synopsis for "Threshold":
When a phone call from out of the blue brings Leo (Joey Millin) back into contact with his sister, Virginia (Madison West), long estranged from her family due to years of drug abuse, he arrives to find her alone in a bare apartment in the midst of an apparent overdose. After the convulsions and nausea subside, Virginia insists to Leo that she has been clean for 8 months due to the help of a mysterious group. She confides to her cynical brother that her edginess and paranoia actually stem from a sinister ritual conducted by the group that took her in at her lowest and eventually revealed themselves to be a cult. This curse bound her emotions and physical sensations to a man she has never met before.
With his marriage on the rocks, Leo has his own demons to face. Nonetheless, he is reluctantly persuaded by Virginia to embark on a cross-country road trip to track down this shadowy stranger under the caveat that if he's nowhere to be found and it's all in her head, she'll go to rehab. However, as their date with destiny draws nearer, Leo begins to suspect his sister's tall tale might have some substance.
Blu-ray Details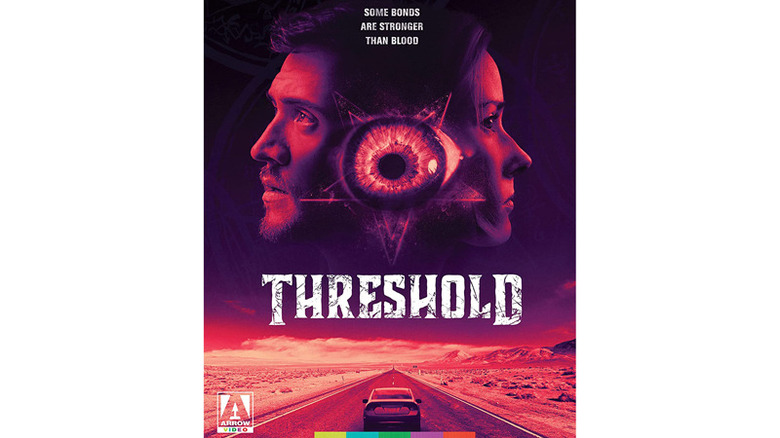 Arrow Video
For such a relatively tiny movie, Arrow is certainly rolling out the red carpet, giving "Threshold" the kind of feature-packed disc worthy of a major motion picture. 
The package includes the film in a High Definition (1080p) Blu-ray presentation, for starters. It contains not one but two audio commentaries with the directors paired with producer Lauren Bates and lead actors Joey Millin and Madison West, as well as a second with the directors and editor William Ford-Conway. There's a feature-length documentary titled "Crossing the Threshold," a color correction breakdown called "Elevating iPhone Footage," a soundtrack feature called "The Sounds of Threshold" and two roundtable discussions on indie horror. Finally, it comes with the original script outline, two trailers, an image gallery and an illustrated collector's booklet featuring new writing on the film by Anton Bitel.
This is a great chance to support the fledgling careers of two filmmakers who clearly have a vision, know how to craft a story and may go on to big things in the future. You can order your copy of the "Threshold" Blu-ray on Amazon by clicking here!