The 25 Best Kids' Movies Of All Time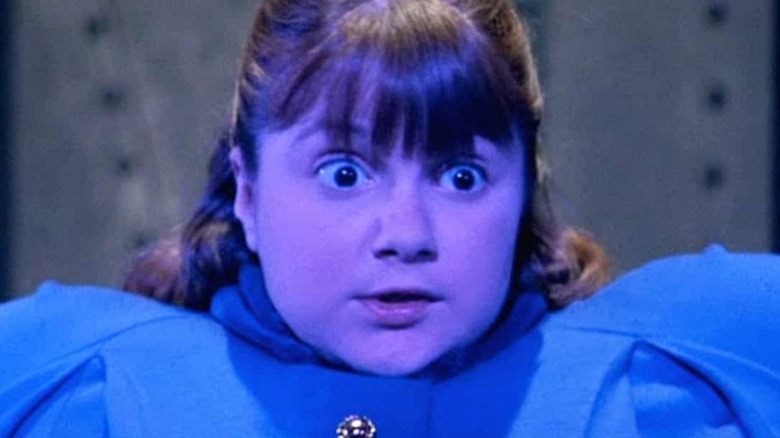 Paramount
There's a common misconception that children's cinema, like children's television and children's literature, doesn't have to be good. Sure, kids may not be the most discerning consumers of media — just ask any parent who has been forced to watch "Caillou" ad nauseum. But although they don't have as much experience as moviegoers, and they might not necessarily be able to articulate why a film is good or bad, children certainly know when they see something that provokes an emotional response. And you'll know too, because they'll watch those movies over and over and over again. 
There's not really a formula for a great kids' movie, but one thing is pretty clear: Kids tend to like films that emotionally challenge them, whether they're scary or sad or simply complex. Good children's films treat their audience with respect. Kids are kids, and they know it, but that doesn't mean they appreciate being talked down to. They also have very particular tastes. These are our favorite kids' films; maybe you'll find a few of yours here, too.
Hocus Pocus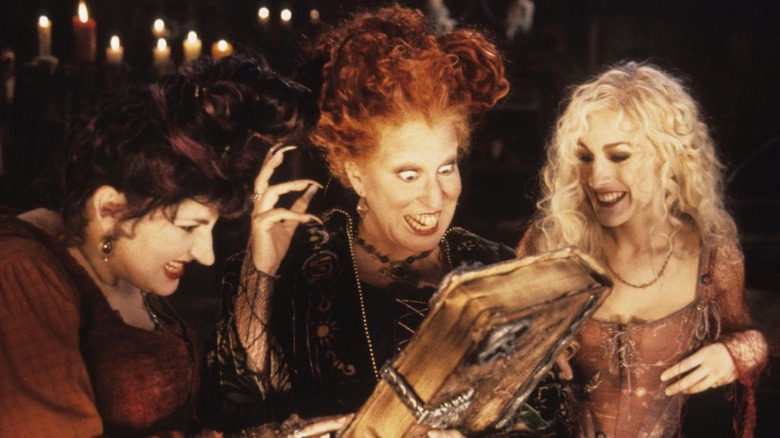 Disney
Look, we trot this one out every single year at Halloween for a reason. There's just something about "Hocus Pocus" that draws kids in, like a moth to the flame. For one thing, it feels kind of grown-up. It doesn't pull its punches: The Sanderson sisters may be a little goofy, but they're taken seriously as a threat because we've seen the flashbacks and know that they're legitimate child murderers. In a lot of films, you would probably see them attempting to cast their spell back in 1693, get stopped in the nick of time, and now have a chance to finish the job in the present day. No actually gets hurt. 
Not so here: In "Hocus Pocus," these dames have a body count. Omri Katz, Vinessa Shaw, and Thora Birch make a delightful trio of heroes, but let's be real, we know who the star of the show is. Thackeray Binx, the teenage boy from the 1600s who was cursed to become an immortal cat by the Sanderson sisters, is utterly beguiling, and a huge part of why this film has developed such a cult following after it was initially released.
The Neverending Story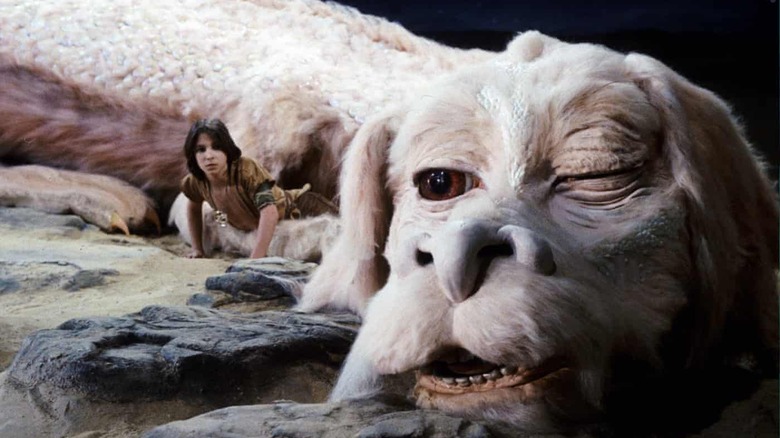 Allstar
Out of all the films made for children in the past, "The Neverending Story" is one of the most beautiful and melancholic. When a little boy named Bastian cuts class to avoid the bullies that torment him on a daily basis, he curls up in his school's attic and begins to explore a mysterious fantasy world in a book called "The Neverending Story." Every bookworm among us can relate to the impulse to find an escape from daily life in literature. 
But what's special about Bastian is that he seems to be able to interact in some way with the characters in the story; they need his help to fight off the terrifying Nothing that is eroding their world. "The Neverending Story" features some incredibly memorable and imaginative characters that serve as a primer for kids just getting into fantasy literature. And it's never afraid to be sad, even unbearably so: It teaches us that life is a journey, and the things that we are able to overcome give us strength.
Aladdin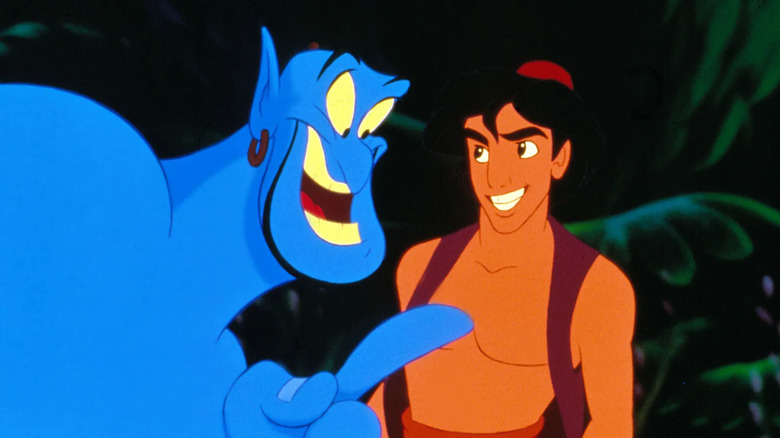 Disney
"Aladdin" is one of the most cleverly done of Disney's tried-and-true adaptations of classic literature. Coming off the heels of "The Little Mermaid" and "Beauty and the Beast," both based on European folklore, "Aladdin" represents a change of pace, transitioning to a Middle Eastern setting (complete with some unfortunately harmful stereotypes and, in the original theatrical version, wildly insensitive lyrics) and centering the story on a loose interpretation of Scheherezade's "One Thousand and One Nights," while at the same time coming across as somehow modern. 
Our hero is Aladdin, a young street boy who dreams of a better life (and a relationship with the princess Jasmine, who's threatened by the evil vizier Jafar). But while all of that's nice, the reason why "Aladdin" has remained such a beloved Disney film is Robin Williams' wildly over-the-top performance as the Genie. Packed full of jokes and impressions that honestly went over the heads of most of the young audience, Williams' Genie is a whirling dervish: part stand-up comedian, part fairy godmother. All of comes together to create a true gem from Disney's Renaissance period.
Troop Beverly Hills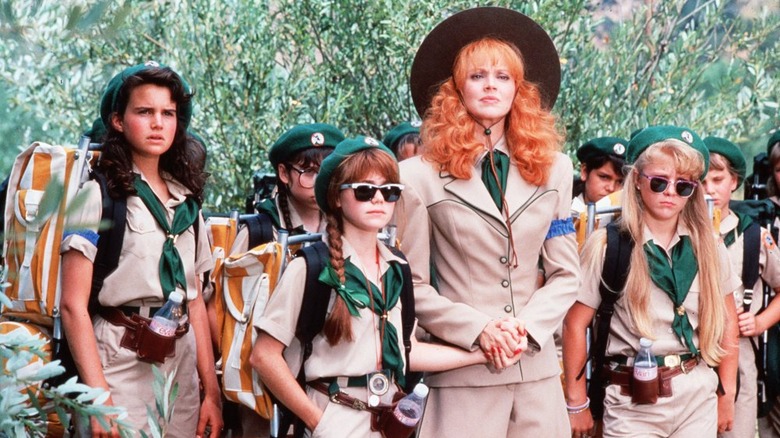 Columbia
Talk about an underrated gem! Shelley Long was done dirty by the industry for the crime of being a woman who thought she had the right to leave a hit television show ("Cheers," in 1987), and her film career never really got off the ground. Which is a shame, because she is lovely in "Troop Beverly Hills," a sweet little film about a group of women and girls who subvert the expectations laid out for them. 
Long stars as Phyllis Nefler, a socialite in the midst of a painful divorce from her wealthy husband who joins up as a troop leader of the Wilderness Girls in an attempt to bond with her daughter. From the very beginning, they are unorthodox, the stereotype of rich girls from Beverly Hills who have no place in the outdoors. But over time, they learn how to use their own unique skill sets to succeed, culminating in their competing in the prestigious Jamboree, a challenging hike through greater Los Angeles wilderness. 
"Troop Beverly Hills" may have been marketed as a silly comedy poking fun at the stereotype of spoiled rich kids and their oblivious parents, but it's actually a remarkably empowering story about being true to yourself and not being afraid to do things your own way. Also: Shelley Long's outfits in this movie? Please. Absolute perfection.
My Girl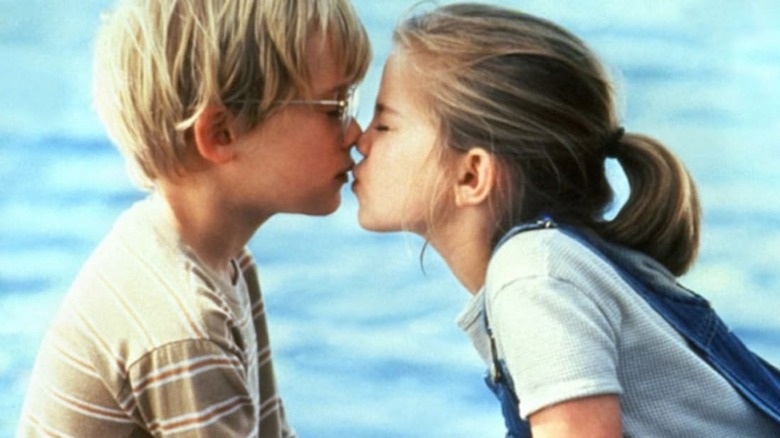 Columbia
It's never too early for kids to learn that everyone's going to die someday, and that sometimes even kids die. That's not emotionally damaging, right? Vada Sultenfuss (Anna Chlumsky, now best known as Amy on "Veep") is a precocious preteen girl surrounded by death. Her mother died when she was an infant, leaving her hapless but fiercely devoted father (Dan Aykroyd) to raise her alone in a funeral home — not at all a creepy place to grow up, especially not if you have a traumatic relationship with death. 
The story is really about Vada's coming of age, being introduced ever-so-slowly to a more grown-up world. And part of that, it's sad to say, is experiencing tragedy. Because the one thing we all probably remember about "My Girl" is that Macaulay Culkin plays Vada's best friend who is deathly allergic to bees, yet does very little to avoid them and ends up getting stung to death. It's crushing to watch Vada process the loss of her friend, and the scene at his funeral where she hysterically tries to put on his glasses because "he can't see without his glasses" never fails to bring an audience to its knees, emotionally speaking.
Over the Moon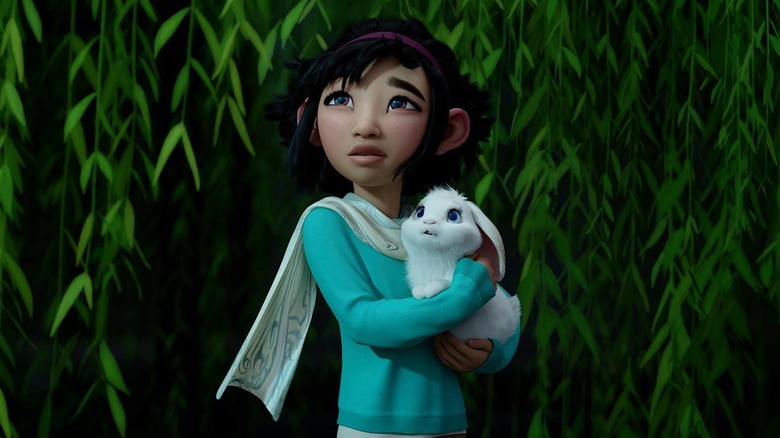 Netflix
Over the past few years, Netflix has gone to great lengths to develop original features that tell diverse, compelling animated stories for children. The streamer has largely stuck to that promise, and its recent output has been exceptional, with "Over the Moon" standing out as a particularly well-made example. 
Fei Fei (Cathy Ang) is a young girl who, infuriated by her widowed father's recent engagement, decides to build a rocket ship to find the legendary moon goddess that her late mother told her stories about. Ultimately, "Over the Moon" is a film about processing grief, and finding ways to let go of loved ones while still holding on to them in your heart (all of which has an added poignancy, knowing that this was the last screenplay Audrey Wells wrote before her death in 2018). But "Over the Moon" also manages to be a bright, vibrant adventure story, and it was rewarded with an Academy Award nomination for best animated film in 2021.
The Parent Trap (1961)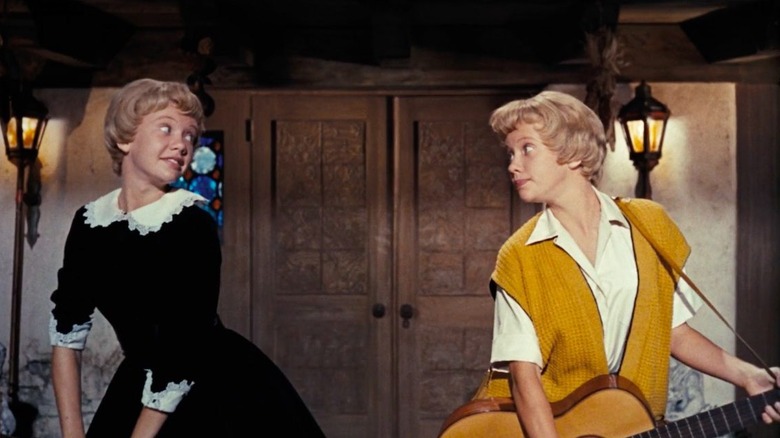 Disney
"The Parent Trap": the classic film beloved by every child of divorced parents who secretly wished that somehow, some way, they could bring their parents back together again. Hayley Mills plays a set of twins — Sharon from Boston and Susan from California — who meet for the first time at summer camp and are somewhat disconcerted to discover that they are identical. Eventually, a plan is hatched. Mills is utterly charming in both roles, a child actress maturing into a legitimate performer with an endearing screen presence. 
And when you watch "The Parent Trap" as a kid, that's who you're focused on. But upon a re-watch many years later, you may find yourself wondering how on earth they were able to contain Maureen O'Hara's pure sexual energy in what is objectively a children's film. She is utterly vivacious as the twins' mother, and once she arrives in California, she embarks on a one-woman comedy tour, delighting in the chaos she effortlessly causes in her ex-husband's new relationship with a much younger woman. "The Parent Trap" is, put simply, a pure and unadulterated classic.
Willy Wonka and the Chocolate Factory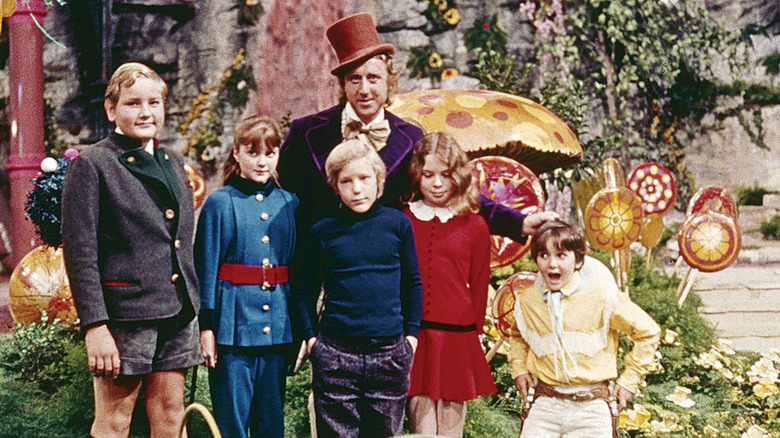 Paramount
The only thing that kids like more than chocolate is being scared out of their minds by a morally ambiguous factory (and slave?) owner who likes to put other children in dangerous situations to prove a point. In that sense, "Willy Wonka and the Chocolate Factory" is a slam dunk. Based on a novel by Roald Dahl, "Willy Wonka" was originally conceived as a promotional tool to accompany the release of a new chocolate bar. But it has since grown into a fully autonomous media property, and that's largely a result of Gene Wilder's enigmatic performance as Willy Wonka himself. 
From the moment Wilder does his fall-turned-somersault, you never quite know whether he's lying or telling the truth (that was Wilder's intention when he suggested adding that moment — to purposefully put the audience on the wrong foot). Like most of Dahl's work, "Willy Wonka and the Chocolate Factory" is endlessly imaginative, and it has a very real dark side to it. It's a shame that Roald Dahl hated the film so much when it first came out, because it's an excellent representation of all the things that make his novels so much fun.
Home Alone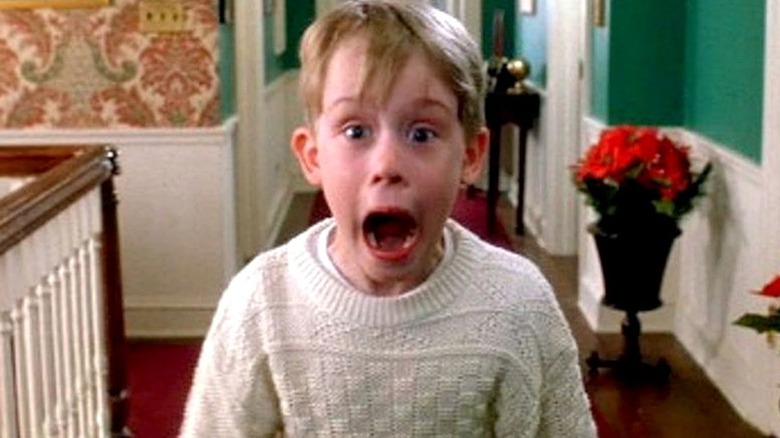 20th Century Fox
"Home Alone" is a Christmastime classic that brings out the perpetually overlooked, slightly bratty child in all of us. Kevin McCallister is one member of a large, sprawling Chicago family, and in the lead up to a holiday trip to Paris, they are all perhaps not at their best. Sure, Kevin can be a little monster, but the rest of his family are outright cruel to him. The kid is only eight years old, for God's sake. 
So, of course he gets left behind to fend for himself and fight off would-be home invaders with the skill of a grizzled war vet. The whole film really relies on Macauley Culkin's performance as Kevin, and he doesn't disappoint: He is charming, precocious, and legitimately funny. His interactions with Daniel Stern and Joe Pesci are incredible, and the two older character actors are game to pratfall their way through what has to be absolute hell for any prospective robber.
Queen of Katwe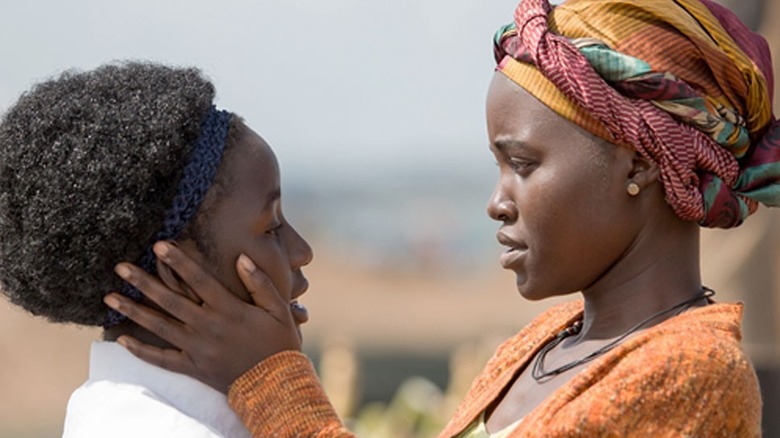 Disney
On the face of it, chess seems like a particularly uncinematic sport, but there's something about it that frequently makes it the subject of inspirational films. You have "Searching for Bobby Fischer," you have the miniseries "The Queen's Gambit," and then you have "Queen of Katwe," which is a different animal altogether. 
"Queen of Katwe" stars Lupita Nyong'o (fresh off her Academy Award win for "12 Years a Slave"), David Oweloyo, and Madina Nalwanga in a story about a young girl from the slums of Kampana, Uganda who learns to play chess from a local missionary, and who rises through the ranks to compete at the Women's Chess Olympiads. It uses a classic formula in which talent and spirit allow an individual to succeed in spite of the challenges she faces, shining a light on a gifted young African woman's triumphs when many other films would likely only focus on her hardships.
Anastasia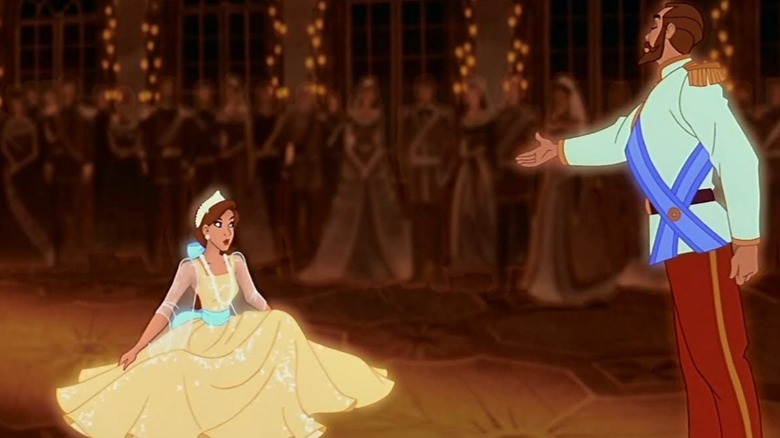 20th Century Fox
The ultimate in, "Wait, is this a Disney movie?" Despite its focus on a princess, "Anastasia" was actually produced outside of the Disney umbrella, making it a welcome respite from the domination of the Mouse in the mid-'90s. Its subject matter is unabashedly dark, but hopeful: After the assassination of Tsar Nicholas and his entire family in the midst of the Russian Revolutions, there are whispers that the Grand Duchess Anastasia survived. Enter Anya (Meg Ryan), a young woman raised at an orphanage who has few memories of her own past. She is convinced by Dmitri (John Cusack) and Vladimir (Kelsey Grammar) to join in a con to trick Anastasia's grandmother, living in exile in Paris, that Anya is the missing princess. But could she actually be the real deal? 
The voice acting is fantastic, with Ryan and Cusack developing a chemistry that jumps off the screen. And "Anastasia" also benefits from a wonderful villain in the form of a rapidly decomposing Rasputin (Christopher Lloyd), who has one of the all-time great villain musical sequences, complete with dancing bugs and body parts falling off everywhere. It's like Disney, but way grosser (that's a compliment).
Paddington 2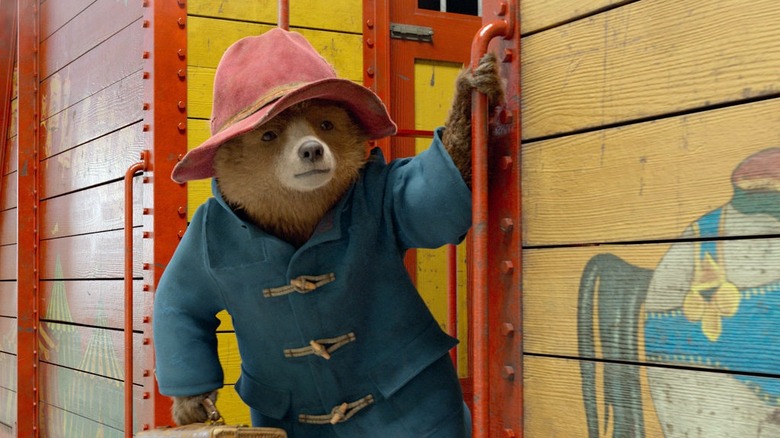 It's rare that a sequel would make enough of an impact to be routinely ranked higher than the original film, but that doesn't mean it never happens. Don't get us wrong, "Paddington," is a sweet, perfectly serviceable family film. But "Paddington 2" is in another league altogether. It expands upon the relationships Paddington has cultivated with the Browns, his adoptive family, while at the same time introducing Phoenix Buchanan, a wily master of disguise played by Hugh Grant in what may unironically be his best role ever. 
When "Paddington" saw our beloved bear hero struggle to find a place in the Brown family, "Paddington 2" raises the stakes, as Paddington is separated from them and must, in his mild-mannered, heartbreakingly earnest way, fight to find his way home. In a cynical world, "Paddington 2" is almost aggressively pleasant, making it a perfect film for the family, adored by kids and parents alike.
The Secret Garden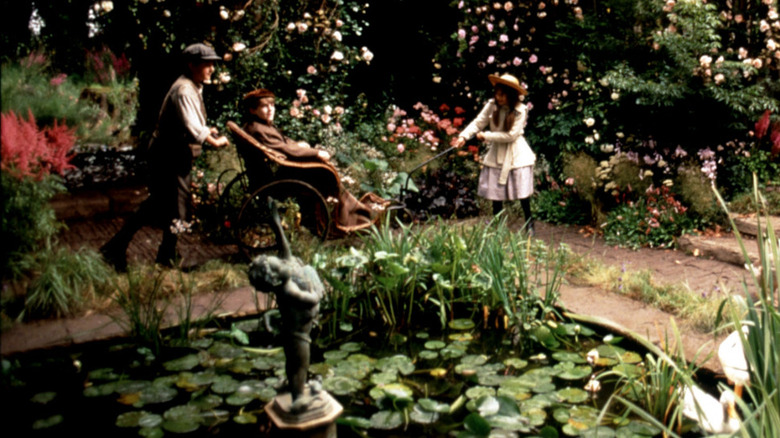 Warner Bros
"The Secret Garden" is one of the rare children's films that looks like a work of art. It tells the story of Mary Lennox, an ornery, cross young girl who, after her neglectful parents die, is sent to live with her uncle in England. There, she helps a mysterious garden come to life, and in the process, comes to life herself. 
There are few things children love as much as having a secret, and this film is packed full of them. There's not only the garden, which she, Dickon, and her cousin Colin endeavor to keep for themselves, but her knowledge of her cousin Colin's existence in general. Directed by Agnieszka Holland, famous for her previous work "Europa Europa," the beauty and splendor of "The Secret Garden" is unparalleled. Expansive shots of a garden in bloom, with simple and awed choral arrangements accompanying them, create a vision of the secret garden as an entirely separate world. It makes even the most brown-thumbed among us wish we had our own.
Akeelah and the Bee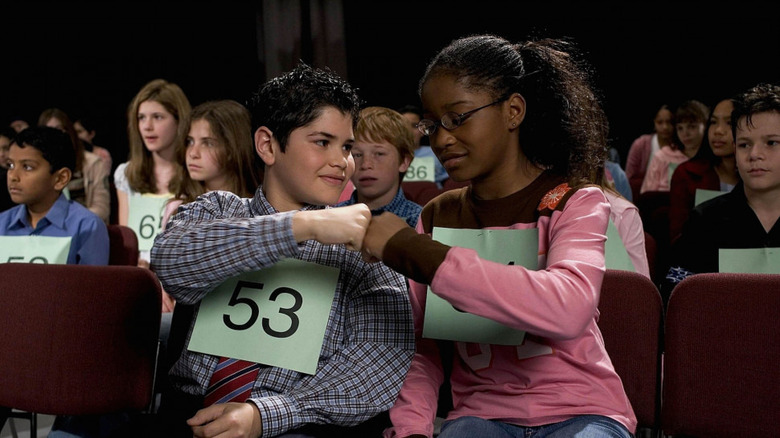 Lionsgate
There's a certain image that comes to mind when you think about spelling bee champions. These kids tend to come from high-achieving backgrounds, with parents who can devote considerable resources towards helping their children drill long, complicated words into their brains. But rote memorization only gets you so far — at a certain point, special aptitude comes into play, and that's where unique kids like Akeelah from "Akeelah and the Bee" excel despite their lack of formal training. 
Keke Palmer plays Akeelah, a young girl from South Los Angeles who is encouraged by her school principal to compete in a school-wide spelling bee, and ends up going all the way to the national competition. It features an incredible cast, including Laurence Fishburne and Angela Bassett as Akeelah's coach and widowed mother, respectively. "Akeelah and the Bee" may be sentimental and slightly cliched, but it's also entirely charming.
The Parent Trap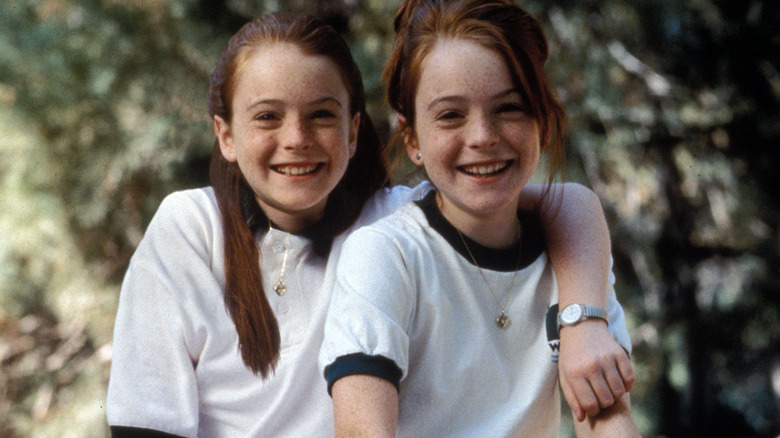 Disney
No, you're not seeing double: There are two versions of "The Parent Trap" on this list. Why? Because they're both amazing, that's why. 
Whatever anyone has to say about Lindsay Lohan and the way her career unfolded amid early-2000s sexism, she was an incredibly talented child actor. She's in top form here, playing a set of twins who have their own unique personalities and accents (one was raised in London, the other in California). Hayley Mills was great because she had such a distinct screen presence that you liked her characters even though — or maybe because — they were essentially modified versions of Hayley Mills. But Lohan succeeds in creating two distinct characters in Annie and Hallie, the twins raised apart without any knowledge of one another's existence until they meet one fateful summer at camp. 
This version of "The Parent Trap" also has an excellent adult cast: Dennis Quaid and Natasha Richardson are effervescent as the quintessential divorced parents of the late '90s.
Matilda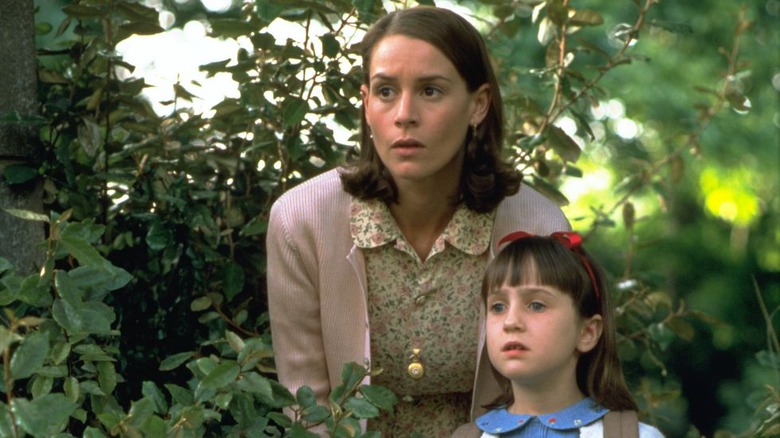 Sony Pictures Releasing
Every little kid with too many books and not nearly enough friends owes a debt of gratitude to Matilda, the prototypical gifted and talented outcast. "Matilda," based on the novel by Roald Dahl, is the story of an unloved child prodigy who is given no support by her shallow parents (played by Danny DeVito, who also directed the film, and Rhea Perlman), who prefer to abuse her or ignore her entirely. It isn't until Matilda is enrolled in school and forges a connection with kindred spirit Miss Honey (Embeth Davidtz), that she begins to be able to channel her mental energy effectively. 
"Matilda" was a transformational text for kids everywhere who felt alone or misunderstood, and the film adaptation captures much of the same charm and poignancy, with young Mara Wilson putting in the best performance of her career as the precocious child genius.
Wadjda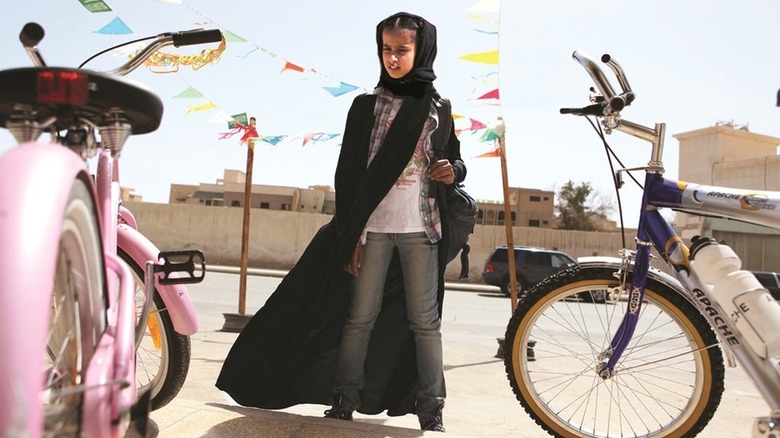 Koch Media
"Groundbreaking" is a word that perhaps gets tossed around too regularly. But there's really no other way to describe "Wadjda," the directorial debut of Haifaa al-Mansour. It was the first film to be made entirely in Saudi Arabia, it was the first Saudi film directed by a female filmmaker, and it tells a story of female empowerment that's still controversial in its country of origin.
Young Wadjda (Waad Mohammed) has been dreaming about getting a brand-new bike for ages, and when she learns about a Koran memorization competition, she resolves to win the contest and its accompanying prize money. Her persistence and optimism stand in sharp contrast to a society that would otherwise treat her as a second-class citizen, and serves as a source of hope for young Saudi women everywhere. 
The empathy with which "Wadja" captures both the girl's efforts to fulfill her dreams and the difficulties faced by her mother, who is in danger of being sidelined by a husband' who desires a second wife who will give him a son, is poignantly developed over the course of "Wadjda," giving us a rich and nuanced exploration of Saudi womanhood.
Toy Story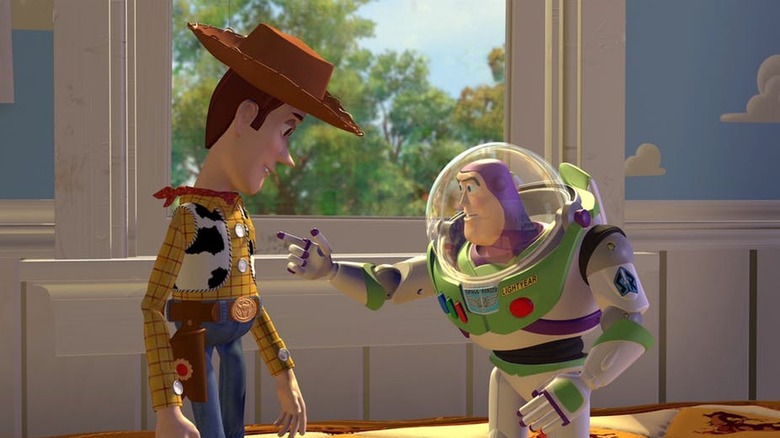 Pixar
There's something that's just overwhelmingly comforting about "Toy Story" — once you set aside the terrifying idea that all of your childhood toys are alive, that is. Woody (Tom Hanks) is pretty much the mayor of Andy's bedroom, a miniature society made up entirely of toys. And he's gotten pretty used to life at the top. So, when Buzz Lightyear (Tim Allen), a fancy new space toy, turns up and steals Andy's attention, he's threatened. 
What "Toy Story" does exceptionally well is break down social relationships so that kids can understand and identify with what the characters are experiencing. We know what it's like, for example, to feel jealous, to worry that someone is taking our place in the heart of a cherished friend or loved one. Both Woody and Buzz undergo a surprisingly complex identity crisis, and its depiction on screen is notable because it manages to be both funny and poignant while never talking down to its audience. "Toy Story" isn't afraid to be a little, either: some of the scenes with Sid, the malevolent neighbor boy who delights in destroying his toys, are legitimately unsettling.
Casper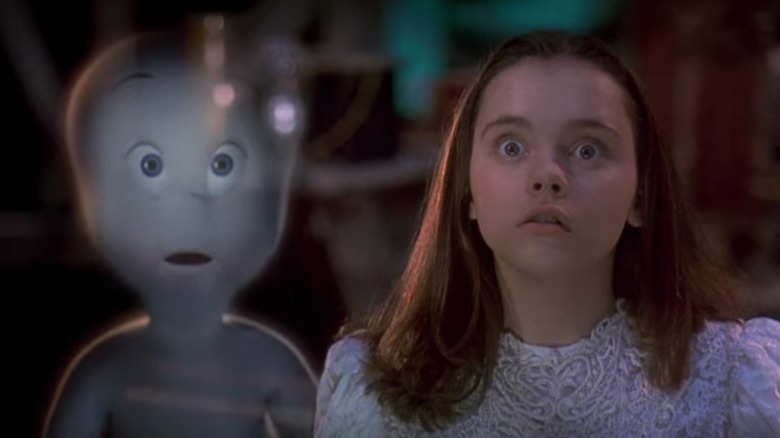 Universal
If you're of a certain age, "Casper" likely features your first ever all-consuming crush in Devon Sawa as the human version of the friendliest ghost around. But that's just one reason (of many) why "Casper" is a delightfully endearing, albeit morbid, family movie. Kat (Christina Ricci) is forced to move to a very haunted house in Maine with her father, who has made a living as a ghost therapist in the hopes of communicating with his late wife. But although they've spent years chasing the paranormal, Kat is still a skeptic who has never seen any hard evidence that ghosts even exist. 
Whipstaff Manor changes things. Not only is there Casper, the sweet little ghost of a boy, but also his significantly less-welcoming uncles: Stinkie, Fatso, and Stretch (why this Victorian boy has uncles with such uncouth names, we'll never know). As always, the true villains are human: Cathy Moriarty puts in a shrewish performance as Carrigan, the bereaved daughter of Whipstaff's previous owner who is obsessed with the legend of hidden treasure within. But despite all these hijinks, "Casper" is an unabashedly sentimental coming-of-age story that you can't help being swept up in.
A Little Princess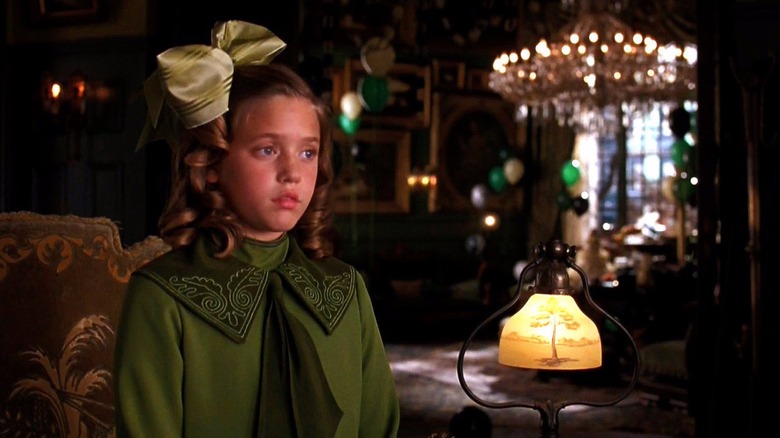 Warner Bros
What good is a kids' movie if it doesn't traumatize you for life? "A Little Princess" is an adaptation of a children's story by Frances Hodgson Burnett, and it has, conservatively, five separate scenes that reliably produce an ugly cry from the audience. Sara Crewe is a privileged but genuinely kind-hearted and intelligent girl sent away to a strict boarding school in New York City. She is afforded every luxury her father's considerable wealth can provide her until he is reported missing and presumed dead in World War I, and she becomes a pauper at the whims of a cruel and vicious headmistress. 
Directed by Alfonso Cuaron, the cinematography is breathtaking with hues of green and orange, tinged with Indian influences that reflect Sara's upbringing in Southeast Asia. In the current media landscape, where a lot of kids' movies have sort of bland, same-y visual style, it's refreshing to remember how gorgeous and emotionally evocative they can be.
The Goonies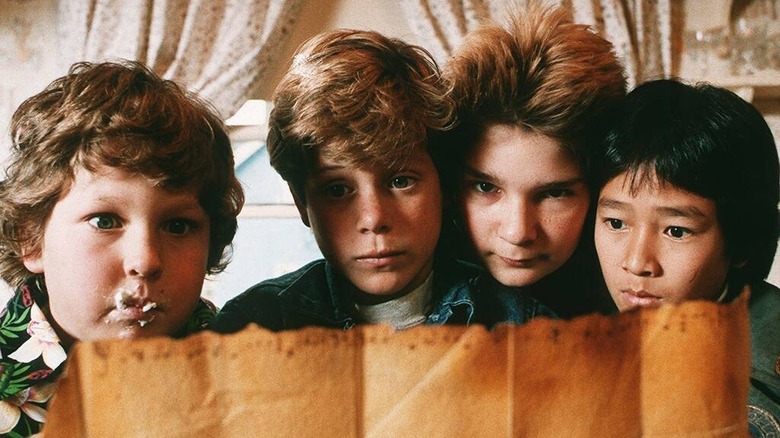 Warner Bros
Today's children are sort of limited in the types of adventures they can have with their friends. In a culture where someone calls the cops when they see a kid walking to the park by themselves, the antics of the group in "The Goonies" are almost unthinkable. 
When a bunch of neighborhood kids learn that their houses are going to demolished for a new development and they'll all have to move away from one another, Mikey (Sean Astin) leads his crew on a journey to find a buried treasure in a last-ditch effort to save their homes. It is not a trip for the faint of heart, though: Very real dangers lurk around every corner in Richard Donner's kid-friendly adventure, which borrows substantially in tone from "Raiders of the Lost Ark." 
"The Goonies" is very much a product of its time, and a number of elements haven't aged well. Data, with his over-the-top accent and penchant for technology, is an Asian American stereotype, while Chunk is largely defined by his body (and the resulting fat jokes). But that's not the fault of the young performers, who are all incredibly likeable, and help cultivate an atmosphere that effortlessly blends comedy and action.
E.T. the Extraterrestrial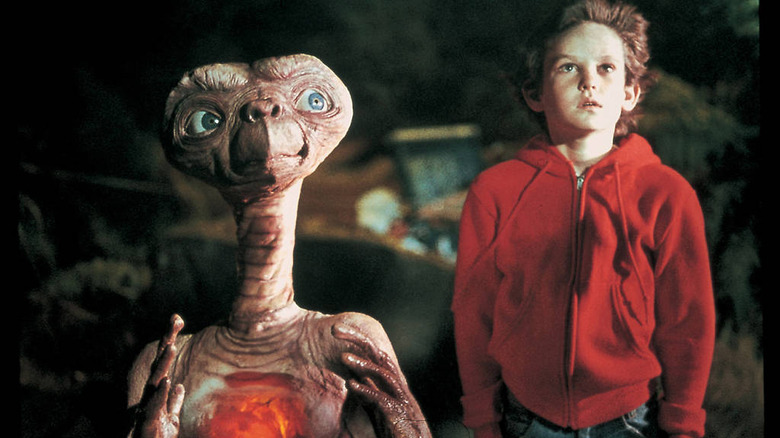 Amblin Entertainment
There are so many reasons why "E.T. the Extraterrestrial" is essential viewing for kids that it's hard to list them all. Henry Thomas is heartbreaking as Elliot, the boy who discovers E.T. and develops a powerful bond that will lead him to face off against the US government to protect his alien buddy. He's so good in the role that his audition had members of the production team getting teary-eyed. 
The practical special effects for E.T. himself are pure visual magic, and they are responsible for making E.T. not just lifelike, but for making the audience have an immediate emotional connection to him. It has a very tiny, very adorable Drew Barrymore as Elliot's little sister in one of her first ever on-screen roles. And if that weren't enough, you've also got John Williams doing his thing, composing yet another iconic score that captures the wonder of Elliot and E.T.'s relationship. It's just ... there are no bad things about this movie. It's all good.
Halloweentown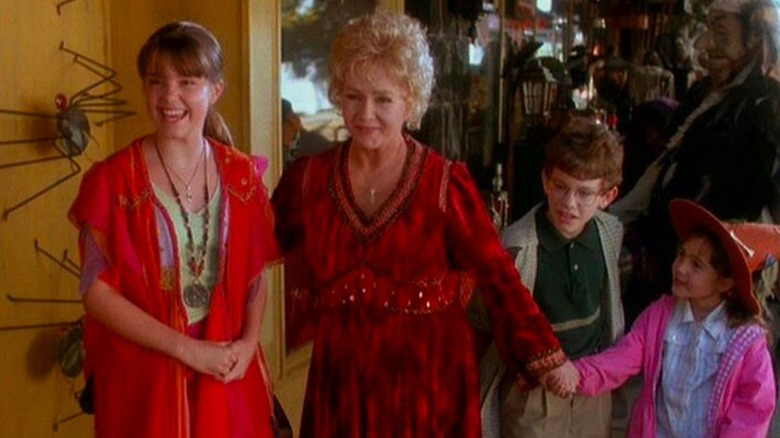 Disney
Time to get real for a second: Disney Channel Original Movies are some of the most underrated kids' films around. And sure, they vary wildly in terms of quality, but the ones that are good, are so good. And "Halloweentown" is one of the best, a film made early on in Disney's scheme to produce relatively low-budget kids' films that would air directly on television rather than in theaters. It revolves around a group of siblings who discover, to their astonishment, that their mother and grandmother (played by none other than Debbie Reynolds) are witches from an alternate plane of existence called Halloweentown, where all manner of spooky creatures live together in peace. 
It's a delightfully inventive film, taking on an almost Harry Potter-like sense of wonder as the kids explore this strange new world that is also their birthright. A Halloween classic, "Halloweentown" deserves to be mentioned in the same breath as many more traditional theatrical releases, but always seems to be unfairly relegated to a second tier.
A Wrinkle in Time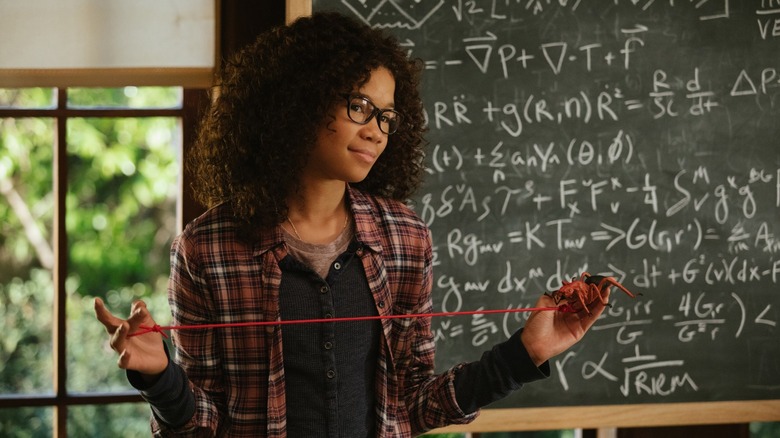 Disney
Most people are familiar with "A Wrinkle in Time." It's one of the most famous children's books in the world, having won a slew of literary awards, including the Newbery Medal, and received new attention recently after being featured on "Ted Lasso." But Ava DuVernay puts a unique spin on her adaptation of the novel, simply by casting a young Black girl (Storm Reid) as her Meg Murry. Suddenly, the story feels entirely new. 
"A Wrinkle in Time" is still the journey of a girl who discovers her inner strength and an ability to lead that she never knew she had. But there's something incredibly moving about the fact that, in this version, it's a girl who is mixed race, with natural hair and a pair of glasses, who is not just told that she is powerful, but who is given the opportunity to discover so for herself. This is an image that is rarely seen in kids' films, and it's incredibly important for little girls everywhere to have this frame of reference.
George of the Jungle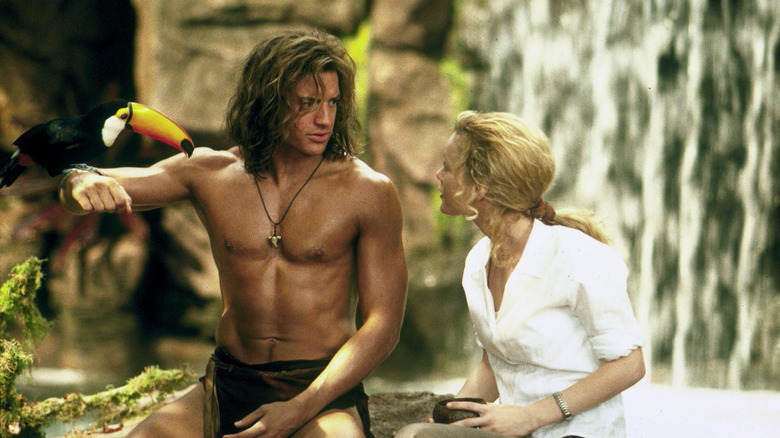 Buena Vista
If there's one thing that kids always seem to vibe with, it's an absurdist sense of humor. That's something that "George of the Jungle" has in spades. Between the narrator constantly interjecting with his own personal spin, an erudite talking ape, and Brendan Frasier with his chaotic energy turned up to 11, "George of the Jungle" feels like it's packed with the kinds of jokes and sight gags that a bunch of fourth graders hopped up on Pixy Stix would come up with. 
A play on the classic Tarzan story, "George of the Jungle" revolves around a different hunky jungle man raised by apes who must learn the ways of humankind once he meets a woman and, predictably, falls in love with her. One key difference: Although Tarzan was notably very adept at swinging on vines, George is ... less so. On the face of it, "George of the Jungle" is pretty juvenile, often relying on slapstick comedy as a crutch. But in a strange way, the humor is so obvious and over-the-top that it's almost sophisticated.