The 5 Greatest Norm Macdonald Moments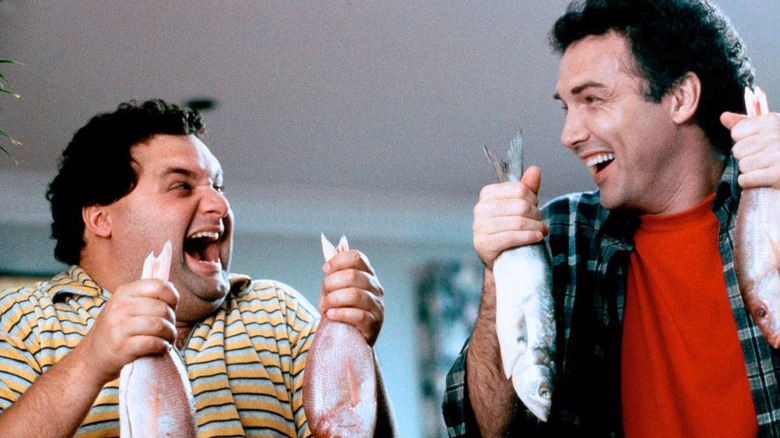 MGM
Norm Macdonald has passed away. The beloved and undeniably distinctive comedian was 61 years old and recently lost his quiet battle to cancer. The fact that the man, known for his dry sense of humor and fearless approach to comedy, opted not to disclose his battle with cancer is very much in character. Macdonald once said this of battles with cancer:
Norm MacDonald on battles with cancer: "I'm pretty sure, I'm not a doctor, but I'm pretty sure if you die, the cancer dies at the same time. That's not a loss. That's a draw."

— David Gardner (@byDavidGardner) September 14, 2021
A draw for him, a loss for the rest of us here on Earth. There are few people I have ever found to be funnier than Macdonald. That dry delivery. The utter lack of caring what people would think. That knowing smile. That voice. There is nobody quite like him, and there is a reason so many people in comedy respect him dearly. As a means of tribute, it feels appropriate to highlight some of the man's greatest moments, in a career absolutely overflowing with great moments.
Celebrity Jeopardy
Norm Macdonald rose to fame as a cast member on "Saturday Night Live." While the "Celebrity Jeopardy" sketches featuring Will Ferrell as the late Alex Trebek became favorites, it was Macdonald's turn as Burt Reynolds that arguably serves as the crowning moment in the series of sketches. The fact that Macdonald makes very little attempt to impersonate Reynolds only adds to the absurdity. And let us never forget the legendary name, Turd Ferguson.
The Convoluted Joke On Conan
Norm Macdonald was an exceptional talk show guest. It's perhaps one of the things he will be most remembered for. While we could spend a week going over those highlights, this convoluted joke he spent nearly five minutes telling on "Conan" back in 2014 is a shining example of the kind of comedian he was. It's agonizing yet hilarious, and something only he could have gotten away with.
Dirty Work — The Dead Hookers Scene
Before singling out this scene specifically, I cannot recommend "Dirty Work" enough. It is wholesale, a tragically underseen gem of a comedy from the late '90s. Directed by Bob Saget, it gives Macdonald the spotlight alongside Artie Lange, and they really make the most of it. The movie sees two friends start a business where they will do dirty deeds for other people. This bit is just once such deed. The scene, which also features the brilliant David Koechner, sees a used car salesman being foiled by a bunch of planted dead hookers. And if you can't get behind the idea of Macdonald very frankly saying the phrase, "Pal, I know a dead hooker when I see one," we are not the same.
Norm Roasts Courtney Thorne-Smith
Norm Macdonald's sheer fearlessness and carelessness is admirable. Back again as a guest on Conan O'Brien's former NBC talk show back in the '90s on the same night as Courtney Thorne-Smith, known for her work on "Melrose Place," Macdonald full-on hijacks her moment in the spotlight. Not only does he brazenly undercut her leaving the then-popular show, but he also absolutely torches her decision to star in Carrot Top's flop "Chairman of the Board." Though at the time, the movie had yet to come out and Thorne-Smith had high hopes. Macdonald expertly dashed those hopes in front of millions. There is some, shall we say, outdated language in the segment. But the core of the bit is truly something to behold.
Norm Macdonald On Weekend Update
It would be impossible to pick just one single moment from Norm Macdonald's defining three-year run as host of "Weekend Update" on "SNL." The man delivered the news in a way only he could, with a sense of humor that often bordered on insensitive, yet maintained its hilarity. At times uncomfortable but always impressive, Macdonald did this job as no one has before or since. It's actually his unrelenting takedowns of O.J. Simpson that may well have led to his eventual departure from the show. But Norm wasn't willing to stop being himself, even in the face of losing a job most comedians dream of having.
RIP, Norm Macdonald. The world is a lesser place without you in it.