Star Wars: Visions Characters Revealed, Refresh Your Anime Rankings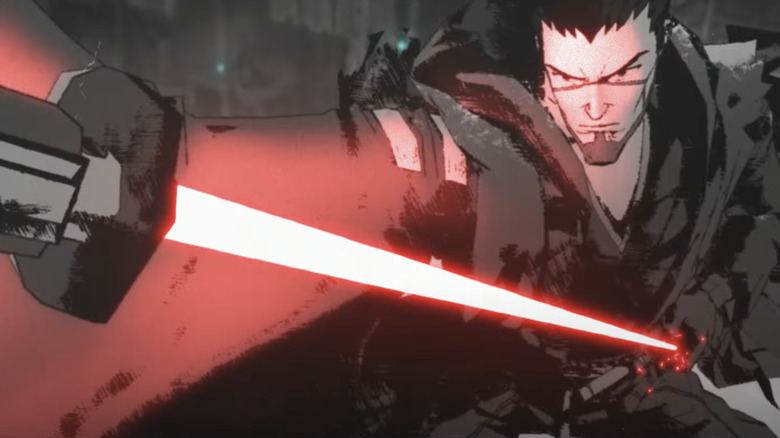 Lucasfilm
"Star Wars: Visions" is coming to Disney+ on September 22, and it promises to deliver an interesting new twist on the "Star Wars" mythos, some of which already has Japanese roots. The series is a nine-episode anime anthology, with seven different Japanese studios behind it, and it actually shares its name with a museum exhibition that toured Japan over half a decade ago.
This week, StarWars.com is promoting the series by teasing out (and just outright teasing) some character details from producer Kanako Shirasaki and executive producer Josh Rimes. The pair spoke with the site and revealed details of five of the new heroes that fans will be meeting in "Star Wars: Visions."
We're not going to be delving into any heavy spoilers, but if you'd rather go into the anthology knowing nothing about it, be forewarned that some light story details might trickle in here as we look at each of the characters.
Kara From The Ninth Jedi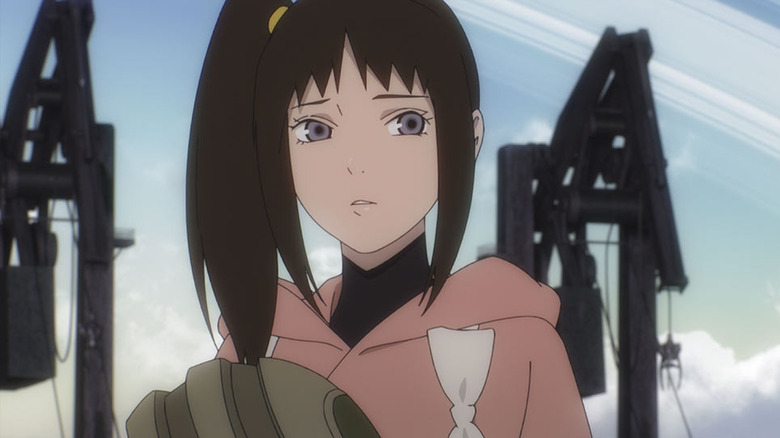 Lucasfilm
First up is Kara, the heroine of "The Ninth Jedi" from Production I.G. Writer-director Kenji Kamiyama says of Kara:
"Thematically, Kara has familiar hopes and dreams as heroes like Luke or Rey. She longs for more, wishes to become a hero and get off her tundra planet where great harpoon cannons farm for kyber crystals from the asteroids above. What's new, though, is that Kara has a stable, loving relationship to her father. He's everything to her and she's everything to him."
Karre From The Twins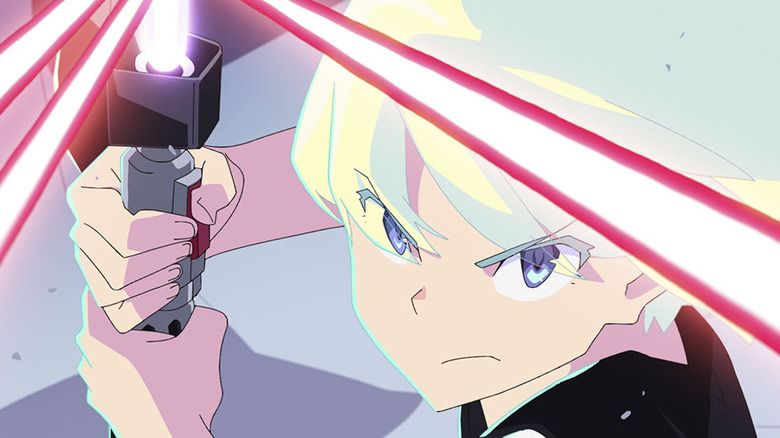 Lucasfilm
Next up is Karre, one half of Trigger's "The Twins," which "follows dark side siblings Karre and Am, an almost flip-version of the Skywalker saga's well-known brother and sister." Though he "sports very Vader-esque black armor, complete with flowing cape, chest box, and mask," it sounds like Karre will be conflicted like Darth in "Return of the Jedi" or Kylo Ren in the sequel trilogy, while he and his sister serve as an inversion of Luke and Leia.
Dan From The Elder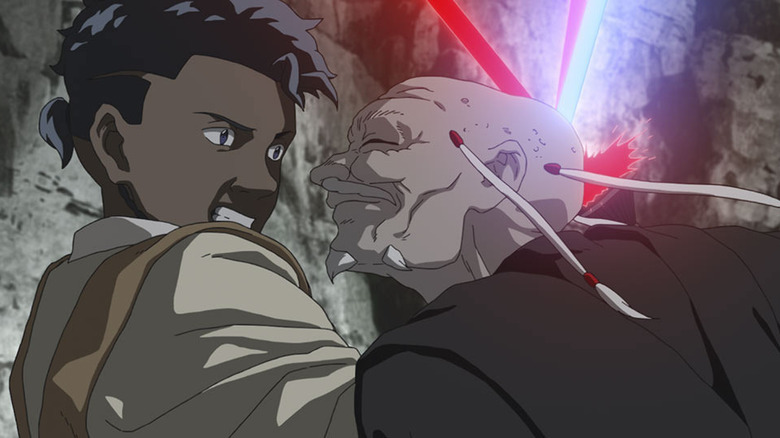 Lucasfilm
"The Elder" also hails from Trigger and it "explores the classic master-Padawan relationship." Dan is the Padawan and his master is Taijin. Shirasaki says:
"Dan has a typical Padawan hairstyle with a braid, but I love that he added his own twist with shaved lines to it. His curiosity and lack of experiences land him in dire straits, but his master teaches him the lessons needed to overcome his challenges."
F From The Village Bride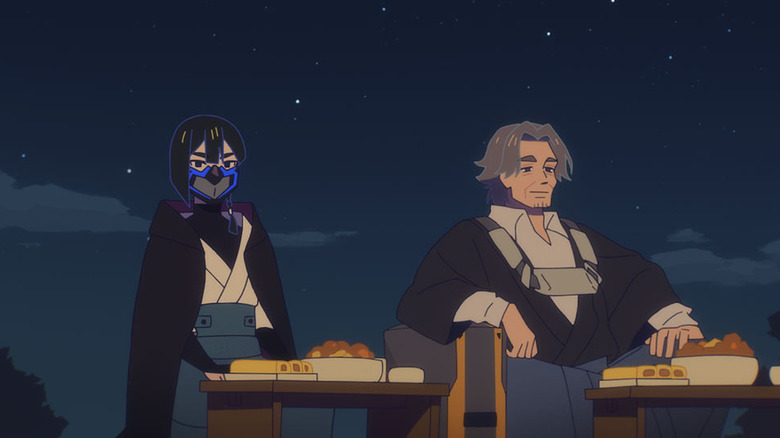 Lucasfilm
"The Village Bride" comes from Kinema Citrus and it "finds a fallen Jedi, known only as F, observing a small village's wedding rituals." The movie Jedi are space samurai, with laser swords instead of katana blades, and with "Visions" itself being something of a cultural mash-up, it's interesting to hear that this episode will look at "the idea of the Force, and how different cultures might interpret the mystical energy field."
Ronin in "The Duel"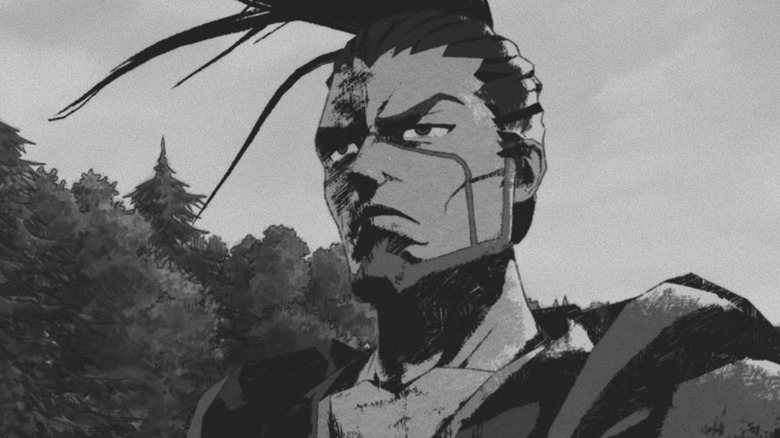 Lucasfilm
Finally, and perhaps most excitingly, there's Ronin in "The Duel." This episode sounds right up the alley of anyone who is an Akira Kurosawa fan. Kurosawa's "The Hidden Fortress" inspired much of the original "Star Wars" movie in 1977, and fittingly, "the designs of Ronin and his droid were some of the first created" for "Visions." Rimes says:
"Ronin is a wanderer, an anti-hero, a mysterious warrior directly influenced by Toshiro Mifune and Kurosawa films like 'Yojimbo.' He exists in a realm where old Kurosawa films, manga, Westerns, and Star Wars all collide in a feudal style world full of stormtrooper remnants and alien bodyguard squads — and his sidekick is a killer droid in a straw hat."
As someone who has written reams about the intersection between "Star Wars" and Japanese culture, I'm very curious to check out "Star Wars: Visions." You can see for yourself what all the hubbub is about when the series makes the hyperspace jump to Disney+ on Wednesday, September 22, 2021.