Everything We Know About The Nevers Season 2 (AKA Part 2 Of Season 1)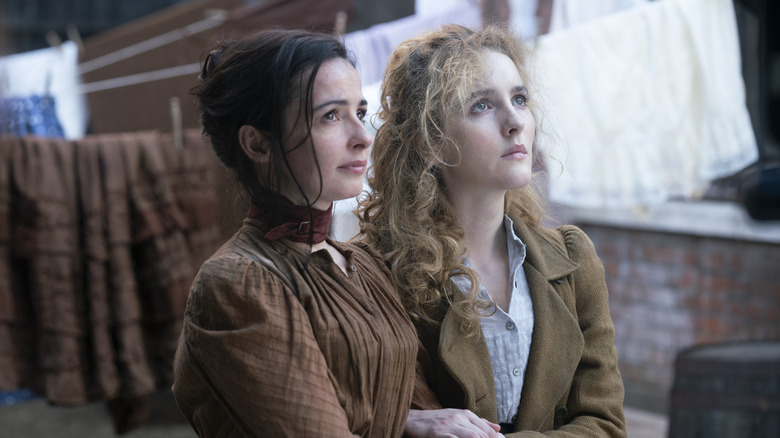 HBO
The first six episodes of HBO's "The Nevers" premiered in April 2021. The story, which takes place in 1896 Victorian London, chronicles the aftermath of what happens when several people — mostly women — are receive extraordinary abilities. The last few episodes that aired included a shocking revelation about how certain people received powers, but in doing so opened up a slew of new questions.
When will we potentially get answers? Read on to find out everything we know so far about future episodes of "The Nevers."
When and Where to Watch The Nevers Part 2 of Season 1
HBO is calling these first episodes "Part 1" of season 1. When will we see Part 2 (or season 2, if you don't want to use HBO's nomenclature)? Future episodes of "The Nevers," like the episodes before it, will air on HBO. That means you can check them out on HBO Max if you're a subscriber or, if you're old school, on the HBO cable network.
When specifically you'll see them, however, is unknown. HBO has promised Part 2 "at a later date" in a statement, but when that date may be is uncertain. Part of that uncertainty revolves around the fact that Joss Whedon ostensibly stepped down as showrunner and Philippa Goslett stepped in to showrun the upcoming episodes.
What We Think Part 2 of Season 1 Will Be About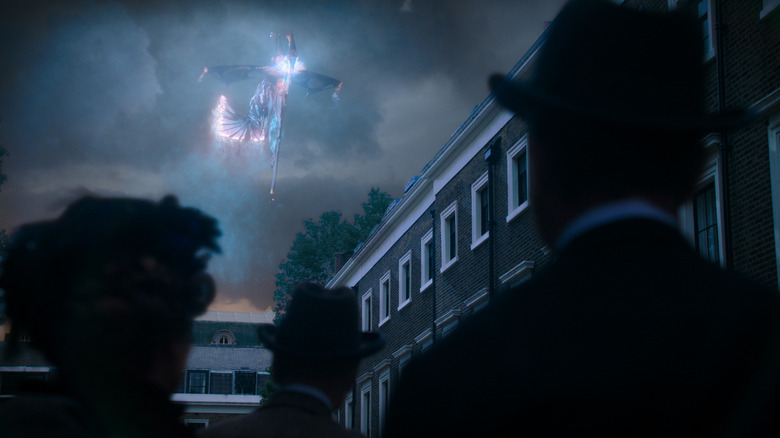 HBO
I get into major spoiler territory, but if you're reading this I'm assuming you've watched Part 1 of "The Nevers." If not, prepare yourself...
The end of Part 1 reveals that the women (and some others) living in Victorian London were bequeathed their powers from a time-traveling alien called the Galanthi. We also find out that the main character, Amalia True (Laura Donnelly) is actually from the future. It is, to use the technical term, a bananas ending that upends everything we thought we knew about the show.
Now that the audience is armed with this knowledge and what's truly at stake (the Galanthi is still alive for one, albeit buried in rock), things really could go anywhere. Add into this equation that Goslett has taken over from Whedon and has not spoken to press, and the possibilities for where "The Nevers" goes seem endless.
What We Know About The Nevers Writers and Directors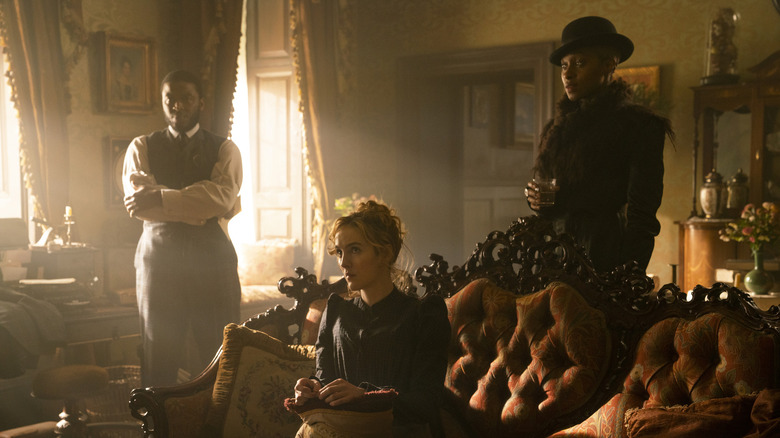 HBO
Joss Whedon created "The Nevers" and first announced the show way back in 2018 at San Diego Comic-Con. In November 2020 when the first part of the season was in production, Whedon stepped down citing fatigue. Whedon said in a statement at that time:
"I am genuinely exhausted, and am stepping back to martial my energy towards my own life, which is also at the brink of exciting change. I am deeply proud of the work we have done; I'm grateful to all my extraordinary cast and collaborators, and to HBO for the opportunity to shape yet another strange world. 'The Nevers' is a true labor of love, but after two plus years of labor, love is about all I have to offer. It will never fade."
Whedon's exit coincided with actor Ray Fisher's allegations of mistreatment by the director on the set of "Justice League." Other actors, including Gal Gadot, supported Fisher with their own claims of mistreatment by the director. Given the timing, one can't help but wonder if the two are connected. That is just a theory, however, and one that we'll likely never be able to prove or disprove.
While Whedon remains executive producer on the show, Goslett is now running the series. Before showrunning "The Nevers," the British screenwriter is best known for co-writing 2018's "Mary Magdalene" and 2017's "How to Talk to Girls at Parties."
Whedon directed three of the first six episodes he oversaw, with David Semel directing two and Zetna Fuentes directing one of the epsidoes. We don't know yet who will direct the episodes in Part 2. Melissa Iqbal, Kevin Lau, Laurie Penny, Madhuri Shekar and Jane Espenson also receive writing credits for Part 1.
What We Know About The Nevers Cast for Part 2 of Season 1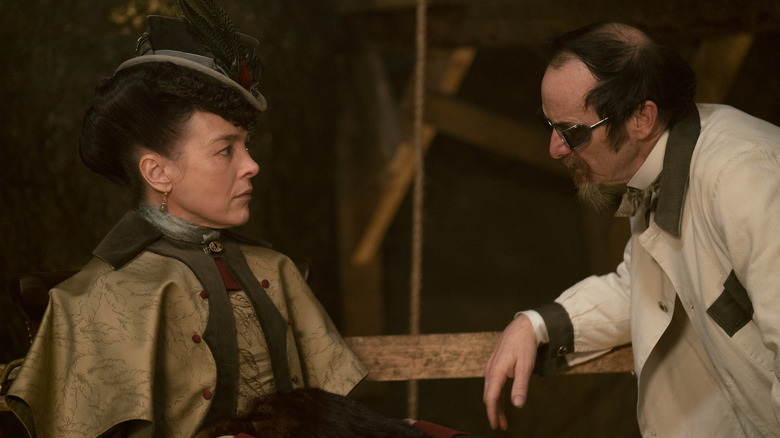 HBO
As far as we know, the cast in the back half of season 1 will remain the same. That cast includes Laura Donnelly ("Outlander"), Olivia Williams ("The Ghost Writer"), James Norton ("Happy Valley"), Tom Riley ("Da Vinci's Demons"), Ann Skelly ("Vikings"), Ben Chaplin ("The Letter for the King"), Pip Torrens ("The Crown"), Zackary Momoh ("Harriet"), Amy Manson ("Once Upon a Time"), Nick Frost ("Shaun of the Dead"), Rochelle Neil ("Death in Paradise"), Eleanor Tomlinson ("Poldark"), and Denis O'Hare ("This is Us").