The 17 Best Kids Movies That Adults Will Also Love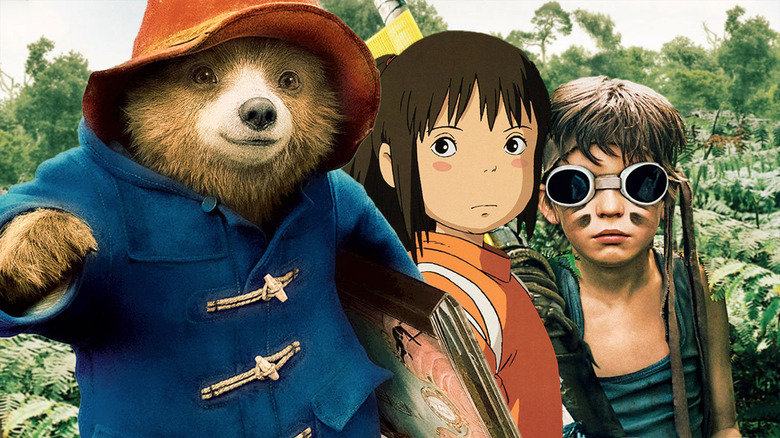 StudioCanal / Studio Ghibli / Celluloid Dreams
Whether you're a parent/guardian, teacher, babysitter, or in charge of entertaining young children for whatever reason, choosing a kids movie can be an arduous task. You don't want to be talked down to by a cartoon animal with a voice pitched so high it gives you a tension headache — and frankly, kids don't deserve that either! Here are some movies for kids that adults can actually enjoy and love. You know, the G and PG-rated movies that don't make you feel desperate for adult conversation. (Or, if there are no children in your vicinity and you just feel like watching a kids movie because you've had a stressful day or just enjoy them, that is entirely your prerogative.)
These are also films that adults can enjoy not just because they themselves enjoyed them as kids. Nobody needs any help picking a Pixar movie or a Star Wars; universally beloved by adults and kids alike, you probably already have a favorite. You already know what kids movies hit all the right nostalgia. You have the franchises you're excited to share with little ones in your life lined up and ready to go. Also, while there are plenty of adults who rock out to "Frozen" and "Moana," parents with young kids might be sick of them by now ... so it's always good to have some fresh options.
Mouse Hunt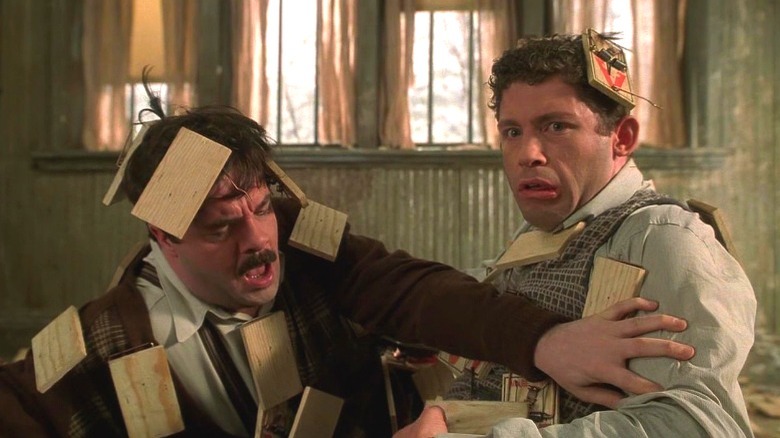 DreamWorks
Gore Verbinski's 1997 slapstick comedy about two brothers who inherit their father's mansion only to be terrorized by a clever mouse living inside holds up shockingly well almost 25 years later. It's funny. It's weird. It's messy and gross. Kids can handle comedic portrayals of violence and death better than you think. It's actually kind of disturbing, but you'll be darkly chuckling at all the ways the brothers' plans backfire right along with the kids. 
Nathan Lane (who has major kids movie cred from "The Lion King") and Lee Evans make a great odd couple as the two brothers. "Mouse Hunt" can also serve as a kid's perfect intro to Christopher Walken, who shows up as a wacky exterminator, as a performer. One final suggestion? Queue this movie up when the kid (or kids) in question want to watch "Home Alone," but it isn't even close to Christmas. 
Spirited Away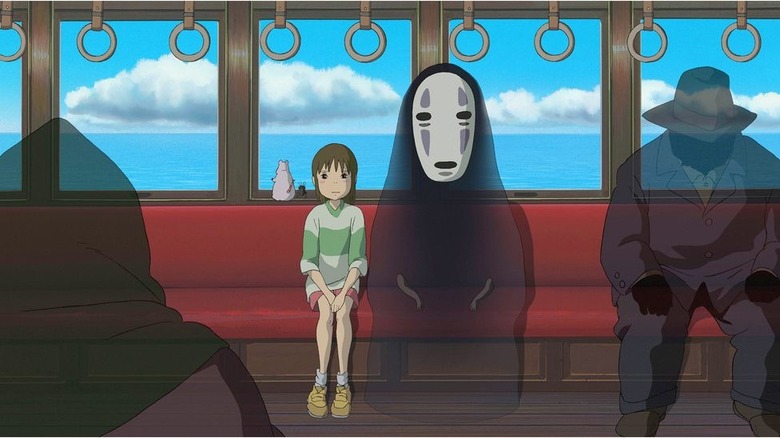 Studio Ghibli
Pretty much all of Hayao Miyazaki's beautifully drawn animated films for Studio Ghibli have a respect for children's intelligence that make them enjoyable watches for adults as well. "Ponyo" and "My Neighbor Totoro" will enchant really young kids. "Kiki's Delivery Service" is a witchy alternative to "Harry Potter" if you need one. 
"Spirited Away" is not just a mature story with gorgeous visuals, however; it's stressful and engaging to watch even as an adult! Chihiro/Sen, whose parents turn into pigs after the family wanders into a magical village, is almost constantly in danger. You'll be hooked by the many twists and turns the story takes, especially if you're watching for the first time. You'll love the relationship that develops between Sen and Haku, another trapped soul in the village. Adults could also, especially in Western society, do with a refresher course on the evils of greed as portrayed in "Spirited Away." It's a complex film that adults are guaranteed to love. 
Spider-Man: Into the Spider-Verse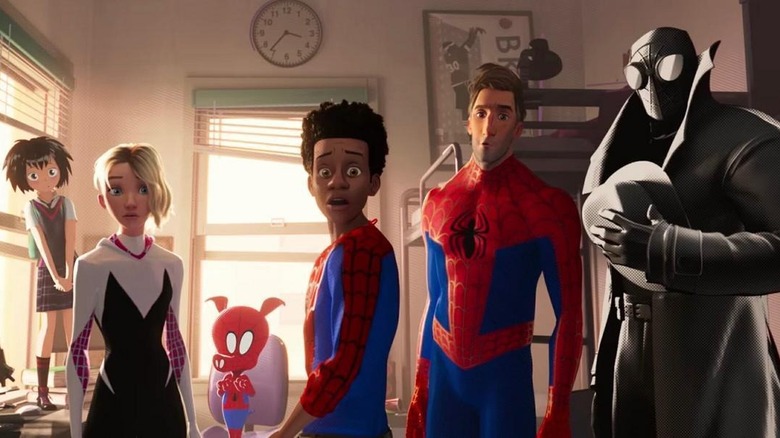 Sony Pictures
In the rare event that you avoided "Spider-Man: Into the Spider-Verse" when it was released in 2018 due to "Spider"-fatigue or the assumption that an animated film would be just for kids and not for you, a Marvel-loving adult — correct that immediately. It's probably the best "Spider-Man" movie ever made, putting your Maguire vs. Garfield vs. Holland arguments to shame ... or at least putting them in a separate league. 
"Into the Spider-Verse" is joyous, and funny, and fun — something we've lost in a superhero landscape so obsessed with being grim and dark — but still poignant. There's something for everyone in this movie, because as it teaches us, anyone can be Spider-Man. Kids can giggle at Spider-Ham while you lose your mind over Nicolas Cage as Spider-Man Noir. There's a Miles Morales origin story for younger generations and a quarter-to-midlife crisis story for the grown-ups in the room. The animation is as inventive as modern comic books and the soundtrack is, like, genuinely excellent.
Belle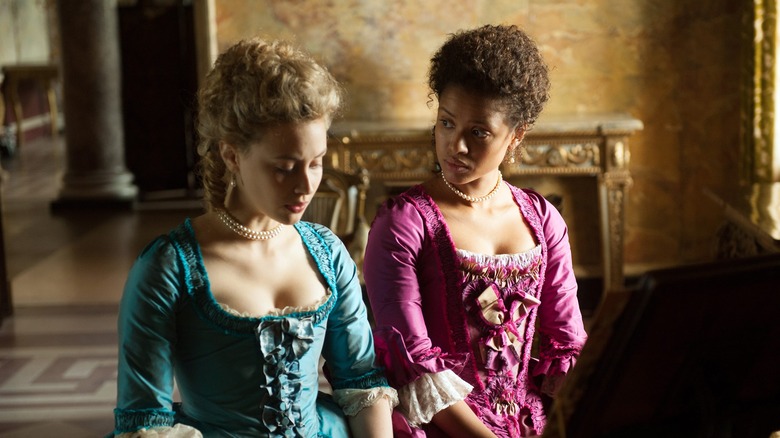 Fox Searchlight
Amma Asante's 2013 film about an illegitimate mixed-race young girl raised in British high society feels like any other fairy tale or Jane Austen period piece when you're watching it. Dido Elizabeth Belle, played by Gugu Mbatha-Raw, is an outsider similar to Elizabeth Bennett or Fanny Price — but different, of course, because she's not white. You're drawn to the relationship between Dido and her cousin Elizabeth. You're rooting for them both to find husbands. The film even becomes a bit of a courtroom drama, and exposes some aspects of 18th century British society that we don't often see in the lush costume dramas about the era. Then you learn that "Belle" is based on a true story, and it becomes even more fascinating. The film is kid friendly with a PG rating — so maybe suggest this as an alternative the next time kiddos want to watch "Cinderella" or "The Princess Diaries."
The Parent Trap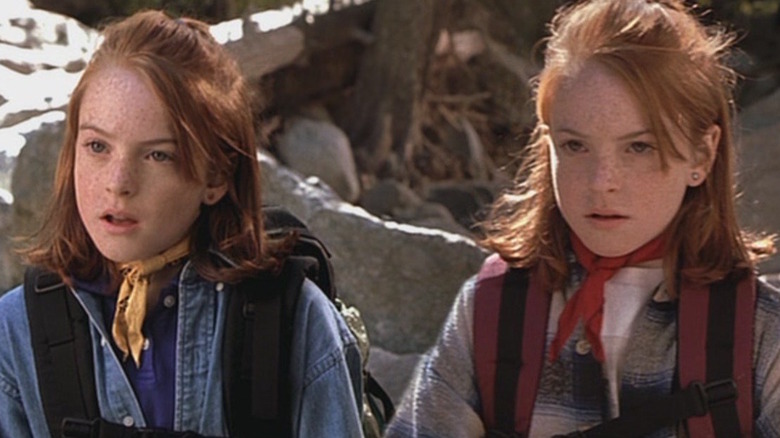 Disney
While "The Parent Trap" is essentially about kids who are smarter than the adults in their lives and trick them into falling back in love, adults will still love it because it doesn't have that snarky tone that the precocious children on the Disney Channel and Nickelodeon often take. (You know the one.) It also doesn't hurt that this movie has an incredibly sexy adult cast. Modern day Disney romantic interests wish they could have an ounce of Dennis Quaid and Natasha Richardson's chemistry. 
It might actually be fun to have a "Parent Trap" double feature as a family, no pun intended. You can pair the 1998 movie with the 1961 original and then host a "talk back" with kids and adults where you compare and contrast the two versions of the film. See if they spotted any Easter Eggs or references to the original in the remake. 
School of Rock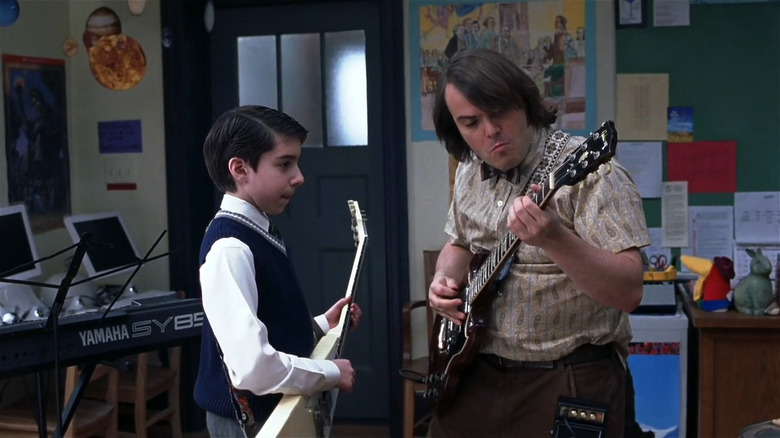 Paramount Pictures
"School of Rock" is a sizzling satire hidden under a family comedy. While kids are giggling at Jack Black's antics, adults are watching a take down of our educational system and adulthood. That's not too surprising; the screenplay was written by Mike White, who is responsible for HBO's equally satirical "White Lotus." 
The film is about a burnout who gets kicked out of his band, takes a substitute teaching job under a false identity, and teaches the kids how to play music instead of long division so they can win Battle of the Bands. It's irresponsible and dangerous on paper, but the students are never really in any kind of peril — which makes it low stakes for anxious adults and thrilling for kids who'd rather be rocking out at school. Plus, put this on and sharing your favorite bands with the kids won't make you feel quite so old, for once. 
Camp Nowhere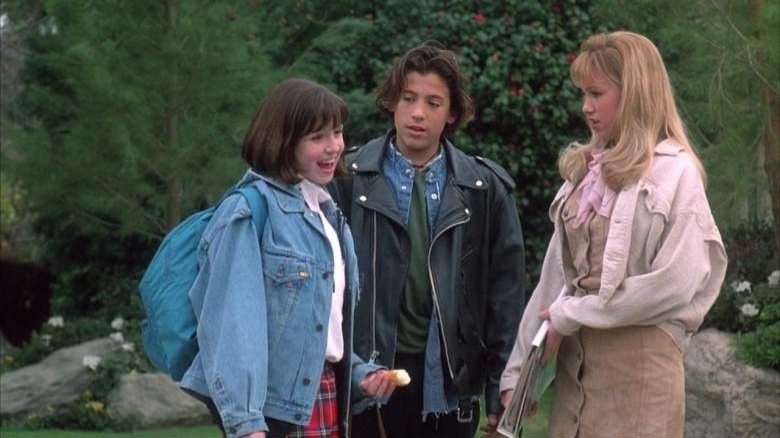 Disney
Maybe this is one you grew up watching, or maybe it's a hidden gem that adults can discover for the first time right along with the kids. Like "School of Rock," "Camp Nowhere" is about a bunch of kids who pull one over on their parents with an elaborate scheme and the help of one lovable adult scumbag — but it's set at camp, instead of school, and the scumbag is Christopher Lloyd. 
The message of both films is clear: Adults and kids alike all need structure, but nobody likes to be micro-managed. Not looking forward to the strict summer plans (military camp, computer camp, FAT CAMP) their parents have set up for them, a group of kids rent some cabins and hire an actor, Lloyd, to pretend to be the camp director. The kids in this are at times chaotic and at other times capable in a way that feels actually kind of reasonable. 
Stand By Me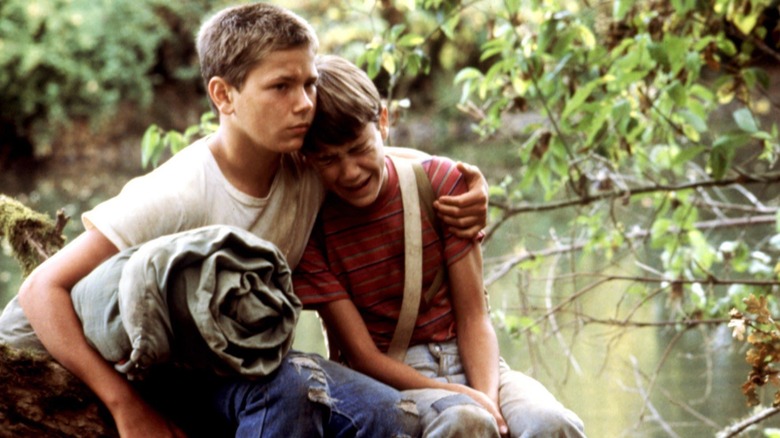 Colombia Pictures
The best thing about "Stand By Me" is that it's a funny and emotionally mature coming-of-age story that will make your heart grow three sizes. The second best thing about "Stand By Me" is that it's 89 minutes long. There isn't an ounce of fat on this film. If you're watching with kids, you won't be up too late or worried that they'll stop paying attention. 
If you've never seen Rob Reiner's adaptation of Stephen King's short story "The Body," it is about four close friends who set out on a weekend camping adventure to find a dead body in the woods. This leads to some shenanigans, a decent amount of conflict, and a lot of frank conversations about death and loss. All ages can relate. Also, not for nothing, but for an 80s movie it holds up pretty well — save for one homophobic and some sexist and ableist slurs.
Son of Rambow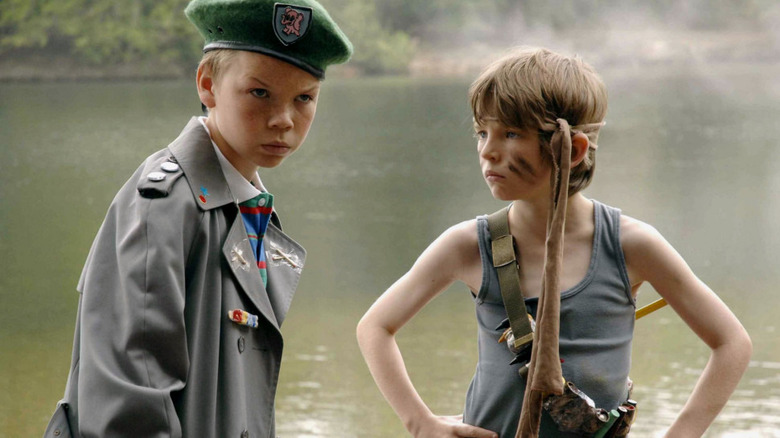 Paramount
You know Will Poulter from "The Chronicles of Narnia," "The Maze Runner," and "Black Mirror" but have you seen him in this early role? This British comedy is perfect for adult action movie fans ... but it's for and about little kids! The premise is simple: two boys become friends while trying to reenact and film scenes from "First Blood." 
As a coming-of-age film it's not typical or terribly predictable, though the DIY nature of Lee's amateur filmmaking may remind you of a Wes Anderson film. (The dry humor is similar to Anderson's droll signature style as well, though in this case that's more because it's a British film). The indie vibes make this a good one to recommend to adults and kids alike who haven't seen it and maybe haven't even heard of it. You'll turn the kids into hipsters in no time. 
Bugsy Malone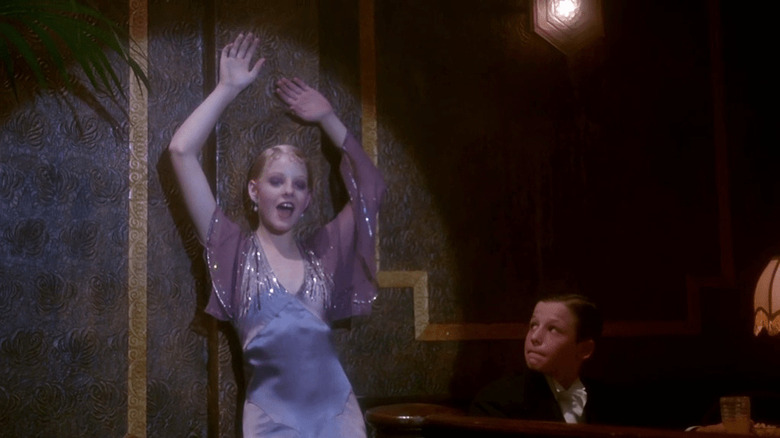 Paramount
Speaking of kids re-enacting genres that are too old for them, and the temptation to turn your own kids into film snobs, "Bugsy Malone" is a gangster musical parody starring young teenagers. Instead of mass murder, the guns spout whipped cream, so the warring gangs essentially pie each other in the face. Sure, the kid in "Home Alone" loved watching old gangster movies, but if you don't necessarily want to bring gun violence into your living room, this is a nice alternative. 
It's goofy, and might remind you of "The Little Rascals" at times, but not in a way that is grating or obnoxious. For the filmography buffs out there, this is an impressive first feature for director Alan Parker, who went on to make "Mississippi Burning," "Angela's Ashes" and "Midnight Express" as well as Pink Floyd's "The Wall." The film also stars a young Jodie Foster and Scott Baio.
The Muppet Movie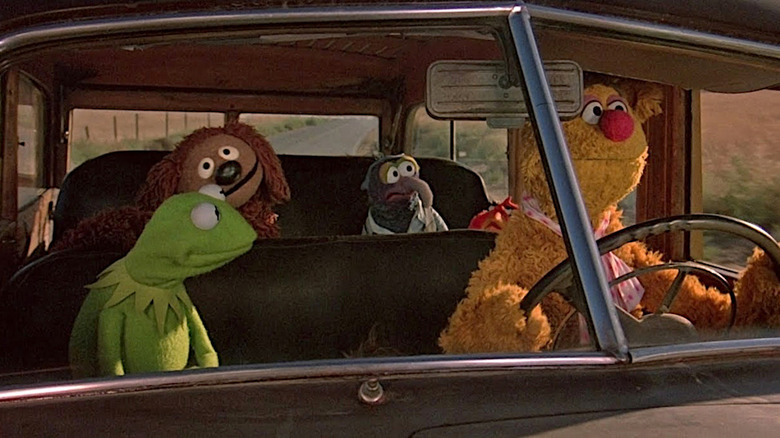 Disney+
You know how you'll be watching "Sesame Street" with kids and all of a sudden find yourself laughing at a pop culture reference or a joke that's clearly written for the adults in the room? Not in a sexual or dirty way necessarily, just something that would go over a kid's head. We owe that to Jim Henson and The Muppets. The running gag about Hare Krishnas in "The Muppet Movie" alone is something that adults will love and the average child will just absorb, or learn to laugh at because you're laughing. 
Kids (and many adults in 2021, to be honest) may not recognize all of the celebrity cameos in the 1979 film, but between all the other throwaway lines and references there's something for everyone. For children or newcomer adults, there is no better introduction to the world of the Muppets than their first theatrical outing.
Teen Beach Movie
Disney
You may have a favorite Disney Channel Original Movie from your own childhood, but if you're scrolling some of the more recent options consider "Teen Beach Movie," which is underrated and over-looked compared to the starry DCOMs like "High School Musical" and "Camp Rock." You wouldn't really expect a DCOM to obsess over something as niche as a sub-genre of light fare feature films that starred Frankie Avalon and former Disney kid herself, Mickey Mouse Club's own Annette Funicello, but it's kind of perfect for them. If you have Boomers in your family who grew up with beach party movies, or went through a phase of loving them yourself, you're guaranteed to enjoy this. 
"Teen Beach Movie" is "Pleasantville" meets "Schmigadoon" — as an overachieving girl considers breaking off her summer romance with her vintage musical-loving boyfriend, the two of them get trapped inside his favorite flick. They deconstruct gender norms all while having a toe-tapping good time. 
The Secret of Roan Inish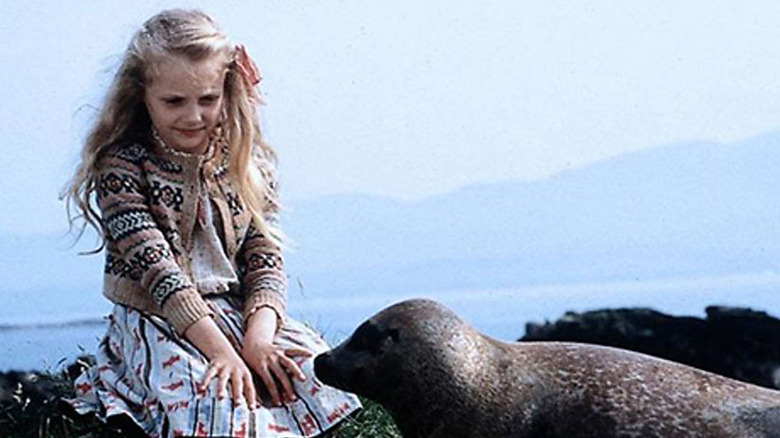 First Look Pictures
For cottagecore adults, try this Irish kid's film about a city girl who moves to the country, discovers a local legend tied to her own family history, and restores a whole village of old houses just for the fun of it. If you've ever felt the urge to go off the grid and work with your hands as a form of self-care, this one's for you. There's also a fantasy element to this coming-of-age tale. This film is about selkies, shapeshifters who transform into seals. 
It's based on a book — "Secret of the Ron Mor Skerry" by Rosalie K. Fry — if you're looking for book-to-film adaptations that aren't major franchises. This would be a great family book club culminating in movie night. You could also pair it with "Song of the Sea," an animated film about selkies, or for PG-13 audiences the swoony romance "Ondine" starring Colin Farrell. 
Wolfwalkers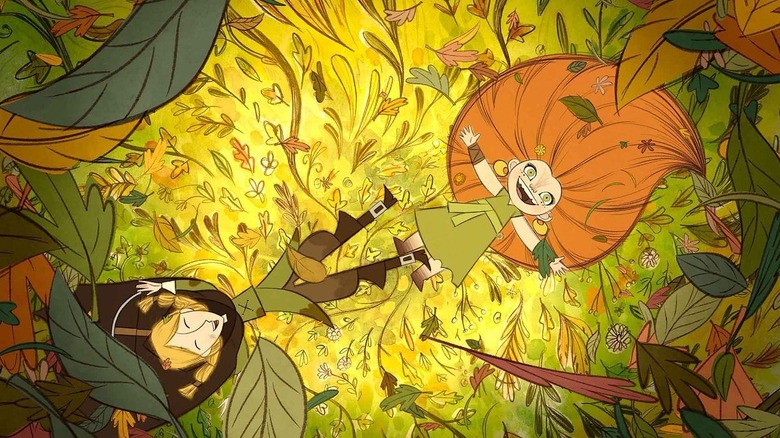 Apple TV+
Speaking of "Song of the Sea" and Irish coming-of-age films about shapeshifters, the animation studio behind both "Song of the Sea" and this film, Cartoon Saloon, is quickly gaining a similar reputation to Studio Ghibli for producing visually stunning and emotionally complex films for children. "Wolfwalkers," which was released on Apple TV+ in late 2020, is about a young English girl named Robyn living in an Irish village who befriends another outsider: a girl named Mebh who turns into a wolf at night and is looking for her mother. 
Soon Robyn becomes a wolfwalker too and fears that she will be persecuted by the town and her father. The stakes and emotions are high, and the animation is just breathtakingly beautiful. There's no denying that Disney and Pixar are still putting out quality films, but if you're kind of "over" the 3D animation and the way all of the characters kind of look the same these days, Cartoon Saloon is a refreshing change of pace. 
Matilda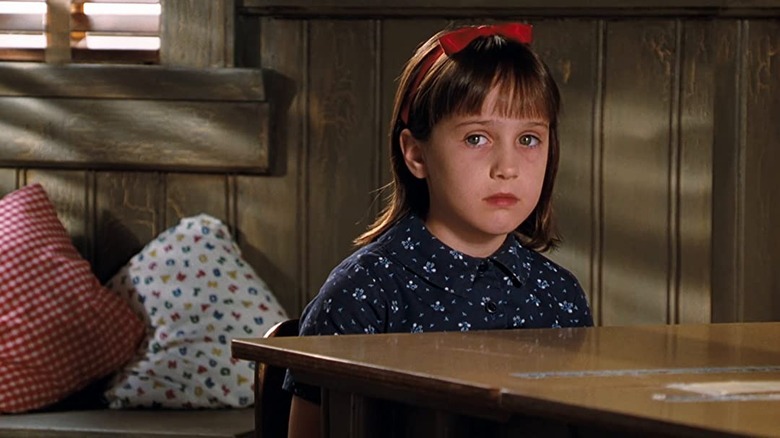 TriStar Pictures
Remember how nasty Roald Dahl books can get, and how much you loved that? One of the best adaptations of Dahl's work that really gets his method of telling stories to children without talking down to them is Danny DeVito's "Matilda." One of the easiest ways for a children's story to annoy tax-paying adults is by being overly cheerful, but Dahl's protagonists are almost always depressed, and Matilda is no exception. She has a horrible home life and a mostly horrible school life. As much as she likes to escape to fictional worlds in books, there is no fairy godmother or knight in shining armor coming to save her. She ultimately rescues herself. 
When Matilda reveals at the end of the film that she's been carrying adoption papers in her backpack just in case, you're actually relieved and thrilled for her. That said, this is not a grim or dark film. Rhea Perlman and DeVito's characters are the worst kind of people everyone has met, but hysterically funny and entertaining. 
The Iron Giant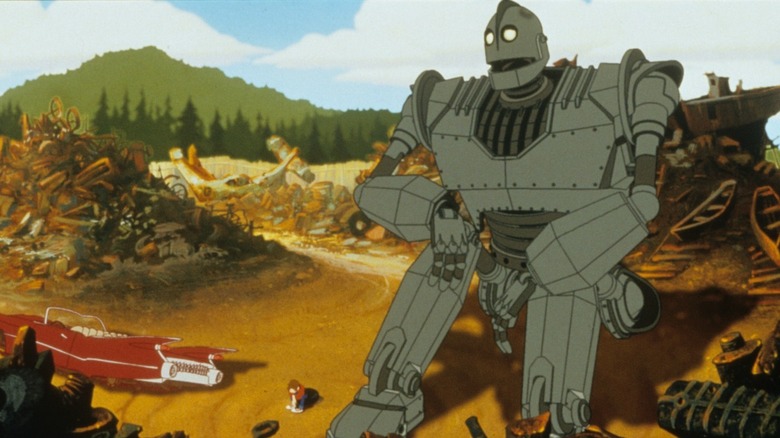 Warner Bros.
In the first season of "Ted Lasso," the kindly coach hosts a movie night for his team as a bonding exercise and chooses "The Iron Giant." Soon ("around the 75 minute mark" to be exact, according to Lasso), the entire group is reduced to tears. That's the effect that Brad Bird's bittersweet animated film for has on adults. It's not as quippy or complicated as some of the Disney animated classics you may be more familiar with — even the ones made by Bird himself, like "The Incredibles" and "Tomorrowland" — though it is as thoughtful and intellectual as his later films. 
This one is a little more nostalgia bait-y than some of the picks on this list. You may have noticed that the titular Iron Giant has appeared in both "Ready Player One" and the "Space Jam" sequel. But unlike some films from the '80s and '90s that don't really hold up, "The Iron Giant" truly stands the test of time.
Paddington 2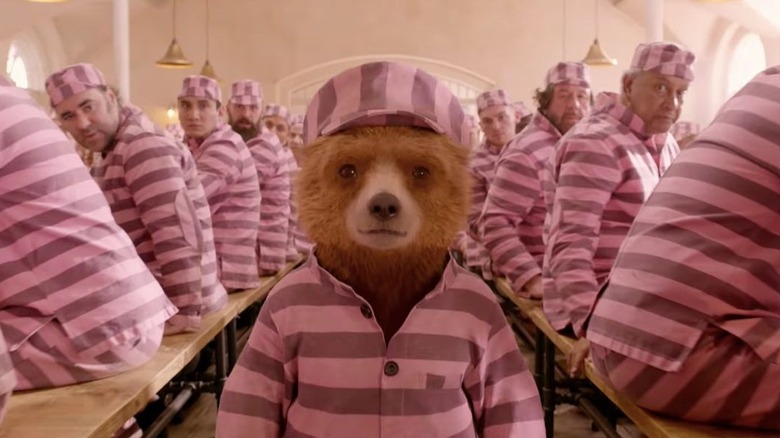 StudioCanal
It's not exactly a deep cut to say adults love "Paddington 2," but it's worth mentioning nonetheless. You could be the snobbiest film buff or the snarkiest comedian and still melt at this polite little bear. Do adults relate to the bumbling, accident-prone protagonist just trying his best? Are they smitten with the very English cast of human actors? Are they living vicariously through a world where empathy and community win? All of the above, likely.
If for whatever reason you've missed out on this unassuming juggernaut of a franchise, don't worry. You don't even need to watch the first "Paddington" film to follow and fall for the sequel, either. Paul King's sophomore adventure stands on its own. In it, Paddington's singular goal is to buy a birthday present and he ends up in jail. Jail! It's a bonkers premise for a children's movie that somehow works perfectly.