Superhero Bits: Animated Injustice Movie Trailer, James Gunn Debunks A Peacemaker Cameo Rumor & More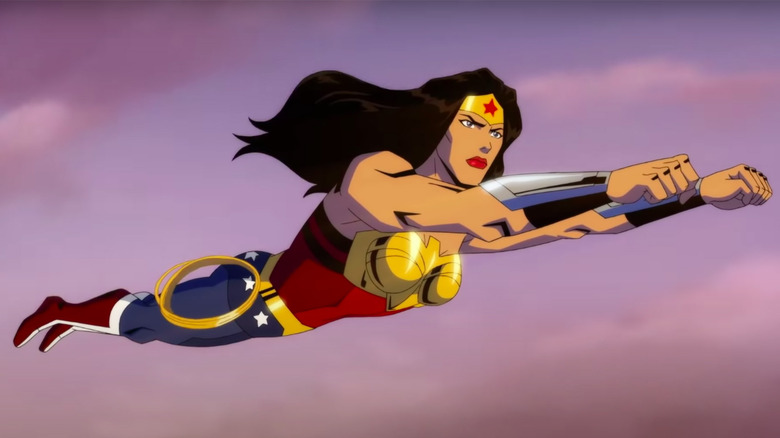 Warner Bros. Animation
(Superhero Bits is a collection of stories, updates, and videos about anything and everything inspired by the comics of Marvel, DC, and more. For comic book movies, TV shows, merchandise, events, and whatever catches our eye, this is the place to find anything that falls through the cracks.)
In this edition of Superhero Bits:
Watch the trailer for the animated "Injustice" movie coming in October
James Gunn debunks a rumor about the first season of "Peacemaker"
Get ready for "Batman: The Audio Adventures" coming to HBO Max this month
"Shang-Chi" director Destin Daniel Cretton talks one of the movie's credits scenes
All that and more
Batman: The Audio Adventures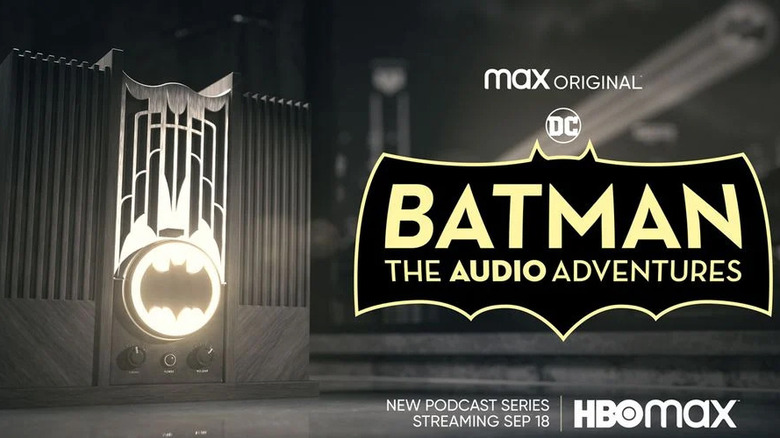 HBO Max
This year, Warner Bros. and DC Comics will be celebrating Batman Day on September 18. Part of the fun will be the debut of "Batman: The Audio Adventures," a new podcast that's coming to HBO Max for the Dark Knight's holiday. Here's how the streamer describes the show:
"Gotham City comes to lurid life in the theater of your mind...with a sensational pageant of technicolor villainy unlike any other on Earth. Mafioso Penguins. Thieving Catwomen. Terrorist Riddlers. Killing Jokers...a city where some problems can only be solved by a billionaire in a bat costume. Batman: The Audio Adventures draws inspiration from the vintage noir atmosphere of the celebrated Batman: The Animated Series, the spirited fun of the classic 1960s Batman TV series, and the entire 80-plus year history of the Batman franchise."
"Batman: The Audio Adventures," written and directed by Dennis McNicholas ("Saturday Night Live"), will feature Jeffrey Wright as Batman, Rosario Dawson as Catwoman, and John Leguizamo as The Riddler. You'll also hear Chris Parnell, Melissa Villaseñor, Seth Meyers, Brent Spiner, Ike Barinholtz, Bobby Moynihan, Kenan Thompson, Jason Sudeikis, Alan Tudyk, Heidi Gardner, Brooke Shields, Paul Scheer, Tim Meadows, Fred Armisen, and Ray Wise in other roles.
Batman: The World is Coming Next Week
DC Comics is releasing a hardcover anthology comic series called "Batman: The World," featuring Dark Knight stories created by people from around the world. Here's the official description of the upcoming comic release, coming next week:
Marking Batman's international influence on popular culture, DC will release a first-of-its-kind publishing event, BATMAN: THE WORLD. This massive 184-page hardcover anthology launches globally in 14 international markets on Tuesday, September 14, and features Batman stories by top creative teams across the globe. These stories will take place in their home countries and each version of BATMAN: THE WORLD will be localized and distributed in the following territories: United States , Brazil, China, Czech Republic, France, Germany, Italy, Japan, Mexico, Poland, Russia, South Korea, Spain, and Turkey.
Leslie Grace Hasn't Seen the Batgirl Costume Yet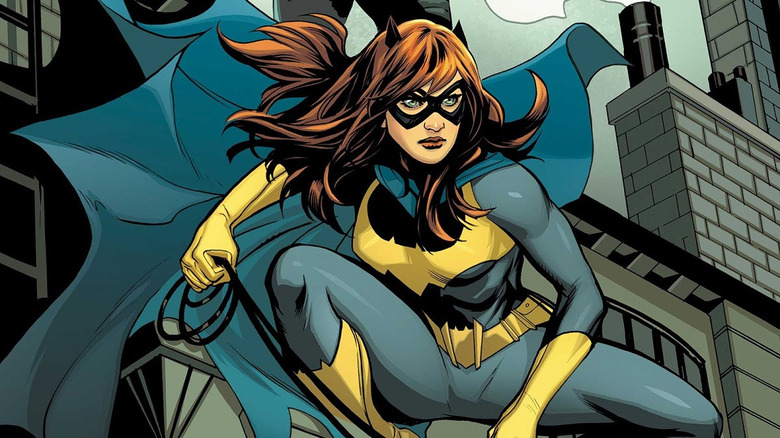 DC Comics
Leslie Grace may have already been cast as "Batgirl" in the forthcoming HBO Max original movie starring the DC Comics superhero, but she's yet to see the costume she'll be wearing. Speaking with Entertainment Tonight, Grace played things close to the vest when talking about the show, but it sounds like she may not even know much about the movie yet. The actress said:
"I'm dying! They haven't told me anything, I honestly cannot leak anything, even if I knew. But I have no idea! I think probably until I head off, I won't know much, but I'm dying to know what that outfit looks like. I know that I'm going to be [doing], like, 35 different fittings for this costume. [Laughs]"
"Batgirl" will be directed by Adil El Arbi and Bilall Fallah with a script written by Christina Hodson, but there's no release date yet.
Stargirl Season 2: Summer School: Chapter Six
Here's the promo and a brief, official synopsis for the sixth episode of the second season of "Stargirl" on The CW:
Cindy (Meg DeLacy) and her new team make their move against the JSA leading to an epic showdown. 
Walter Garcia directed the episode written by Paula Sevenbergen.
James Gunn Debunks a Peacemaker Rumor
James Gunn doesn't tiptoe around rumors when it comes to the high-profile projects he's working on. If there's something making the rounds on the web that isn't true, Gunn won't hesitate to debunk it. 
Yesterday, the internet was abuzz with rumors of Bane making a cameo appearance at the end of the upcoming first season of HBO Max's "The Suicide Squad" spin-off series "Peacemaker," which was said to be a tease for a second season. But Gunn flat out said this rumor wasn't true, and he even clapped back at the insufferable Grace Randolph on social media when she tried to double down on the completely unfounded reports.
Shang-Chi and the TV Spot with the SlashFilm Logo
"Shang-Chi and the Legend of the Ten Rings" is now in theaters, and /Film is just one of the many outlets singing the film's praises. Check out the brief TV spot above and see if you can spot our logo among the sea of other publications that are imploring you to check out Marvel's latest superhero movie.
Shang-Chi Director Discusses Post-Credits Scene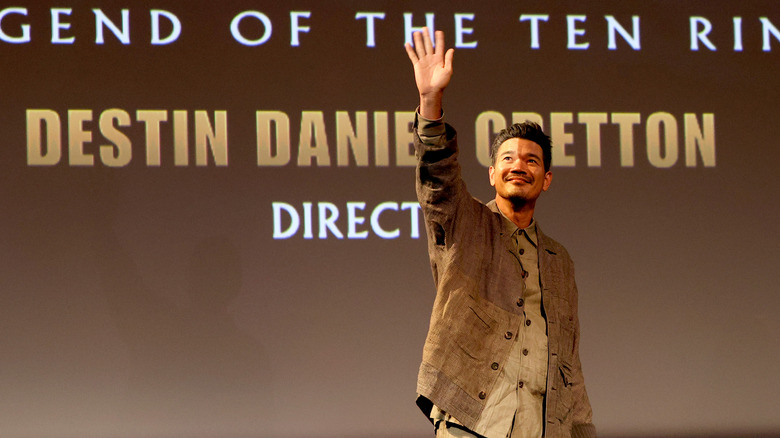 Kevin Winter/Getty Images
Marvel's "Shang-Chi and the Legend of the Ten Rings" features a post-credits scene that sets the stage for what's to come in the future for Marvel's first Asian superhero. Despite parts of Shang-Chi's family drama coming to a head, there's certainly more to come. Director Destin Daniel Cretton spoke to Entertainment Tonight about what that scene means for Shang-Chi, and more importantly, his sister Xialing. The filmmaker said:
"I feel like this family as a whole has taken steps towards healing, but I also think that it would be pretty unrealistic to believe that everything has been patched up. I think there was a very clear, emotional throughline that Xialing had been dealing with throughout our movie that was not addressed. And she clearly deserves as much attention as Shang-Chi does in the context of her family. There is a line in the middle of the movie where she tells Katy that if her dad won't let her into his empire, she's going to build her own. So, to see her sit on that throne and redefine it in a way that is uniquely hers is very exciting. I think there are many ways to view that moment. And they're probably all right."
Injustice Movie Trailer
"Injustice," the animated movie based on the DC Comics video game of the same name, is coming to 4K Ultra HD, Blu-ray, and Digital on October 19, 2021. Watch the trailer above, and read the official synopsis here:
Inspired by Injustice: Gods Among Us, NetherRealm Studios' popular video game, and the best-selling DC graphic novel based on the video game, Injustice: Gods Among Us: Year One by Tom Taylor, the animated film Injustice finds an alternate world gone mad – where The Joker has duped Superman into killing Lois Lane, sending the Man of Steel on a deadly rampage. Unhinged, Superman decides to take control of the Earth for humanity's own good. Determined to stop him, Batman creates a team of like-minded, freedom-fighting heroes. But when Super Heroes go to war, can the world survive?