Here's Where You Can Stream Or Buy Every Season Of South Park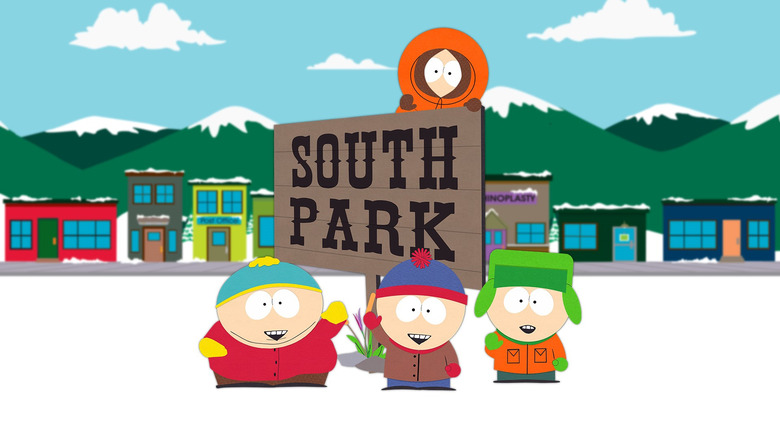 Comedy Central
We may receive a commission on purchases made from links.
(Welcome to Where to Watch, which provides a clear and simple answer to the question, "Hey, where can I watch this thing?" In this edition: South Park)
"South Park" has been delivering the adventures of four foul-mouthed children in their quiet Colorado mountain town for nearly a quarter of a century. What started as a controversial animated program that sent parents, schools, and authority figures into a panic over naughty language and toilet humor has turned into a sharp comedy series with plenty of topical social commentary and twisted satire (and yes, there's still plenty of profanity and poop jokes). Gone are the days of killing Kenny in every single episode, but in case you want to take a trip down memory lane and take a look back at how the series from Trey Parker and Matt has evolved over the years, we've got a handy guide on where you can stream or buy every single season of "South Park."
Where You Can Stream Every Season of South Park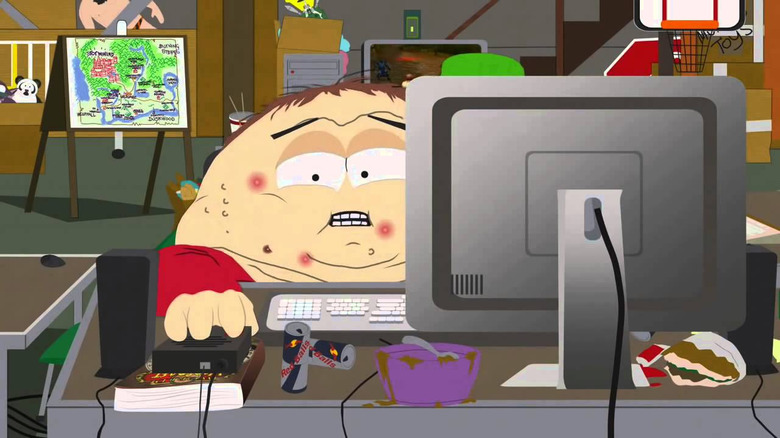 Comedy Central
"South Park" has been a Comedy Central series since it debuted in 1997. Before the streaming wars began, Trey Parker and Matt Stone took full control of the digital rights to their series, and back in 2008, they struck a deal to have every single episode of the series available to watch for free (with ads) at the show's official website. However, now that there are countless streaming services vying to build their libraries with established intellectual property, the entire "South Park" library isn't available so easily anymore.
Though "South Park" belongs to Viacom, the parent company of Comedy Central, you won't find the series streaming on their upgraded Paramount+ streaming service (formerly known as CBS All Access). Before Paramount+ was able to launch, HBO Max struck a deal with Viacom to become the exclusive streaming home for every season of "South Park," and that's where you can currently find all the previous seasons of the series to date. Sounds like the kind of decision Towelie would make after smoking a fat one.
That HBO Max deal for the "South Park" library was undoubtedly a huge loss for Paramount+, but Viacom recently struck a $900 million deal with creators Trey Parker and Matt Stone that will have them making 14 original spin-off movies exclusively for Paramount+ (starting with two later this year). So HBO Max won't be home to all of the "South Park" content out there. However, when it comes to the accompanying five-season renewal for "South Park" at Comedy Central, which will take the series to season 30, all new episodes will still head to HBO Max until their deal with Viacom runs out. 
As a bonus for "South Park" fans, HBO Max also has the making-of documentary "6 Days to Air" from 2011, which chronicles the fast-paced creation of an entire episode of the series in a single week.
Where You Can Buy Every Season of South Park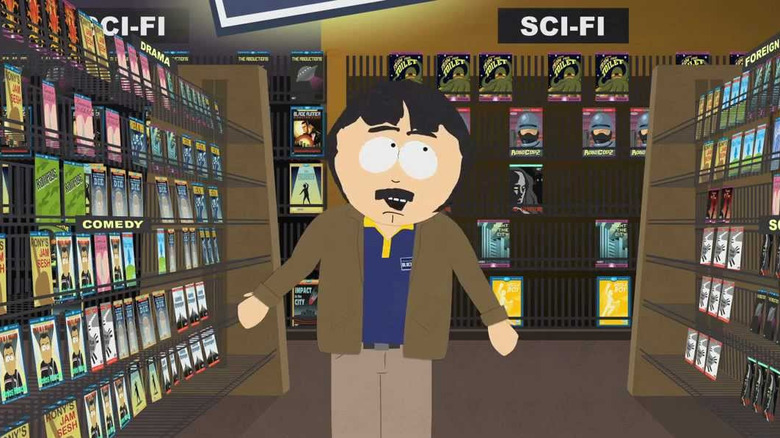 Comedy Central
Even though streaming is the popular format for entertainment these days, physical media is still the best way to watch in the highest quality available. Every season of "South Park" is available to purchase on Blu-ray and DVD, with Amazon offering the best prices. For hardcore fans, this will be more satisfying than streaming because of the special features included with each season's episodes, such as deleted scenes that didn't make it to air and other behind-the-scenes tidbits. There will be plenty for you to enjoy while you sit on your ballsack hoppity-hop!
Of course, this is still the digital age we're in, so maybe you want to have every season of "South Park" available at the touch of a finger. Every season of "South Park" is also available to purchase digitally, with each season costing anywhere between $24.99 and $34.99 from Apple's iTunes store, with no real rhyme or reason as to why some seasons are more expensive than others. 
For what it's worth, each season appears to be much more expensive on digital than on physical media, giving you another reason to stick with discs. Just remember, there's no place like the video store.