The Morning Watch: Paul Bettany Reacts To WandaVision, Picking The Best Movie Snacks & More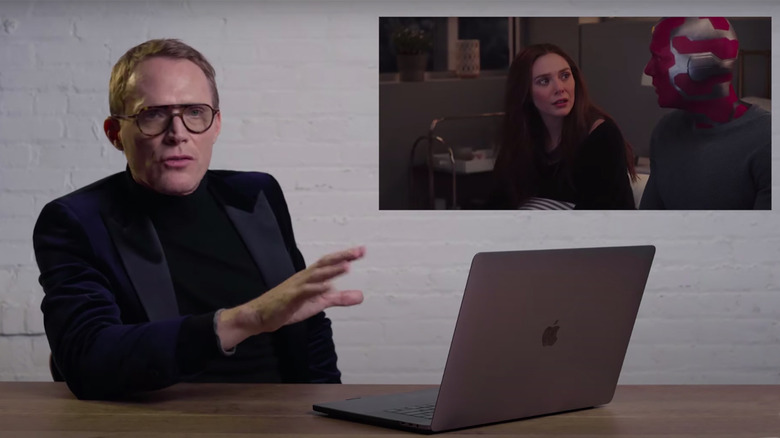 British GQ
(The Morning Watch is a recurring feature that highlights a handful of noteworthy videos from around the web. They could be video essays, fan-made productions, featurettes, short films, hilarious sketches, or just anything that has to do with our favorite movies and TV shows.)
In this edition, see how "WandaVision" star Paul Bettany reacts to key scenes from the Marvel Studios series and find out what he has to say about playing one-half of the superhero TV couple. Plus, go behind the scenes of "F9" before the blockbuster sequel comes to home video later this month. And finally, listen as one of the culinary masters from Binging with Babish picks the best snacks to get at the movies. 
Paul Bettany Reacts to WandaVision
First up, British GQ brought in actor Paul Bettany to review footage from the Marvel Studios series "WandaVision." You might not remember, but Bettany wasn't one of the A-list stars early in the 2010s. Even voicing Iron Man's digital butler JARVIS didn't give him much of a boost, but when the chance to turn JARVIS into Vision in "Avengers: Age of Ultron" came along, it changed his career and life. And here we are talking about the character's pivotal role in Marvel's genre-bending series "WandaVision" with a look back at some key moments.
F9 and Feeling Fine
F9 is now available on digital, and it will soon be coming to Blu-ray and DVD. If you're waiting for the physical media release before you dig behind the scenes of the blockbuster sequel, Universal Pictures has released a peek into the making of the film with this little featurette that shines a light on the impressive scope of the globe-trotting production. Since this is the sequel that finally took the team to space, this is one of the most ridiculous entries yet, and it's likely only going to get bigger when the two-part finale comes around.
The Best Movie Snacks
Leave it to the masters of recreating movie meals and snacks to pick the best snacks that you can munch on at the movie theater. Andrew Rea from Binging with Babish takes the time to pit the most familiar movie snacks against each other. After he dispatches with Raisinets right out of the gate (we can't blame him), see what he thinks of Gummy Bears, Milk Duds, Sour Patch Kids, Cookie Dough Bites, Twizzlers, and of course, popcorn.