No One Gets Out Alive Trailer: Director Santiago Menghini Lures Audiences Into A New Haunted House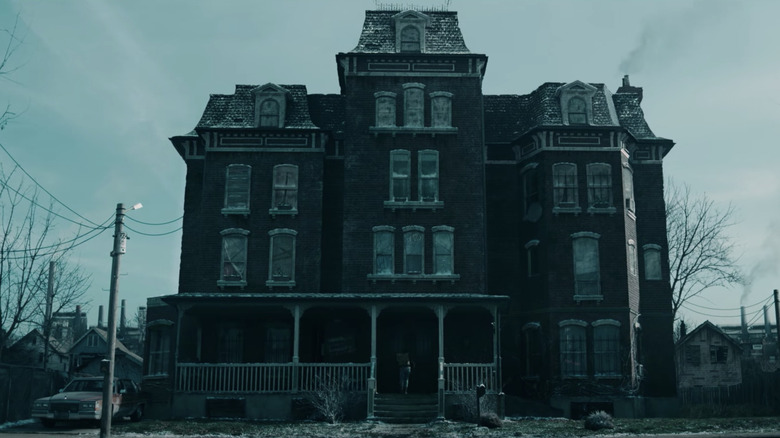 Netflix
Netflix is gearing up for Halloween and welcoming audiences into the spooky season with a new trailer drop featuring an enigmatic haunted house. Well-versed in shorts and visual effects, "No One Gets Out Alive" will be Santiago Menghini's directorial debut. The film follows a young woman in pursuit of the American Dream, who instead finds a nightmare within the very walls meant for shelter and refuge. Here is the official synopsis: 
Ambar (Cristina Rodlo) is embarking on her American Dream after years spent dutifully tending to her terminally ill mother in Mexico. She arrives in Cleveland illegally, with very little money and unsuitable clothing for what's expected to be the coldest winter on record. After finding cash-in-hand work at a local garment factory, she rents the cheapest room available from Red (Marc Menchaca) in a near derelict boarding house. Kept awake by the other tenants' sobbing, disturbing nightmares and strange unearthly noises echoing from the basement, Ambar begins to wonder exactly who – or what – lives inside the house with them. Soon it becomes clear that Ambar has walked into a trap, one where she will soon be introduced to the evil that has been lurking in the basement. Ambar must fight to escape her living nightmare, but in a house where no one listens to the screams, will she ever get out alive?
No One Gets Out Alive Trailer
A supernatural look at the American Dream seems like an appealing storyline for this fall. Hoping for the best yet preparing for the worst also seems like an apt modern-day motif these days. In the case of "No One Gets Out Alive," I'm staying optimistic for several reasons. First, I love a good haunted house story and hope this narrative does a good job of merging American culture with Mexican culture. Second, the creative team from "The Ritual" is also behind this film! 
Jonathan Cavendish and Will Tennant serve as producers while Andy Serkis, David Bruckner, Philip Robertson, and Jon Croker are executive producers. Bruckner did an amazing job directing the 2017 woodland horror film, so it's exciting to see his involvement. If you've seen "The Ritual" then you know viewers are in for a diabolic treat both thematically and visually. This crew is able to successfully capture the multi-dimensional aspects of grief and elevate a fairly simplistic story with haunting detail. Lastly, this is their second film adaptation from author Adam Nevill, who also serves as an executive producer. Writers Jon Croker ("Desert Dancer," "American Animals") and Fernanda Coppel ("Queen of the South") tackle Nevill's 2014 novel with a refreshing cultural twist since the original book did not feature any Hispanic influence.
The Sounds of Apprehension
One noticeable component of the trailer is its music. Well, it's more like angry floorboards coming to life and the sounds of a decrepit house about to swallow its inhabitants whole. That's all thanks to composer Mark Korven who also did the score for Robert Eggers's "The Witch" and "The Lighthouse". Korven is a master at manipulating sound and creating unique scores that evoke dread. To avoid using stereotypical instruments in his work, he created the Apprehension Engine, a wildly inventive instrument that produces some of the eeriest sounds used on-screen. Y'all, check it out in the video above.
"No One Gets Out Alive" premieres on Netflix on September 29, 2021.