The 15 Scariest Horror Movies On Hulu Right Now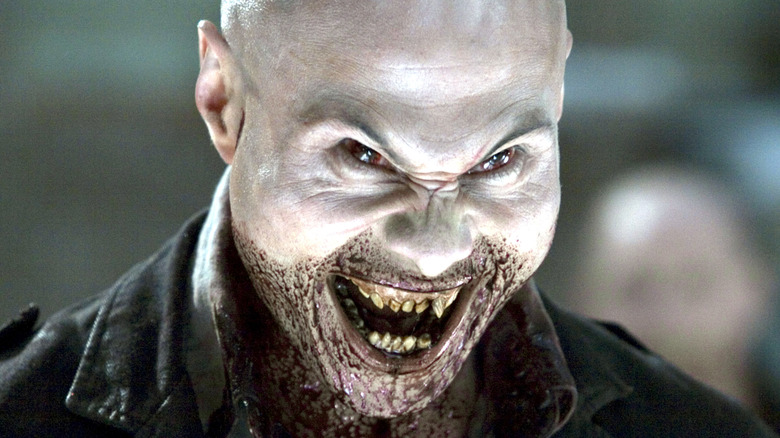 Sony Pictures
Like most streaming services, Hulu is not the place to go if you're looking for older movies. Its 20th century horror selection is limited, at best. However, its selection of recent horror films (especially the smaller, independent films from the likes of Neon and IFC) is excellent. Hulu is also a great home for women-directed horror films, including "The Other Lamb," "Sea Fever," "Little Joe" and "Saint Maud" (to name some of the best ones). 
However, I have been tasked with choosing the scariest horror films on Hulu, and we all have different definitions of what makes a scary movie. For some, it's gore and body horror. For others, more psychological or grief-drenched spookiness gets the job done. I have tried to present a variety of different types of horror movies here (although it is, accidentally, quite vampire-heavy) and widened the definition of horror to include the terror of being a woman and the trauma of the modern condition with two films that convey how scary life in the 2020s can be. Spooky season is always just around the corner, so head to Hulu for all your horror needs.
Bram Stoker's Dracula (1992)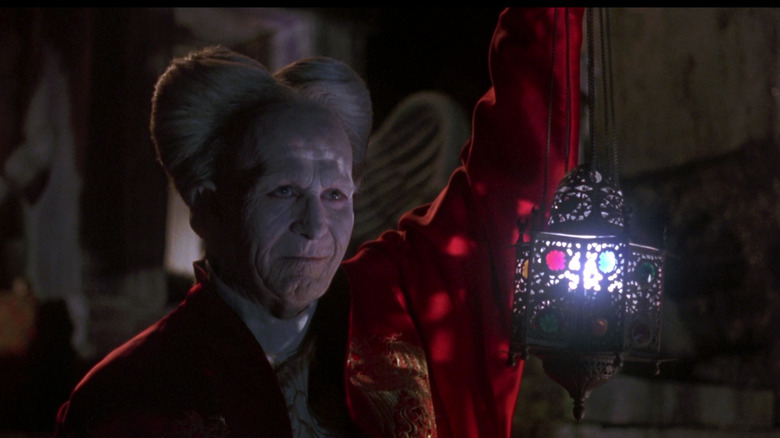 American Zoetrope
A fresh new addition to Hulu, this horror classic is Francis Ford Coppola's most ambitious and audacious work. "Bram Stoker's Dracula" does contain some scary elements — and I'm not just talking about the accents — in addition to some fantastic practical effects, prosthetics, and Oscar-winning makeup work. The Prince of Darkness takes many forms in this tale, from a old white-haired man, to a romantic Gothic gentleman with long curly hair (and very cool sunglasses), to a werewolf-like creature when filled with lust, to a hideous wolf-bat, to a final snow-white man-monster covered in blood. 
And with this being a vampire movie, there's plenty of blood elsewhere too — Sadie Frost's Lucy's red vomit splashing all over the face of Anthony Hopkins' Van Helsing is a gory highlight. We come to this film for much more than frights, however. Eiko Ishioka's costume design deservedly won the Oscar and Michael Ballhaus' cinematography gorgeously showcases Coppola's use of sumptuous colors. If you've never seen this wild, sexy, and epically operatic movie, what are you even doing with your life?
Open Water (2003) and 47 Meters Down (2017)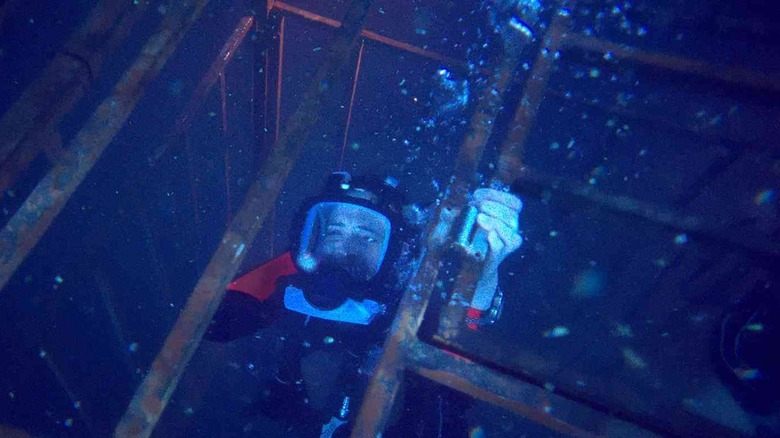 Dimension Films
Every decade since the blockbuster success of Spielberg's "Jaws" (1975), Hollywood has tried to recapture its magic by bringing back the shark movie. There have been a few highs, such as "Deep Blue Sea" (1999), and many lows — the six "Sharknado" films, anyone? Hulu is currently offering two attempts that take a more dramatic, independent-film approach to the shark genre: the low-budget "Open Water" (2003), and the more recent Mandy Moore vehicle "47 Meters Down." 
"Open Water" was made by a real-life husband and wife team and has a found footage feel to it, with almost camcorder-level quality photography. However, the sound and editing are both excellent and the camerawork does lend an authenticity to the proceedings, making the whole thing feel more frighteningly real. In both movies, the horror comes more from the fact that the central characters are either stranded in open water, or trapped underwater than the fact that sharks are involved. Both movies are also centered around two characters in a close relationship — a married couple in one, and two sisters in the other — which makes the horror of the situations hit much harder.
30 Days of Night (2007)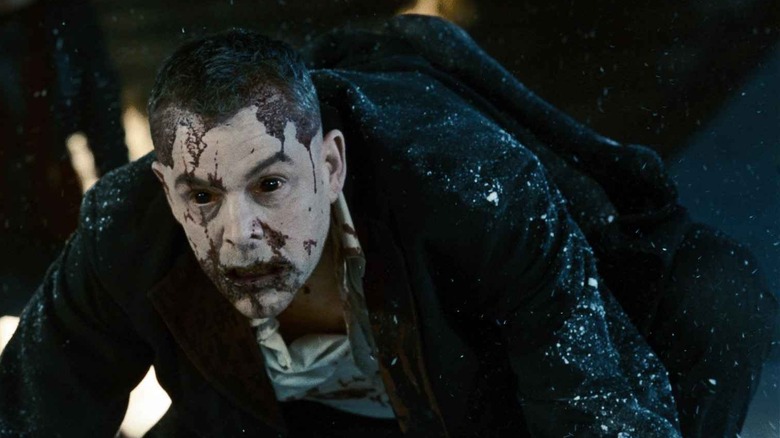 Sony Pictures
Not to play favorites, but "30 Days of Night" is probably the best horror film currently available on Hulu. It's also the best horror film set among ice and snow since "The Thing" (1982). David Slade directs Josh Hartnett and Melissa George star in this Alaska-set vampire flick, which takes place during the winter months when it is dark all day long. "30 Days of Night" takes a simple premise and executes it extremely well, thanks to fantastic creature design, sound design, and Danny Huston's performance as Marlow, the leader of the tribe of vamps. 
There is a touch of "The Birds" to this story: A plague descends on a small town for reasons unknown and the inhabitants must band together to fight it. Something as simple as the vampire's black eyes make them truly terrifying, as they gradually start turning the townspeople (including children, in one memorable scene) into zombie-like bloodsuckers. Lots of shots use the aesthetically pleasing combination of blood and snow (and, sometimes, fire and snow). Like any good horror film, "30 Days of Night" wouldn't be anywhere near as good if the human drama wasn't compelling; Hartnett makes a great hero, with close family and friends that he must defend.
Let the Right One In (2008)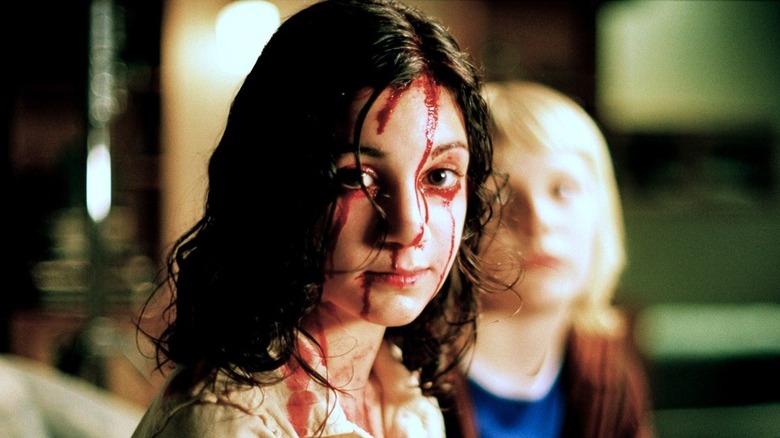 EFTI
That's right, another snowy vampire movie! Children have always been effectively creepy in horror films — just watch "Children of the Damned" (1964) — or add an extra layer of fear or sadness, stemming from our need to protect them — see, for example, "The Innocents" (1961). In addition, children on the cusp of puberty or in adolescence have always worked well in supernatural films that have a transformative element, such as werewolves, mermaids, or vampires. 
Swedish horror film "Let the Right One In" uses a lonely, bullied 12-year-old (Oskar) who befriends a mysterious girl of the same age (Eli) as the basis for an indie drama that has horrific and bloody moments. As with Kirsten Dunst's Claudia in "Interview with a Vampire," "Let the Right One In" has a huge amount of sympathy for its monster. A child who cannot grow old and who must drink blood to survive (even if she doesn't want to) is an inherently tragic figure as well as a scary one. But it's the bullies who are the vilified here, and this film is a revenge story...
Ghost Stories (2018)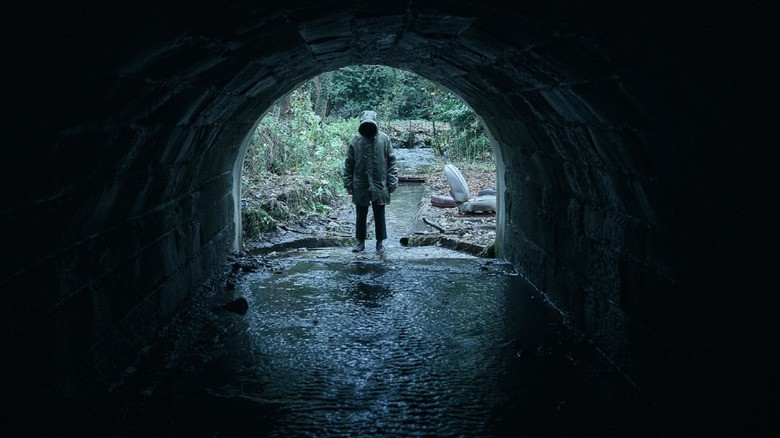 Lionsgate
Harking back to the time of telling ghost stories around the campfire, horror and the anthology format are a great fit. Andy Nyman, who writes and directs most of illusionist Derren Brown's projects, is the star, co-writer, and co-director of "Ghost Stories"; he's joined behind the camera by Jeremy Dyson (one of the creators of "The League of Gentlemen"). 
In the film, Nyman plays a man who attempts to expose and debunk mediums and psychics (something carried over from his work with Brown), but the more he investigates, the more he finds things that can't be explained. Paul Whitehouse, Alex Lawther, and Martin Freeman feature in this adaptation of the play of the same name, each actor starring in a different plot thread that joins together with the others at the end. 
Whitehouse plays a night watchman in a hospital who finds something creeping up the corridors. Lawther plays a demon-obsessed teen. Freeman plays a man whose baby's nursery is plagued by a poltergeist. As is often the case, all the horror turns out to be rooted in childhood trauma, and Nyman gives an affecting performance as a man haunted by his past.
Unsane (2018) and The Assistant (2019)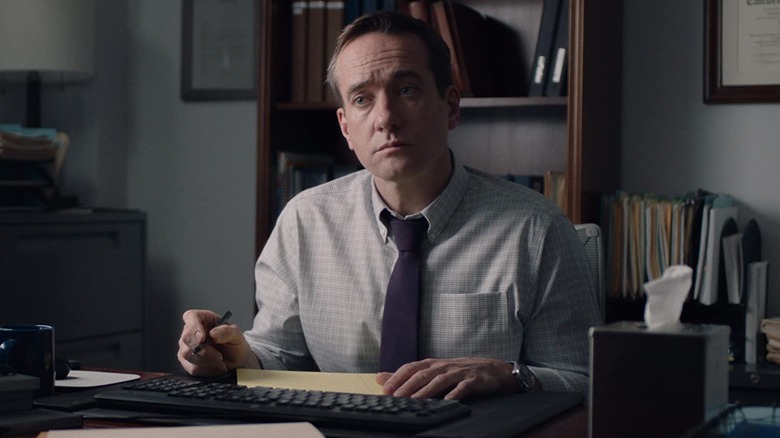 Bleecker Street
While many films have attempted to address the #MeToo and #TimesUp movements, not many effectively convey the horror of being a woman. A direct line can be traced from "Gaslight" (1940) to these two films, made 80 years later. Both Steven Soderbergh's "Unsane" and Kitty Greene's "The Assistant" effectively capture how it feels to be a woman who is desperately trying to convey that something is very wrong, only for people who dismiss her, belittle her, and even twist things around to blame the woman herself. 
"Unsane" — one of three films Soderbergh shot in quick succession on an iPhone — is the more overt horror film, starring Claire Foy as Sawyer, a woman who is committed to a psychiatric hospital against her will. She becomes convinced that her former stalker is working there, but no one believes her. 
Kitty Green's "The Assistant" follows Jane (Julia Garner), a young assistant to a nameless and faceless Hollywood producer in what is perhaps the most horrific office environment ever committed to film. The microaggressions she is forced to endure are laid bare in excruciating detail, aided by the phenomenal sound design. This is perhaps best demonstrated in the scene in which Jane visits HR, which features an amazing cameo by "Succession" star Matthew Macfadyen, who scrapes a metal tissue box across the desk to her. I make no apologies for including these two movies in a "scariest horror movies" list. They'll both make your skin crawl.
The Vigil (2019)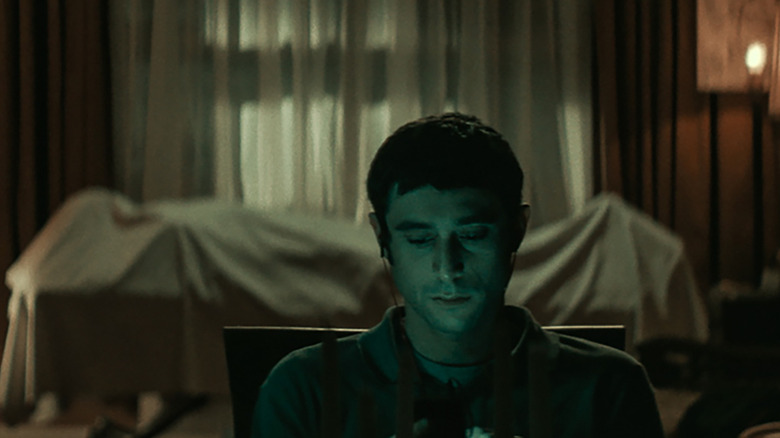 IFC Midnight
"The Vigil" concerns Yakov (Dave Davis), a young man who is estranged from his Orthodox Jewish community. He reluctantly agrees to be a shomer — a person who keeps watch over a dead body — for the night, partly as a favor to his friend but mainly because he needs the money. This involves sitting with the corpse of Mr. Litvak until morning, while his widow, who has Alzheimer's, is sleeping. However, Mrs. Litvak keeps appearing and acting strangely, and Yakov keeps seeing things.
 Writer-Director Keith Thomas uses dead space, light, and shadow to create a creepy atmosphere that will have your eyes constantly darting to the corners of the frame, wondering if you've seen something or imagined it. "The Vigil" has a lot in common with Natalie Erika James' "Relic"; the house feels drenched in grief and trauma. 
As with "Ghost Stories," it is revealed that Yakov is battling his own demons, as well as whatever creature is haunting the Litvak residence. Impressively for a horror film, "The Vigil" doesn't conveniently find a way to get rid of Yakov's cellphone, but instead uses it to create fear. In fact, perhaps the two scariest moments in "The Vigil" involve Yakov's phone. It's an impressive debut from Thomas.
Amulet (2020)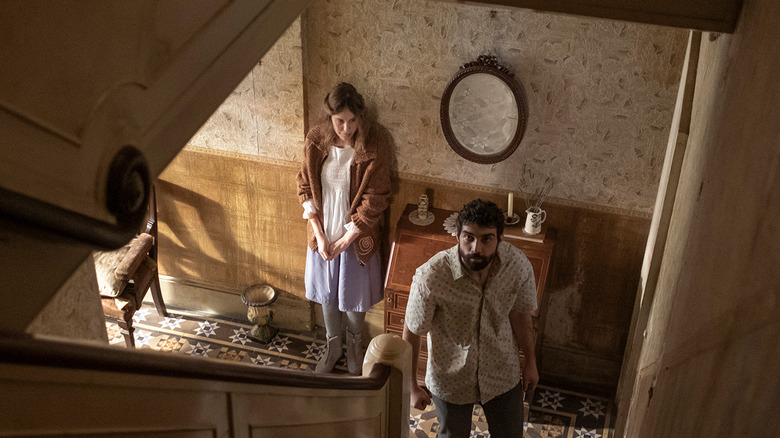 Magnolia Pictures
"Amulet" is written and directed by actress Romola Garai, who is primarily known for period dramas like "Atonement." Alec Secareanu plays Tomas, a refugee in London who is invited to live with a young woman (Carla Juri) and her invalid mother. Imelda Staunton plays the nun who makes the arrangement, and her role evolves into something deliciously devilish as Tomas gradually realizes that there is something very wrong with both the house he is in and the "mother" in the attic. 
Featuring some Gothic tropes, a deliberately vague mid-century aesthetic, and flashbacks to Tomas' time as a soldier in a lush forest, "Amulet" is a criminally underseen horror film that is well-acted and offers some substantial scares to boot. Tomas is a morally complicated, unreliable protagonist, but there is also more to every single other character than you can see on the surface. 
There is one particular scene in "Amulet" set in a bathroom that gave me a powerfully visceral, full-body reaction during my 9 AM screening at Sundance — that sure is one way to start the day! Garai uses practical effects, body horror (particularly surrounding birth), and surreal, nightmarish visuals to conjure up a bold, original directorial debut.
Gretel & Hansel (2020)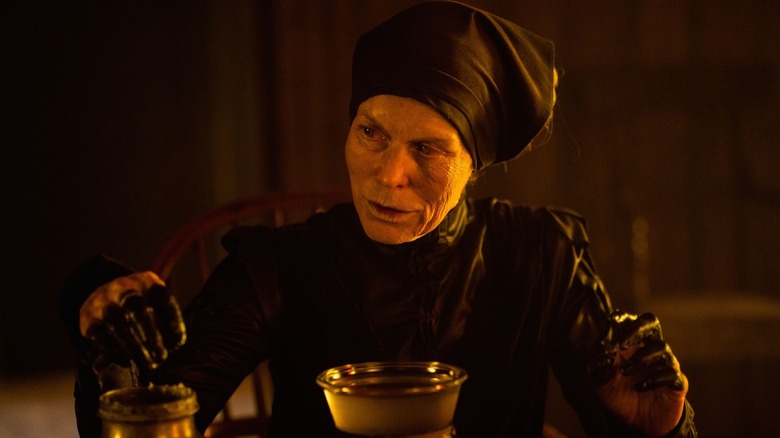 United Artists Releasing
The most recent of three horror films from director Oz Perkins, "Gretel & Hansel" is a beautifully shot folk horror movie based on the classic Grimm fairytale. Sophia Lillis ("It") plays Gretel, a teenage girl who is cast out of her home and ends up trapped at the house of the witch (Alice Krige) with her younger brother Hansel (Samuel Leakey). She suffers a series of terrifying nightmares and visions, most of which take place in a white brick room under the house that's filled with body parts and other confusing substances.
The cinematography by Galo Olivares is probably the greatest strength of "Gretel & Hansel," with its use of light, color, and angles emphasizing the terror-scape Gretel finds herself in. The dinner table scenes are among the most sinister, imbuing the bountiful food with suspicion. While the accents are shaky, the performances make up for it, with Lillis proving to be a capably strong lead. Krige's witch is destined to become a classic horror villain — she strikes the perfect balance of charming and creepy.
Possessor Uncut (2020)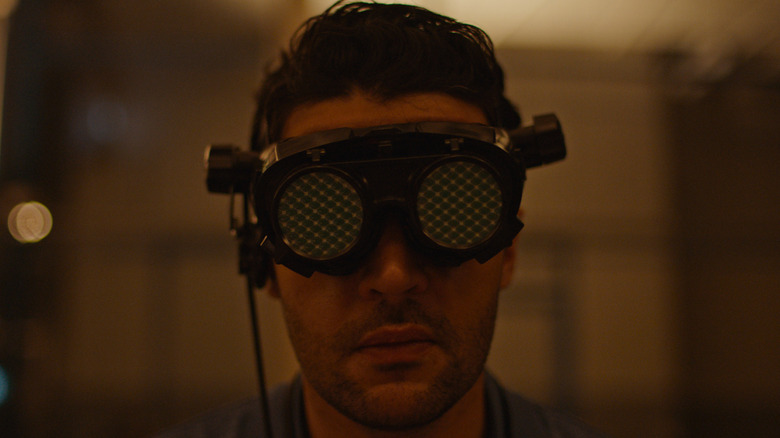 Elevation Pictures
Brandon Cronenberg decided against making rom-coms and is instead taking after his father, directing films that combine futuristic technologies, body horror, and Jennifer Jason Leigh. Andrea Riseborough and Christopher Abbott deliver complicated, layered performances in "Possessor," a brain-transplant, body-possession horror film in which identities get switched and bloody violence erupts. Sean Bean plays Tate's (Abbot) rich father-in-law, and the scene that plays out after a drunken party at his house will have you flinching away and your stomach churning. 
Things only escalate from this point, with the practical effects becoming face-meltingly good — literally. However, the true horror of "Possessor" comes from a loss of control and the sense of being trapped in a body that is not your own. "Possessor" is an extreme horror film. It is not for the faint of heart, but this is far from mindless violence; it is a thoughtful exploration of the depths of our bodies and souls, asking whether those things can be separated and what it means if they can't find their way back to one another. "Possessor" is a fine example of the golden age of horror we find ourselves living in.
She Dies Tomorrow (2020) and Spontaneous (2020)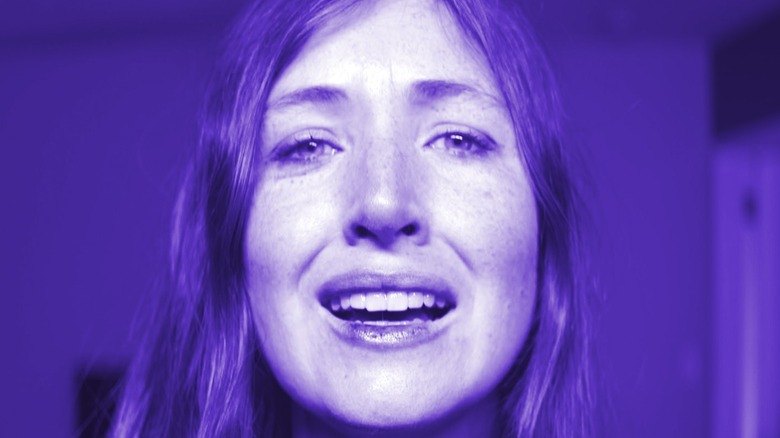 Neon
Several films came along in 2020 that accidentally captured the moment we were living through, including the time-loop comedy "Palm Springs." Amy Seimetz's "She Dies Tomorrow" and Brian Duffield's "Spontaneous" are another two. If you hear the synopsis and see the poster for "Spontaneous," you'd be forgiven for thinking that it's a corny rom-com — a film about spontaneous combustion may sound stupid, but it was actually one of the most heart-wrenchingly sad and scary films of the year. 
American high school students are sent every day into an environment where school shootings and a deadly virus are regular threats, and it's never clear if they'll return. "Spontaneous" effectively captures the unpredictable, terrifying world that today's young people live in, and Katherine Langford gives a compelling central performance in this bleak, but still funny, movie. 
By contrast, "She Dies Tomorrow" is a cerebral, existential film about a woman (played by Kate Lyn Sheil) who becomes convinced that she has one day left to live. Then, her paranoia starts to spread to those around her. Jane Adams gives a typically great performance as one of the friends who becomes "infected." Again, this depressing-sounding premise still manages to be filled with humor. Seimetz has made a deliberately elusive and ephemeral film that is open to different interpretations.