Star Wars: Tales From The Galaxy's Edge - Last Call Trailer Brings New Adventures And Characters To VR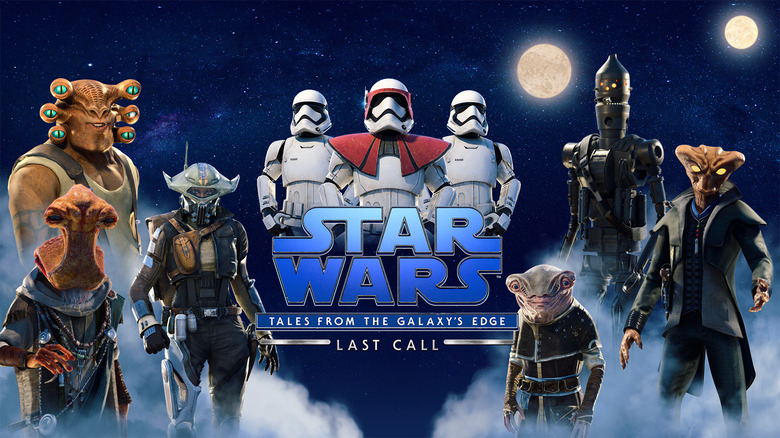 Lucasfilm / ILMxLAB
Last year, Lucasfilm and ILMxLAB brought fans to a galaxy far, far away with "Star Wars: Tales from the Galaxy's Edge," a VR video game experience on Oculus devices. Now the story continues with the final chapter "Star Wars" adventures on the Outer Rim planet of Batuu. Fans will embark on an entirely new quest, confront more dangerous enemies, and get lost in two brand new tales featuring lightsaber wielding, Force moves, and laser blasting. Watch the trailer for "Star Wars: Tales from the Galaxy's Edge – Last Call" below and find out what you'll be getting yourself into.
Star Wars: Tales from the Galaxy's Edge - Last Call Trailer
"Star Wars: Tales from the Galaxy's Edge – Last Call" will have players embarking on a quest for Dok-Ondar, the collector who has his own shop in Black Spire Outpost in the Disney theme park land of Galaxy's Edge. Tasked with finding an ancient artifact, players will enter new environments like Sardeevem Chasm and the Cavern of the Moons, encountering pirates, deadly droids, nasty creatures, and a certain tyrannical dictatorship known as The First Order.
During the adventure, players will stumble upon a hidden First Order facility far away from the cantina where Seezelslak (Bobby Moynihan) hooks you up with Dok-Ondar. With the First Order's presence growing in secret, you'll likely have to contend with plenty of Stormtroopers, including troop leader Lieutenant Gauge (Daman Mills), the one with the red armor pieces.
Joining in on the adventure again will be the droid shop owner Mubo (Matthew Wood), and this time he'll be joined by Galaxy's Edge smuggler Hondo Ohnaka (Jim Cummings). Accompanying you on the quest is new character Lens Kamo (Karla Crome), the daughter of scholar parents with a healthy respect for history and a penchant for hunting down treasures and keeping them out of the hands of destructive collectors.
Of course, it wouldn't be a "Star Wars" adventure without C-3PO and R2-D2 getting involved in some capacity, complete with Anthony Daniels reprising his role as the golden protocol droid.
Two New Tales to Experience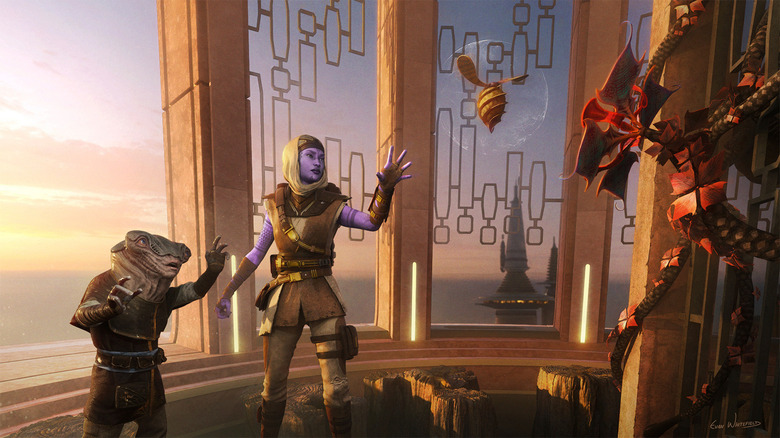 Lucasfilm / ILMxLAB
Just as the first installment of "Tales from the Galaxy's Edge" featured an immersive story that Seezelslak told you, "Last Call" will have two new tales for players to experience, and they couldn't be more different.
In the first tale, Jedi Ady Sun'Zee (Ellie Araiza) is back, but many years have passed since her deadly encounter with the dark side of the Force. She now finds herself in "The Sacred Garden" as a Jedi Knight, and she has a Padawan of her own: Nooa (Meredith Bull), who is described as spunky and unafraid to ask the tough questions, thanks to a sense of curiosity about the universe. Players will be able to wield a lightsaber, use the Force, and learn lessons alongside Ady Sun'Zee and her apprentice.
IG-88 is on a Mission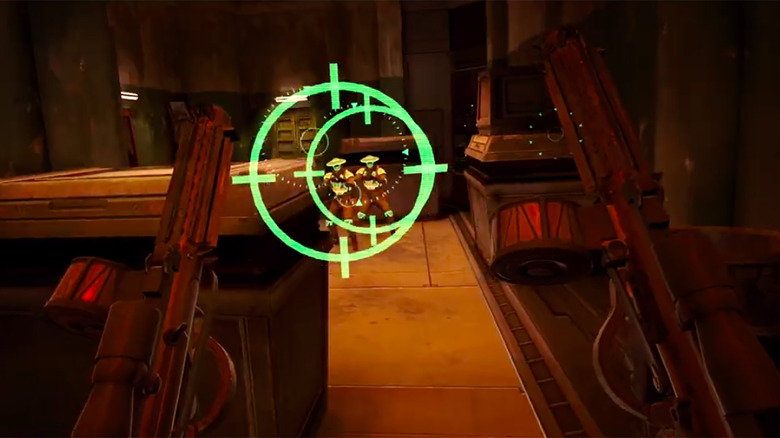 Lucasfilm / ILMxLAB
Meanwhile, "The Bounty of Boggs Triff" has players becoming the droid bounty hunter IG-88. In this tale, you'll take on a peculiar bounty on the moon of Nar Shaddaa to reach Boggs Triff (Darin DePaul), a gangster who has risen to the top rung of power by being ruthless, paranoid, and smart enough to turn his base of operations into an impregnable fortress.
There will be plenty of dual-wielding blasters as you try to complete your mission, all while hearing Rhys Darby as the voice of IG-88, which is clever casting after having fellow New Zealander and "Flight of the Conchords" collaborator Taika Waititi lend his voice to IG-11 in "The Mandalorian."
"Star Wars: Tales from the Galaxy's Edge – Last Call" will be available on the Oculus Quest platform starting September 15, 2021, and it will cost $9.99. But if you want the full experience of all of "Tales from the Galaxy's Edge," it will cost $34.99.