The Muppets Haunted Mansion Will Feature Non-Muppet Darren Criss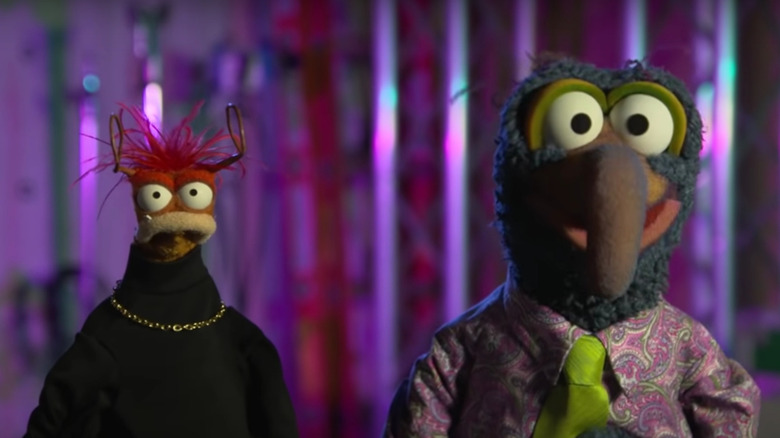 Disney
Sometimes, your nerdy obsessions collide, and when that happens you just have to sit back and smile, knowing that all is right in the world. Like most '80s kids, I grew up inundated with "The Muppets." I'm talking movies, reruns of "The Muppet Show," read-along books, "Muppet Babies" every Saturday morning — the works. 
I was also pleasantly traumatized by The Haunted Mansion at Disneyland, a story I recounted here on /Film when I attended the 50th Anniversary event in 2019. So the fact that the Muppets are doing a special Haunted Mansion show for Disney+ is reason enough for celebration. 
The spooky attraction has built a dedicated and diverse fan base over the years, so it's no surprise that "The Muppets Haunted Mansion" will have a few familiar (non-Muppet) faces popping up.
Here's One Foolish Mortal Who Will Appear On the Show
The first of presumably many flesh and blood celebrities to take part in this special is Darren Criss (of "Glee" and "American Crime Story: The Assassination of Gianni Versace" fame), who announced this to the world via a tweet that will grab the attention of any true blue Haunted Mansion fans.
You'll notice that Mr. Criss is striking the pose of The Caretaker, the only living human soul featured in the ride. You spot this shivering, terrified man just outside of the graveyard as the 999 happy haunts are having a massive party.
Incidentally, during the annual "Nightmare Before Christmas" reskin of the attraction, the poor Caretaker and his dog are replaced by Jack Skellington and Zero. If anyone's curious.
"Muppets Haunted Mansion" will see Gonzo spending the night at the spooky haunted house and the mind whirls at what possibilities are in store. Surely, Miss Piggy has to be Constance (the black widow bride in the attic), right? Dr. Teeth and the Electric Mayhem could be the singing busts, and I'm sure the stretching portraits will get some choice felt-skinned cameos, as well.
But what other mortal humans will make an appearance? The sky's the limit when it comes to Haunted Mansion fans, and Disney+ has already shown their willingness to go all out with their streaming content. 
One of my favorite Haunted Mansion-obsessed celebrities is Ryan Gosling. You must see him pull out his soapbox when asked about his preference between the original attraction and the "Nightmare Before Christmas" reskin.
Ryan Gosling's Very Upset About the "Christmastime Situation"
My man has a point! They bring the reskin in too early at Disneyland! I've been screaming about this forever, too, but because I'm not handsome or a movie star, nobody listened to me! When it's spooky Halloween time and you go to Disneyland, why on God's green Earth would you take your one scary attraction away and replace it with a Christmas-themed ride!?!
Obviously, that reskin draws a big crowd, and I get it from a cold, numbers perspective. But this will be a hill I die on, fighting shoulder to shoulder with my new best friend, Ryan Gosling.
We don't have a firm date on when "Muppets Haunted Mansion" will drop, only that it will be sometime this fall. Since it's a Halloween episode, it's a safe bet we'll get it sometime before October 31, 2021.