The 16 Best Horror Movies On Amazon Prime Right Now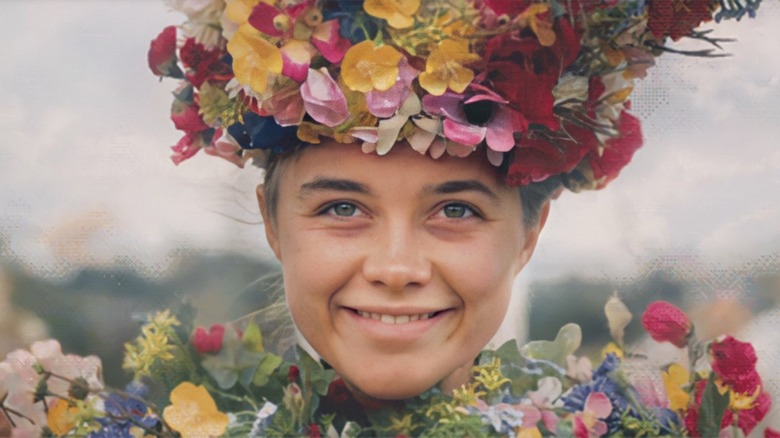 A24
Any time is a great time to watch a horror movie (or two or three), but as summer winds down and we move into autumn, it makes even more sense to bust out the popcorn and turn on something scary. Luckily, Amazon Prime has a number of great horror films that are included with your membership that you can watch right now. Saving money while making your heart pound and your blood race — what could be better than that? 
From lighter, more fun fare to the darkest of terrors, Amazon Prime's eclectic library of horror movies offers a little something for everyone, although it can admittedly be a little difficult to navigate. That's why we're here: to help save you time and energy, so that you can go ahead and get your scare on. Here are the best horror movies available to stream on Amazon Prime right now.
The Monster Squad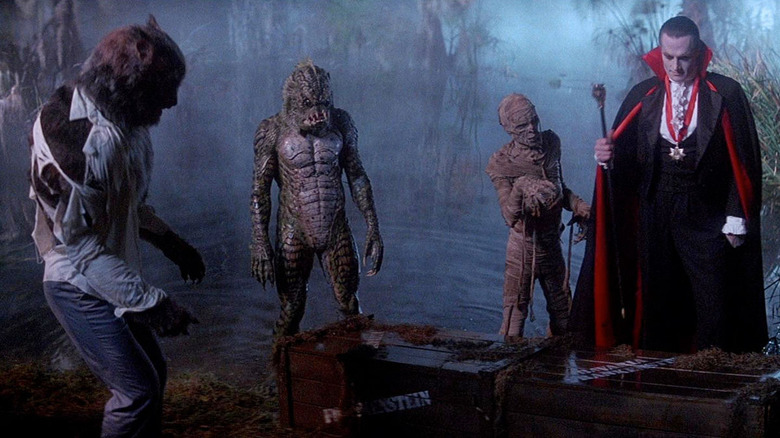 Tri-Star Pictures
If you like your horror to be of the tween-friendly, comedic variety, "The Monster Squad" (1987) is a great choice. The film is a Goonies-esque adventure with a spooky twist, following the titular club of monster-obsessed youngsters led by Sean Crenshaw (Andre Gower), whose sister happens upon the diary of Dr. Abraham Van Helsing. This eventually brings the Squad face-to-face with their idols, including Count Dracula, Frankenstein's Monster, the Wolfman, the Mummy, and the Gill Man. 
Unfortunately, it's not a happy meeting (although, as the kids learn, not every monster is truly evil), and the Monster Squad must pull together to stop the creatures from taking over the world. Written by Shane Black ("Lethal Weapon") and directed by Fred Dekker ("Night of the Creeps", "Robocop 3"), "The Monster Squad" is a good-natured and entertaining fright-fest for kids and kids at heart alike.
Lake Mungo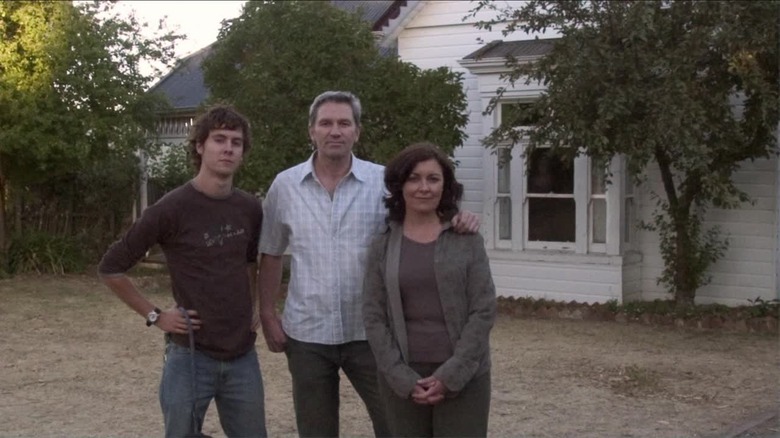 Lionsgate / After Dark Films
The 2008 Australian psychological horror film "Lake Mungo" is a bit of an urban legend itself. Shot in a found-footage documentary style, the film follows the Palmer family, whose teenage daughter, Alice (Talia Zucker), drowns while swimming with her brother. Afterwards, her family begins experiencing unexplained, possibly supernatural, phenomena. After consulting with a psychic, the family members discover that Alice led a secret double life, and their investigation into her death eventually leads them to Lake Mungo. 
Written and directed by Joel Anderson, who has never made another feature, the film was praised by critics upon its debut, but received a very limited release and was hard to find on streaming services. This may have helped its overall reputation as an "underground" film, and it developed a small but passionate fanbase amongst those who had actually seen it, earning a reputation as "the best ghost film you've never seen" and one of "the scariest movies ever". Luckily, anyone with an Amazon Prime account can watch the film right now, where it is currently streaming under the name "After Dark: Lake Mungo."
Suspiria (2018)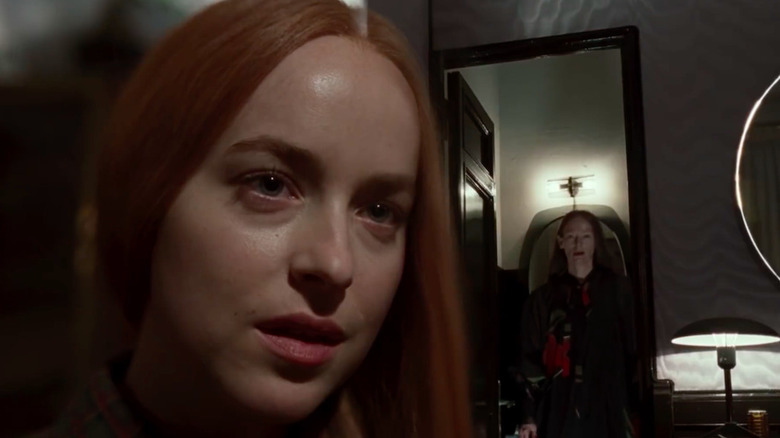 Amazon Studios / YouTube
While Dario Argento's "Suspiria" (1977) is a cult horror classic, Luca Guadagnino's self-described 2018 homage has its own fair share of dark delights. The remake stars Dakota Johnson as Susie Bannon, an American student who arrives at the Helena Markos Dance Academy in Berlin in late 1977 only to discover that the school is actually a front for a coven of witches. Tilda Swinton stars as three different characters, including Madame Blanc, the head dance instructor, Mother Helena Markos, the school's intimidating matron, and a psychotherapist named Dr. Josef, while Mia Goth and Chloe Grace Moretz round out the cast. 
Among other changes, Guadagnino decided to swap the original film's vivid giallo aesthetic for more muted tones, while leaning into more overtly political themes, leading to a divisive reception from critics and audiences alike. While it may not appeal to everyone, Guadagnino's stylish and provocative "Suspiria" is a bold and intriguing arthouse horror film, bringing hefty themes along with a healthy dose of blood, gore, and witchy weirdness.
The Lighthouse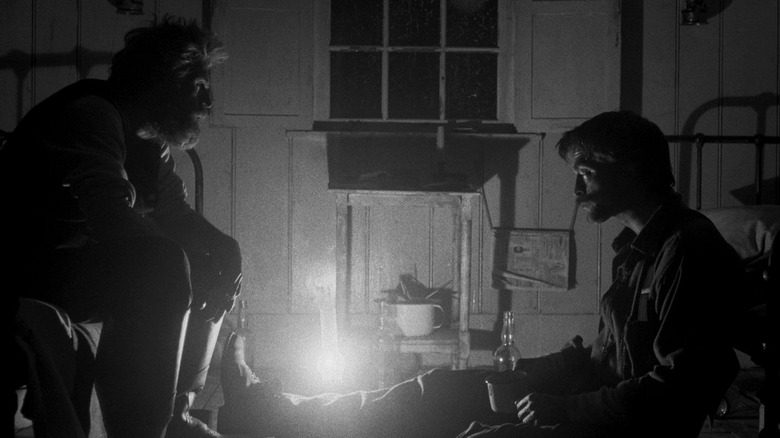 A24
Director Robert Eggers followed up his debut feature, "The Witch" (2015), with yet another New England horror film set in the days of yore. "The Lighthouse" stars Robert Pattinson and Willem Dafoe as two lighthouse keepers, or "wickies," stranded together on a remote outpost and slowly losing their minds. Shot in black and white using vintage lenses, 35mm film, and an almost square 1.19:1 aspect ratio to evoke an old-timey, claustrophobic look and feel, "The Lighthouse" finds terror in the psychological horror that comes with isolation, tedium, and despair. 
Inspired in part by the Greek myth of Prometheus, "The Lighthouse" also explores masculinity as it examines the relationship between the more dominant Wake (Dafoe) and the subordinate Winslow (Pattinson), while also touching on existential themes as the two men desperately seek something greater to help them cope with their bleak existence. "The Lighthouse" was nominated for an Academy Award for Best Cinematography, and Eggers won the FIPRESCI award for Directing at the 2019 Cannes Film Festival, while Dafoe and Pattinson were widely praised for their intense performances.
Angel Heart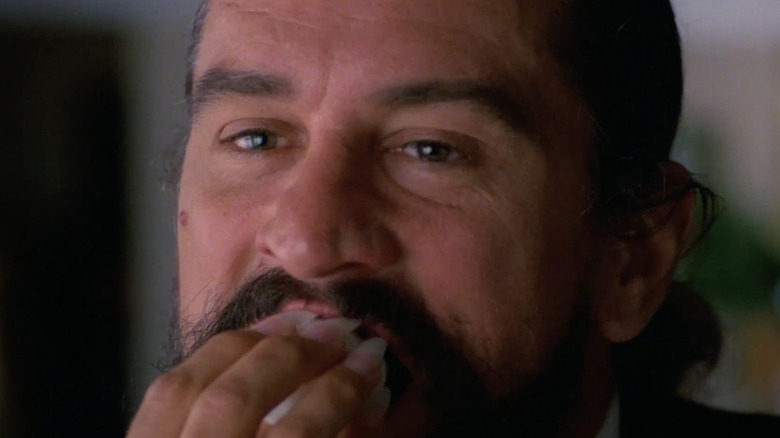 Tri-Star Pictures
"Angel Heart" (1987) is a stylish neo-noir horror-thriller with an uber-talented cast that includes Mickey Rourke as private detective Harry Angel, who is hired by the mysterious Louis Cyphre (Robert De Niro) to track down a singer named Johnny Favorite. Harry's investigation leads him to New Orleans, where he's drawn into a series of murders that deepen the mystery behind Favorite's disappearance. Charlotte Rampling plays Favorite's fiancée, Margaret, and Lisa Bonet plays Epiphany Proudfoot, the daughter of Favorite's former lover with whom Harry begins an affair, leading a controversial sex scene that initially earned the film an X rating before ten seconds were edited out. 
Director Alan Parker infused "Angel Heart" with a dark and sultry aesthetic, and its moody atmosphere and chilling plot twists help create a haunting piece of work. "Angel Heart" did poorly at the box office and garnered mixed reviews, however, its legacy has been reassessed in recent years. Christopher Nolan cited it as an influence on his film "Memento", and Wired magazine called it "The 25 Best Horror Films of All Time."
House on Haunted Hill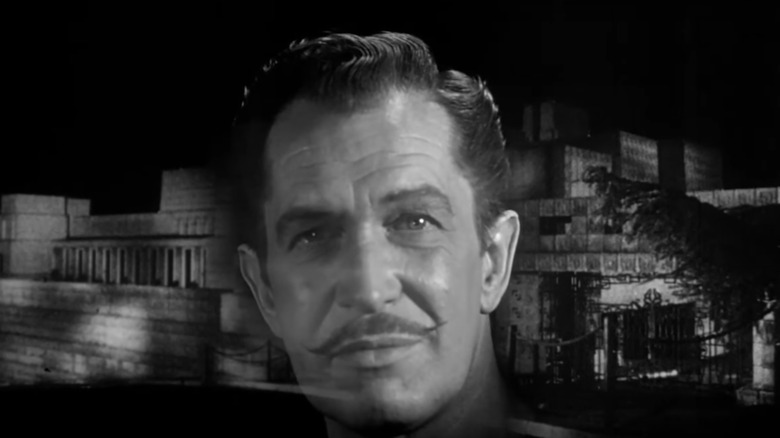 Allied Artists
William Castle is known for campy B-movies, including the fun and spooky cult classic "House on Haunted Hill" (1959). In it, Vincent Price plays an eccentric millionaire, Frederick Loren, who, along with his wife Annabelle (Carol Ohmart), invites a group of five people to a party at an allegedly haunted house he has rented. With the invitation comes an offer and a dare: Whoever stays through the entire night will receive $10,000. Ghostly hijinks and mayhem ensue. 
"House on Haunted Hill" gained success upon its release in part thanks to a gimmicky promotion in which a plastic skeleton would fly over the audience during the film, a trick that has occasionally been used again in subsequent screenings. A 1999 Robert Zemeckis-produced remake starred Geoffrey Rush as an amusement park mogul who offered his invited guests one million dollars to spend the night in an abandoned insane asylum; in the William Castle vein, Warner Bros. used a scratch-card gimmick in promoting the film.
Hellraiser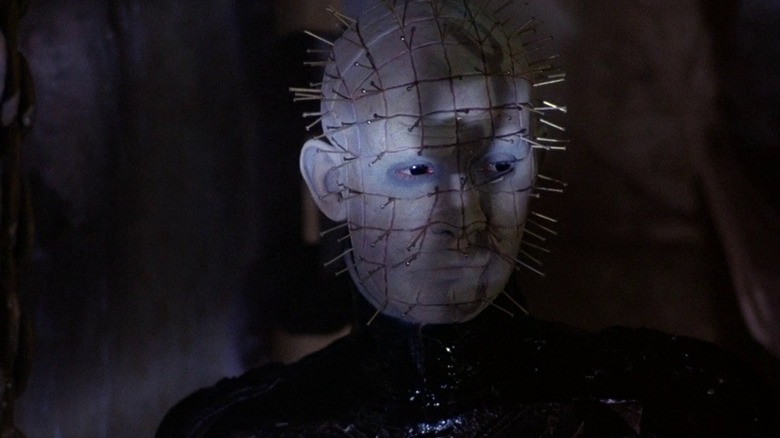 Entertainment Film Distributors
"Hellraiser" (1985), written and directed by Clive Barker, is a singular vision of terror unlike any other. Spawning a franchise that now consists of 10 films, the premise revolves around a puzzle box that serves as a portal to a sadomasochistic underworld where a group of monsters called Cenobites live. Frank Cotton unleashes the Cenobites after buying the puzzle box in Morocco, and they kill him and take his soul.
But when Frank's brother Larry (Andrew Robinson) moves into his old house with his wife Julia (Clare Higgins), Frank is resurrected, and all hell breaks loose. "Hellraiser" also stars Ashley Laurence as Frank's niece, Kirsty, who comes up against the lead Cenobite (Doug Bradley), who would become known in later films as "Pinhead". Unsettling, gory, and really weird, Barker's strange and unique vision still holds the power to "tear your soul apart."
Phantasm: Remastered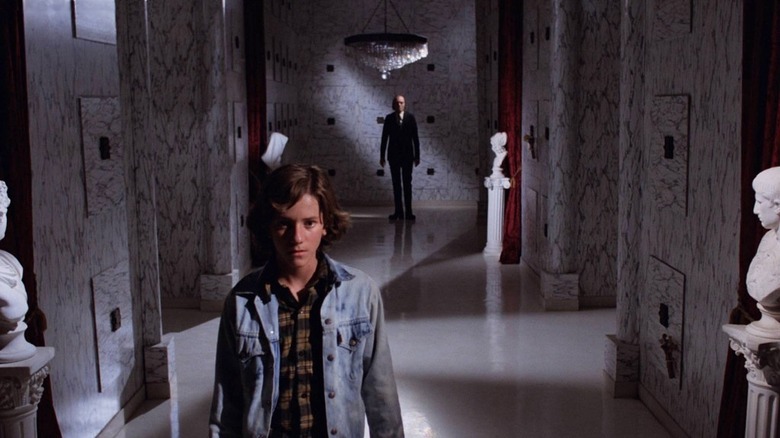 Well Go USA
Don Coscarelli's "Phantasm" has been terrifying viewers since it was first released in 1979, but thanks to J.J. Abrams' Bad Robot Productions, we now have a 4K restoration that premiered at SXSW in 2016 and which is available to stream on Amazon Prime at this very minute. 
A uniquely dreamlike blend of sci-fi, fantasy and horror, the scrappy, low-budget "Phantasm" stars Michael Baldwin as 13-year-old Mike, who suspects a sinister figure, the Tall Man (Angus Scrimm), of being behind a series of murders within the town. Mike recruits his older brother, Jody (Bill Thornbury), and the local ice-cream man, Reggie (Reggie Bannister), to help him defeat the Tall Man — assuming they can survive his deadly silver sphere, as well as the re-animated dead he brings back as dwarves. "Phantasm" has become a cult favorite over the years, and the Tall Man is still considered one of horror's great icons.
Frailty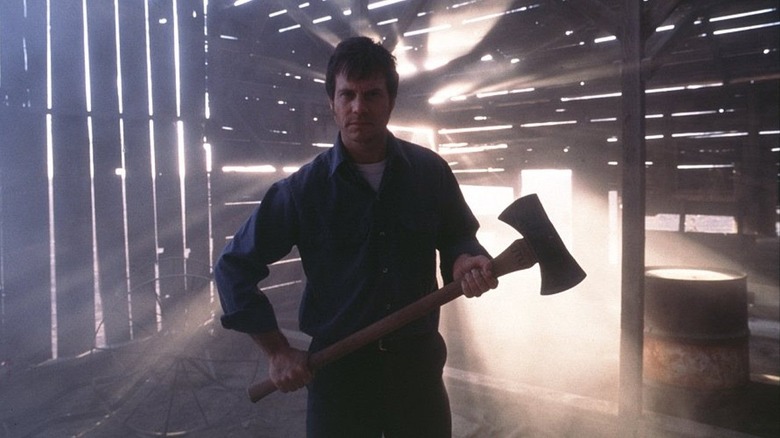 Lionsgate
The late Bill Paxton gave us many great performances during his too-short career, but he directed as well as starred in the excellent psychological horror-thriller, "Frailty" (2001). "Frailty" also stars Matthew McConaughy as Fenton Meiks, a man who tells FBI agent Wesley Doyle (Powers Booth) that his brother, Adam — who has since killed himself — is the serial killer that Doyle has been hunting for.
Told mostly through a series of flashbacks, "Frailty" reveals that, as children, Fenton and Adam's father (Paxton) informed them he'd been visited by an angel who tasked him with killing demons disguised in human form. The brothers were not to tell anyone his secret. The dark and twisty narrative takes a few surprising turns from there as it hurtles towards its terrifying conclusion. Roger Ebert gave "Frailty" four stars, calling it "uncompromised" and praising Paxton's directorial debut as "an extraordinary work" that "continues to surprise right until the end."
The Fog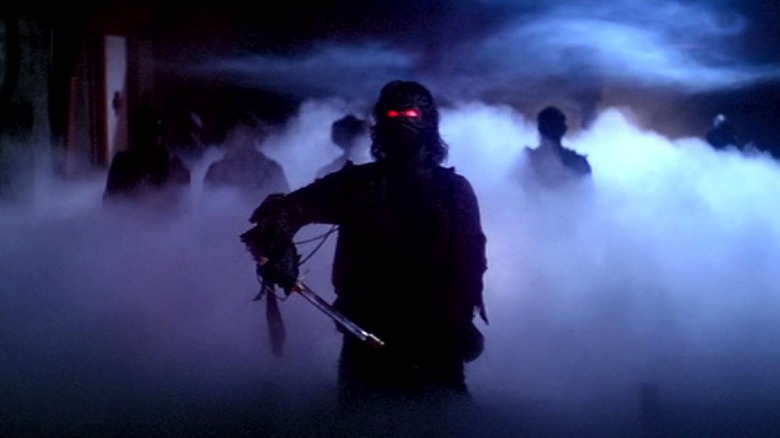 AVCO Embassy Pictures
"The Fog" (1980) is the only John Carpenter-directed film to make this list, but only because it's the only John Carpenter film currently available on Amazon Prime. But that's fine, because "The Fog" is an excellent horror film, a good old-fashioned ghost story of the seafaring variety featuring some spooky sailor ghosts and the great Adrienne Barbeau in her first feature film appearance.
Barbeau, who was married to Carpenter at the time, plays Stevie Wayne, the local DJ in the coastal town of Antonio Bay, California. Antonio Bay is about to celebrate its 100th anniversary when a mysterious fog rolls in, bringing with it some vengeful spirits that ruin all the fun — although, depending on how you look at it, that's really when the fun gets started. "The Fog" also stars Tom Atkins, Hal Holbook, and Jamie Lee Curtis opposite her mother, Janet Leigh, making it one of two horror films the mother-daughter scream queens appeared in together, the other being "Halloween H20" (1998).
The Wailing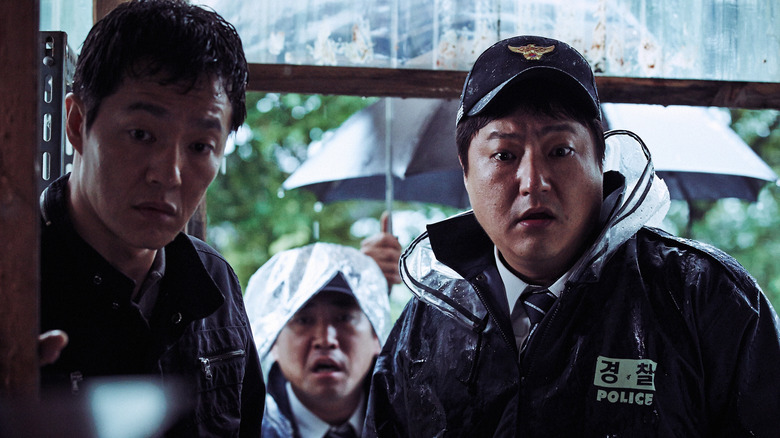 20th Century Fox Korea
The highly-acclaimed South-Korean supernatural horror film "The Wailing" (2016) is one of the better horror movies in recent years. It's also a lot of movie. This atmospheric slow burn is filled with countless plot turns and creepy moments, making it an enthralling watch from start to finish. 
"The Wailing" centers on a bumbling policeman, Sergeant Jong-goo (Kwak Do-won), who gets drawn into an investigation into an unknown illness that affects local villagers after a mysterious stranger (Kunimura Jun) comes to town. When Jong-goo's own daughter becomes infected, the stakes become personal. In terms of horror, "The Wailing" has it all: ghosts, demons, gruesome deaths, and even a healthy dose of dark humor. With a twisty and terrifying mystery at its center, "The Wailing" keeps audiences guessing, entertained, intrigued, and unnerved all at the same time.
The Descent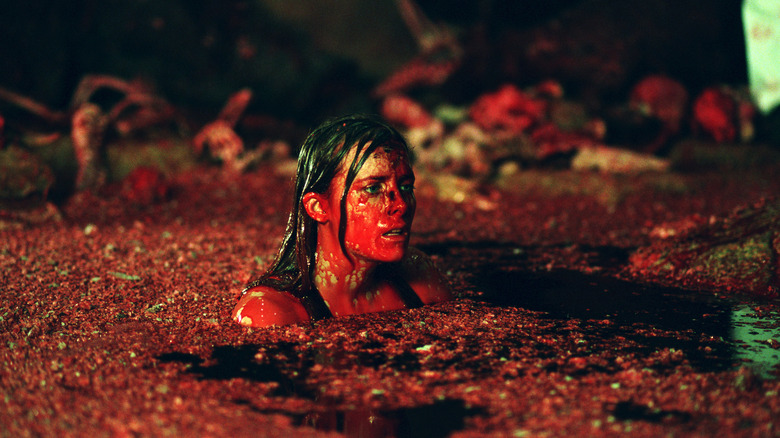 Pathé Distribution
Neil Marshall's "The Descent" (2005) is a movie that hits on a lot of different fears. Fear of being trapped in confined spaces? Check. The dark? Check. Subterranean creatures that have evolved to have little sight but superhuman hearing? Check. All this and more converge in a terrifying tale about a group of women on a caving expedition gone terribly wrong. And while "The Descent" has scares a-plenty, at its core it's a gripping tale about friendship, trust, and betrayal, elevating it into the upper tiers of great horror films. 
One year after a car accident leaves Sarah (Shauna MacDonald) widowed and childless, she reunites with her friends for a spelunking trip. Unbeknownst to anyone else, the group's de facto leader, Juno (Natalie Mendoza), has led them to an unexplored cave system whose opening collapses after they descend into its depths. Things only get much worse from there. Dripping with atmosphere and full of suspense, "The Descent" is well worth a watch all the way through to its ending, of which there are famously two.
Invasion of the Body Snatchers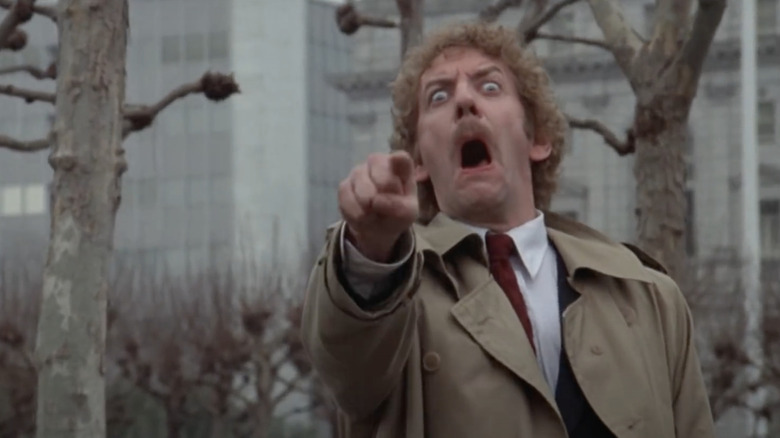 United Artists / YouTube
"Invasion of the Body Snatchers" (1978) is one of the rare horror film remakes that is as good as, if not better than, the original. In any case, it's certainly scarier. The 1978 version of the film stars Donald Sutherland as Matthew Bennell, who must face a species of gelatinous alien creatures who have begun to inhabit the residents of San Francisco. It starts when Matthew's friend Elizabeth (Brooke Adams) brings home a plant from the lab where she works, after which her boyfriend begins to act strangely. 
Unbeknownst to them, the plant is a pod that contains a mysterious alien life form, and as more people become infected, paranoia and panic grow. Matthew's friend Jack (Jeff Goldblum) and his wife (Veronica Cartwright) also become caught up in the events, as does psychiatrist David Kibner (Leonard Nimoy), as they all try to outrun or stop the invasion before becoming pod people themselves. With themes of paranoia, conformity and contagion, director Philip Kaufman has noted the film's relevance to today's socio-political climate, calling it "as valid now as it was then, maybe more."
Midsommar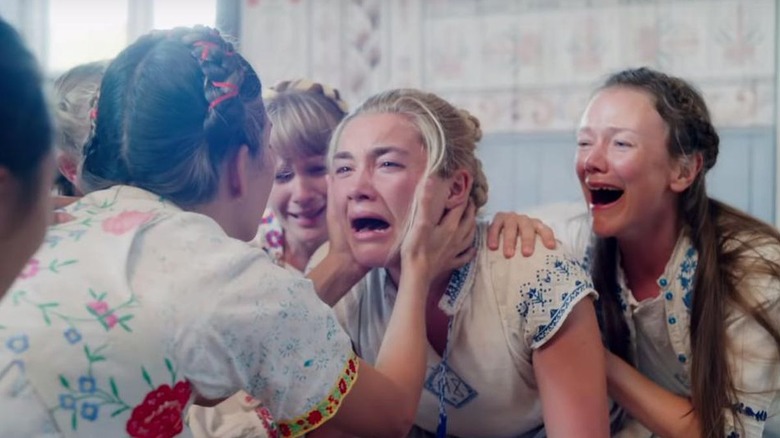 A24
Ari Aster followed up his terrifying 2018 hit "Hereditary" with a memorable modern folk horror film about a codependent couple on a summer holiday from hell. "Midsommar" (2019) stars Florence Pugh as Dani, a traumatized young woman whose boyfriend, Christian (Jack Reynor) invites her to Sweden as part of a boys' trip to study a local midsummer folk festival in the remote and tiny commune of Hårga. 
It all starts out well enough — the group kicks off their trip by consuming magic mushrooms before being welcomed by the seemingly kindly Hårgans. But, given that "Midsommar" is a horror movie, things naturally take a very dark turn when the gang discovers that they've actually stumbled on a cult with bizarre and terrifying rituals. As the festival builds towards the crowning of the May Queen, members of the group begin to go missing. It's all sort of downhill from there.
The Wicker Man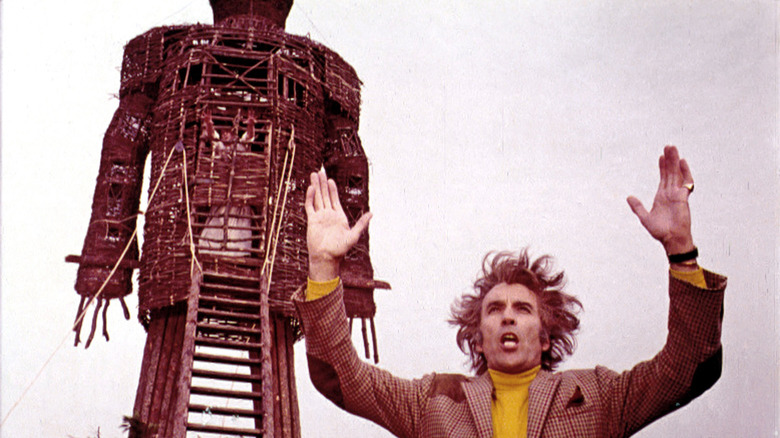 British Lion Films
Speaking of folk horror, Robin Hardy's "The Wicker Man" (1973) is perhaps the best known and most influential film in the entire  genre. The British horror classic, which was one of the major influences on "Midsommar," stars Edward Woodward as Police Sergeant Neil Howie, who investigates the disappearance of a little girl on the remote island of Summerisle, where he soon becomes disturbed by the inhabitants' freewheeling celebrations of pagan culture. Sergeant Howie explores the island while the inhabitants prepare for their annual May Day festival, but none of them seem to know anything about the missing girl. 
Eventually, Howie's investigation leads him to the island's enigmatic leader, Lord Summerisle (Christopher Lee), who reveals the real and terrifying purpose of their festivities. Christopher Lee regarded "The Wicker Man" as the best film he ever made, and called Lord Summerisle his favorite role. In fact, Lee was so keen to escape his Hammer Horror reputatio, that he reportedly did "The Wicker Man" for free. The film has since earned a reputation as one of the best horror films of all time, with The Guardian listing it at number four.
Jaws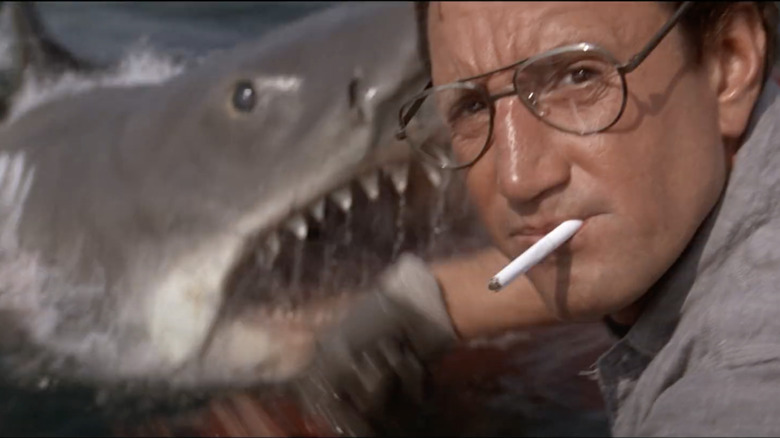 Universal Pictures
Steven Spielberg's classic blockbuster "Jaws" (1975) skillfully evokes the terror not only of the titular shark at its center, but also the perils of capitalism in its depiction of the Mayor of Amity Island (Murray Hamilton), who insists that the beaches remain open for the 4th of July holiday celebrations despite reports of a man-eating great white. After a few unfortunate individuals meet their demise, Amity's frustrated new police chief, Brody (Roy Scheider), teams up with a young oceanographer, Hooper (Richard Dreyfuss), and a hardened fisherman, Quint (Robert Shaw), to try and take down the toothy beast. 
The result is a thrill ride adventure on the open seas, anchored by iconic performances by the three leads, who are constantly out of their depth as they try to outsmart the giant shark. Unfortunately, they're miles out at sea before Chief Brody succinctly comes to the realization that "We're gonna need a bigger boat."