Black Panther 2 Set Photos Reveal Riri Williams, New Looks For Shuri And Okoye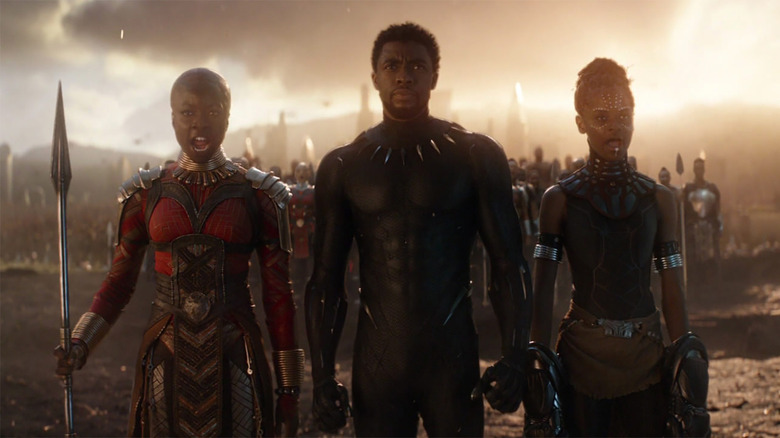 Marvel Studios
Production on "Black Panther: Wakanda Forever" is underway right now. Currently, the Marvel Studios sequel is shooting on location in Cambridge, Massachusetts at the MIT campus, and set photos are starting to surface from photographers sneaking around and trying to catch a glimpse of the cast in action.
Today, a first look at Danai Gurira and Letitia Wright has come to light, revealing cool, fashionable new looks for the Dora Milaje warrior Okoye and T'challa's younger sister Shuri. Plus, we have our first photo of Dominique Thorne as Riri Williams, the Marvel Comics character who becomes the Iron Man surrogate known as Ironheart.
Okoye and Shuri Go Back to School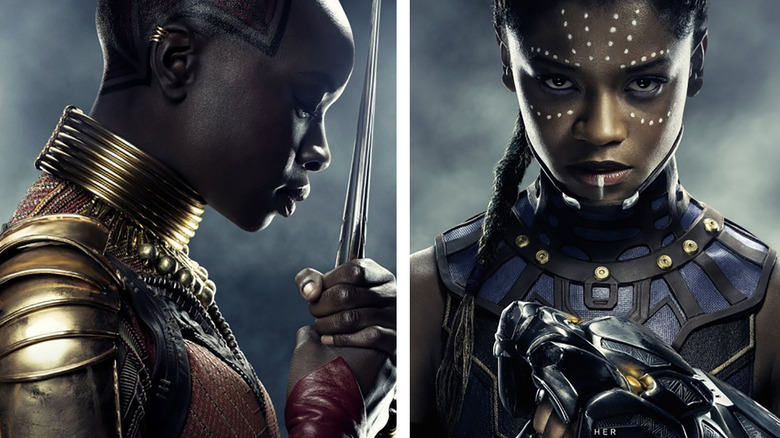 Marvel Studios
Since these are spy photos, you'll have to go elsewhere to see them for yourself, but that doesn't mean we can't discuss this sneak peek at Black Panther: Wakanda Forever.
In this scene, Okoye and Shuri are seen standing beside a black Lexus automobile, perhaps arriving on the MIT campus for the first time. Okoye is wearing an extremely toned down version of the red Dora Milaje body suit. Gone are the intricate pieces of the wardrobe, which lacks the golden neckpiece, complex beadwork, and all the gorgeous aesthetic touches that we saw in "Black Panther." But that's likely to avoid drawing attention to herself as she appears in public, and isn't indicative of any major change to the Dora Milaje's usual garb. You'll see there are still some subtle design touches on the body suit, but even those are being covered by a black sportcoat. The sunglasses add a nice incognito touch as well.
Meanwhile, Shuri looks a little more young and hip, wearing a light purple track suit and sporting a new haircut. Many have been wondering if Shuri will take the mantle of Black Panther now that Chadwick Boseman has passed away and T'Challa will no longer be king of Wakanda. She looks fairly casual to be someone who has been crowned the new queen of Wakanda, but T'Challa also didn't have any clear indications of his royalty in public throughout his appearances in the MCU. However, both Shuri and Okoye are wearing their Kimoyo Beads on their wrists.
Unfortunately, production with Letitia Wright hit a bit of a snag earlier this week when a stunt resulted in the actress being sent to the hospital with minor injuries. Thankfully, she was meant to be released the same day, and there has been no indication of this creating a major disruption for the production.
Are Okoye and Shuri Recruiting Riri Williams?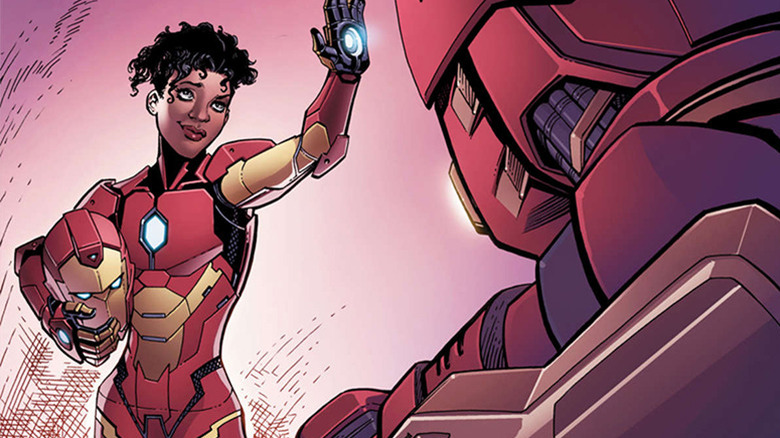 Marvel Comics
Ever since it was announced that "Black Panther: Wakanda Forever" would be shooting at MIT, fans have been wondering why. Then we learned that Marvel Comics character Riri Williams would be making her debut in the Marvel Cinematic Universe, played by actress Dominique Thorne, before the upcoming "Ironheart" series debuted on Disney+.
You might remember that the end of "Black Panther" found T'Challa establishing an outreach center in Oakland, California to help young minds develop with the help of the wealth of resources that Wakanda had to offer. This included a science and technology division that would be overseen by Nakia (Lupita Nyong'o) and Shuri. So more than likely, Shuri is seeking out Riri Williams, a brilliant young mind said to rival that of Tony Stark, because of whatever innovative work she's doing at MIT. Perhaps it's even something that will help them in whatever conflict lies ahead in the Marvel sequel.
In first look photos of Dominique Thorne on set, Riri Williams looks like a typical college student in braids, a gray t-shirt, jeans, and sneakers. She was seen having a conversation with another student, looking a little worried during their exchange, and then glancing at her cell phone. Doesn't sound like anything too revealing, but it's also early in the production. 
We're bound to see and hear more from the set of "Black Panther: Wakanda Forever" as production continues, so stay tuned.