Upcoming Netflix Original Movies You Need To Know About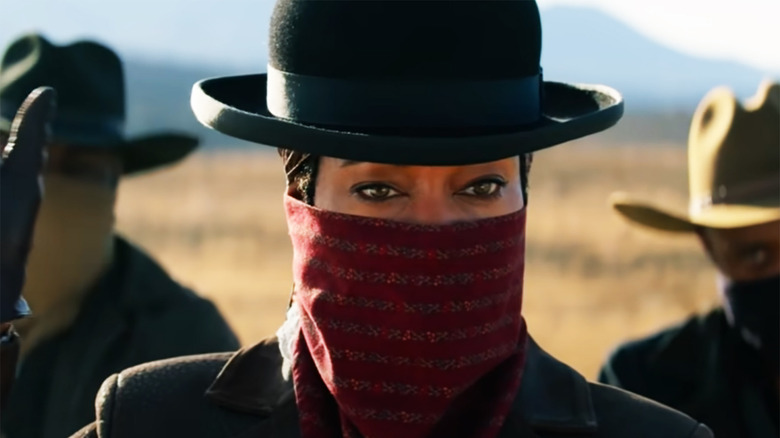 Netflix
In less than a decade, Netflix has transformed from a digital alternative to Blockbuster into one of the most ambitious studios in Hollywood. After Cary Joji Fukunaga's critically acclaimed war epic "Beasts of No Nation" made a splash at award shows in 2015, Netflix has only increased its output of original films. In 2021 alone, Netflix will distribute well over 100 new films alongside their lineup of exclusive shows and docuseries.
What makes Netflix such a novelty is that it has entered virtually every corner of the film market. Between tentpole action films like "Extraction," prestige awards contenders like "The Irishman," arthouse experiments like "I'm Thinking of Ending Things," and savvy festival acquisitions like Dee Rees' "Mudbound," no one overriding element defines a "Netflix film."
While disputes with theater chains over the streamer's simultaneous digital and theatrical release dates continue to rage, Netflix isn't struggling to recruit top-tier filmmakers. Directors like Alfonso Cuarón, Martin Scorsese, the Coen Brothers, Michael Bay, Noah Baumbach, Aaron Sorkin, David Fincher, and Charlie Kaufman are just a few of the big names swayed by Netflix's seemingly endless funds.
The future is bright for cinephiles who look to Netflix as more than just a tool to re-watch familiar favorites. And yet, given the sheer size of Netflix's library and the volume of its output, it can be hard to know what to look forward to. These upcoming Netflix films are ones that you should definitely add to your watchlist.
At long last, Worth could earn Michael Keaton his Oscar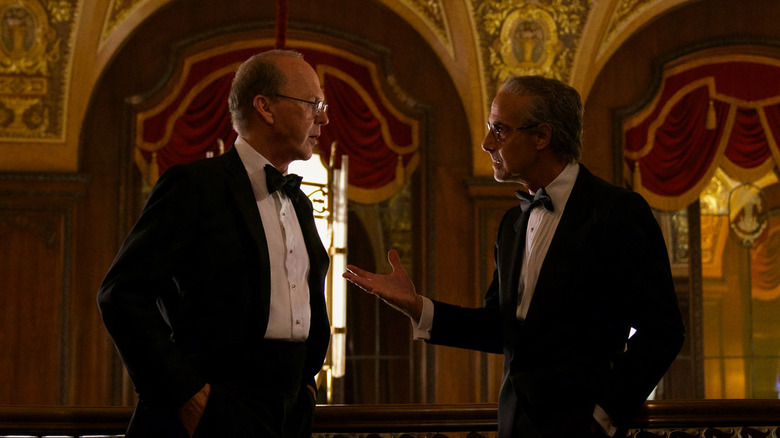 Sundance Institute
If you follow the festival circuit, you might have heard about "Worth," which debuted at the Sundance Film Festival way back in January 2020. Despite receiving praise for its timely and respectful approach to the difficult subject material, "Worth" sat around without a distributor for almost a year until Netflix and Barack and Michelle Obama's Higher Ground Productions acquired the film for a fall release.
Based on a true story, "Worth" explores a legal battle waged by attorney Ken Feinberg (Michael Keaton), head of the September 11th Victim Compensation Fund, in the face of opposition from corporations, lawyers, and the US government. While Keaton has struggled to find roles at the same level as his comeback performances in back-to-back Best Picture winners "Birdman" and "Spotlight," this could be the role that lands him the Academy Award he's long deserved.
"Worth" comes from director Sara Colangelo, whose previous film, a twisted drama called "The Kindergarten Teacher," debuted on Netflix in 2018. Despite dealing with wildly different subject material, that movie proves that Colangelo can craft intimate, morally challenging dramas that confront difficult questions about the value of human life. Early reviews indicate that "Worth" will be a powerful film to watch when the 20th anniversary of 9/11 hits this September.
The Harder They Fall revives the revenge western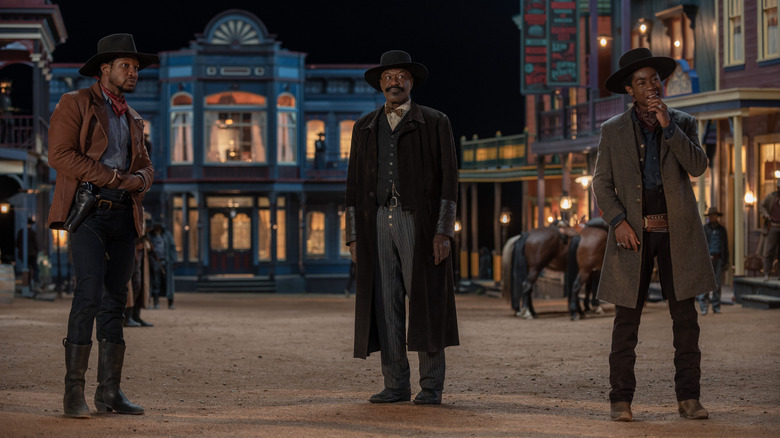 Netflix
Netflix is certainly no stranger to quirky westerns — the streamer released Adam Sandler's "The Ridiculous Six" in 2015 and the Coen brothers' western anthology "The Ballad of Buster Scruggs" in 2018 — and with "The Harder They Fall," it's switching gears again. The revenge-thriller from director Jeymes Samuels follows the tropes of a classic western, but comes at them from an African-American perspective, bringing a very different point of view to the genre.
Jonathan Majors leads "The Harder They Fall" as a bounty hunter who brings his old gang back together in order to avenge the death of his parents, and his posse is filled with big names: Idris Elba, Regina King, RJ Cycler, Delroy Lindo, Lakeith Stanfield, and Zazie Beetz all make a big impact in the movie's action-packed trailer. If you're looking for an ensemble western reminiscent of "The Magnificent Seven," it looks like "The Harder They Fall" will fit the bill.
The past decade has seen a rise in the popularity of revisionist westerns, including "Hostiles" and "The Revenant," but those have tended to take a more realistic approach to the material. Getting a western that focuses on shootouts, train heists, and action sounds like a blast.
Blonde brings to life a seemingly unfilmable novel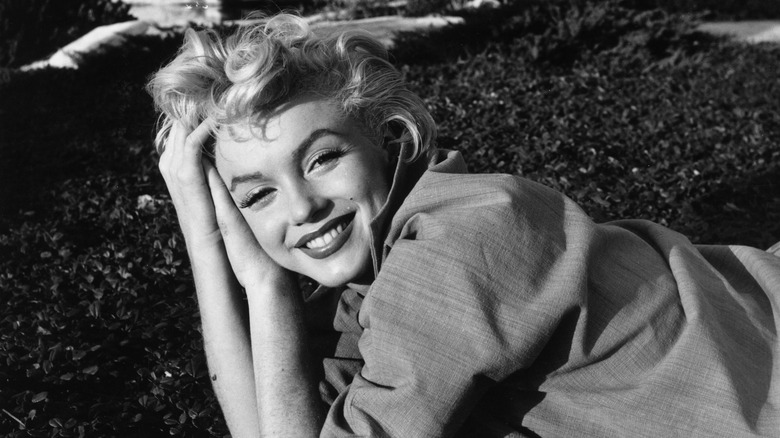 Baron/Getty Images
Andrew Dominik is a writer-director with a relatively short resume, but he's already established himself as one of the most distinctive filmmakers of his generation. His western "The Assassination of Jesse James by the Coward Robert Ford" looked deep into obsessive fan culture and features some of the most stunning filmography of Roger Deakins' career. The underrated crime thriller "Killing Them Softly" was a subversive take on the ramifications of the financial crisis. Dominik is no stranger to Netflix either, having stepped in to direct two episodes of "Mindhunter."
Dominik's latest project, "Blonde," looks to be another fascinating deconstruction of a familiar story, exploring the psyche of an enigmatic movie star heavily inspired by Marilyn Monroe. Adapted from the 2000 novel by Joyce Carol Oats, which was deemed "unfilmable" by many, the film stars "Knives Out" breakout star Ana de Armas as the titular bombshell.
It's pretty much guaranteed that Dominik's film will look gorgeous, but the intersection between Monroe's superstar status and her troubled personal life should make for a fascinating examination of one of the most famous stars of all-time. De Armas is shaping up to be one of the most talented actresses in Hollywood, too, and this juicy role could lead to the performance of her career.
Tick, Tick... Boom! has some serious musical talent backing it up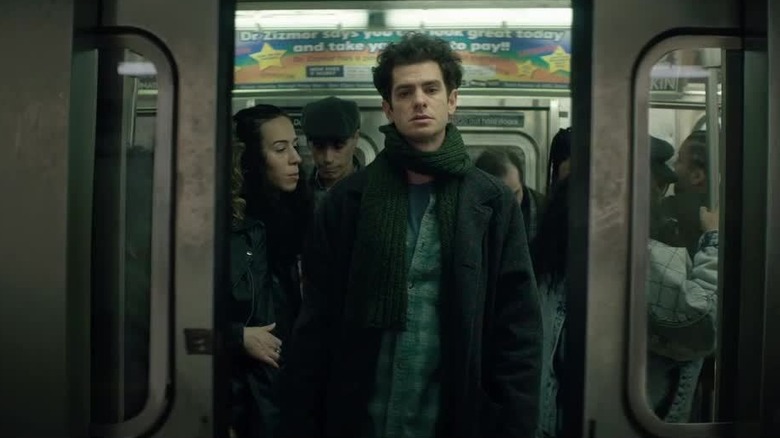 Netflix/ YouTube
2021 is shaping up to be the year of the cinematic musical. "In the Heights" may not have made a huge dent at the box office, but it's already been earmarked as an early awards contender. Films like "West Side Story," "Dear Evan Hansen," "Cyrano," and "Annette" will all debut in the coming months.  And then there's "Tick, Tick... Boom!," an adaptation of the stage show from "Rent" playwright Jonathan Larson, helmed by Lin-Manuel-Miranda in his directorial debut.
Miranda's popularity continues to skyrocket, but "Tick, Tick.. Boom!" looks to be far removed from the crowd-pleasing "Hamilton" or "In the Heights." As depicted in a trailer reminiscent of Bob Fosse's "All That Jazz," the film follows a composer (Andrew Garfield) in the midst of a tumultuous mid-life crisis.
Larson's songs alone are reason enough to watch, but the early footage suggests that Miranda's visual mind matches his songwriting abilities. Garfield looks to be in rare form, too. The actor has only taken more risks as an actor following his tenure as Peter Parker, so the prospect of him fronting a musical is exciting. Despite their heavy output of concert films and music documentaries, Netflix hasn't really delved into musicals yet. "Tick, Tick... Boom!" should be an ambitious first try.
Don't Look Up has 2021's most stacked ensemble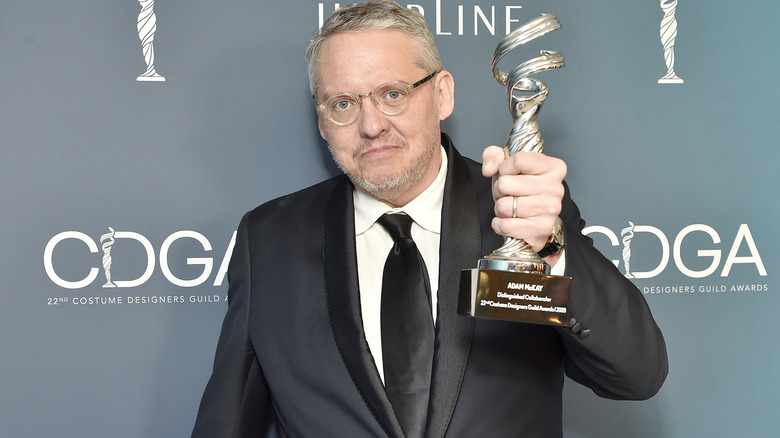 Stefanie Keenan/Getty Images
When he was making adolescent comedies like "Anchorman: The Legend of Ron Burgundy" and "Step Brothers," few expected Will Ferrell's longtime collaborator Adam McKay to become one of the most savage critics of American culture. "The Big Short and "Vice" retained McKay's signature sense of humor, but used it to make complex political issues more palatable. Appropriately, McKay's next project sounds like the perfect social satire for the COVID-19 era.
"Don't Look Up" stars Leonardo DiCaprio and Jennifer Lawrence in rare comedic roles, playing astronauts who return to Earth to warn mankind about a comet that could wipe out human life. Unfortunately, their government authorities swiftly deny their claims, while the general public remains skeptical. The parallels to recent events aren't hard to see.
While politically charged, "Don't Look Up" marks McKay's return to original stories, and it sounds like the film continues to combine comedy with scathing social commentary. McKay has never failed to get actors to step outside of their comfort zone, and his ensemble includes Cate Blanchette, Meryl Streep, Jonah Hill, Timothee Chalamet, Chris Evans, Rob Morgan, Ariana Grande, Himesh Patel, Tyler Perry, Mary Rylance, Matthew Perry, Melanie Lynskey, Ron Perlman, and Michael Chicklis. Is there a more exciting cast in any movie coming out this year — or, really, ever?
Passing earned rave reviews at Sundance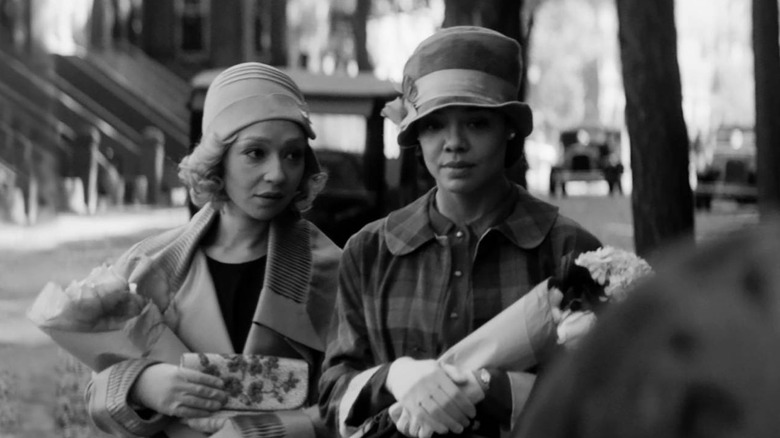 Sundance Institute
One of the most celebrated films of this year's Sundance Film Festival was "Passing," Rebecca Hall's directorial debut. Hall is a woefully underrated actress — you know her from "Vicky Cristina Barcelona," "The Town," "Christine," and so much more — and early reviews for "Passing" indicate that she's as talented behind the camera.
"Passing" stars Tessa Thompson and Ruth Negga as mixed-race childhood friends who reignite their friendship as adults. However, their relationship is tested because Thompson's character, Irene, identifies as black, while Negga's character, Clare, "passes" as white. At Sundance, "Passing" was praised for its nuanced depiction of race, as well as its gorgeous monochrome color grading.
There will certainly be a debate over whether or not Hall is the right person to tell this story, and whether the 1929 novel the movie is based on still has an impact today, but those are discussions worth having. One of the best things about Netflix's distribution of indie films, particularly those from female filmmakers, is that a larger audience is able to engage in that type of discourse.
The Guilty remakes a beloved Danish thriller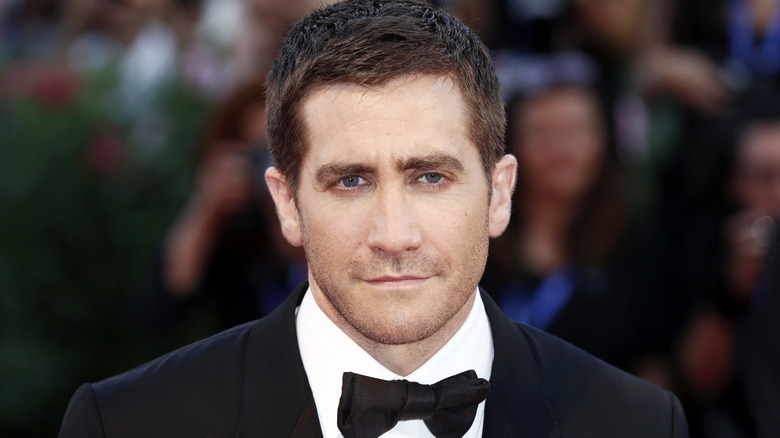 Shutterstock
American remakes of acclaimed international films can go either way. Sometimes, like "The Departed" (inspired by the Hong Kong action thriller "Infernal Affairs"), the reimagining becomes a classic in its own right. Sometimes, it's a disaster, like Spike Lee's "Oldboy." However, we're holding out hope for Netflix's remake of the 2018 Danish cop thriller "The Guilty," which boasts a very exciting creative team.
Jake Gyllenhaal stars in "The Guilty" as an emergency dispatcher who uncovers a conspiracy after receiving a distress call, with direction from Antonie Fuqua. Fuqua made his name on crime-thrillers centered on law enforcement, and it's exciting to see him return to the genre on the 20th anniversary of his breakout film, "Training Day."
Fuqua reliably delivers big, sprawling action sequences, so it should be interesting to see him return to a more confined setting. That being said, Fuqua struck out earlier this year with the disastrous sci-fi thriller "Infinite"; hopefully, "The Guilty" will be his much-needed comeback.
Red Notice teams the Rock with Ryan Reynolds and Gal Gadot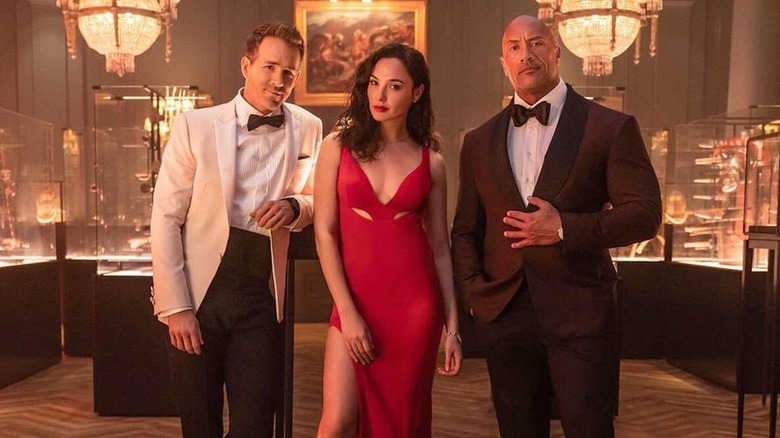 Netflix
If there was ever any doubt that Netflix could deliver a star-studded blockbuster featuring some of the industry's biggest stars, "Red Notice" should put it to rest. In "Red Notice" Dwayne Johnson stars as a genius FBI tracker who forms an unlikely partnership with two of the most wanted thieves on the planet, played by Ryan Reynolds and Gal Gadot.
This is the third collaboration between Johnson and Rawson Marshall Thurber, who also directed "Central Intelligence" and "Skyscraper," which contain two of Johnson's more interesting performances. Johnson generally works best when he can kick ass and rattle off one-liners in equal measure. "Red Notice" should give him the chance to do both.
With an estimated $200 million budget, "Red Notice" is Netflix's most expensive film to date, and is poised to fill the action-comedy void this November There are actually few action-comedies of this size, but you can rely on Thurber to deliver laughs and thrills in equal measure. The only question is whether or not a blockbuster of this scope works as well at home as it would in theaters.
The Power of the Dog sounds like a difficult, but powerful, watch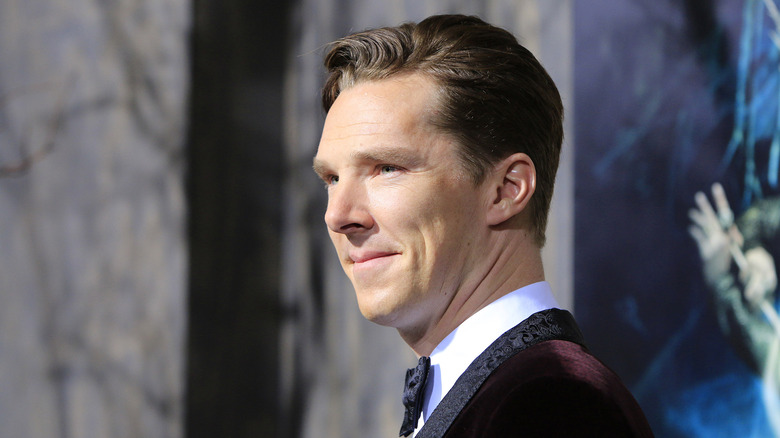 Shutterstock
Jane Campion won an Oscar for writing "The Piano" (and was nominated for another for directing), but that was back in 1993. While she recently received a few nods for her crime series "Top of the Lake", Campion's upcoming adaptation of Thomas Savage's 1967 novel "The Power of the Dog" could see her make a return to the cinematic awards race. The Montana-set period drama stars Benedict Cumberbatch and Jesse Plemons as brothers who butt heads after Plemons' character marries his childhood sweetheart, Rose (played by Plemons' real-life bride, Kirsten Dunst).
Having embodied Smaug and Khan, Cumberbatch is no stranger to playing villains, but seeing him step outside of the sci-fi and fantasy genres to take on a more realistic antagonist should be interesting. In "The Power of the Dog," he plays a vicious bigot who's willing to wreak havoc upon his family out of personal spite. "The Power of the Dog" will almost certainly be a difficult watch — the novel was considered a breakthrough for its honest depiction of alcoholism, homophobia, and mental health trauma — but Cumberbatch is on a hot streak this year following both "The Mauritanian" and "The Courier," and with Champion behind the camera, it should be a powerful and timely experience.
Apollo 10 ½ is Richard Linklater in his element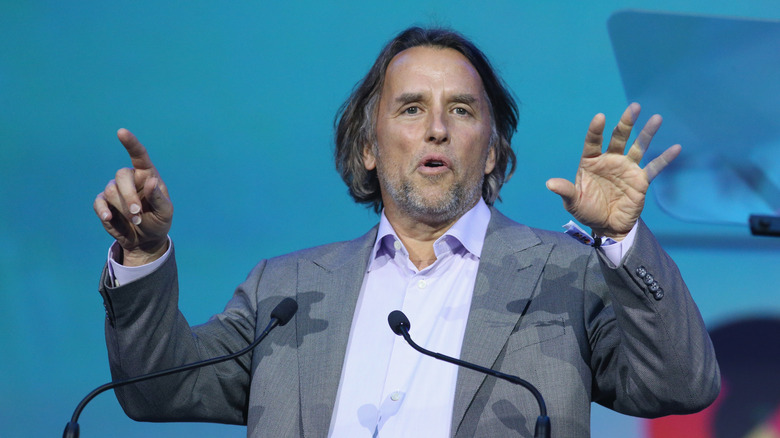 Gary Miller/Getty Images
Richard Linklater has a diverse filmography, but he's best known for coming-of-age movies including "Dazed and Confused," "Slacker," "Boyhood," and the highly underrated "Everybody Wants Some." Well, it sounds like you can add Netflix's "Apollo 10 ½" to that list, too. Set in Linklater's hometown of Houston, "Apollo 10 ½" follows a young ensemble in the days surrounding the 1969 moon landing. While it will undoubtedly be another star-making vehicle for its young cast, Linklater has also cast some past collaborators in key supporting roles, including Jack Black and Glen Powell.
"Apollo 10 ½" (tentatively co-titled "A Space Age Adventure") will utilize the same animation style that Linklater utilized in "A Scanner Darkly" and "Waking Life," in which live-action film is traced digitally, producing realistic but highly stylized images. Despite the animation, however, the movie's setting and historical backdrop suggest this will still remain a very personal, authentic story, like all of Linklater's best.
The Gray Man could launch a major new franchise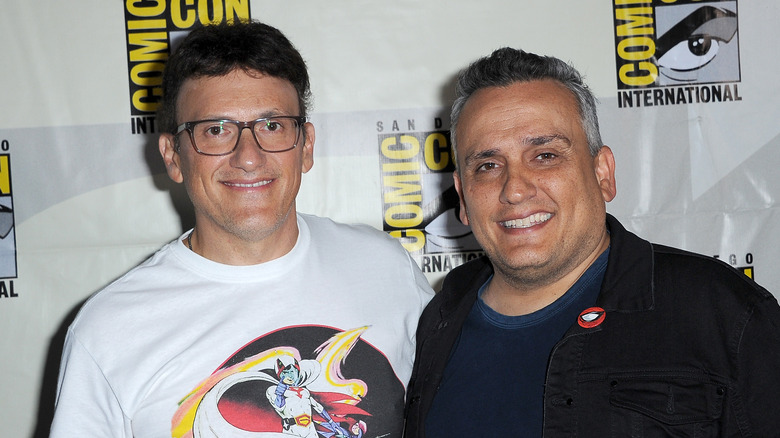 Albert L. Ortega/Getty Images
Potentially Netflix's biggest venture into high-budget action filmmaking, espionage thriller "The Gray Man" is a highly anticipated new film from the Russo Brothers — y'know, the guys who made the biggest movie of all time. They're a good fit for Netflix, too. The streamer is clearly hungry for ongoing franchises, but while "Bright" and "6 Underground" seem like they've failed to launch, the "The Gray Man" is designed as the start as an ongoing series, which alongside the Russo-penned "Extraction," could be exactly what Netflix needs.
It's also not short on star-power, with Ryan Gosling starring in the flick as a rogue CIA agent who's being tracked by his former colleague, played by Chris Evans. The prospect of these two heavyweights starring in a cat-and-mouse game reminiscent of "The Fugitive" is certainly intriguing, and you can bet that the Russos have some elaborate action set pieces in store.
It'll be interesting to see which direction the Russos' career heads following their years at Marvel. Although the brothers helmed four of the MCU's best installments, "Cherry" was a serious step down quality-wise, and failed to really utilize their talents. Heading back to a complex, star-driven action franchise may be exactly what the pair needs to kick their creative juices back into high gear.
Rebel Ridge will kick up the intensity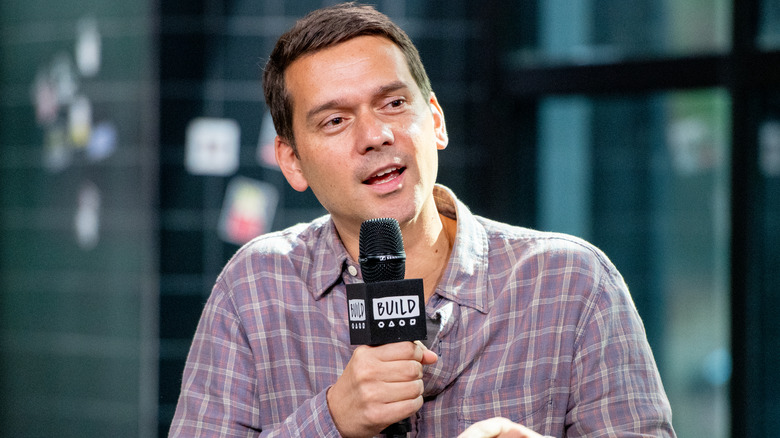 Roy Rochlin/Getty Images
Many Netflix films may have played just as well in theaters, but "Rebel Ridge," the latest project from Jeremy Saulnier, might actually be too visceral to watch on the big screen. As evidenced by tightly-wound thrillers like "Murder Party," "Blue Ruin," and "Hold the Dark," Saulnier has the ability to make people squirm like none other. Seriously, you might want to check your pulse if the gruesome inciting incident in "Green Room" didn't seriously disturb you.
By all indications, "Rebel Ridge" is going to be yet another anxiety-inducing crime thriller. Plot details on "Rebel Ridge" are scarce, but it's said to be an action-packed crime saga featuring morally flexible characters on both sides of the law. Saulnier's lower budgets make for more intimate locations with higher intensity, so there's not too much worry that he'll fall victim to the bloat of seemingly unlimited Netflix money. And while John Boyega's abrupt exit from the film in the middle of shooting remains a controversy, the film retains an impressive cast of character actors including Don Johnson, James Badge Dale, James Cromwell, and Emory Cohen.
Maestro is Bradley Cooper's hotly anticipated return to directing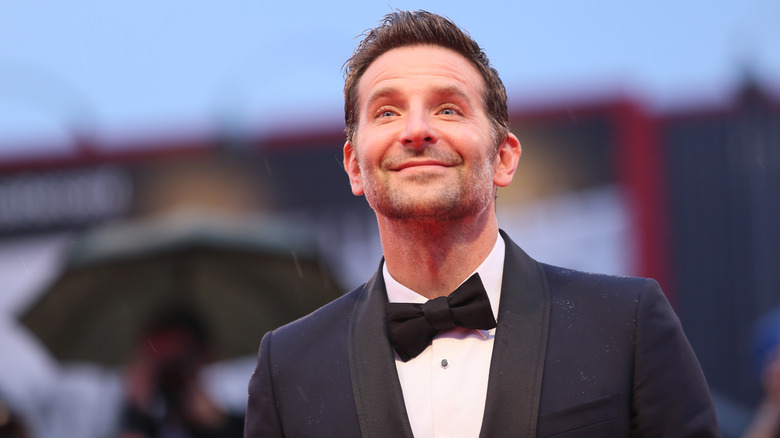 Shutterstock
It's still a mystery as to how 2018's "A Star is Born" managed to elude any major award wins, but Bradley Cooper is taking another shot at a music-themed relationship drama with the upcoming biopic "Maestro." Cooper's next effort as a writer-director will see him play famous composer Leonard Bernstein, with Carey Mulligan co-starring as Bernstein's wife, Felicia.
The storied relationship was fraught with tension, and "Maestro" will follow the 25 years following their initial 1946 encounter. Cooper is clearly making another award-season play with the film; the project is so buzzy that it stole all of the thunder from a rival Bernstein biopic, Cary Fukunagua and Jake Gyllenhaal's "The American."
Creatively, "A Star is Born" was saddled with the baggage from previous interpretations, so "Maestro" should give Cooper the chance to flex his filmmaking abilities by telling a story not previously adapted for the screen. It may be awhile before "Maestro" hits Netflix thanks to Cooper's commitments to Paul Thomas Anderson's "Soggy Bottom," Guillermo del Toro's "Nightmare Alley," Gavin O'Connor's "Atlantic Wall," and wherever Rocket Racoon shows up next, but from the sound of it, the ambitious film should be well worth the wait.