Upcoming Animated Movies Your Kids Will Get Excited For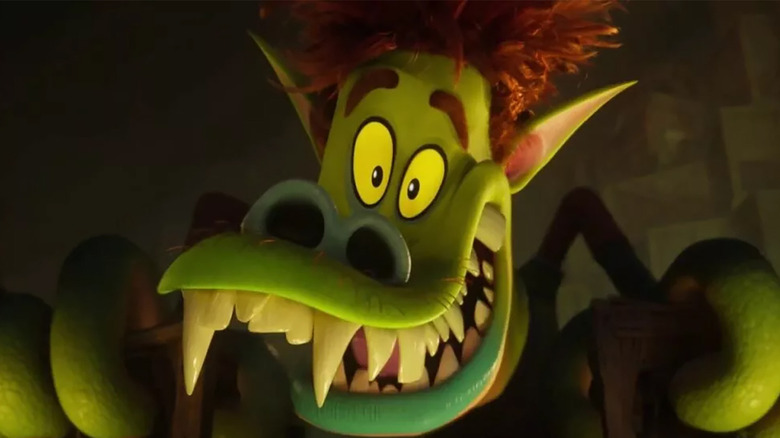 Amazon Studios
For many parents, one of the challenges of the COVID-19 pandemic was keeping children occupied while school was out. So, what better way to consume a kid's attention than turning on an animated film? Ever since Disney's "Snow White and the Seven Dwarfs" became a breakout hit in 1937, animated films have sparked the imaginations of children while enchanting the hearts of adults. It is also an underestimated and underrated medium, having a limited presence at prestigious events like the Academy Awards and not held to the same critical level as live-action films.
With stories about monster slaying, intergalactic travel, awkward coming-of-age hijinks, and the reality of the refugee experience, this list of upcoming animated films is full of movies that will capture kids' attention — and your hearts. Some continue long-running franchises. Some are original offerings. A few are years away, but will be worth the wait. Whether they're animated with CGI, hand-drawn art, or stop motion, every one of these movies should provide an enriching viewing experience. 
Lightyear will launch Buzz Lightyear's origin story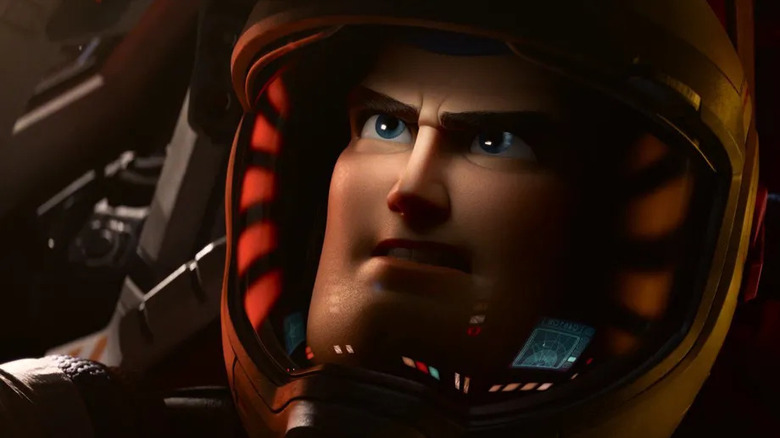 Disney
How did a test pilot rise through the ranks to become a devoted space ranger? "Lightyear" tells the origin story of Pixar's Buzz Lightyear, Star Command's fearless warrior. But "Lightyear" isn't about the once-delusional action figure Tim Allen voiced in the four "Toy Story" movies. Rather, it's about the Buzz (played by Captain America himself, Chris Evans) who inspired the Lightyear toy line. According to Pixar producer Pete Docter, "Lightyear" is not a "Toy Story" film, saying, "We designed Buzz Lightyear with the idea that he was a toy based on some really cool character from an epic blockbuster film." Now, Pixar has made the film itself. To infinity and beyond!
Fun fact: This isn't the first Buzz Lightyear spin-off. Back in 2000, ABC aired "Buzz Lightyear of Star Command," an animated show that ran for 65 episodes. The series would make a great double-feature before you head to the theaters for "Lightyear" — if only we could watch it on Disney+.
To Be Released: June 17, 2022
Pashmina will explore an Indian-American teen's identity
Priyanka Das is a first-generation Indian-American teen and aspiring artist who has several questions about her mother's past in India. However, her mother gives her no answers. Then, Priyanka uncovers a magical pashmina from a forgotten suitcase. Every time she dons it, the garment transports her to a mythical, vivid India. The more time Priyanka spends in the fantastical India of her child-like imagination, the more she longs to see the "real India." Later, Priyanka flies to the real India and experiences both the delights of her culture and uncomfortable truths about her family history, including why her mother left. Also, she has to investigate a shadow lurking in her dreamscape.
Inspired by the colorful illustrations of Nidhi Chanani's best selling children's graphic novel, the CG-film adaptation of "Pashmina" is on the way to Netflix. Excitingly, it's not a straight-up adaptation: "Pashmina" is going to be a musical! Well-known for directing "Bend It Like Beckham" and "Blinded by the Light," Gurinder Chadha will bring Chanani's book to life, and is well-suited to bring the graphic novel's themes of feminism, cultural identity, the homeland of the imagination versus the homeland of reality, and intergenerational bonding into the final product.
To Be Released: TBA
Minions: The Rise of Gru will deliver more adorable shenanigans
When "Minions" ended, the googly-eyed Minions, the breakout stars of the "Despicable Me" franchise, had selected their new boss: a 12-year-old rising supervillain by the name of Gru (Steve Carell). "The Rise of Gru" continues his story. Hoping to break into the villain profession, little Gru auditions for the Vicious 6. However, they laugh him off, thanks to his puny size. In a desperate attempt to prove himself, Gru steals a bejeweled stone from the group and goes on the run, where he finds guidance in an unexpected source: the 6's former leader, Wild Knuckles.
If your kids loved watching the Minions get into trouble before, "Minions: The Rise of Gru" will take them on a fun ride full of slapstick and mishaps, all while giving background on some fan-favorite "Despicable Me" characters. Fans of all ages will finally get to know how Gru bonded with the Minions, and why he teamed up with the absent-minded Dr. Nefario in the lead up to "Despicable Me." "The Ruse of Gru" cast includes Taraji P. Henson, Michelle Yeoh, RZA, Jean-Claude Van Damme, Lucy Lawless, Dolph Lundgren, Danny Trejo, Russell Brand, Julie Andrews, and Alan Arkin.
To Be Released: July 1, 2022
Lin-Manuel Miranda makes Disney magic in Encanto
Once upon a time, the rambunctious Madrigal family lived in a secluded Columbia mountain town called Encanto. In Walt Disney Animation's 60th feature, Stephanie Beatriz stars as Mirabel Madrigal, the only ordinary child in a society where each kid has powers like super-strength or healing abilities. Naturally, Mirabel has doubts about her place in the world. And yet, despite her lack of magical qualities, Mirabel discovers that she is the key to saving her village's magic when danger strikes. 
If you're craving more Disney musicals in the vein of "Moana" and "Frozen 2", "Encanto" won't disappoint. After the release of "In the Heights" and the filmed Broadway production of "Hamilton", Lin-Manuel Miranda's contributions to the movie — he wrote the music, which includes both English and Spanish lyrics — make "Encanto" the most anticipated musical-comedy of the year. "Zootopia" directors Byron Howard and Jared Bush return to help the feature, with co-direction by Charise Castro Smith. Not much else about the plot and cast have been announced, but more musical talents are expected to grace this production. 
To Be Released: November 24, 2021
Hotel Transylvania: Transformania will provide a frenetic conclusion to the series
Over the past three "Hotel Transylvania" movies, Count Dracula overcame his fear of humans and welcomed them into both his family and his monster hotel. But the famous vampire's problems aren't over yet. In the final installment of the "Hotel Transylvania" series, Van Helsing's Monsterfication Ray goes haywire and transforms the Drac Pack into humans. Dracula (now voiced by Brian Hull, following Adam Sandler's exit from the franchise) and his pals must race against time in order to recover their ghoulish bodies. Rubbing salt in the wound, Dracula's human son-in-law (Adam Samberg) is transformed into a monster. To quote the latter, "It's like 'Freaky Friday,' but on a Tuesday."
Under Genndy Tartakovsky's oversight, the CG "Transylvania" films are practically the definition of crowd-pleasing family entertainment. Those who enjoy Tartakovsky's more serious animated work on the 2003 "Star Wars: Clone Wars" microseries, "Samurai Jack", and HBO Max's "Primal" will appreciate his signature maximalist touches on "Hotel Transylvania," in which ghouls and humans move, occupy, fly, and emote with Tex Avery-inspired physicality. For "Transformania," Tartakovsky is onboard as a producer and screenwriter, while Jennifer Kluska and Derek Drymon ("Spongebob Squarepants") direct.
To Be Released: TBA
My Father's Dragon taps into the Cartoon Saloon magic
The "Irish Studio Ghibli" is one way to describe Cartoon Saloon. In each one of the studio's movies, there are jewels encrusted in every frame. You saw through the eyes of wolves in the dazzling "Wolfwalkers," you became lost in the illustrations of "The Secret of Kells," and you were enchanted by folklore creatures' music and pageantry in "Song of the Sea." Blink, and you're almost certain to miss something amazing.
For parent and child viewers with an appetite for colorful details, the upcoming animated adaptation Ruth Stiles Gannett's 1948 children's novel "My Father's Dragon" is sure to dazzle their eyes. The source material follows young Elmer Elevator, a boy equipped with nothing but chewing gum, lollipops, and rubber bands, as he rescues a baby dragon on Wild Island. The movie will be directed by Nora Twomey, who worked on Cartoon Saloon's poignant "The Breadwinner." The screenwriter will be Meg LeFauve, who penned Pixar's "Inside Out." Just don't confuse this with the 1997 anime adaptation of the same book. This is an entirely different project.
To Be Released: 2022
The Monkey King will bring mayhem and mischief to the classic Chinese story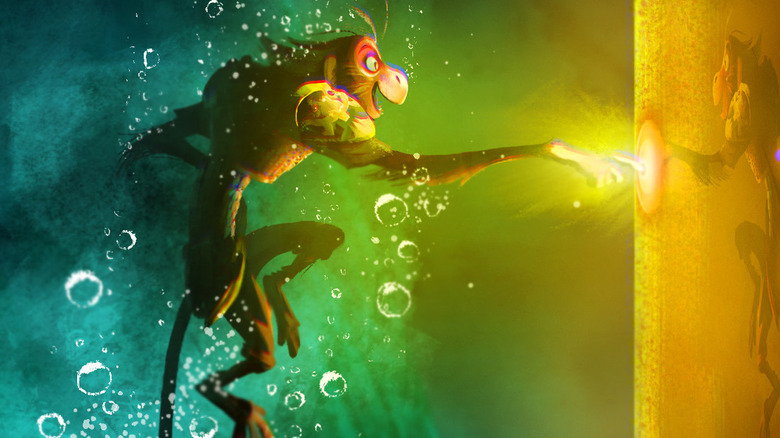 Netflix
Sun Wukong is the Monkey King, the famous shapeshifting mischief-maker of the 16th century Chinese novel "Journey to the West" and a walking cautionary tale about pride. If there's a chaotic entity who can get on the nerves of the heavens, it's him. As such, the Monkey King is a very popular subject of animated films, although most of them haven't made their way to the west. So, when Netflix announced an animated "The Monkey King" movie executive produced by Stephen Chow, it was understandably very exciting.
If you appreciate the physics-defying antics of "Kung Fu Hustle" and "Shaolin Soccer," Chow's involvement with the animated movie should seem like a natural fit. The Monkey King tale is also familiar terrain for Chow, who wrote, directed, and starred in "Journey to the West: Conquering the Demons," a fantasy-comedy based on the original novel. "The Monkey King" features an all-Asian cast including Jimmy O. Yang, Bowen Yang, Jolie Hoang-Rappaport, Jo Koy, Ron Yuan, Hoon Lee, Stephanie Hsu, Andrew Pang, Andrew Kishino, Jodi Long, James Sie and BD Wong, and is produced by Chow, Peilin Chou ("Over The Moon"), and Kendra Haaland ("How to Train Your Dragon 2"). Anthony Stacchi ("The Boxtrolls") directs.
To Be Released: 2023
Lamya's Poem illustrates the devastation of war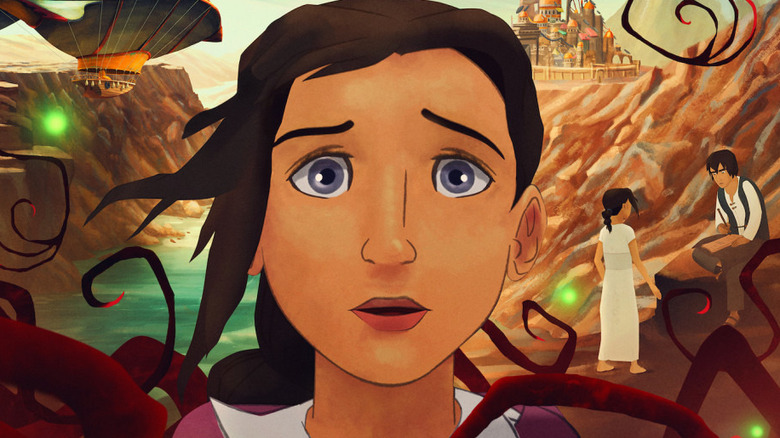 WESTEND FILMS LTD.
Screened at the 2021 Annecy International Animated Film Festival, "Lamya's Poem" is the rare 2D kid-focused feature that is both educational and enthralling. Through its watercolor-inspired art, this story takes a three-tiered approach to its depiction of war and the refugee experience. One part details 12-year-old Lamya (Millie Davis) and her mother's harrowing escape from Aleppo in 2016 during the Syrian Civil War. In another, Lamya and the 13th-century Persian poet Rumi (Mena Massoud) commune in a dreamland. Finally, Rumi's fictionalized biography shows his struggles with adolescent rage and how he tries to embody his father's teachings of peace after losing his home. Ripped from her homeland, Lamya seeks comfort in little joys around her: music, fireflies, and a book of Rumi's poems. Preserving Rumi's words may just save her life.
Focusing on the realities of a refugee crisis, displacement, and war, "Lamya's Poem" unapologetically contains sequences of bombings, family separation, Islamophobia, and police brutality. And yet, levity, respite, and a hopeful ending make this a palatable viewing experience for children. By the end, "Lamya's Poem" makes its statement about the transcendent healing power of stories, poetry, and cultural preservation loud and clear. It's not always easy to watch, but for viewers of any age, it's worth it.
To Be Released: TBA 
The Ape Star is an unconventional children's book brought to life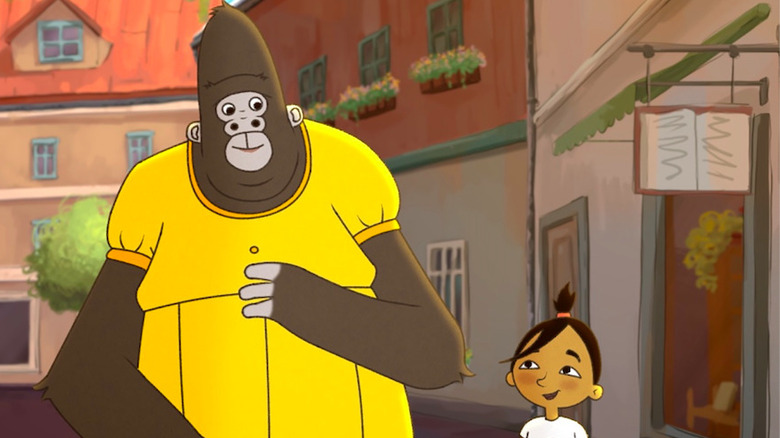 LEE Film
"The Ape Star" is full of picture book eccentricity, reminiscent of "Curious George." Based on the book by Frida Nilsson, "Ape Star" begins with a young girl named Jonna who longs for a guardian to take her from the Sunnyside orphanage. She doesn't, however, expect a talking gorilla to drive to Sunnyside and sign her adoption papers. Jonna takes some time to adjust to her new gigantic parent, who just goes by "Gorilla," and their scrapyard home. But right when they start bonding, the authorities threaten the new family's existence by declaring Gorilla an unfit parent. There's also a subplot about a fellow who wants to build a waterpark over Gorilla's beloved scrapyard. And yet, Jonna and Gorilla stand strong, learning the meaning of family along the way. This is an animated film with lessons about nonconformity and an unconventional family.
Animated by the Sweden-based Dockhus Animation, the film is directed by Linda Hambäck. The original Swedish cast includes Stellan Skarsgård ("Thor"), Pernilla August ("Star Wars"), Melinda Kinnaman, and Rebecka Gerstmann.
To Be Released: TBA
A teen navigates her fuzzy red panda body in Turning Red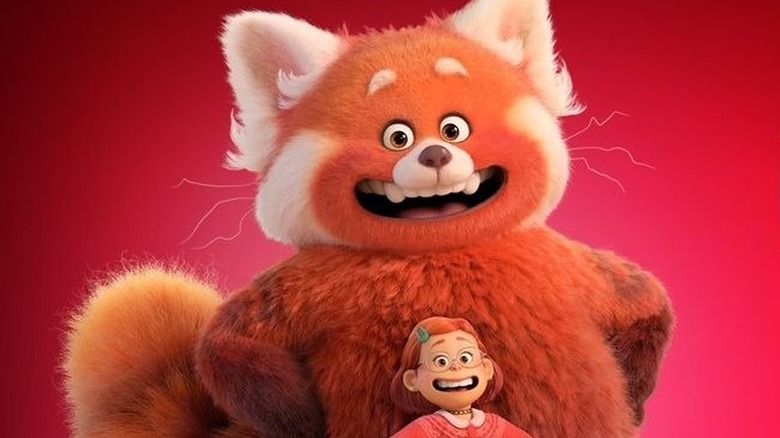 Pixar
Did you sob or gasp while watching "Bao," the Pixar short in which a mother dumpling swallows her child? Well, get ready. The Academy Award-winning director of "Bao," Domee Shi, has a feature-length coming-of-age comedy coming up. It's a story that Asian kids might recognize too, and plays on a similar maternal conflict as the one in Shi's short. In "Turning Red," not only does Mei Lee have to deal with her mother's outsized expectations. Her body is also changing. Puberty, you say? No, it's worse: Whenever Me Lee gets excited — which is, well, quite often — she transforms into a giant red panda.
Little more is known about the plot, although the concept art and the first teaser trailer perfectly embody the awkward feelings that every adolescent girl knows all too well, when you are insecure about your body and feel all eyes on you. With 24 movies under its belt, Pixar has mastered the art of telling relatable, emotional stories. By all indications, its 25th feature will be more of the same.
To Be Released: March 11, 2022
Aardman returns to its biggest hit with Chicken Run 2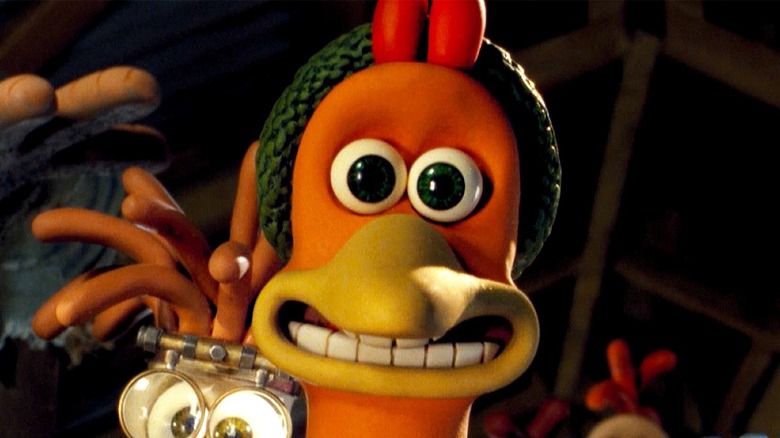 Aardman
You can't go wrong with Aardman, a studio that's become famous for combining simple British humor with stylish and expressive stop-motion animation. That goes double for Aardman's 2000 classic "Chicken Run," a collaboration with DreamWorks Animation that currently holds the honor of the highest-grossing stop-motion animated film, and that helped create the category of Best Animated Feature at the Academy Awards after it was snubbed at the ceremony. 
So, good news: Ginger, Rocky, and the rest of the escapee chickens are back. "In Chicken Run 2," the first film's heroes seem to live a good life on an island sanctuary — Ginger and Rocky even have a hatchling now — but a threat on the mainland, which could ruin life for all chickens everywhere, draws them back into the action. If your children love the cutesy pastoral shenanigans of "Shaun the Sheep" and "Shaun the Sheep Movie: Farmageddon," or if you're a parent who loves the wild inventiveness of "Wallace and Gromit", "Chicken Run 2" should be perfect family viewing when it drops on Netflix. Can "Chicken Run 2" overcome Disney-Pixar and avenge its predecessor by scooping up that Best Animated Feature Academy Award? With original "Chicken Run" writers Karey Kirkpatrick and John O'Farrell returning, and director Nick Park serving as consultant, it certainly seems possible.
To Be Released: 2023
Steps is a story about Cinderella's ugly stepsisters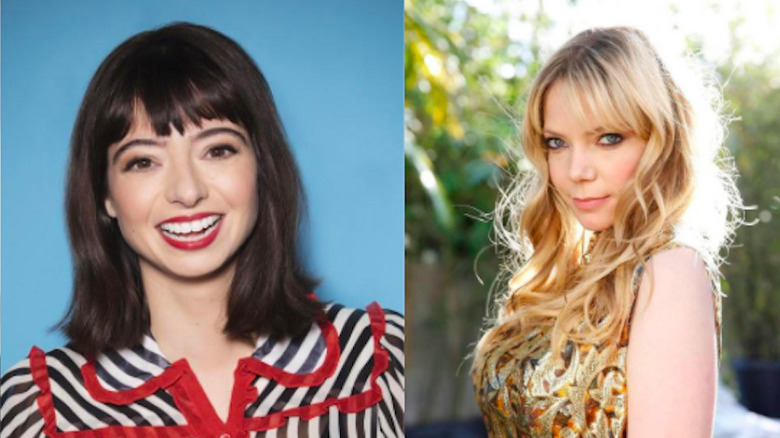 Netflix
Sometimes you have to look for a happily ever after somewhere else, especially if you're not the princess starring in the story. Thanks to Disney, kids know the tale of Cinderella and the glass slipper very well. But "Steps" is a Cinderella story with a twist: instead of the beautiful maiden, it centers on the two ugly stepsisters. Not pretty enough to catch the eye of the prince, the two stepsisters look elsewhere for happiness. These aren't your typical wicked stepsisters, though. In the words of director Alyce Tzue, "Our stepsisters are a pair of young Asian immigrants [in] a fairytale world," and they'll be portrayed as sympathetic, if misunderstood.
There are a few well-known movies that retell the Cinderella story from a new perspective, including Disney's "Into the Woods" and "Cinderella III: A Twist in Time," the latter of which also reframes a stepsister as sympathetic. Still, seeing a non-Disney entity tackle the tale through animation is refreshing. Amy Poehler is producing, while the film will feature a script and music by Riki Lindhome and Kate Micucci, also known as the comedy duo Garfunkel and Oates.
To Be Released: TBA