Fantastic Fest 2021 Line-Up Includes 'Titane,' 'Lamb,' And More Wild Genre Movies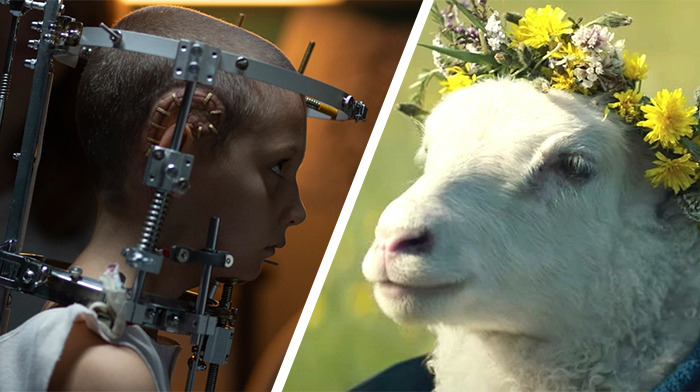 Despite the growing concern of the Delta variant of COVID-19 around the country, Fantastic Fest 2021 is still scheduled to unfold in Austin, Texas from September 23 through 30. Austin recently returned to Stage 5 pandemic guidelines, the highest level of restrictions, but that's not stopping the first wave of the Fantastic Fest 2021 line-up from being revealed. Films include the buzzed-about Cannes Film Festival favorites Titane, winner of the 2021 Palme D'Or, and A24's upcoming Lamb, which earned the Un Certain Regard Prize of Originality. But there's much more wild genre fare coming from Fantastic Fest 2021.
This year's Fantastic Four 2021 line-up includes mechanophilia, possessed nuns, possessed children, hallucinations, ghostly hauntings, time travel, exorcism, cerebral expansion, heavy metal, friendship, yakuza, canine trauma, multiple serial killers, coprophagia, cannibalism, tender embraces, vampires, copious bodily fluids, superheroes, warm laughs, disco-dancing firemen and so much more. Though we can already tell you one that you should probably avoid.
Even though the pandemic remains far from over, the festival will implement policies to keep attendees safe, including a requirement to show proof of vaccination:
All badge holders will be required to show proof of COVID vaccination.
Please bring physical or electronic proof of vaccination to check-in. No vaccine, no Fantastic Fest, no exceptions.
Additionally, masks must be worn at all times indoors when not eating or drinking.
Fantastic Fest Director of Programming Annick Mahnert said in a statement:
"We're thrilled at how the program is coming together. For this Post-Apocalyptic edition, we've scoured the four corners of the globe to find weird, silly, terrifying, entertaining and fantastic movies directed by established and emerging filmmakers. Opening this year's fest with a Palme d'Or winner from a Fantastic Fest alum is a real treat. As always, we also try to find unforgettable repertoire titles, and we couldn't be happier about hosting the US Premiere of the new restoration of Andrzej Zulawski's POSSESSION. This first wave is but the tip of the iceberg and we cannot wait to unveil the rest of the program to y'all!"
So without further ado, let's dig into the first wave of Fantastic Fest films on the way this fall.
Fantastic Fest 2021 Line-Up