Fantastic Fest Is Back To Let Chaos Reign – And You Can Attend In-Person Or Virtually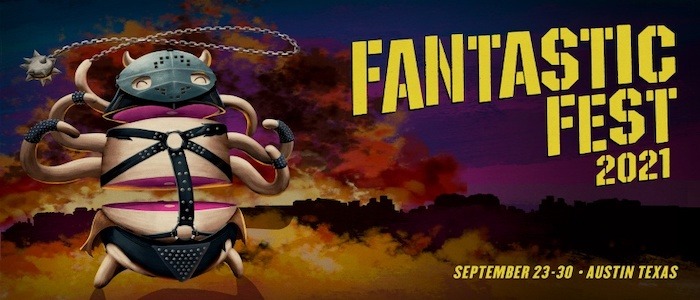 One of the most beloved film festivals of the year is back in all of its chaos and glory. The Austin-based genre film festival Fantastic Fest has announced its resurgence this fall to entertain fans both in theaters and in their homes, with exciting new virtual components to make films more accessible for all.
ROCKIN' IT POST-APOCALYPTIC!
Fantastic Fest announced on Twitter that they are back and ready to attack! This September 23 through September 30, audiences will once again get to experience a whirlwind eight days and nights complete with an extensive slate of new movies, wild classic film discoveries, and outlandish parties all at the world-famous Alamo Drafthouse South Lamar in Austin, Texas. We're talking 80 feature-length films and 40 short films, so get ready.
💥We're back and ready to attack!💥

Badges onsale now for the 2021 edition of Fantastic Fest.

Grab 'em before they're gone!

Read more about the 8 day event in Austin + get details on our virtual offerings that you can enjoy from anywhere, too. https://t.co/hMLLWUlBDr pic.twitter.com/SD4C8h1c8h

— Fantastic Fest (@fantasticfest) June 21, 2021
Fantastic Fest is the largest genre film festival in the United States, specializing in horror, fantasy, sci-fi, action, and other fantastic movies from all corners of the world. Each year, the Fantastic Fest team kicks off and ends the fest with a raging opening and closing night gala, with events that include the annual Fantastic Feud, Karaoke Night, Trivia Dome, Nerd Rap, 100 Best Kills (one of my personal faves), and tons more. No matter what floats your boat, you'll find it at Fantastic Fest. Make sure your liver and your eyes are prepared, because this is one hell of a fun time.
Not only am I excited about watching films, going to parties, and hanging out with friends, but there are two new programmers on the scene this year. Ashlee Blackwell, a Philadelphia-based writer who started the popular scholarly blog, Graveyard Shift Sisters, has joined the programming team as Associate Programmer. She is also the co-writer/producer of the Shudder original documentary, Horror Noire: A History of Black Horror (add this to your watch list ASAP). Austin King, a member of the Fantastic Fest screening team for the past three years, has also been promoted to Associate Head of Submissions. It'll be great to see what kind of vision these two bring to the fest this year.
In order to have the best experience possible, remember that it's important to be kind and embrace that southern hospitality, y'all. If you plan to attend, keep in mind the Alamo Drafthouse's Code of Conduct so everyone can have a safe, inclusive, and enjoyable fest. COVID may still be lurking around, so safety protocols are in place while basic hygiene and courtesy are highly encouraged. If you're uncomfortable about in-person events, if you are feeling under the weather, or even if you can't make it to Austin, don't fret. This year, Fantastic Fest is also going virtual.
Be a Part of the Fest From Home
The virtual Fest will run from Thursday, September 30 through Monday, October 11. There will also be a selection of titles from this year's Fest dropping in waves every morning from Thursday through Sunday. Fantastic favorites from past years will be also available to virtual badge holders throughout the entire festival. This is a huge deal, especially for folks won't be able to attend.
One silver lining that came from the pandemic is that businesses need to pivot and be flexible in order to expand and recognize inclusion. This virtual component will allow directors to get their films to a wider audience, viewers who may be disabled can participate within their own comfort levels, individuals located outside of Austin can partake in the excitement, and film critics can review films without the dreadful travel costs. It's an exciting feature all around, and a means to bring even more people together in the name of cinema (and chaos, naturally).
Badges: Grab 'Em While You Can
Badges are on sale NOW. Head over to the badges page for info on available badge types and pricing, and be sure to check out the discounts on the new virtual event, FANTASTIC FEST @ HOME, for in-person badge holders. The badge page also provides info on badge rollovers from 2020, refunds, selling and transferring badges, as well as pick-up instructions. Superfan and Fan badge holders will get a virtual badge free of charge. For Second-Half badge holders, there is a 50% discount off the price of the virtual badge, and for Midnight badge holders, a 25% discount.
Let chaos reign and cheers to a great 2021 Fantastic Fest ahead!