'Saturday Night Live' Reflects On A Weird Year With Anya Taylor-Joy, Gets Excited About Movies & More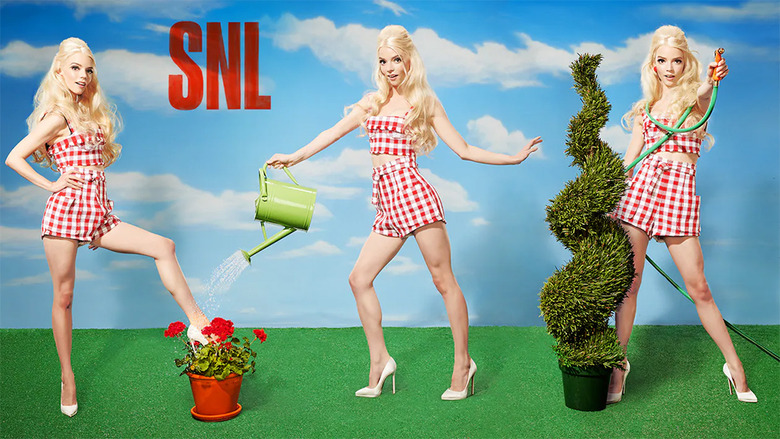 Saturday Night Live brought their 46th season to an end last night with Split and The Queen's Gambit star Anya Taylor-Joy making her hosting debut. The show kicked off by reflecting on one of the weirder years in the show's history, which returned to production with strict safety measures in place due to the coronavirus pandemic. Weirdly enough, it's a bit nostalgic for how COVID-19 ended up bringing them (and us) closer together, even as we had to literally be further apart.
However, the most intriguing part of the season finale of Saturday Night Live is what seems like hints of two or three cast members who may be on the verge of leaving the series. But we'll get to that later. First, let's dig into the best and worst sketches of the Anya Taylor-Joy hosted Saturday Night Live.
The Best
AMC Theatres Commercial – No one is more excited to get back to movie theaters than we are. Okay, maybe Vin Diesel is more excited, in this parody of the F9 promo that celebrates our return to movie theaters after the coronavirus pandemic completely ruined the theatrical experience for the past year. Beck Bennett plays Vin Diesel sitting in AMC Theatres, recounting everything he misses about movie theaters, and he gets very specific. For anyone who spends as much time in movie theaters as we do, this is both nostalgic and skewering of what it's like to go to the movies.
Picture with Dad – It's prom season, which means it's time for all fathers to be overprotective of their daughters and joke about it by posing next to their prom dates while holding a rifle. But what happens when this chauvinistic joke goes wrong? Someone loses an integral body part. There are times when SNL being on network television can stifle some edgier gags, but when it comes to graphic visuals, the necessity to blur certain imagery can make things even funnier, and that's certainly the case when it comes to the bits that Beck Bennett blew off his body. Bennett's 180-degree turn from eager Dad to weeping father is hilarious, especially the extended bit at the end as he tires to get his daughter and her boyfriend to promise not to have sex.
Making Man – First of all, I have to say that the dummy used in this sketch is funny on its own. It looks like Kyle Mooney as a taller, more muscular caveman. Plus, the wig picked for Mikey Day's character is a subtle enhancement that makes his general demeanor as an artist of the human body, and the bit of arrogance that comes with it, land firmly. This isn't the first time comedy has questioned the logic of the design of the human body, but there are some funny and odd bits here, including that terrifying single big toe idea for human feet.
The Average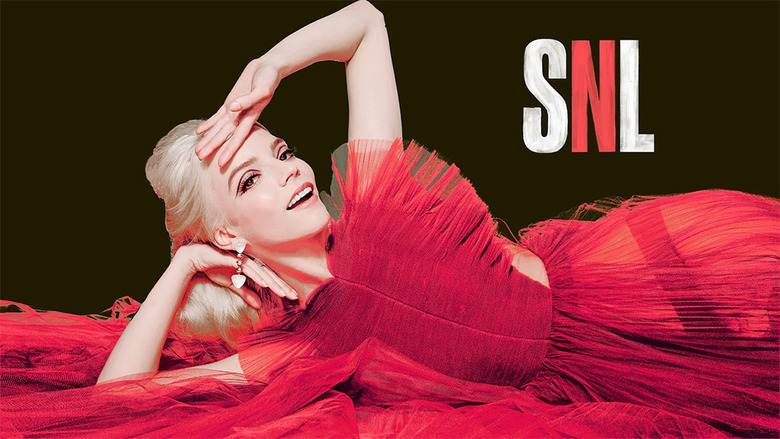 Hollywood Squares – At first, I thought this would just be a cavalcade of '90s impressions. But this sketch takes a surprising turn into pointing out how awkward it can be to look back at the pop culture of decades past when you might run into some of the many faces who have found their career's sullied and even ended by unsavory and inappropriate behavior. The escalation of how often this episode of Hollywood Squares had to be edited is amusing, but it gets a little too repetitive for as long as the sketch goes on. The sketch reached a point where I actually wished it would have utilized these impressions more, or at the very least got to see how they would have used Roseanne and Apu from The Simpsons.
Pride Month Song – This song created for Pride Month in June is catchy, feeling like a cover of Madonna's "Holiday." But it takes the energy of Pride Month and hones in on what a shitshow the flamboyant celebrations can become, whether it's because of unrequited crushes, moving in too soon together, or way too many straight people looking for an excuse to get crazy and act like it's not a big deal because they're LGBTQ allies.
Lingerie Store – In a sketch that feels like it was written for Aidy Bryant and Kate McKinnon, instead we get to see Anya Taylor-Joy having some fun by selling some sturdy "brawrs" for busty women. Big hair, big boobs and funny props give though enough zest to deliver a few good laughs, not to mention some fondling of Heidi Gardner by Aidy Bryant. However, as much as I love when hosts like Anya Taylor-Joy are willing to do bits like this I can't help but think this would have been better if Kate McKinnon got to appear in this sketch instead.
The Worst
College Panel – Despite the enthusiasm from Aidy Bryant and Anya Taylor-Joy as the college students running this panel, this sketch just didn't work from me. It's a solid premise that finds students letting the handsome young white star get away with softball questions while the cast members of other racial backgrounds are forced represent their entire ethnicity, but I wish it were executed in a different way, perhaps with a press junket of some sort. The use of college students as the clueless interviewers feels like it makes the satire just a little less sharp.
Celtic Woman – It's not exactly the most timely sketch, and it certainly feels like it. Along with some awkward timing, this sketch just feels too far out of left field to properly land. However, I will say that line about the popular girls from high school getting absolutely railed by the idea of Ireland was good. Plus, the little detail about having to purchase tickets by phone is a nice touch.
*Notice, if you find yourself on this page after clicking the article from the main SlashFilm page, please know that this is the third page of the article. There's a glitch we're trying to fix where the link from the front page doesn't take you to the first page of a multi-page article for some reason. But if you want to see the previous pages, you can always scroll all the way down to the bottom of the mobile version of our site and you'll see a link to view it in the "Classic Version" where you won't have the same issue.*
Weekend Update
This edition of Weekend Update was fine. There weren't any stand-out one-liners that hit me hard, but that might be because Michael Che and Colin Jost were more excited to get to the best tradition these two have created at the desk. So let's just skip head to that, shall we?
Colin Jost and Michael Che always swap jokes at the end of the year and the end of the season. They each write jokes for each other that neither have seen until they're reading them live on the air. They both like to give each other jokes that will damage the other's reputation, but when Che does it, he really goes for the gold. In this case, Che really came out ahead because he did different punchlines for the same bit, and they just kept getting more blatantly racist. But Jost had some good stuff for Che too. This is my favorite thing that these two have brought to Weekend Update.
Pete Davidson on Mental Health and the COVID-19 Pandemic – Having Pete Davidson as the Weekend Update desk is usually a good time. This wasn't one of his better showings, but it did cause many to raise eyebrows. That's because at the very end, Davidson's sign-off seemed to come with a certain sense of finality. Maybe this is just something that's going hand-in-hand with the cold open about how weird this season of SNL has been, but this felt like Davidson was saying goodbye to SNL. At the same time, he's always said that he'll stay at the show as long as Lorne Michaels lets him, so maybe he was just being sentimental. We'll find out next fall.
Jeanine Pirro on the Mexico/United States Border – Speaking of cast members leaving SNL, the return of Cecily Strong as Judge Jeanine Pirro also seemed like it could have easily been her farewell from the show. A grand performance of Frank Sinatra's "My Way" feels like a big send-off, especially with that big pool of wine and all the splashing at Colin Jost was surely a dream fulfilled. Since Strong has her own musical series at Apple+ and even spent part of this season away working on it, could this be her last episode? Again, we'll have to wait and see.
The Host
Anya Taylor-Joy didn't feel like she was held back by the constraints that usually plague actresses known for their dramatic performances. Though she didn't get to play many zany characters that showed a completely different side to her, she was able to dig into a few different accents and even an impression of Baby Spice from The Spice Girls. It was a little surprising that there wasn't a parody of The Queen's Gambit, but wait, because there was one that was pre-recorded that ended up being cut for time.
The MVP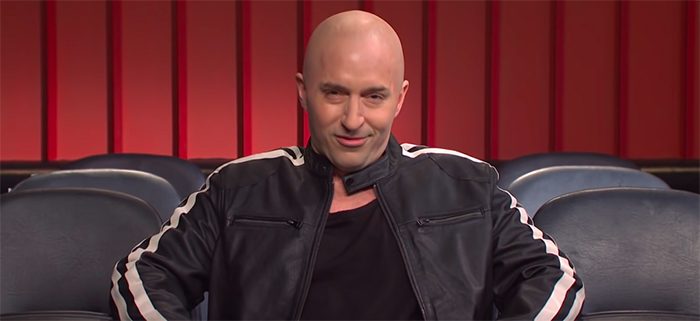 Beck Bennett – Not only is Beck Bennett in all three of the best sketches of the night, but his turn as Vin Diesel was good enough to get him the MVP spot on its own. His impression of Vin Diesel isn't even uncanny, but he just does such a good job of capturing his deep voice and general vibe of someone who feels like he's always keeping a sexy secret. Beyond that, his eagerness in the prom picture sketch combined with his endless worry about his blown off member only further solidified Beck Bennett's greatness in this episode.
The Final Word
It's kind of incredible that Saturday Night Live was able to make me a little nostalgic for the experience that was this past year. It was weird, but it also brought us closer together in many ways. Now we just have to come out of it a little better than when we went in and everything is going to be fine.
When it comes SNL specifically, it'll be interesting to see how the show comes out of the pandemic when it returns for season 47 this fall. On top of the possible exits of Pete Davidson and Cecily Strong, merely as speculation based on the aforementioned Weekend Update bits, Kate McKinnon appeared to be rather emotional at the top of the show. That could have been because of the reflection on a tough year, but entertainment journalist Matt Jacobs attended the show's dress rehearsal and said McKinnon was crying before the cold open even began. Maybe it's because of other leaving cast members though. After all, when McKinnon leaves, there has to be come kind of grand send-off for her, right? We certainly hope so. But we also hope she's not leaving anytime soon.
That's all for this season of Saturday Night Live. We'll be back this fall.