Regé-Jean Page Shines In A Lively, Hilarious, And Extremely Musical 'Saturday Night Live'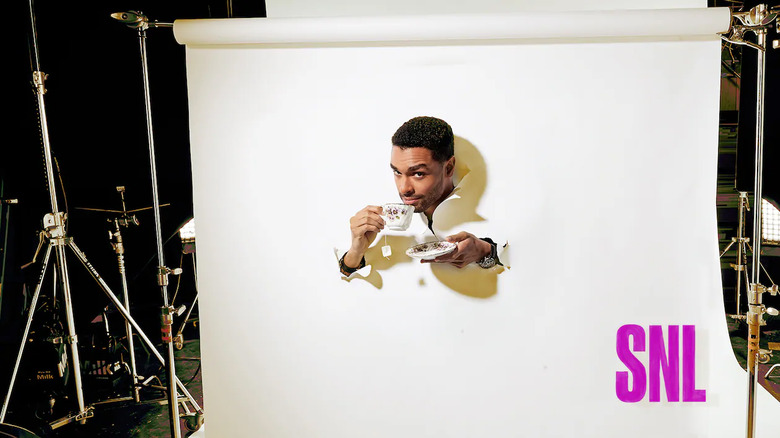 Let me be honest here. When I first heard that Regé-Jean Page was hosting Saturday Night Live, this was the first time that I had no idea who the hell that was. I was totally aware of Bridgerton, but didn't realize he was on it until I looked it up. But now that I've seen this guy hosting SNL, I'm convinced that he's going to be a big star. Page took the reins of a lively and extremely musical Saturday Night Live where even the average sketches could have easily been among the best.
So sit back and take a look at the best (and worst) sketches from the Regé-Jean Page hosted Saturday Night Live.
The Best
The Job Interview – Delightfully absurd, this sketch absolutely cracked me up. It was one of many totally original sketches that wasn't really trying to capitalize on anything topical or relevant happening in the news, and I think that's when SNL really gets a chance to shine. Having an actor like Regé-Jean Page do this with Beck Bennett in a more serious fashio makes the premise all the more funny. This could have easily been a live sketch that hammed it up a bit more, but there's something about the prerecorded element that makes it land a little more firmly. Plus, the interludes from Bowen Yang as the assistant are a nice tough.
Drivers License – Olivia Rodrigo's song "Drivers License" has been having a moment for a little while now, and at first it felt like the concept of this sketch centered around it would be a little more simple. Some tough guys suddenly get moved by a song that they pretend not to know. But what makes this sketch go above and beyond that amusing scene is the heated debate that breaks out about where the influence comes from. These guys are passionate about this song. Oh, and Kate McKinnon as an older mustachioed man who finds himself touched by the song was not only really funny but also a touching moment.
Loco – It's always impressive when Saturday Night Live is able to put together a stylish music video that is not only funny but also has genuinely good songwriting. Even better is this gives Ego Nwodim the spotlight, allows Pete Davidson a chance to stand out with something he does well, and makes use of musical guest Bad Bunny. This is a song and music video that rings true in this time of insanity during the coronavirus pandemic, and I'm glad this idea ended up getting the fully produced sketch treatment instead of an SNL at Home adaptation last spring.
Bridgerton Intimacy Coordinator – I was wondering if Bridgerton would get a proper sketch aside from Regé-Jean Page's monologue. Since I haven't seen Bridgerton, I had a little trepidation that the sketch wouldn't resonate, but this is one that can work for everybody. Mikey Day and Pete Davidson play two skeezy intimacy coordinators stepping in for someone the cast of the show truly trusted. From the look of their characters to those creepy voices, Day and Davidson made these two guys just the right amount of unsettling. Honestly, I could've watched this sketch go even longer to see more of their ideas for this sex scene.
The Average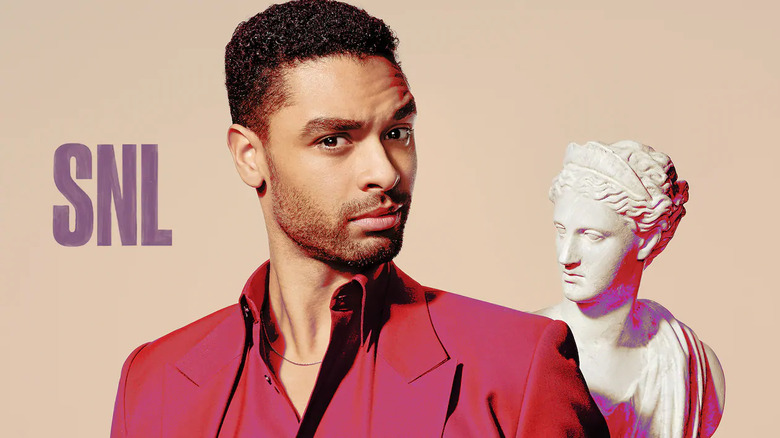 Sea Shanty – Since I'm not entirely on the up-and-up with what's trendy on TikTok, I had no idea that sea shanties had gone viral on the social media outlet. Thankfully, this sketch isn't really about the TikTok sensation, but it focuses on an old ship where the crew feels like a group of seasoned sailors. But as a young new recruit finds out, this ship spends most of the time singing, doesn't do any whaling, and everyone seems to be screwing some part of the ship. During your average episode, this could have easily been one of the best, but with this fantastic episode, it lands in the average area. But just know that the extended sea shanty in this sketch is fantastic, and it makes great use of a big ensemble of the cast.
The Grocery Rap – It's The Beastie Boys meets COVID-19 safety measures in yet another musical sketch from the evening. However, rather than being just a full-on rap video, this one keeps getting interrupted by annoyed customers and grocery store management who won't let this trio of dudes get by without wearing a face mask. I gotta say, I love seeing Andrew Dismukes alongside Beck Bennett and Kyle Mooney here. Their collaboration just feels right, and I would love to see them be able to do more things of this ilk in the future.
Actors Spotlight – At first, this sketch seemed like it was going to be a bit of a dud. Ego Nwodim's reactions to Kingsley Ben-Adir and Daniel Kaluuya being British elicited some polite laughter on my part, but then I saw where this sketch ended up. I didn't know how much I needed to see Kenan Thompson as Ice Cube pretending like he's always been British. It's so stupid and yet so damn funny. Again, even though this sketch is smack dab in the middle of the average section, this episode was stacked with good stuff, and this could have easily been one of the best sketches on any other night.
Let's Say Grace – Here's a sketch that's surprisingly wholesome and more amusing than flat out funny, but it ended up working so well. At first I was perplexed at how this sketch was being shot. The camera angles felt odd and there was that weird slow zoom at the beginning. Though I think that last part was a quick cover for a mistake, it's clear that this sketch was set up to be a big prayer-off, and I ended up enjoying it quite a bit. It's so weird that this is an SNL sketch that you could probably play at a church and everyone would love it. I don't think that's happened very often.
Britney Spears – Well, here's another talk show attempt at rounding up a bunch of timely and relevant events from the previous week. However, this time it feels executed in a somewhat better fashion. Using Britney Spears as the framing for this current event round-up made for an interesting juxtaposition of certain topics, giving Chloe Fineman some solid punchlines about the singer's equally topical situation. Having Aidy Bryant play Ted Cruz continues to be a genius move, and I was actually pretty impressed by Pete Davidson tackling Andrew Cuomo too. Cecily Strong's impression of Gina Carano isn't the best, but there's also not much to pull from there, so that's understandable. Overall, this was solid but not great.
The Worst
Mr. Chicken Legs Pageant – It's a good night when even the worst sketch of the night ended up having a few funny moments. Mikey Day and Andrew Dismukes are good sports for showing off their legs. Pete Davidson doesn't quite seem to match up to their chicken legs, so I'm not sure how his character ended up winning, but that dance as Jack Skellington certainly made up for it. I gotta say, Regé-Jean Page really gave this sketch his all too, even if his portion of the sketch was mostly middling.
Weekend Update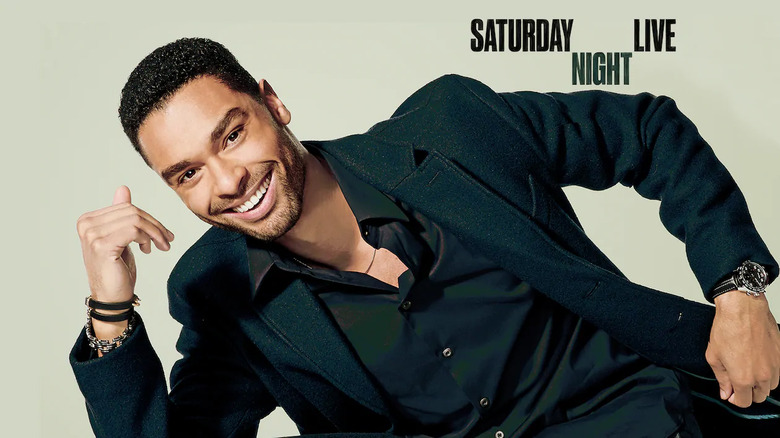 Colin Jost says that it was a fun week for those who hate Ted Cruz, and Weekend Update certainly made a meal out of it by making plenty of jokes at the congressman's expense. Aside from the quick run of jabs at the top of the segment, they also brought it back a couple times for good measure. Michael Che had a good time too, though it felt like he was a little more tame this week, whether intentionally or not.
Pete Davidson on Valentine's Day – This was a good episode for Pete Davidson overall, so giving him his own bit at the Weekend Update desk is just icing on the cake. It might seem odd to have him do a spiel on Valentine's Day the week after it's over, but it all makes sense when you hear what motivated it. Plus, Davidson doesn't hesitate to poke fun at himself in a really funny fashion.
Jessie Raunch on Food Insecurity – I was really surprised by how many truly original sketches there were in this episode, and most of them weren't inspired by current events. Though one could say that this is still somewhat topical since people need food all over the place, this feels like a totally random bit that makes me wonder where it came from. How did this sketch make it to air in February, far away from Halloween season? What was the inspiration for this bit?
The Host
Regé-Jean Page simply knocked his hosting debut at Saturday Night Live out of the park. Everyone who has already seen Bridgerton knows this guy is a star. But as someone who hasn't seen the show, his stint on SNL this weekend is all the proof I need to see that this guy is a genuine talent who's going to have a career worth watching. Page didn't just play himself either. He put on different accents, wasn't afraid to get a little goofy, and he even sang a lovely little tune alongside endless smoldering. I'm certainly looking forward to his career with great interest.
The MVP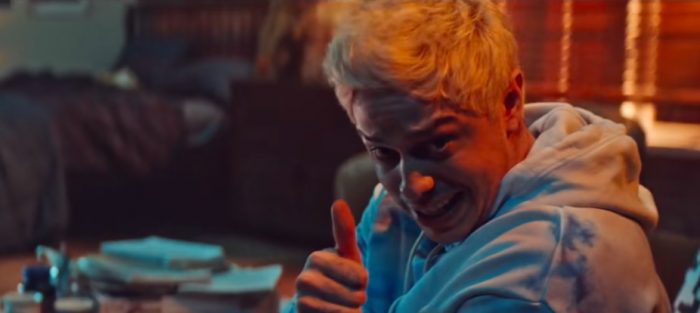 Pete Davidson – Over the past few weeks, it seems like Pete Davidson has really been stepping up to take on a wider variety of roles. This episode is no exception, and I think it shows that he has more comedic range than people give him credit for. In this episode, he delivers a solid impression, a goofy original character, and one of his fantastic Weekend Update segments. Davidson seems to be an easy punching bag for more casual viewers, but I genuinely think he brings something special to SNL.
The Final Word
After being away for the previous two weeks, let me just say that the episodes of SNL with Dan Levy and Regina King were pretty good but not great. There were some big misses when it comes to the worse sketches, but the best sketches also brought some hearty laughs. However, there's something about this episode with Regé-Jean Page that really stood out from the rest of the pack. It just felt more lively, had some better written sketches, and far fewer technical gaffes, which felt a little too prominent in the most recent episodes. I think it might be one of the best episodes of the season so far.