Daily Podcast: WandaVision Early Buzz, Deadpool 3, Secret Invasion, Marvel Phase 4, Black Widow, Black Panther 2 & Mor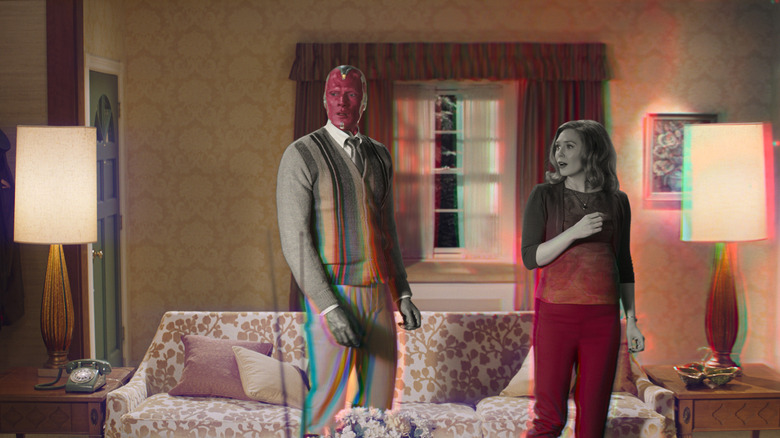 On the January 11, 2021 episode of /Film Daily, /Film editor-in-chief Peter Sciretta is joined by /Film weekend editor Brad Oman, senior writer Ben Pearson and writer Hoai-Tran Bui to discuss the latest film and tv news, including all the news coming out of the WandaVision junket, including WandaVision early buzz, updates from Kevin Feige on Deadpool 3, Secret Invasion, Marvel Phase 4, Black Widow, Black Panther 2 and more.
In The News:
Brad:
'WandaVision' Early Buzz: Marvel's Series Is Funny, Sharp, Bizarre and Unlike Anything in the MCU
HT and Peter give their reactions.
Brad runs down a few more reactions.
Ben: 'WandaVision' Has More VFX Shots Than 'Avengers: Endgame', Will Feature Some of Marvel's Biggest Setpieces 
"It was wonderful to see the amazing job that Disney did and Disney marketing did in "event-izing" that— that was one of the things I was always concerned about, we wanted to 'event-ize,' we want to make people understand these projects at Disney+ are as important as the projects going into theaters, and we want to feel that same excitement. ... And also the fun, week-to-week discussion, which I guess happens on all week-to-week television, but sometimes the series drop all at once on the streaming services. And Disney, I think, was very smart to do the week-by-week [release], because that conversation that happens every week between episodes, I think it's very important and frankly, is just fun."
Do you ever think Disney was planning for a binge model?
Mention:
Kevin Feige Hopes 'WandaVision' Will Expand the Definition of What a Marvel Studios Project Can Be
"If the run we had in 2018 and 2019 had gotten disrupted this way, in the buildup to Endgame, it would have been a bigger headache," Feige said. "With these projects, it worked well," and added that "he debut dates for the upcoming Disney+ shows shifted only "by a matter of weeks."  
As of now, Black Widow is set to open May 7, 2021, followed by Shang-Chi on July 9, 2021, Eternals on November 5, 2021, and Spider-Man 3 (or whatever it ends up being called) arriving December 17, 2021. Meanwhile, Disney+ will debut Falcon and the Winter Soldier on March 19, 2021, while Loki will premiere sometime in May.
HT:
'Black Widow' is on Course for Theaters, 'Black Panther 2' Won't Feature a CGI Chadwick Boseman, Kevin Feige Says
Will Black Widow hit theaters in may 2021?
Brad:
Marvel's 'Secret Invasion' Series Will be Smaller Than the Comic, but Will be "a Showcase" for Samuel L. Jackson and Ben Mendelson
"Well, there were more characters in the Secret Invasion comic series than there were in Endgame so, no. It's not that but it very much is a showcase for Sam Jackson and Ben Mendelson and tapping into the paranoia elements of the Secret Invasion comic series that was great with the twists and turns that that took. So, that's certainly our focus more than, 'Can we cram in more characters than Endgame?'"
"It will be rated R and we are working on a script right now, and Ryan's overseeing a script right now... It will not be [filming] this year. Ryan is a very busy, very successful actor. We've got a number of things we've already announced that we now have to make, but it's exciting for it to have begun. Again, a very different type of character in the MCU, and Ryan is a force of nature, which is just awesome to see him bring that character to life."
Can Deadpool really exist within the MCU?
Who would we love to see Deadpool interact with?
Other Articles Mentioned:
How 'WandaVision' Director Matt Shakman Went From Starring in Sitcoms to Helming a Superhero Sitcom Love Letter [Interview]
Kevin Feige on How 'WandaVision' and Other Marvel Disney+ Shows Will Expand the Marvel Cinematic Universe [Interview]
All the other stuff you need to know:
You can find more about all the stories we mentioned on today's show at slashfilm.com, and linked inside the show notes.
/Film Daily is published every weekday, bringing you the most exciting news from the world of movies and television as well as deeper dives into the great features from slashfilm.com. 
You can subscribe to /Film Daily on
Apple Podcasts
,
Google Podcasts
,
Overcast
,
Spotify
and all the popular podcast apps (
RSS
). 
Send your feedback, questions, comments and concerns to us at
peter@slashfilm.com
. Please leave your name and general geographic location in case we mention the e-mail on the air.
Please rate and review the podcast on iTunes, tell your friends and spread the word! 
Thanks to Sam Hume for our logo.