Watch The Opening Scene Of 'Wonder Woman 1984,' Which Takes Us Back To Themyscira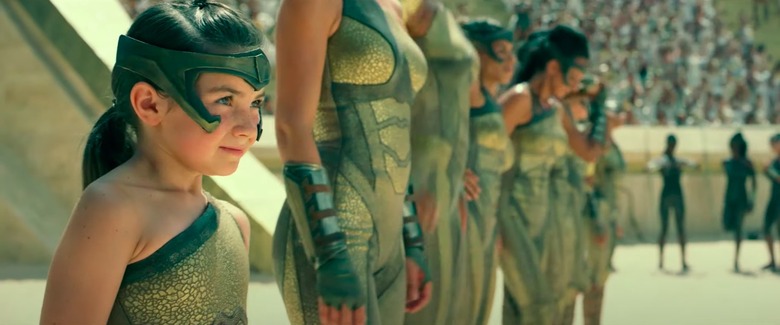 Wonder Woman 1984 is all about nostalgia. It's in the title, after all. However, the release of the upcoming Wonder Woman sequel seems like it comes a little late to the '80s nostalgia craze. But the opening scene of the new film is surprisingly not as nostalgic for the 1980s as it is for another time: when we first set on eyes on Themyscira in 2017's Wonder Woman. The island populated by fierce Amazon warriors immediately captured the imaginations of audiences, so much so that a spin-off about the Amazonians may or may not be in the works.
Meanwhile, Wonder Woman 1984 takes us back to Themyscira for an extended opening sequence that gives us a peek at the Amazon Olympics. Watch the Wonder Woman 1984 opening scene below.
Wonder Woman 1984 Opening
Connie Nielsen as Hippolya, Robin Wright as Antiope, and of course, little Lilly Aspell as young Diana were such dynamo characters in the first Wonder Woman that it felt like a real shame that we wouldn't be able to spend more time with them — at least, in the present day. Which is why Wonder Woman 1984 goes through some extraordinary acrobatics just to see these characters again, and honestly, who can blame them? It's endearing to see young Diana prepare to show off her skills in the Amazonians' equivalent of their Olympic Games, while Antiope gives snarky advice and Hippolyta beams with pride. The opening sequence taps into the nostalgia we didn't know we had for Themsyscira and now that it's online, it helps to build anticipation for the movie without giving away spoilers.
The anticipation is certainly high, but the good news is that Wonder Woman 1984 is worth it. The sequel's timely release taps into current anxieties in a way that makes its over-the-top cheesiness and camp feel like a balm for this horrible year.
Wonder Woman 1984 debuts in theaters and on HBO Max on December 25, 2020.
Fast forward to the 1980s as Wonder Woman's next big screen adventure finds her facing two all-new foes: Max Lord and The Cheetah. With director Patty Jenkins back at the helm and Gal Gadot returning in the title role, "Wonder Woman 1984" is Warner Bros. Pictures' follow up to the DC Super Hero's first outing, 2017's record-breaking "Wonder Woman," which took in $822 million at the worldwide box office. The film also stars Chris Pine as Steve Trevor, Kristen Wiig as The Cheetah, Pedro Pascal as Max Lord, Robin Wright as Antiope, and Connie Nielsen as Hippolyta.