John Mulaney Questions The Headless Horseman And 'The Birds' In An Outstanding 'Saturday Night Live'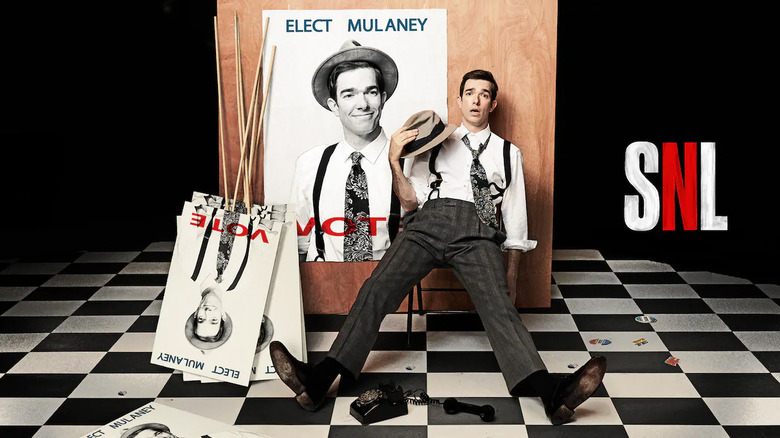 John Mulaney is one of the most beloved veterans of Saturday Night Live. Though he wasn't ever a cast member, he made some memorable appearances at the Weekend Update desk, and he was one of the best writers on the show for a long time. Now that his star has risen outside of the realm of SNL as one of the best comedians working today, there's a lot of excitement whenever he hosts. That excitement was even higher since his fourth stint hosting was for the Halloween episode, and it was more than a treat. It was a smorgasbord of outstanding sketch comedy and an incredible monologue. Even my least favorite sketch of the night was still funny.
Let's get into the best and worst sketches from the John Mulaney hosted Saturday Night Live.
The Best
Headless Horseman – Everyone knows the story of the Headless Horseman, but in this version, when Ichabod Crane encounters the mysterious man in the woods, he has some questions. To me, this is an instant classic Halloween sketch that should be played during a compilation of spooky-themed sketches every year. It's original, and it's just the right amount of inappropriate to get away with being on late night network television. It sounds like the writers knew what they were getting away with too, because the end tag placing credit for writing the sketch on Lorne Michaels is a great cap.
New York Musical – Well, it's now a tradition for there to be some kind of New York-based musical sketch whenever John Mulaney hosts Saturday Night Live. This one isn't quite as weird or niche as the previous installments, but it's a funny and wonderful tribute to all the oddities of New York City, which isn't doing so hot right now due to the coronavirus pandemic tearing down all the businesses that tourists from all around the world usually frequent. Maya Rudolph's part is especially uplifting in addition to be funny.
Cinema Classics: The Birds – A Cinema Classics sketch is already decent when it has Kenan Thompson hosting as Reese De'What, and the bookends are especially hilarious in this edition. On top of that, we have a pitch perfect recreation of Alfred Hitchcock's The Birds along with footage from deleted scenes where it's revealed how much more menacing some of the attacking birds in question really were. Plus, we have John Mulaney doing what he does best by asking as many questions as possible to find out just why birds are attacking like this, including how they set fire to a gas station. Kate McKinnon is also top notch as Tippi Hedren.
The Average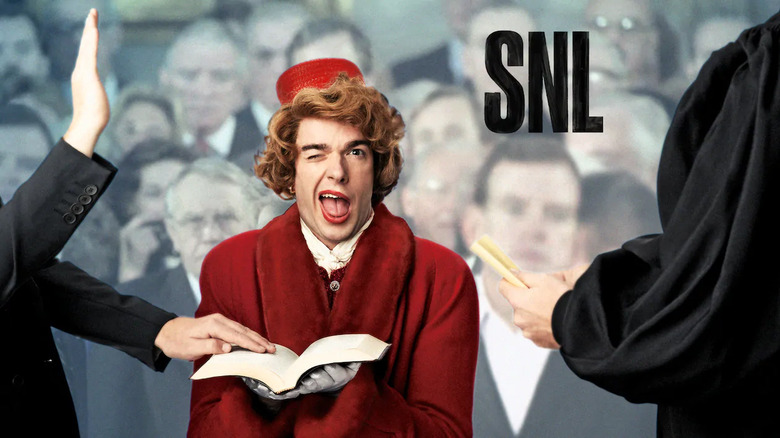 Strollin' – As soon as it was made clear that this music video was about strollin' to the voting polls, I assumed it was going to be stopped dead in its track due to long lines. It takes a little longer to get there in order to get some mileage out of the song, which is extremely catchy, but they made it. Even though it's predictable, taking this approach is a lot more fun than it otherwise could have been. At the same time, it's also kinda sad since there's a lot of voter suppression at work that's resulting in these long lines and voting locations closing too early.
Another Uncle Meme – John Mulaney has already been humiliated by memes on SNL before. In fact, it was the last time John Mulaney hosted, which was one of the last live episodes in March earlier this year, which was easily 17 years ago. This one isn't quite as good as the first round, but there's something so damn funny about Mulaney when he talks sternly with a slightly meek voice and acts a bit hurt at the same time. Honestly, I would have preferred that they went on with the memes.
Biden Halloween – You know what, I don't think I like Jim Carrey as Joe Biden very much. I've decided it's his voice that continues to bug me the most, but they just haven't found the right approach to making Biden consistently funny. We get that he's old and sometimes he talks like an old timey street gang member. But that only goes so far, especially when he's infinitely more sane and far less mockable than the total trainwreck on the other side. But what keeps this from being one of the worst entries of the night is the clever rewrite of The Raven by Edgar Allen Poe.
The Worst
New York PSA – If I'm being honest, I don't think there are any bad sketches in this episode of SNL. The only reason this one ended up in the "worst" section is because it was the least funny out of the group, but even then, it's still actually pretty amusing. Even people who don't live in New York are aware of people like this in the city. The build-up to the reveal of the gag is great as you slowly see Kate McKinnon's character appearing more and more in the background. The use of people other than cast members throughout was a nice touch too. So again, this sketch isn't bad! It's just not as funny as the rest, and it felt weird to have an empty section.
Weekend Update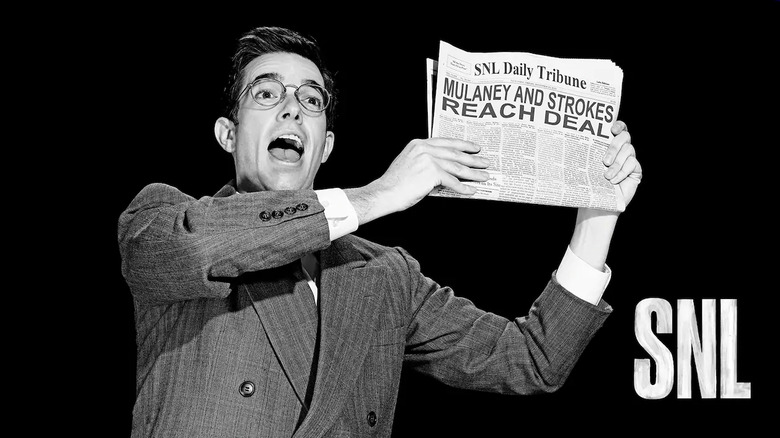 Colin Jost and Michael Che were on fire tonight. Not only did every joke feel like it landed perfectly, but that little back and forth with the "children's joke" was a nice touch. Plus, I think it helped that Weekend Update was a little more brief tonight, mostly due to the length of the musical sketch and the cold open (even though it was shorter than usual, thankfully), and maybe the brevity helped keep some of the more questionable jokes out of the line-up.
Baby Yoda on Season 2 of The Mandalorian – I wasn't a huge fan of this bit when it first showed up during Scarlett Johansson's episode back in December 2019. But it's a little more fun this time out. He's got a cool earring, and it feels like the character has been refined a little bit to have a more solid character base. I'm sure they'll do this everytime a new season of The Mandalorian comes around.
The Host
What can we say about John Mulaney that hasn't already been said countless times before? The guy makes comedy gold, and his monologue in this episode is again stellar. The extended bit about the bullied girl at the sleepover is incredible. His jokes about the election and politics are never obvious. Even though he may not have much range to do a variety of characters, what he can do, he does extremely well. I think this might be the best episode that John Mulaney has hosted yet.
The MVP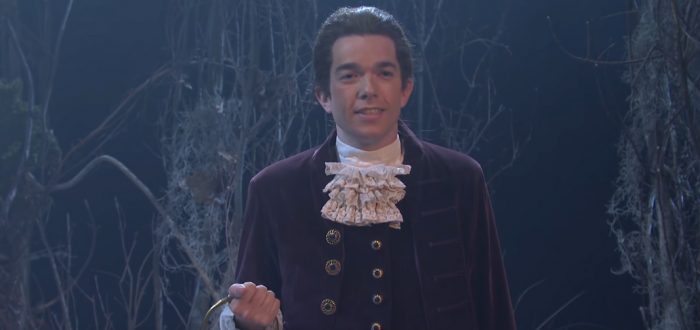 John Mulaney – It's an easy choice, but Mulaney really did his absolute best in this episode. In his previous hosting stints, there were some lower points, but this entire episode was great, and largely because of Mulaney's presence. The way he questions the Headless Horseman is laugh out loud stuff, and he employs a similar tactic with The Birds sketch too. Plus, that monologue by itself is reason enough to give him this honor.
The Final Word
After doing four episodes in a row, I think Lorne Michaels knew that the cast and writers were going to need someone to get them really excited and back on the ball after being hit or miss in the third and fourth episodes with Issa Rae and Adele. Thankfully, John Mulaney came through, and not only is this probably the comedian's best hosting stunt yet, but it's one of the best overall episodes of Saturday Night Live we've had in some time.
We'll be back next week with one more consecutive episode hosted by Dave Chappelle on November 7, the first show after the election, which should be very interesting.