'Saturday Night Live' Gives Issa Rae Far Too Little Screen Time In A Mostly Subpar Episode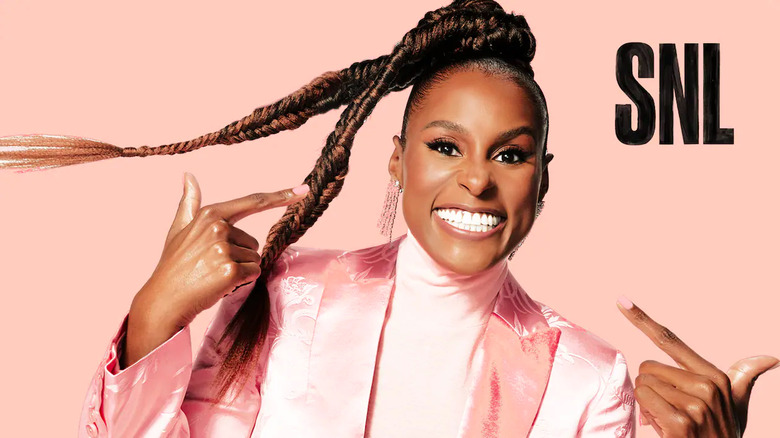 Issa Rae was meant to host Saturday Night Live back in the spring, before coronavirus shut down production on the sketch show in the studio. But Lorne Michaels brought her back to make good on their original plans. Unfortunately, this meant she was forced to host an episode where political satire is taking up the space of three sketches, giving her far fewer opportunities to shine throughout the night. Even the sketches that managed to include her didn't make use of her comedic potential, which only added to the frustration that this subpar episode brought to the table.
Anyway, let's look at the best and worst sketches from the Issa Rae hosted Saturday Night Live.
The Best
5-Hour Empathy – This is brilliant satire. In one of SNL's traditional commercial parodies, this sketch tackles the struggle that white people have with confronting their own lack of understanding years of systemic oppression and ever-present racism. This is one of those great sketches that confronts a significant social issue with great comedy. Kenan Thompson's presence as the commercial's narrator who keeps the subjects from getting off easy is the icing on an already fantastic cake.
eBay – With a show like SNL, whose reputation comes from being live, it can be a little frustrating when the best sketches are the pre-recorded sketches. But great comedy is great comedy, and in this sketch, everyone who has been cooped up at home during the coronavirus pandemic gets taken to task for spending money on things that they thought would occupy them at home. How many things have we bought that have just sat collecting dust since we bought them? The sad look on Chris Redd's face when he says, "Guitars hurt, nobody tells you that," really got me.
The Average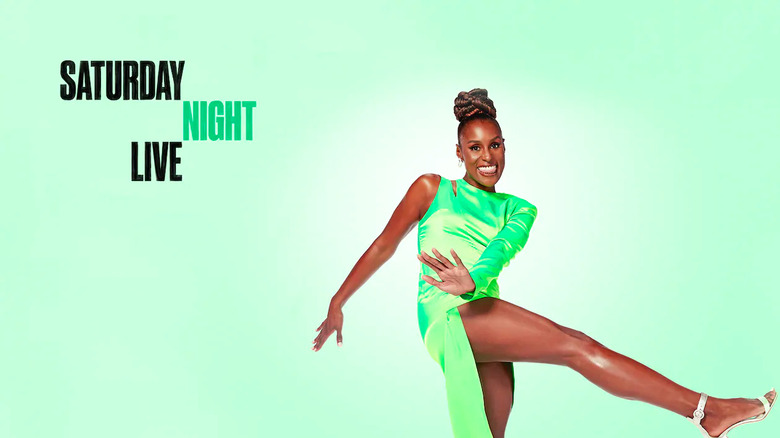 First Date Exes – Issa Rae's weird ex-boyfriends are the star of this hilarious sketch. Whether it's the double dose of "titty meat" references or Chris Redd questioning whether Pete Davidson's Karate Man really only has one regret in his life, this is the kind of oddball humor I love seeing on SNL. Bowen Yang again plays against his traditional sketch persona to play a living statue. The only downside is that the weirdness of this sketch gets an all too reasonable explanation with Issa Rae's character admitting that she's a Times Square performer as Elsa from Frozen. It takes a steer into predictable when one of Chris Redd's unsavory exes also shows up, but it's still a solid sketch.
Canadian News Show – Bowen Yang plays against his usual comedic antics of being an overtly flamboyant Asian man and puts on a masterfully comedic French-Canadian accent. He even manages to outshine Kate McKinnon in this sketch, which is no easy feat. This is also the most animated that Issa Rae gets throughout the evening, and while her own faux French accent is amusing, it's a shame that this ended up being her biggest comedic performance of the night. But kudos for ending the sketch with Yang and McKinnon singing a Celine Dion song.
Jack Flatts – There had to be a better way to mock the Proud Boys who were planning on kidnapping Michigan's governor. While it's laughable having these good ole boys be so mad about losing access to their favorite gimmick restaurant that they've become militant yet sheepish domestic terrorists, this is a mostly one-joke sketch that never climbs above being mildly funny. But I have to give credit to the side gag with Kenan Thompson's character being a creepy serial killer who found a crowd who accepts him.
Dueling Town Halls – We know how hard it is to lampoon something as ridiculous as the Trump administration and this circus of a presidential campaign. But it feels like SNL has been playing it way too safe with their political cold opens lately. Not only are they relying too much on their guest stars, but they keep harping on the same easy gags. Jim Carrey continues to be mildly amusing and frustrating at the same time as his impression still feels half-baked, much like the jokes about Biden simply being old and nice. And Alec Baldwin's Trump is almost never more ridiculous than the real thing. Things might go better if they spaced the political satire throughout the episode instead of trying to cram anything into a 12-13 minute cold open, especially when they continue to shoehorn Maya Rudolph as Kamala Harris into the proceedings. Don't get me wrong, she's great as Kamala, but you don't have to use her in every cold open.
The Worst
Your Voice Chicago – SNL has never been shy about blasting both sides of the aisle in politics when appropriate, even if they have a predilection for blasting conservatives. Every now and then, when the writers take a solid jab at the left, it doesn't always land firmly. This is one of those cases, and it's made even more cringeworthy by the fact that the sketch also tries to offer commentary on the supposed blind support of Black political candidates regardless of their wrongdoings, not to mention the assumption that candidates of color don't partake in the same corruption and schemes of rich, right-wing politicians. There's certainly something to be said about blind support and shameless bias in politics, but this sketch couldn't be more tone deaf at a time when this is far from a legitimate concern.
Dancer – I'm a huge Kyle Mooney fan, and more often than not, these kind of sketches are usually pretty great. But this is one of those instances where the premise just falls flat and feels like a sketch that was put together at the last minute. Both Kyle and Issa Rae feel like they have some dance skills to show off, and all of a sudden they're imagining their own music video inspired by "Scream" by Michael and Janet Jackson. A late appearance by Chance the Rapper offers a fun ending, but the sketch as a whole feels pretty lame.
Weekend Update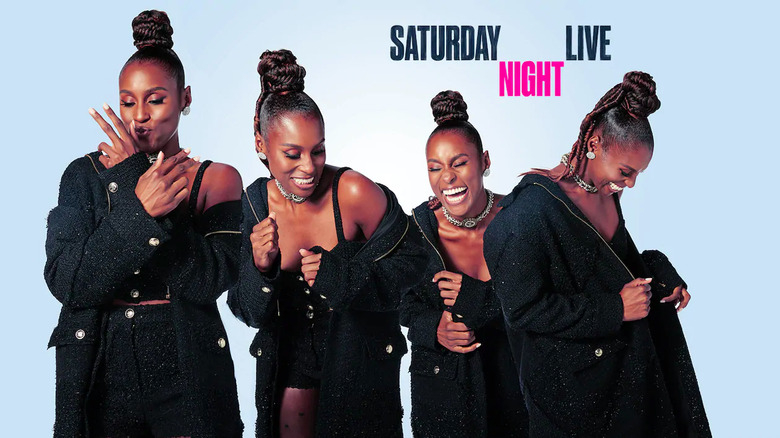 This was such a weird edition of Weekend Update. At times, there were some jokes that Colin Jost and Michael Che did that deservedly fell completely flat. Thankfully, Jost and Che are skilled at laughing at themselves or each other when that happens, and there's levity that comes from them lamenting the audience's lack of reaction. But there were even more jokes where the audience somehow wasn't on board for some sharp jabs or edgy observations that were perfectly funny. There are several instances where you can hear someone audibly reacting, "Jesus" as if they've never experienced Weekend Update before. It made for an uneven edition of Weekend Update, but not for a lack of mostly good material.
Eric, Donald Jr. and Tiffany Trump on the 2020 Election – It's about time Mikey Day and Alex Moffat returned as Donald Trump Jr. and Eric Trump. This wasn't one of their best efforts, but it was still one of the better bits of the night, especially with Eric's obsession with consuming hand sanitizer. This iteration was spiced up by the debut of Chloe Fineman as Tiffany Trump, giving Eric another dopey sibling to ham it up with. It was frustrating that the live show saw Moffat's mic being messed up for the second half, making the "Not-vanka" line mostly unheard.
Aidy in America – If you're wondering where Aidy Bryant has been throughout these first three episodes of the season, well, it appears maybe she was sent somewhere this week. It's a quick, one-note gag, but that's a big part of what makes it so funny. I can see this being a recurring bit for the next couple episodes until the election is over.
Famous 80s Cocaine Wife Carla on NYC Nightlife – These kind of characters have become a signature of Heidi Gardner. This one is right in line with the Angel, Every Boxer's Girlfriend from Every Movie About Boxing Ever. These are well thought out bits that blast the tropes of these big screen characters, but I can't help but think that Weekend Update isn't the best place for them to be fleshed out. There has to be a better way to get mileage out of these great characters that Gardner is doing, because I want to love them, but they feel stilted at the desk.
The Host
Knowing that Issa Rae was brought in to host this month after initial plans to have her host back in the spring fell apart due to the coronavirus pandemic, I find myself disappointed that this was the episode she was brought in for. With political sketches and Weekend Update eating up so much time, not to mention two musical performances, there's just not a lot of time for the host to shine. In fact, it's even worse when there are two pre-recorded sketches and one live sketch that don't use the host at all. That left just for sketches for Issa Rae to appear in, and only one of them allowed her to have a bigger comedic presence. That's always a shame when you have a skilled comedian as host, and this was no exception. Hopefully they'll bring her back again and give her something better to do.
The MVP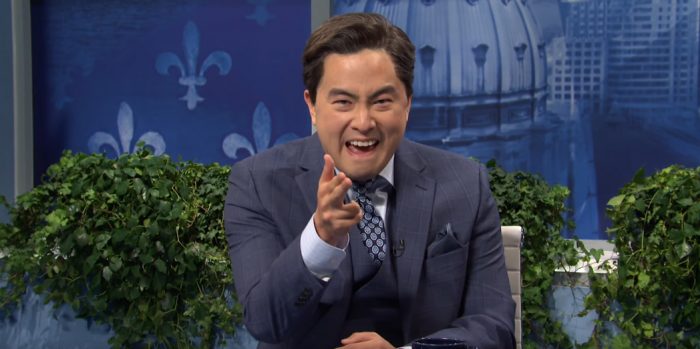 Bowen Yang – Even though he wasn't in the funniest sketches of the evening, Bowen Yang was great in roles veered away from the usual kind of characters he plays on the show. Yang pulled off a hilarious French-Canadian accent and his turn from enthusiastic news host to passionate Drake-defender was a high point in the sketch.
The Final Word
This was quite a step down from last weekend's episode with Bill Burr, where the writers were easily able to tap into the comedian's persona and let him have some fun. This episode felt like the writers couldn't easily do that, perhaps due to a lack of diversity in the writers room. That's why Issa Rae doesn't stand out nearly as much as Bill Burr did, which is a real shame. But it feels more and more like the larger issue is the lack of quantity in sketches with cold opens taking up considerably more real estate with not much payoff. The only real benefit is to NBC getting killer ratings at the top of the show, which likely fall off when people see how the rest of the show has been playing out.
We'll be back next weekend when Adele hosts on October 24, though she's letting H.E.R. handle the musical guest spot.