'Tosh.0' Is The Latest Cancellation At Comedy Central, Will End With Upcoming 12th Season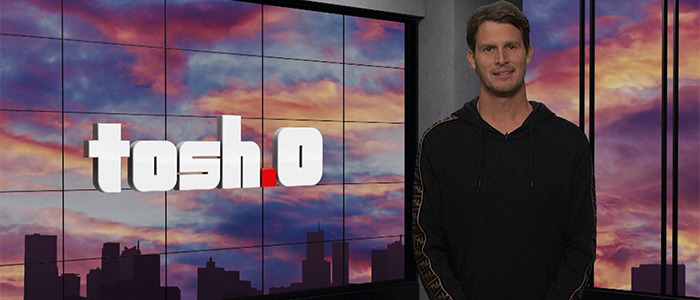 It hasn't even been a full day since Drunk History was canceled, and Comedy Central is already cutting another one of their long-running, beloved comedy shows.
Tosh.0, the viral video-mocking series hosted by comedian Daniel Tosh, will be coming to an end after the show's upcoming 12th season. The show was originally intended to return this past March, but it was put on hiatus after the coronavirus pandemic shut down all film and TV production. Things must really be dire at Comedy Central's parent company ViacomCBS.
Deadline has the news on Tosh.0 being canceled at Comedy Central. The series will still have a 12th season airing this fall starting on September 15, but it will only run for 10 episodes with the finale planned for November 24. It'll be enough for the show to hit 300 episodes, which is a pretty impressive milestone to hit after being on the air since 2009. Comedy Central had previously renewed Tosh.0 for four seasons (80 episodes total) back in January, but that's clearly been axed now, just like Drunk History's seventh season order.
Regarding the cancelation, Tosh joked, "I look forward to doing an animated reboot of my show on MTV in 25 years."
He's probably in good spirits because he and executive producers Charlie Siskel, Nick Malis and Christie Smith will be shopping the series around to other networks and digital platforms. Considering the popularity of the show after all these years, it's likely to find a new home pretty easily, especially since it's a fairly inexpensive show to produce. That only makes ViacomCBS' decision to cancel the show even more worrisome.
The previous four-season renewal for Tosh.0 also included an overall deal for the comedian at Comedy Central. According to The Hollywood Reporter, Tosh was already developing a new unscripted series that he was going to host and executive produce, as well as a deal for another script that he was going to executive produce. It's unclear if the overall deal and those shows have also been terminated, so we'll have to want and see how that plays out.
Right now, Comedy Central thinks putting all their eggs in the adult animation basket is the way to go. They've got the reboots of The Ren & Stimpy ShowandBeavis and Butt-Head on the way, as well as the Daria spin-off Jodie in the works. But it's going to take a lot more than that to keep Comedy Central afloat.
As we noted in news of Drunk History being canceled, Awkwafina is Nora from Queens is now the only remaining live-action comedy series, unless you count The Daily Show with Trevor Noah, but that's something entirely different. Comedy Central sent The Other Two and South Side to HBO Max, and now they've gotten rid of two of their most successful shows in recent years. Will this new direction pay off for them?