'Hamilton' Documentary Coming To Disney+ Alongside The Musical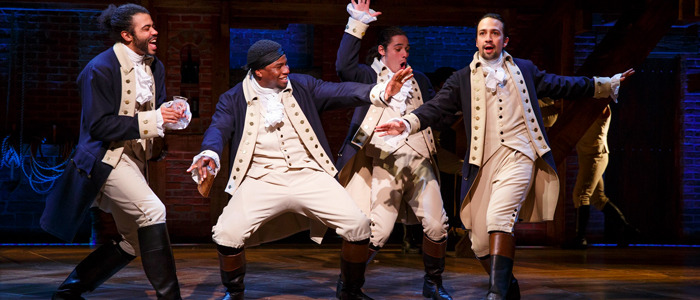 The much-hyped film version of Lin-Manuel Miranda's acclaimed Broadway hit Hamilton is arriving on Disney+ in just a few days, but the streaming service knows the musical's rabid fan base will never be satisfied by just the movie itself. So as an added bonus, Disney+ will also release a new Hamilton documentary which features the original cast reunited to talk about the origins and legacy of the musical. Get more details below.
Entertainment Weekly reports that a new Hamilton documentary, entitled Hamilton In-Depth With Kelley Carter, will be debuting on Disney+ this Friday, accompanying the release of the movie. Produced by The Undefeated, ESPN+, and Disney+, the documentary will consist of journalist Kelley L. Carter hosting a virtual roundtable conversation with Miranda and his co-stars Daveed Diggs, Leslie Odom Jr., Christopher Jackson, Phillipa Soo, Renée Elise Goldsberry, and director Thomas Kail:
The cast and creative team will explore a wide range of topics, from the origin story of Hamilton; the Pulitzer-Prize winning musical's earliest stages of development; their special connection to the show's story, characters, imagery, and music; the show's significance as a ground-breaking pop culture phenomenon; and what the Hamilton story means in the context of ongoing conversations about systemic racism and social injustice. They'll also discuss the origins of and their hopes for the filmed version of the show.
At least one making-of documentary about the Hamilton stage show already exists: PBS's Hamilton's America, which actually has cameras in "the room where it happens" while Miranda is shaping the songs into the tracks we would ultimately come to know.
Unfortunately, a legal copy of Hamilton's America is tough to come by these days. (It streamed for a while on PBS's website, but appears to have been taken down long ago.) As much as I love the cast of this musical and am interested in hearing them talk about the legacy of the show and how it's an important story for this specific moment in American history, I must admit that I was hoping Disney would have invested the resources into making its own non-COVID era, Hamilton's America-style documentary with a wider scope than just a virtual roundtable interview. But we'll take what we can get.
You can read my full review of the Hamilton movie right here. Hamilton In-Depth with Kelley Carter and Hamilton both hit Disney+ on July 3, 2020.