'Saturday Night Live At Home' Ends Season 45 With Kristen Wiig Hosting, New York Dreams, And Guest Stars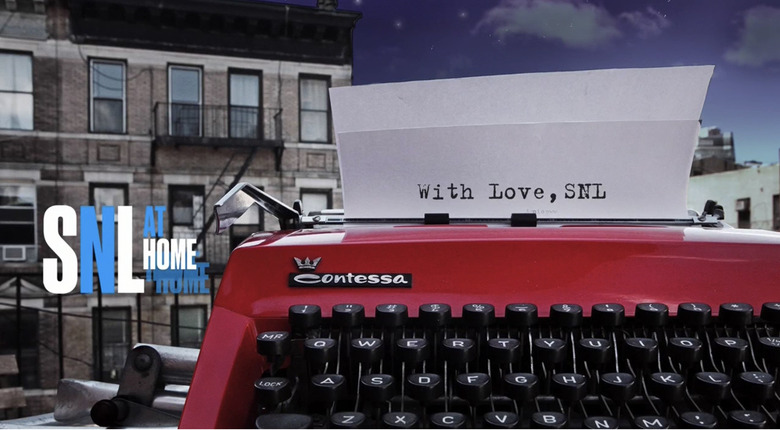 Saturday Night Live concluding the 45th season this weekend is a little more bittersweet than usual. That's because the late night sketch show was forced to wrap up with three editions of the remotely produced Saturday Night Live At Home, featuring all of the cast members doing sketches from the homes they've holed up in during quarantine. Thankfully, what will hopefully be the final edition of the show in this format was the best one yet, and it brought an array of guest stars, including Kristen Wiig as host, and dreams of getting back to normal once this pandemic is all over
So let's take a look at the best and worst Saturday Night Live At Home sketches for (hopefully) one last time.
Happy Mother's Day
Before we get to all of the sketches from Saturday Night Live At Home, we wanted to use SNL's Mother's Day tribute to wish a Happy Mother's Day to all those moms out there who aren't able to spend time with their kids due to the pandemic quarantine. Hopefully this strange time in all our lives will be over sooner than later and families will be able to embrace each other again. Until then, enjoy Boyz II Men singing "A Song for Mama."
The Best
New York Dreams – SNL ended the show with this charming and funny sketch where each of the cast members dreams of what it will be like to return to the hustle and bustle of New York City. While some of them long for being back out in the world, others have not-so-comforting dreams of being back in The Big Apple, while others just get weird. The sketch also shows just how good the crew got doing post-production from home with the limited resources cast members had to record themselves for a sketch like this.
Another Masterclass Quarantine Edition – MasterClass is back with a trio of new class options to pass the time in quarantine. Fleabag star Phoebe Waller-Bridge joins in this time, fantastically portrayed by Chloe Fineman, while Melissa Villaseñor pulls off an extremely entertaining impression of John Mulaney. And finally, Fineman returns as Britney Spears, showcasing some great physical comedy along with a solid impersonation. I hope they continue to do these when when SNL is back to normal.
Let Kids Drink – Thanks to the quarantine pandemic, kids have been forced to spend a lot more time at home, and it's certainly wearing on parents. That's why they've all gathered up to instill a simple new rule to let kids get boozed up while they're under quarantine. They're not going to drive anywhere, and it just might make them more fun to be around. The best part of this sketch is all of the cast members' real kids (or at least adjacent kids) holding beer and wine bottles, faking their drunken behavior, not to mention a surprise appearance by a certain Disney star and his animated alter ego.
Dad Prank Video – Kids at home are also occupying their time by creating their own YouTube shows, and this one features Mikey Day's son totally dunking on him as a fictional father who has been labeled a "bitch." Day does a great job looking like a pathetic, hapless father, but again, it's the post-production graphics and editing that makes this one work so well.
Zoom Church – One of the Zoom options that hadn't yet been exercised on SNL was virtual church, and Kenan Thompson was the perfect person to lead a sermon with a congregation that clearly hasn't mastered how to use Zoom yet. It's a little obvious, but as usual, Thompson's reactions and facial expressions help elevate it to being hilarious, not to mention Ego Nwodim and Cecily Strong offering some laughs as congregation members.
The Average
Danny Trejo – Pete Davidson may have gotten more screentime in three episodes of Saturday Night Live At Home than he has in the entire second half of season 45 this year. Most of that time has been spent doing music video parodies, but they've pretty much all been good to great. This one ranks on the higher end of the spectrum as Davidson has crafted a rap song equating his musical persona to that of character actor Danny Trejo, who also makes a cameo appearance at the end.
Eleanor's House – This was easily one of the weirder sketches of the night, and it's the finest display of the post-production work that can be done from home. This peculiar version of Pee-wee's Playhouse finds Aidy Bryant being overrun with house guests who are friends of friends, many of them looking like weird versions of the real cast members, Kyle Mooney's being one of the creepiest renditions. The computer animation here is unsettling in its execution, like some kind of grungy adaptation of The Sims, and while it's not raucously hilarious, it brings some solid laughs.
Hair Vlog – Hair and make-up vlogs have risen in popularity even more during quarantine as people everywhere try to manage their looks at home while barbershops and salons are mostly closed. Kristen Wiig comes aboard as the instructor for this hair vlog, and the way she keeps bobbing her curls around in front of the camera is some great physical comedy, and Cecily Strong comes along for a great side bit too.
What's Wrong With This Picture – Even though it's been established that game show sketches don't work too well in this format, SNL tried again by having some clueless mothers try to figure out what's wrong with this picture. They're predictably dimwitted, and it's good for a couple laughs, largely thanks to that gift Kenan Thompson has to react hilariously to stupidity, but otherwise, it's just all right.
Zoom Catch-Up – People have been enjoying catching up with friends through Zoom, but sometimes a group meeting means you're forced to interact with friends who you aren't exactly thrilled to see. In this case, it's Martin Short popping in as a guest star with Heidi Gardner as two friends who have been spending their time in Italy under "quarantina," which they treated like some kind of grand holiday abroad despite being in one of the worst hot spots for coronavirus. The overacting is goof for a few chuckles, but at nearly four minutes, it goes on for a little too long.
Lighthouse Keeper – Kate McKinnon doing Willem Dafoe from The Lighthouse would have likely been funnier if there was an entire sketch with the same production quality in a normal episode of SNL. But here, it's only mildly amusing as her character talks about life in quarantine and working in isolation. This deserved to be better, but there are some solid lines here and there.
The Worst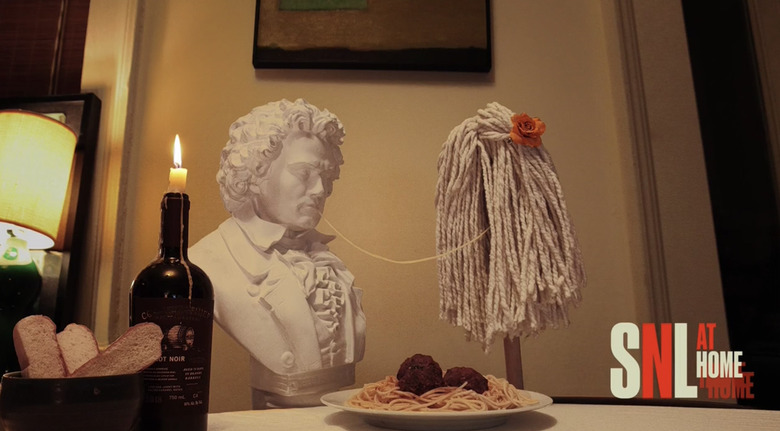 Beer Money – I take no joy in disliking another oddball sketch by Kyle Mooney where he plays all the roles, but these just aren't working for me. Mooney seems to work best when he can actually be in the presence of Beck Bennett, and while this has touches of the kind of stuff they do together, the execution just isn't the best.
Trump Graduation Speech – Graduation ceremonies are happening virtually all over the United States with students forced to celebrate the end of school on their own. Here we have a high school graduation ceremony take a turn for the worse with Donald Trump (Alec Baldwin) appearing. This time they actually got Baldwin on camera with make-up, which is surprising, and even though it helps the premise land more firmly, it's just another casualty of not being ridiculous enough to top the actual circus happening in the administration.
Weekend Update
This version of Weekend Update felt the most polished, and I love the return of Michael Che drinking hard liquor on camera to make this a little easier. He actually seems like he might be a little drunk, but that could easily be part of the act. Meanwhile, Colin Jost being forced to read another racially offensive joke is the best moment of Weekend Update, and they should do it every edition.
Jeanine Pirro on Coronavirus Lockdown Protests – Cecily Strong pus on a messy wig to reveal what life is like for Fox news puppet Jeanine Pirro, which doesn't require a lot of change since she's still drunk as a skunk. There's also a great bit where Pirro violates the rules of time and space and ruins Colin Jost's day.
Tina Fey on Mother's Day – Weekend Update also got help from guest star Tina Fey, who popped in for a lovely Mother's Day message for everyone missing their mother and all the mothers who are missing their kids. It's not one of those wildly laugh-out-loud appearances, but if anything, it was a comfort to have Tina Fey back for a bit.
The Host
Most of the "hosts" for Saturday Night Live had had limited involvement in the rest of the show, only introducing the episode or participating in a single cold open sketch. But for the season finale, Kristen Wiig not only had a jazzy, sensual monologue, but she appeared in a great sketch, and closed out the evening into the end credits. More than likely she would have hosted an episode since Wonder Woman 1984 was slated to arrive next month, so we're glad that she came in for this season finale.
The MVP and The Final Word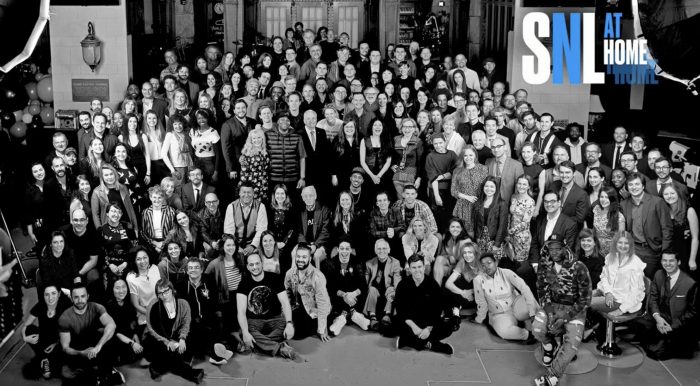 All of Saturday Night Live – This might be a little hokey, but the entire cast and crew of Saturday Night Live deserves a round of a applause for coming together and delivering a show like this under these stressful circumstances and uncertain times. Putting SNL together under normal conditions is hard enough, but doing like this posed a whole different challenge, and even though it wasn't always smoothing sailing, they got better with each At Home edition of the show, and we look forward to seeing them get back to their regular schedule this fall.
We'll be back in the fall, hopefully with normal episodes of Saturday Night Live. Take care out there, foilks.