/Filmcast Ep. 565 - Extraction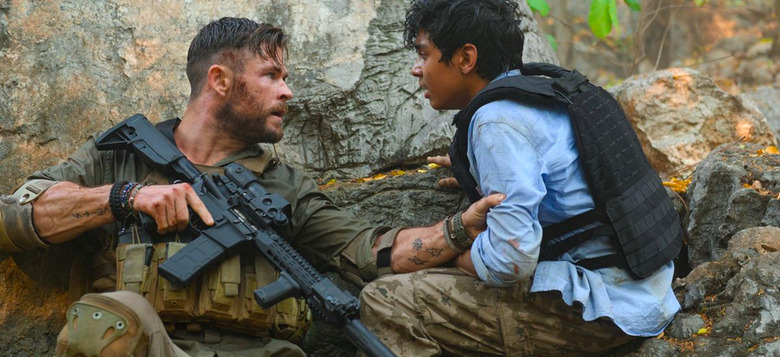 David, Devindra, Jeff check in on each other yet another week. The cast makes it up to past donors whose names got lost in the e-mails. For the feature review, David, Devindra, Jeff chat about Extraction, the new Netflix release starring Chris Hemsworth. Tune in to find out whether this is worth your quarantine time.
Read Scott Tobias's review of Extraction here. Read David Jenkins's review of My Neighobor Totoro here.
Thanks to our sponsors this week: Hunt A Killer, StoryWorth, and Light Stream.
Go to Huntakiller.com and enter the code "FILMCAST" for 20% off your first box.
Go storyworth.com/SLASHFILMCAST and get $10 off your first order.
Get an additional interest rate discount to save even more by visiting Lightstream.com/FILMCAST
What we've been watching (~25:45)
Jeff – Beastie Boys Story, The Last Dance
Devindra – Upload, Motherland: Fort Salem
David – Unorthodox, My Neighbor Totoro, What We Do in the Shadows premiere, It's Always Sunny Season 14
Feature (~1:20:30)
Extraction
Spoilers (1:43:00)
Credits:
Our music sometimes comes from the work of Adam Warrock. You can download our theme song here. Our Slashfilmcourt music comes from SMHMUSIC.com. Our spoiler bumper comes from filmmaker Kyle Hillinger. This episode was edited by Beidi Z.
If you'd like advertise with us or sponsor us, please e-mail slashfilmcast@gmail.com.
Contact us at our voicemail number: 781-583-1993
You can donate and support the /Filmcast by going to slashfilm.com, clicking on the /Filmcast tab, and clicking on the sidebar "Donate" links! Thanks to all our donors this week!