'Saturday Night Live At Home' Is A Weird And Wonderful Pick-Me-Up, And Tom Hanks Joined In Too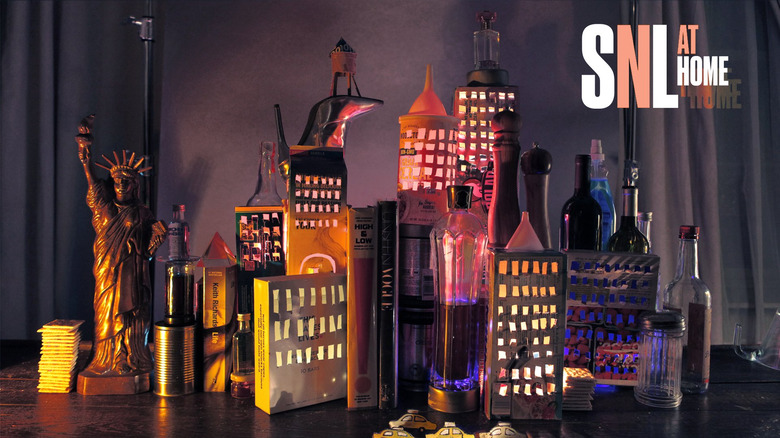 Even though coronavirus forced pretty much all movies and television shows to stop production last month, late night TV made a comeback with at-home versions of The Tonight Show Starring Jimmy Fallon, The Late Show with Stephen Colbert, Late Night with Seth Meyers, The Late Late Show with James Corden, Jimmy Kimmel Live, The Daily Show with Trevor Noah, Last Week Tonight with John Oliver, Conan and Full Frontal with Samantha Bee. But for a little while, we were still missing the late night comedy antics of Saturday Night Live. Thankfully, that changed this weekend.
Saturday Night Live at Home rounded up the cast and writers of the late night sketch series to produce a full-length episode, complete with sketches produced from each of the cast members' homes, a musical guest, and even a host in the form of a fully recovered Tom Hanks, who was the first major celebrity (along with his wife and actress Rita Wilson) diagnosed with COVID-19 while shooting the forthcoming Elvis Presley biopic from Baz Luhrmann down in Australia. The result was a weird and wonderful experiment featuring the usual highs and lows, and it really was a delight to behold.
So to keep things as normal as possible, let's run through the best and worst Saturday Night Live at Home sketches.
Before we get to the regular show, we wanted to highlight special tribute that SNL used to end the program.
The late night sketch series recently lost their longtime sketch music producer Hal Willner due to complications caused by coronavirus. Cast members from various seasons remembered Hal, the time they spent together, and his love for music. Interspersed between the cast memories are little moments with Hal himself. It's a wonderful tribute to a man who helped make many great sketches over the years. Hal will be missed, and our thoughts go out to his friends and family during this hard time.
But Hal loved SNL, so let's get on with our regularly scheduled review.
The Best
Middle-Aged Mutant Ninja Turtles – It may be a little bleak for our current times, but holy shit, this animated sketch that imagines the Teenage Mutant Ninja Turtles all grown up with adult problems is a top notch piece of comedy. Even more impressive is that they were able to pull it off for this at-home version of SNL. The animation style of the original series is perfectly recreated, and it even feels like it's faded in quality since the 90s. This absolutely cracked me up.
Zoom Call – Aidy Bryant and Kate McKinnon stole the show with this sketch. As two secretaries who clearly don't know how to use Zoom and are easily worked up, they made physical comedy work masterfully within their computer screens, and the little character touches that they added themselves were pitch perfect. Some of the expressions on Aidy Bryant's face alone were making me laugh.
Twitch Stream – Another sketch taking advantage of the format of Saturday Night Live at Home, Mikey Day sat in a room at his house and pretended that he had a Twitch stream playing video games. In this case, we've got CamPlayzDat trying to show off his skills in the new Call of Duty Warzone, but he's absolutely terrible at it.
MasterClass Quarantine – If you've thought about taking a MasterClass from Martin Scorsese or Steve Martin while you're stuck at home, you might want to wait and check out these new additions from actor Timothee Chalamet, kids' online sensation Jojo Siwa, and the now infamous Carole Baskin from Tiger King, all portrayed fantastically by Chloe Fineman.
Whatcha Cookin' – It's always great when Beck Bennett and Kyle Mooney get a little weird. In this case, they used the premise of trying to figure out what to do for Saturday Night Live at Home to create a makeshift song using various exclamations and lines to create some rhythm. Fred Armisen even joins in and he undoubtedly helped with the music. It's like a longer version of the "Cool Beans" scene from Hot Rod, and it was just plain fun.
The Average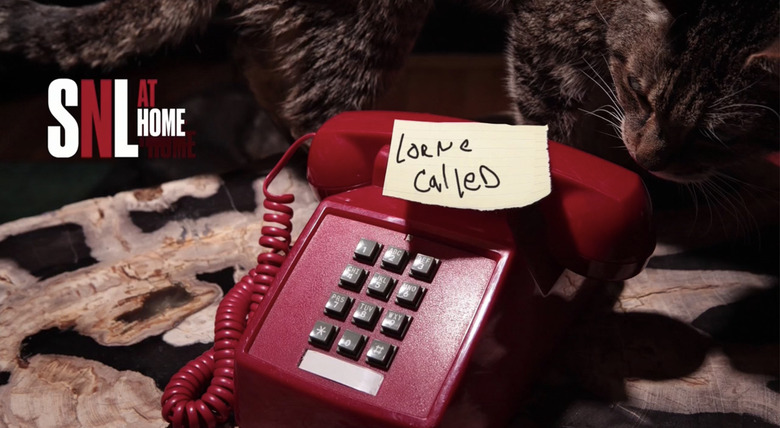 Sport Report – Alex Moffat tries his hand at a sketch that doesn't require an online format to work. Here, he provides sports commentary from the United Kingdom, but since there aren't any sports going on, he brings his lively commentary to things like match-burning, popcorn popping, and more mundane activities. It's a simple premise, and it's more mildly amusing than downright hilarious, but I still enjoyed it.
Andre 2000 – This was one of two music video sketches that Pete Davidson did for the home edition of SNL, and this one was infinitely more clever. It felt like something Adam Sandler might have done for one of his comedy albums, and since Davidson is a big Sandler fan, the similarities aren't unintentional. It's a solid parody of music videos as best as Pete Davidson can deliver from his home.
Bernie Sanders Address – Since Bernie Sanders dropped out of the presidential race this week, it only makes sense that Larry David was brought in to deliver an address from his home. Larry David never needed much make-up to turn into Bernie Sanders, but there's something about the physicality that's lost when he's sitting in a chair instead of standing at a podium. It's still pretty funny, and there are some strong jabs taken at Joe Biden, but it was missing a little something to push it to the next level.
Visualizations with Aidy – Everyone could use a little meditations, but Aidy Bryant's visualizations don't seem to go as well as she'd hope. It has an almost Eternal Sunshine of the Spotless Mind quality to it that makes it a little more odd that funny, but it's still a decent sketch.
RBG Workout – Honestly, I was a little torn about whether or not this should be put in the worst category. It's not that it isn't funny, because there are some great one-liners from Kate McKinnon as RBG, including a handful of Gins-burns. But I think it's something about the pacing that maybe feels off. The homemade nature of the sketch adds to the charm in this case, but the flow just isn't there. Even so, I chuckled a few times, so I couldn't bring myself to toss it below.
The Worst
Pete Davidson Drake Music Video – This sketch wasn't downright terrible, but the bit does become tiresome as it goes on. It feels more repetitive than the Andre 2000 music video and, since that one is so much better, it makes this one pale in comparison.
Bailey Gismert YouTube Channel – Even though Heidi Gardner does this character very well, it's not one that I find overly amusing. Weirdly enough, I think she works infinitely better in the confines of a YouTube video style sketch instead of being brought to the Weekend Update desk. I'm surprised that SNL hasn't used this character in that capacity, especially since there are plenty of other characters who have used the internet as a sketch format.
Also, as a sidenote, I wonder if the use of Universal's VOD offerings of The Hunt, Emma, and The Invisible Man were done on purpose for some NBCUniversal synergy.
How Low Will You Go? – The game show format just doesn't work quite as well when it's being done through teleconferencing. Though they did include some of the usual game show bits, like the oddly named host, the rest of it is kind of a one-note gag that doesn't feel like it needed to be a full-fledged sketch. Also, it feels like a real missed opportunity to not make this a Quibi show that would have allowed them to take some jabs at the short-form streaming service.
Weekend Update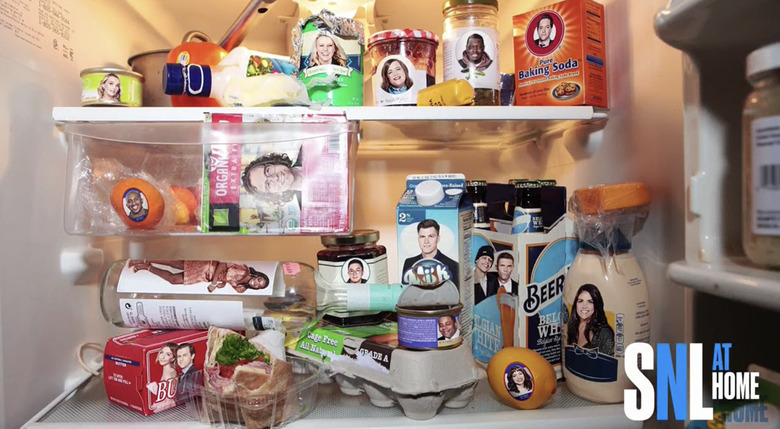 When Saturday Night Live announced they were doing a special at-home version of SNL, I thought Weekend Update would be the easiest and best part of the show. But it felt oddly stilted and the writing wasn't nearly as sharp as I hoped. Maybe it's because it's the first time they're doing it like this, but I was hoping this segment would feel a little more polished since it's a lot easier to pull off than doing a whole sketch through video chat. But I will say the very end with the joke swap giving Colin Jost a racist bit by Michael Che was outstanding.
President Trump Gives Coronavirus Update – I suppose having some kind of reference to Donald Trump was inevitable since he's been f***ing up this coronavirus crisis reaction every single day. It seems like Alec Baldwin and the SNL crew realized Trump wouldn't be quite as effective without all the make-up, so they only had him appear by phone. This is better than most of the recent topical, political satire that SNL has been trying, but like the rest of Weekend Update, it felt somewhat stilted too.
The Host
Isn't it just so wonderful to see Tom Hanks back on his feet after fighting coronavirus? I was wondering how they were going to handle the host aspect of the show, and even though Hanks didn't appear in any of the sketches, he still gave a fun little monologue, which included him doing a couple hilariously bad characters, and he also introduced musical guest Chris Martin from Coldplay.
However, the best part about this introduction is the recreated opening credits done with footage of each of the cast members and the SNL band from their respective homes. Hopefully we'll see it again if SNL can rustle up another full episode like this.
The MVP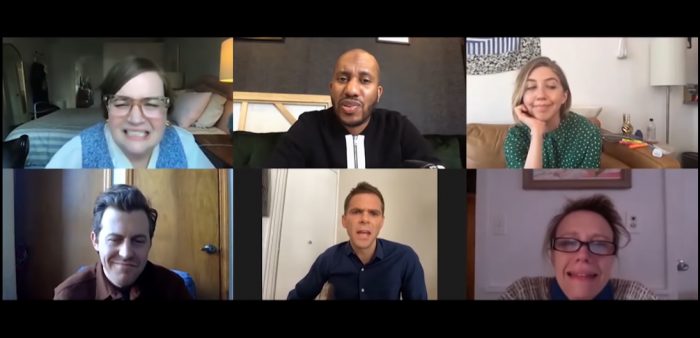 Kate McKinnon and Aidy Bryant – These two absolutely cracked me up in this sketch. Most of the sketches had people just sitting in front of the camera, but here they utilized their space spectacularly to make this Zoom meeting go South fast.
The Final Word
It might be strange to hear, but there were several moments watching this where a tear of joy came to my eyes. I'm a longtime fan of Saturday Night Live and a fierce defender of the show that is often criticized with every new cast. But it was so great to see this crew come together to create a show from quarantine, and bringing in Tom Hanks as host certainly helped make it feel that much more delightful. I hope this is something that keeps happening.