Adam Driver Is Super Chill, Returns As Kylo Ren On The Fantastic First 'Saturday Night Live' Of 2020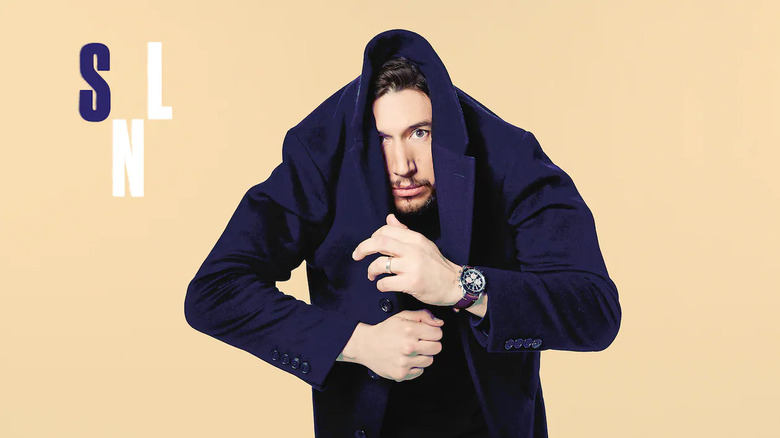 Adam Driver hosted Saturday Night Live for the third time this weekend, and the result was one of the best episodes of the season. Not only did it feature the return of Kylo Ren, but it had some truly weird and hilarious sketches that Adam Driver committed too 100%. He's one of those dramatic actors who has equally as good comedic timing, and this episode lets him shine.
Check out the best and worst sketches from the Adam Driver hosted Saturday Night Live below.
The Best
Del Taco Shoot – I don't know how this sketch didn't end up in the 10-to-1 slot, because it's so damn weird. But the repeated line of "Aw, man, I'm all outta cash!" make this an absolutely hilarious sketch from top to bottom. It's such a simple premise, but the dedication to the bit by both Beck Bennett and Adam Driver ramp it up to maximum hilarity.
The Science Room – A PBS educational program gets help up by some nervous, oddball kids, and Adam Driver does his best to be patient with them in the face of their inappropriate and confounding responses to his questions. Of course, it's all coming to a head where he just can't take it anymore, but that's not even the best part. It's Cecily Strong and Mikey Day as the kids who make this one extremely funny. Their innocent awkwardness make the proceedings adorable and hilarious at the same time. Plus, I love that, with the exception of the opening, the sketch never cuts away from the three-shot for a different angle.
Sleepover – Honestly, I can't believe the premise of this sketch sustained itself for this long. But Kate McKinnon's continued feigned clueless response to a destructively flooded toilet just gets funnier and funnier, especially when she starts hitting on the "hot dad." The wardrobe and make-up department deserves plenty of credit for making McKinnon's performance even funnier, because so much of it amplifies the comedy she brings to the sketch.
Marrying Ketchups – All right, this is why the Del Taco sketch didn't end up in the 10-to-1 sketch. This ketchup marriage gone awry is much weirder. It borders on being a Marriage Story parody because of the faux drama, but it takes some different turns to separate itself from being a true spoof. This is the best evidence of Adam Driver's work as an actor making comedy from authenticity. This scenario is so silly, but Driver is acting his heart out, and that's why it's so damn funny.
The Average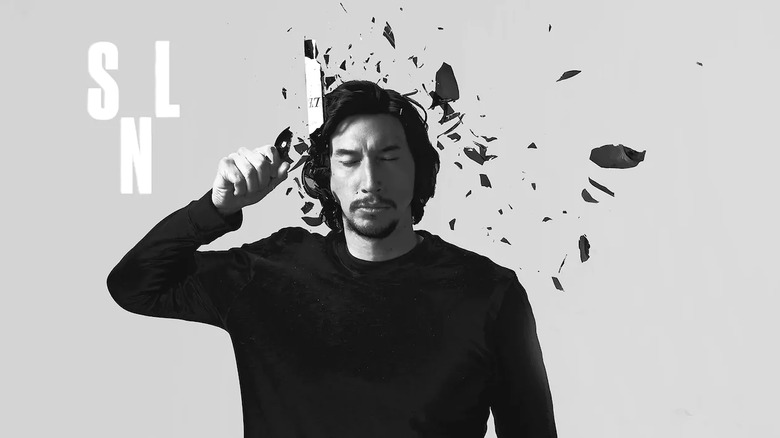 Undercover Boss: Where Are They Now? – Following up on the funniest sketch from the first time Adam Driver hosted Saturday Night Live, Kylo Ren does Undercover Boss again, this time showing how much he has (or hasn't) grown. This time, he's an intern, and even though this one isn't as good as the first time around, it's worth it just to hear Kylo Ren say "Okay, Boomer." Plus, Driver's intensity makes for a couple big laughs. But otherwise, it's just not as great as the first time.
On a sidenote, it's so crazy that it's been four years since Adam Driver hosted SNL (for the first time) shortly after The Force Awakens was released. And in that short time, all the cast members from the original Undercover Boss sketch (Bobby Moynihan, Taran Killam, and Leslie Jones) have all since left the show.
Medieval Times – Adam Driver takes his Medieval Times character a little too seriously in this amusing sketch. Again, Driver's acting chops are what make this funny, even if it doesn't really go anywhere beyond the basic premise. However, what does add some extra flair to the sketch is Kenan Thompson in the audience, offering exactly the kind of commentary that he's so great at.
Alan Dershowitz: Where Are They Now? – Most of the political cold opens have been bad, but this one actually works fairly well thanks to the heightened premise that actually takes the satire to an unreal place. Jon Lovitz cameos as Alan Dershowitz and ends up in hell. Adam Driver makes the rare cold open appearance by a host, and Kate McKinnon is great as the devil. What's good about this sketch is it gets bold with some Jeffrey Epstein jokes (one that also makes a relevant reference to the death of Mr. Peanut), and it features a smattering of great non-political one-liners too.
Cheerleading Show – Even if you haven't seen the documentary series Cheer on Netflix, this parody is still pretty funny. Not only are the impressions of the subjects dead-on, but Kenan Thompson does his traditional scene-stealing bit, and he also makes Heidi Gardner break a couple times. Plus, stay tuned for a last minute appearance by musical guest Halsey.
The Worst
Slow – This episode was so great that the worst sketch of the night isn't even all that bad. It's not really a laugh-out-loud music video sketch, but it does offer some light chuckles, especially when Adam Driver speaks in a slow-motion voice. Also, Kudos to Halsey for being a big part of this sketch and giving it her all, so much that she appeared in some revealing lingerie, making it feel like one of her own sultry music videos.
Weekend Update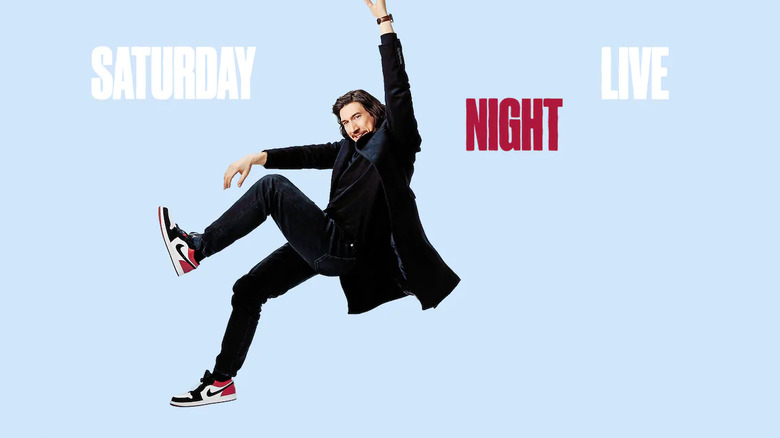 Well, there was plenty to joke about when it comes to Donald Trump and the ongoing impeachment proceedings. Michael Che and Colin Jost seemed pretty loose for this edition, likely relaxed from the holiday break. It allowed them to have some entertaining back and forth, and it's exactly what you hope to see from the duo but don't always get.
Travel Expert Carrie Krum on Winter Getaways – Aidy Bryant is so endearing as this precocious kid who talks about her family vacation like destination getaways. It's not the funniest recurring character, but it's adorable, especially when Carrie talks about seeing something she wasn't supposed to.
Melissa Villaseñor on Oscar Snubs – It's not often that Melissa Villaseñor gets a chance to shine like this, but when she does, it's always worth the wait. In this Weekend Update appearance, she's talking about Oscar snubs by discussing the original songs she did for a bunch of the nominees. But they're all eerily similar and about the same thing, not unlike the nominees themselves. It's lighthearted way of offering some social commentary on the awards, and I wish we could see Villaseñor do more stuff like this.
The Host
Adam Driver is one of those dramatic actors who can seamlessly shift into comedy, and his skills as a bona fide actor only enhance the kind of comedy he can deliver, thanks to the authenticity of his performances. Whether he's being wacky or playing the straight man, he commands your attention and can make you laugh even by being sad and troubled. He's great in every single sketch, and he's clearly game for anything. I hope he comes back at least once every other year, since that's what he's been doing since 2016.
The MVP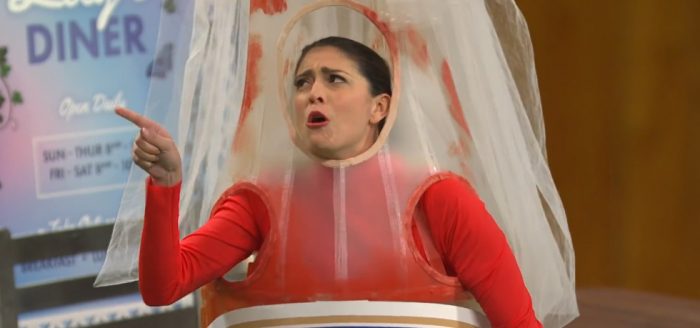 Cecily Strong – Between The Science Room and the ketchup marriage, Cecily Strong showed her versatility that hasn't been utilized much in recent episodes. Plus, let's not forget that she does an outstanding impression as Senator Susan Collins in the cold open. The episode spread around the spotlight moments pretty well to a lot of the cast members, and Kate McKinnon also had some hilarious moments, but Strong stood out just a tad more to me.
The Final Word
It feels like SNL was really energized after being way for a month. Surely the presence of Adam Driver helped, since he's up for anything. We'll see if they can maintain the momentum when SNL returns on February 1 with host J.J. Watt, the Houston Texans NFL player, followed by Ru Paul on February 8.