Don't Expect To See Marvel's 'Spider-Man' Movies On Disney+ Anytime Soon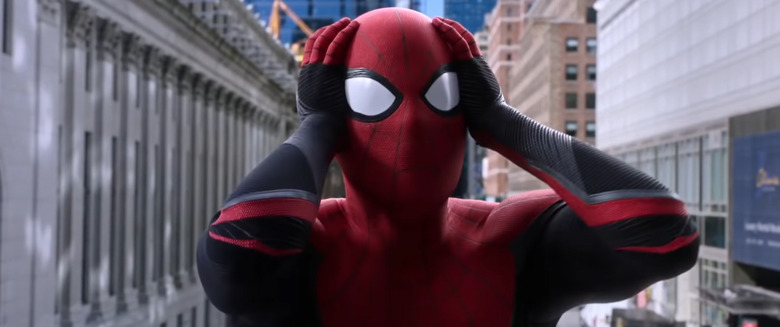 Today brought the launch of Disney+, and while not all the movies of the Marvel Cinematic Universe are available today, more will be added as time goes on so that you can enjoy everything that Marvel Studios has to offer on the streaming service. However, it sounds like there will be two movies that won't make it to the streaming service, and it shouldn't be a surprise to anyone. As of now, Disney has no plans to host the Marvel Studios Spider-Man movies on Disney+.
Ricky Strauss, Disney's head of content and marketing for Disney+, spoke to The Verge about the possibility of bringing Spider-Man: Homecoming and Spider-Man: Far From Home to the streaming service. His response was diplomatic but firm:
"We love our friends at Sony, but we don't have any plans to have the live-action Spider-Man movies on Disney+. We will have all the Spider-Man animated shows that we did so they'll be on there under the Marvel banner. But who knows what can happen in the future?"
This shouldn't come as a surprise to anyone. Don't forget that these new Spider-Man movies are Sony Pictures collaborations with Marvel Studios and Disney isn't distributing them. Kevin Feige is only producing the movies, and Sony and Disney share the profits because of that. There was a whole stalemate earlier this year (which was thankfully resolved) about the deal Sony and Disney have to share Spider-Man on the big screen, and more than likely, neither studio wanted to complicate matters by figuring out streaming rights, revenue splits, and all that jazz.
Honestly, it's not a huge deal that the two Spider-Man movies aren't available to stream on Disney+. Any real fan of the Marvel Studios movies likely already owns them and can watch them even if they aren't streaming through Disney's library. Plus, fans will surely be busy rewatching Avengers: Endgame, which arrived a whole month earlier than anticipated with the launch of Disney+ today.
If you want to know more about the Marvel content available on Disney+, this video will set you up: