Phoebe Waller-Bridge Energizes 'Saturday Night Live', But Bowen Yang Is The Breakout Star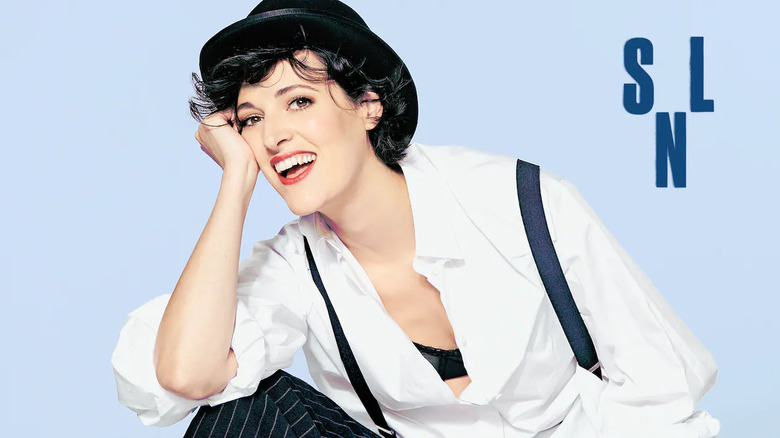 Fresh off her big night at the Emmys, actress, writer, producer and all-around comedy stalwart Phoebe Waller-Bridge made her Saturday Night Live debut this weekend, and she brought an ample amount of energy to Studio 8H. Waller-Bridge is an experience comedian who knows how to work with the talented writers and cast of Saturday Night Live, and the result was an episode that was certainly better than the season premiere. But the most notable moment of the night came from a breakout bit from one of the new featured players.
Let's dig into the Phoebe Waller-Bridge hosted Saturday Night Live with our full review.
The Best
The War in Words: William and Lydia -This sketch feels like it goes on a little long, but it's the escalation throughout that makes it absolutely hilarious. Mikey Day's growing panic about all the things that are going wrong back home while he's at war keeps the sketch from overstaying its welcome. But the best part of this bit is that there's no real explanation for Phoebe Waller-Bridge's character to be so weird and nonchalant about the continued bad news.
Mid-Day News -With all the racial tension there is among our culture today, it can be difficult to make light of it. But this sketch manages to do it extremely well as two black and two white mid-day news anchors start tallying up the number of white and black people committing the crimes they're reporting on. It picks up in laughs when they each start making assumptions based on the crime's location, the name of the perpetrator and more, especially when they take an unexpected turn. Alex Moffat gets the best moment of the sketch when he celebrates one victory in the whitest way possible.
Royal Romance – This is exactly the kind of sketch you love to see Kenan Thompson doing. This is basically his own version of Rudy Ray Moore, the man who Eddie Murphy plays in the upcoming movie Dolemite Is My Name. But instead, it's Jimmy Jay Robinson, and instead of just parodying Moore, there's the added layer of the character having a royal romance with Abigail, Duchess of Clerkenwell. Honestly, I would have loved to see this extended into a Documentary Now! episode.
The Average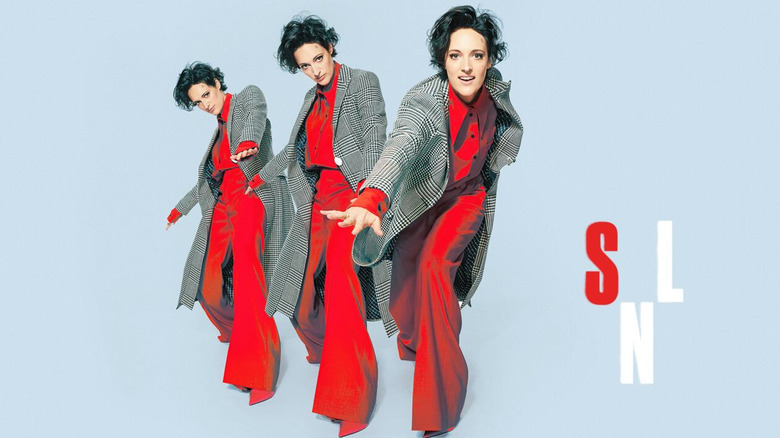 Another What's Wrong with This Picture? – There are a variety of ways to approach a game show sketch, and often times, my favorites come from the absurdist approach where the contestants are nuts and the host is tying to figure out just what the hell is going on. In this case, it's the contestants terrible guesses about what's wrong with the picture that bring solid laughs. But the timing and delivery felt off with some of these punchlines, and I think that kept it from being great.
Love Island – Honestly, I wanted this sketch to be so much better, because the characters with all these different accents from the United Kingdom are done so well. Not only does Cecily Strong get to do her outstanding British dialect work, but it's so fun to hear Phoebe Waller-Bridge take on one of the more dodgy sort of accents, especially looking like the UK's version of a Jersey Shore cast member. This was good, but it could have been better.
Kaylee, Crystal & Janetta – While I'll admit that having Kate McKinnon, Aidy Bryant, Cecily Strong and Phoebe Waller-Bridge play some trashy, redneck women confronting the ex-boyfriend they all have in common is amusing, the sketch doesn't do anything that was overtly hilarious. There are some physical comedic moments here that offer up some light laughs, but it's the moments where the cast briefly breaks that offered up the most entertainment in this sketch.
The Worst
Mike Pence Impeachment Strategy – As much as I love SNL's jabs at Mike Pence being the ultimate white man, this sketch felt like it was struggling to find laughs in the headline-making events happening in the US government right now. While the presence of Matthew Broderick as Mike Pompeo offered something refreshing (even with a forced Ferris Bueller's Day Off reference), I must say that Kate McKinnons as Rudy Giuliani doesn't pack the same punch as it used to because the real man is becoming more of a parody of himself than anyone could ever deliver.
Weekend Update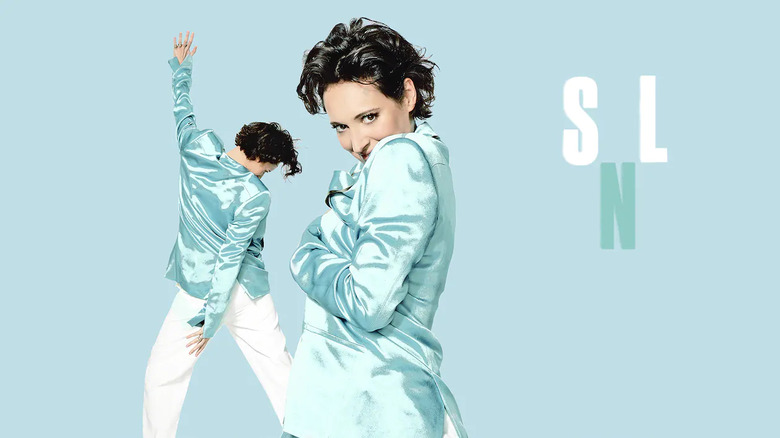 This was definitely an improvement over the totally average return of Weekend Update in the season premiere last week. Michael Che and Colin Jost enjoyed some banter between some of the jokes and seemed to be having a lot of fun with three guests appearing at the desk, which was a big step up after last week's single guest. The best bit by far was Michael Che's questioning of whether it's actually okay to make fun of Donald Trump after noticing some similarities between the president and the very "strong" Lennie in Of Mice and Men.
Elizabeth Warren Fundraises for Her 2020 Campaign – Kate McKinnon's Elizabeth Warren is almost as appealing as the candidate herself. She's got this wild whisper voice with just the right amount of attitude. Her appearance even addresses the ludicrous rumor about her supposed sexual relationship with a young Marine. Though this may not offer up as much comedy as someone like Sarah Palin or George W. Bush, this is a great impression of the presidential candidate, and we're only going to see more of her.
Chen Biao on US-China Trade War – Ladies and gentleman, Bowen Yang has arrived. Holy shit, this was a banger of a Weekend Update appearance. In just his second episode as a featured player, Yang blew the roof off of Studio 8H with his turn as the sassy, catty and pop culture savvy Chen Biao, who had plenty of insults to throw at the United States and Donald Trump. That dig about China actually finishing their wall was a showstopper. More Bowen Yang, please!
Supercentenarian Mort Fellner Returns – We haven't seen this character since Don Cheadle hosted in February last season, so we're glad to see he's still alive. Mikey Day is adorable as he delivers bad news in the most charming way possible. What's most impressive about this sketch are all the twists that turn these stories into obituaries, they're extremely clever, especially the misdirect about being with the angels. Also, it was a nice callback that Mort wanted to meet Pete Davidson still, especially after the joke about the cast member being gone again (thanks to The Suicide Squad production getting underway).
The Host
Phoebe Waller-Bridge comes from the world of comedy, both as a performer and as a creator, so she knows what she's doing. Her talents on Saturday Night Live did not go wasted as she weaved in and out of various types of British accents (sometimes muddling the American stuff). Clearly having a blast, Waller-Bridge was one of those comedians who fits in with the cast without feeling like the actual star of the show, and that's often the best kind of host. Plus, her monologue felt like a stand-up set instead of a forced bit, and that's always nice. Here's hoping we see her back on the show sooner than later.
The MVP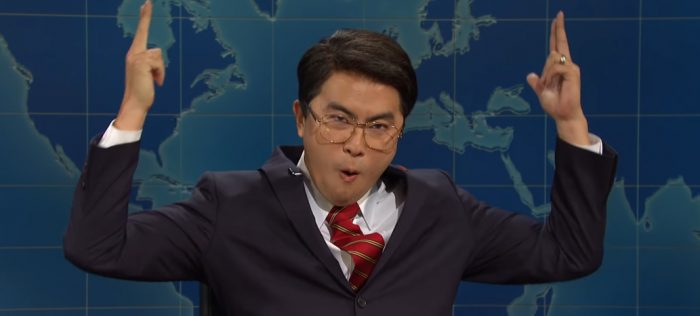 Bowen Yang – This could have easily gone to Kate McKinnon for having several great moments throughout the evening in a few different sketches. But Bowen Yang's appearance at the Weekend Update desk felt like it was on another level. He owned that character, and it felt like we were watching a breakout being born right there on the spot. Hopefully Yang continues to make a splash at SNL, because he deserves to be a full-fledged cast member already.
The Final Word
This episode was an improvement over the average season premiere. Undoubtedly helped by Phoebe Waller-Bridge's presence, the show just felt more comfortable with a comedian like her as host. The featured players are also getting a solid amount of play out of the gate, and each of them is proving themselves to be a valuable asset to the show already. Yang fills in a gap that the show desperately needed, and Fineman brings a great roster of voices to the table. SNL might really be on the verge of hitting a new groove.