'The Night Monkey' Trailer: Who Is This European Superhero Everyone Is Talking About?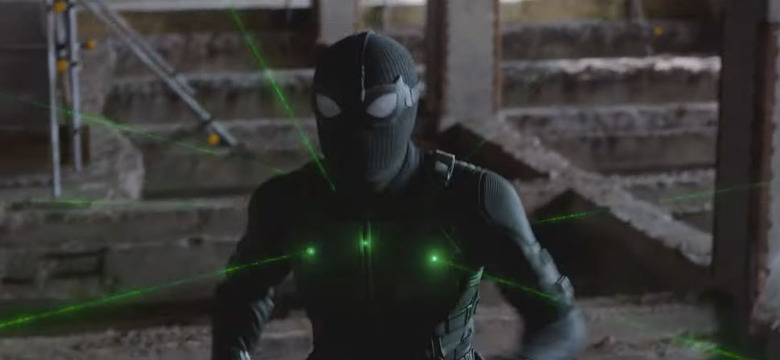 Between The Avengers and Justice League, there are tons of superheroes on the big screen. But lately we've been hearing about a new superhero on the scene on the other side of the globe, and he's proving to be rather...amazing.
Night Monkey is a new European superhero who is decked out in all black, stealthily leaping through the streets, and helping citizens deal with some very mystifying and dangerous threats. You can see him in action in the first Night Monkey trailer below.
Night Monkey Trailer
Night Monkey has been all over the news, making headlines after helping the new superhero called Mysterio take on these giant creatures known as Elementals. Now a movie is taking those events and dramatizing them for box office bucks. Tom Holland plays the European superhero, who feels like kind of a rip-off of Spider-Man, if we're being honest. But it's like if Spider-Man was a member of the SWAT team or some kind of music video dance troupe from the 1980s.
Frankly, we're not too impressed with this first look at the Night Monkey movie. It feels like familiar territory that Tom Holland has tread before, and it feels like Sony Pictures is just trying to capitalize on his fame as Spider-Man by turning him into another superhero. How many damn superheroes do we need who swing around acrobatically anyway? Somehow they even roped Zendaya into starring in this too. What's next, some kind of Spider-Man and Night Monkey crossover? Whoopee.
We'll just have to take solace that Spider-Man: Far From Home is coming to home video soon. That'll probably be better than watching a Night Monkey origin movie where some teenager gets bitten by a radioactive monkey and takes on the mantle of the superhero after his Uncle Glenn gets killed by a mime. We all know how it goes from there. Night Monkey faces off with villains like the Green Gremlin, Poison, Dr. Peter Pentagus, The Salamander, and Tabby Cat, and yadda-yadda-yadda. We get it.
Here's all the special features you'll get on the Spider-Man: Far From Home home video release:
Bonus Materials Include:
New Original Short, Peter's To–Do List: Peter has a few errands to run before he can leave on his class trip.
Teachers' Travel Tips: Mr. Harrington & Mr. Dell present a few tips on how to traverse the European continent.
Stepping Up: Explore how Spider-Man was introduced in the MCU, the ways Tom Holland transformed the character of Peter Parker, and what the future holds for Spider-Man.
Suit Up: The suit doesn't make the hero – but it does play a big role in who they are and who they can become. This piece examines all of Peter's different suits in the movie, and with behind the scenes footage, we see why some suits are better than others.
Far, FAR, Far from Home: The film's illustrious locations serve story points and establish tone, but they're also amazing to travel to! Hear from the cast on their experiences filming on-location.
It Takes Two: A special look at the chemistry between Jon Watts and Tom Holland.
Fury & Hill: MCU stalwarts Cobie Smulders and Samuel L. Jackson are back as Agent Maria Hill & Nick Fury!
The Ginter-Riva Effect: A look at the villain sub-plot and how William Ginter-Riva ties Spider-Man: Far From Home all the way back to the beginning of the MCU.
Thank You, Mrs. Parker: A look at Marisa Tomei's reimagining of Aunt May, from Homecoming to Far From Home.
The Brother's Trust: A quick look into some of the amazing work Tom Holland and his brothers have done through their charity, The Brothers Trust.
The Jump Off: Interviews with the cast & crew take us through all of the amazing stunts of Far From Home.
Now You See Me: We examine the evolution of Mysterio and why Jake Gyllenhaal was the perfect fit for the role.
Stealthy Easter Eggs: Allow E.D.I.T.H. to reveal some of the hidden Easter Eggs you may have missed!
Select Scene Pre – Vis: A side by side comparison of the Pre-Vis with the film
Never-Before-Seen Alternate & Extended Scenes