Star Wars Galaxy's Edge At Disney World Will Serve Alcohol Outside Oga's Cantina, Unlike Disneyland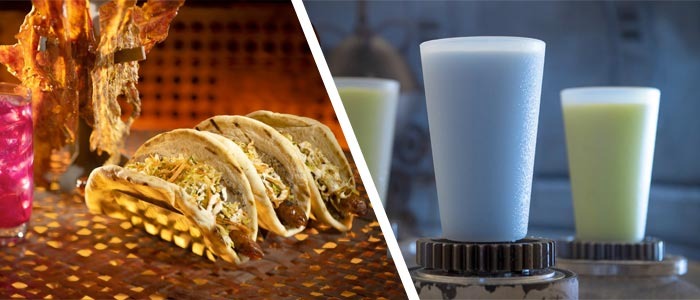 When Star Wars Galaxy's Edge opened in Disneyland this summer, it was groundbreaking for a few reasons. Not only was it the first theme park expansion dedicated entirely to Star Wars, but Oga's Cantina marked the first time that alcohol would be available in the park outside of the the exclusive Club 33 and other private events on park grounds. Now, Walt Disney World in Florida will offer another first in Galaxy's Edge when it opens in August: alcoholic beverages will be available in the land there outside of Oga's Cantina.
WDW News Today has learned that Docking Bay 7 Food and Cargo and Ronto Roasters will each have two alcoholic beverages available to order, each location having a different mixed spirit and beer. Here's what each of the alcoholic beverages on the menu will be, along with the astronomical theme park price tag:
Docking Bay Food and Cargo
Takodana Quencher – Bacardi Dragon Berry Rum, Blue Curaçao, Simple Orange with Pineapple, Kiwi – $15.00
Gold Squadron Lager – Blue Point Brewing Co. 16 oz draft – Golden Lager with Lavender and Plum flavors – $13.25
Ronto Roasters
Coruscant Cooler – Maker's Mark Bourbon, Luxardo Maraschino Liqueur, Carpano Antica Sweet Vermouth, Cranberry, Lime Juice – $15.00
Trandoshan Ale – Concrete Beach Brewery 16 oz draft Spiced Wheat Ale – $13.00
That Takodana Quencher sounds delicious, and it might even be refreshing on the many hot days there will be in Galaxy's Edge down in Florida. But that's not the only chilly beverage that will be available with alcohol in it outside of Oga's Cantina. WDW News Today has also confirmed the popular blue and green milk concoctions will be getting alcoholic versions down in Disney World as well.
Not even Oga's Cantina in Disneyland has alcoholic versions of these colorful milks, so it sounds like Disney World may end up having the superior Galaxy's Edge experience when all is said and done. Then again, since the humidity down in Florida makes it feel like you're on the surface of a sun that's been dunked in a swamp, they probably need alcohol much more often there.
Disney World has been more relaxed about the availability of alcohol than Disneyland for awhile. The theme park introduced the "Be Our Guest" restaurant, inspired by Beauty and the Beast, which made beer and wine available in the Magic Kingdom. Is there any chance that Disneyland could follow suit in the future? Maybe that'll be a surprise for when the second attraction opens at Galaxy's Edge there later this year.