Daily Podcast: Why Is Galaxy's Edge Not Busy? Comic Speculation And Your 'Toy Story 5' Pitches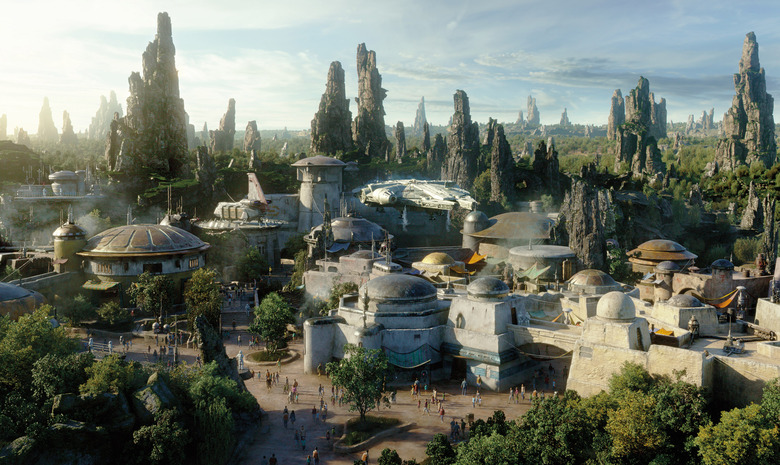 On the June 28, 2019 episode of /Film Daily, /Film editor-in-chief Peter Sciretta is joined by /Film managing editor Jacob Hall, and senior writer Ben Pearson to discuss the latest film and TV news, including Star Wars: Galaxy's Edge, Comic-Con and One Day at a Time. And in the Mail Bag, we'll be reading some of your Toy Story 5 pitches.
Opening Banter: Slow news day.
In The News:
In The Mailbag: Peter asked for Toy Story 5 pitches and you heard his call:
Erick from Utah says "The end of Toy Story 4 sets up the future of Forky and the gang. Forky meets the new girl forky and he says "I will explain everything" which directly leads into the Disney+ show "Forky asks a question" in November. I think if that little series is popular, they could continue stories there too.
James F writes in, "Obviously, the story for Toy Story 5 would be that the toys have become depressed and suicidal because all children want to do is play on their phones."
Justin D from Dallas writes in, "I was thought of this idea for a potential Toy Story 5. It's several years later after the events of Toy Story 4. And toy stores are going out of business and kids are becoming more and more interested in electronic media instead of actual toys. Thus, the toys become more vintage and increase in worth. Bonnie in the meantime is hitting her preteen years and is growing less interested in toys and is playing with them less and less. On top of that Bonnie's parents are having a tough time financially and have decided to downsize. That's when Bonnie's parents decide that it may be a good idea to sell the toys on Ebay. Where some of them fetch pretty high prices. Some of the lesser toy characters get sold to different people but the majority of the lot is sold to one lady.  Meanwhile, Woody and Bo while travelling with the carnival receive a message from Buzz who has kept up with them by reading on the internet where their destinations will be. After Woody and Bo receive the message. They decide to extract their friends before they get shipped out to where they are being sold. Adventure ensues, and despite their efforts. They fail to stop them from being sent. Then they, find the address of who they were sold to. And go there, and it is revealed that the buyer was Andy's wife and that the lot of toys bought were an anniversary present for Andy. Andy of course stunned that he has his old toys back, shares the stories and adventures of him and his toys with his now young child. Woody while tempted to join them. Decides that visiting periodically when the carnival is near will give him the opportunity to watch Andy, his child and his friends for many years to come.  PS... Toy Story 6 will be the gang trying to save Andy's Marriage."
Chris W from Michigan writes in "This somewhat goes off Peter's idea of Andy wanting to reminisce his childhood.  My idea is two part FINALE! Several years after TS4 the original toys see on TV that Andy is working for a toy company as a designer. They see that he WAS a young rising start in the toy industry, but is going through a form of "Designer Block" and his reputation is taking a huge hit. The toys know he needs them, specifically, Woody to get through this tough time. Part one includes them tracking down the carnival to find Woody. The second part includes their adventure to get to Andy. They find him, and he is surprised and shocked to see them. With his new inspiration, he create new toys that boost his reputation. Andy pledges to never let his toys go again and the entire crew lives happily ever after for the FINAL time!  For the record I didn't want a Toy Story 4, but I do feel this opens up a number of possibilities. For example, Woody could have his own series focuses on him traveling around with Bo and the sheep.  
Some other Feedback:
Bunnyhero from Toronto, Canada writes in "Ben asked if there had been any other unscripted tv shows based on existing IP. there was a kids' game show based on the computer game "where in the world is carmen sandiego."
All the other stuff you need to know:
You can find more about all the stories we mentioned on today's show at slashfilm.com, and linked inside the show notes.
/Film Daily is published every weekday, bringing you the most exciting news from the world of movies and television as well as deeper dives into the great features from slashfilm.com. 
Send your feedback, questions, comments and concerns to us at

peter@slashfilm.com

. Please leave your name and general geographic location in case we mention the e-mail on the air. 
Please rate and review the podcast on iTunes, tell your friends and spread the word! 
Thanks to Sam Hume for our logo.