'Toy Story 4' Box Office Will Reach For The Sky With A $260 Million Global Debut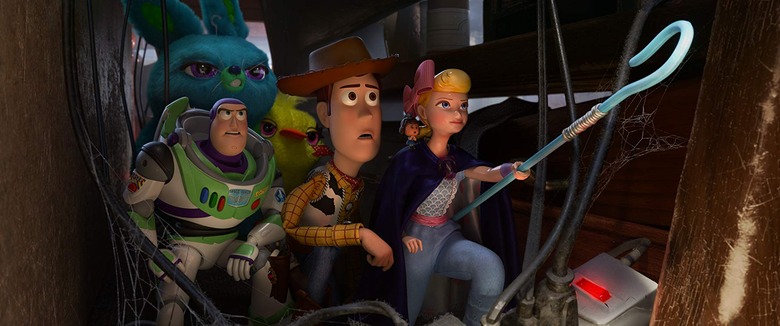 Toy Story 4's box office could do more than reach for the sky — it could shoot to infinity and beyond with an all-time best animated movie debut. The Toy Story 4 box office tracking estimates that the Pixar sequel is looking at a $160 million debut domestically and a whopping $260 million worldwide, with potential to reach $300 million if domestic overperforms.Deadline reports that Toy Story 4 could be the big hit that will salvage a disappointing summer. Toy Story 4 is currently tracking for a $160 million debut in U.S. and Canada, with some industry experts estimating as much as a $200 million debut. Overseas, it gets even better with an expected worldwide debut of $260 million — possibly $300 million if the domestic box office exceeds expectations. Whatever the case, Toy Story 4 is already set to shatter box office records for animated movies, beating Incredibles 2's worldwide debut of $235.8 million. However, Toy Story 4 still trails behind Incredibles 2's record domestic opening of $182.6 million.Toy Story 4 is getting a big international rollout from Disney, a difference from most animated films, which are often rolled out slowly overseas. Twenty-seven countries including Australia, Brazil, Korea, and Russia, are getting Toy Story 4 on Thursday, followed by China, Mexico, Spain, the U.K., and six others on Friday. Italy and France come a week later, while Japan gets a July 12 release and Germany August 15 as some other smaller markets trickle in over the next few weeks.
By comparison, in 2010, Toy Story 3 opened to $145 million worldwide, where about 76% of that was boosted by the domestic box office, according to Deadline. The film would eventually go on to make over $1 billion worldwide and industry insiders expect Toy Story 4 to make those same numbers.
Directed by Josh Cooley and starring Tom Hanks, Tim Allen, Annie Potts, Tony Hale, Keegan-Michael Key, Jordan Peele, Madeleine McGraw, Christina Hendricks, Keanu Reeves, Ally Maki, Jay Hernandez, Lori Alan, and Joan Cusack, Toy Story 4 hits theaters on June 20, 2019.
Woody, Buzz Lightyear and the rest of the gang embark on a road trip with Bonnie and a new toy named Forky. The adventurous journey turns into an unexpected reunion as Woody's slight detour leads him to his long-lost friend Bo Peep. As Woody and Bo discuss the old days, they soon start to realize that they're worlds apart when it comes to what they want from life as a toy.