New Blu-Ray Releases: 'A Star Is Born', 'Widows', 'Ralph Breaks The Internet', 'The Little Mermaid', 'The Sisters Brothers', 'Robin Hood'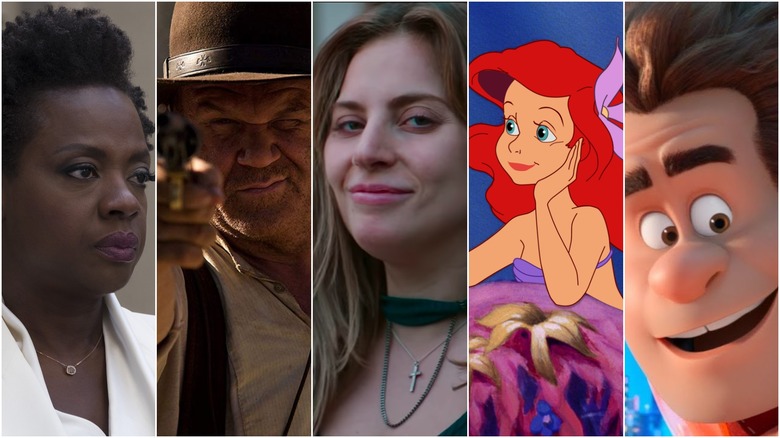 This week's Blu-ray round-up features not one, but two highly underrated films from 2018 – a heist flick and a Western. You'll also find a big Hollywood musical, two very different Disney films, and yet another reboot of Robin Hood. These are the new Blu-ray releases and their special features you should check out this week and beyond.
A Star Is Born
Back in September of 2018, when I saw A Star Is Born at TIFF, there was already a firm narrative in place that this musical remake was going to be the Oscar frontrunner. That Lady Gaga was going to take home Best Actress, Bradley Cooper was going to snag Best Director, and the film was sure to win Best Picture. And you know what? I was fine with that. Do I think A Star Is Born is the best movie of last year? Nope! But it's the type of handsomely mounted movie that usually does win Oscars. More often than not, those films kind of stink. But A Star Is Born is good!
So what a surprise this Oscar season has been. Not only does it seem unlikely that A Star Is Born is going to take home anything other than Best Song, but Bradley Cooper didn't even score a Best Director nom. So it goes. But enough talk about awards. A Star Is Born works exceedingly well, especially for being a remake of a remake of a remake. Cooper's direction is a bit too reliant on medium-shots, but the first-time filmmaker does a great job capturing the electric energy of a live concert. He turns in the best performances of his career, too, as sloppy drunk musician Jackson Maine. One night, by chance (or fate), Jackson encounters Ally (Lady Gaga), and is blown away by her singing. And rightfully so – just like Lady Gaga herself, Ally can sing. Ms. Gaga is dynamite here – the movie belongs almost entirely to her, and she carries it with grace. You could argue that she's just playing a fictionalized version of herself – but so what? She does it well. A Star Is Born is emotional, romantic, sexy, and highly watchable. Time will be kind to this film, even if the Academy isn't.
Special Features to Note:In addition to music videos and "jam sessions" featuring music moments that didn't make it into the final film, the new Blu-ray release contains a making of featurette that's predictably polished, and totally in awe of both Cooper and Gaga. Here, Cooper says he always wanted to direct, and he felt a love story was something that everyone could relate to. He wanted the film to be authentic, and that's why he wanted Lady Gaga to star, to bring her authenticity (and killer singing voice) to the film. "I met this incredibly open, compassionate, warm, giving person," Cooper says of Gaga, "and I knew the camera was going to...love her." He's right. Cooper talks about how he wanted the film to utilize all of Gaga's strengths. "Everyone already knows she has a voice," says the actor and director Cooper, but he wanted to show that she had acting chops as well. For her part, Gaga is enamored with Cooper's talent as well, and has nothing but praise for his direction. This all makes for a highly pleasant featurette, but don't expect anything too in-depth. It's a shame Cooper didn't opt to record a commentary track for his directorial debut. 
Special Features Include:
Jam Sessions and Rarities
"Baby What You Want Me To Do"
"Midnight Special"
"Is That Alright"
The Road to Stardom: Making A Star is Born
Music Videos
Shallow
Always Remember Us This Way
Look What I Found
I'll Never Love Again
Widows
For reasons that escape me, Widows fizzled. How the hell did that happen? How could a movie this great, with such a killer cast, talented director, and smart screenwriter fail to wow audiences? I just don't understand. But to hell with them – Widows is one of the best films of last year, and it plays even better on Blu-ray. The set-up: a group of women (Viola Davis, Michelle Rodriguez, Elizabeth Debicki) team up to pull of a heist after their criminal husbands are killed. Along the way, they recruit a driver (a scene-stealing Cynthia Erivo). It sounds like the set-up for a traditional heist flick, but director Steve McQueen and co-writer Gillian Flynn have a lot more on their minds. They craft a movie that's both an action thriller and a sharp, smart commentary on current events. Perhaps its this last part that threw audiences. Perhaps audiences were expecting just another heist film. The cast is all doing bang-up work here, particularly Elizabeth Debicki, who towers over everyone, both figuratively and literally (she's really tall, folks).
Special Features to Note:A multi-part making-of featurette offers insight into the production, the locations used, and the type of movie McQueen and company were striving to make. The filmmaker says he wanted to make a movie that was exciting and engaging but also about our time. McQueen also says he was drawn to the original miniseries that inspired the film because it was about characters who achieved things no one thought they could, and as a black person growing in London, he could relate to that. When it came to finding an American location to set the film (the original miniseries is set in the UK), Chicago seemed to be the obvious choice. As McQueen tells it, Chicago was an important and perfect location to deal with race, politics, crime, religion. "Chicago is an epicenter of all of that," says McQueen. McQueen and Flynn hoped to both make an exciting thriller, but also a movie that dealt with real issues. And a movie that showed, in Flynn's words, "What it looks like when women come together and take their own form of power, and what it looks like when female relationships are put together in a professional way."
Special Features Include:
Widows Unmasked: A Chicago Story
Plotting The Heist: The Story
Assembling The Crew: Production
The Scene Of The Crime: Locations
Gallery
The Sisters Brothers
Jacques Audiard's dreamy, melancholy, existential anti-Western The Sisters Brothers was just too weird to bring in audiences, even though it boasted a cast comprised of John C. Reilly, Joaquin Phoenix, Jake Gyllenhaal and Riz Ahmed. Reilly and Phoenix are the Sisters Brothers, a pair of hired guns who couldn't be more different. Phoenix's character is brash, brutal and prone to outbursts. Reilly is more childlike, more curious, less bloodthirsty (not that he has a problem killing anyone). The two get mixed-up in a plot involving a prospector (Ahmed) and a scout (Gyllenhaal), and a secret formula for finding gold. But Audiard isn't particularly interested in the story. Instead, the filmmaker focuses on building a unique, beautiful, often shockingly violent world. The Sisters Brothers is wholly unique, and the perfect film for audiences to finally discover now that it's on Blu-ray.
Special Features to Note:"Making a Modern Day Western" strives to showcase the unconventional Western Audiard made. Audiard reveals he doesn't have a taste for Westerns as a genre in general, and thought of The Sisters Brothers as more of a period piece and a fairy tale. He talks about how he approached the characters as grown men who also act like 12-year-olds, which is a perfect summation of the two gun-toting brothers. John C. Reilly adds that he finds most Western movie characters to be opaque, but what he loved about The Sisters Brothers was the emotional availability of the personas on screen. 
Special Features Include:
Striking Gold: Making a "Modern Day" Western
Q&A Panel
Promotional Featurettes:
Brothers Forever
Wanted Dead or Alive
Gallery
Theatrical Trailer
Ralph Breaks the Internet
The sequel to Wreck-It-Ralph takes a "more is more" approach, throwing so much stuff on the screen that it starts to become overwhelming. At almost a full two hours, this animated sequel is about forty minutes too long, but buried in all of this is an emotional center that makes the film (mostly) worth watching. Video game characters Wreck-It-Ralph and Vanellope are still good friends after the last film, but Vanellope wants change. She's bored with her day-to-day existence, and wants something new. That newness comes in the form of the internet, which is finally set-up in the old arcade the characters reside in. Ralph and Vanellope end up inside the internet, which gives the movie an opportunity to bombard the audiences with product placement (mostly from Disney). This is mostly fun (and yes, the scene with the Disney princesses is great), but it does tend to drag. The real draw here is the relationship between Ralph and Vanellope, specifically the way that Ralph learns to deal with his own insecurities. The first film remains far superior in its simplicity, but fans of bright, shiny mayhem will still get a kick out of this.
Special Features to Note:"Surfing for Easter Eggs" is devoted to easter eggs (of course), which points out the many, many, many hidden (and not so hidden) references peppered throughout the film. For instance: you can see Maui's fish hook from Moana on the eBay floor. The mug that the arcade owner is drinking out of is the same mug used by the Sloth from Zootopia. And so on. "How We Broke the Internet" is a making-of featurette that goes through the inspiration for the film – Ralph is an insecure guy, and the internet is the worst place for insecurities). While the friendship between Ralph and Vanellope established in the first film was sweet, the creators felt the character had a lot more room to grow beyond just that friendship. There's also a focus on all the technical details that went into creating an animated film of this nature. The filmmakers actually went to the location where most of the internet is housed for inspiration, which is kind of mind-blowing. In addition to all of this, there are a series of animated at videos Disney specifically created for the movie, inspired by the time-honored tradition of watching funny cat videos on YouTube. This is the best feature on the entire disc – it's better than the movie itself, even.
Special Features Include:
How We Broke the Internet –Go behind the scenes at Walt Disney Animation Studios to get an in-depth look at how the filmmakers brought a world to life that billions of people visit every day but never actually see – the internet. Take a front-row seat as the team reveals the inspirations for the story and what it took to bring it to the screen. Discover all that went into developing the characters of the film including netizens like KnowsMore as well as characters like Double Dan. See the lengths the team took to create the car chase scenes in Slaughter Race and much, much more.
Surfing for Easter Eggs – Surf the web for the near-countless Easter Eggs, inside jokes and references hidden throughout the movie.
The Music of Ralph Breaks the Internet – Take a look at the music of Ralph Breaks the Internet with appearances by Imagine Dragons, Julia Michaels, Alan Menken, Sarah Silverman and more.
Deleted Scenes – Five deleted scenes with intros from directors Rich Moore and Phil Johnston. Scenes include Into the Internet, Opposites, Domestic Hell, Bubble of One & Recruiting "Grandma."
BuzzzTube Cats – Many videos were created by the animators to fill the screens of the Internet world...and lots of them are of cats! Check out the BuzzzTube to watch this hilarious cat compilation.
Music Videos - "Zero" by Imagine Dragons and "In This Place" by Julia Michaels.
The Little Mermaid
The Little Mermaid is the film that kicked-off the Disney Renaissance – the period when the House of Mouse finally got their act together after pumping out a slew of duds. When people look back at the Renaissance, there's a good reason they start with this movie: it's incredible. The Little Mermaid really does hold up, carrying just as much power as it did when it swam into theaters in 1989. The animation – hand-drawn, and gorgeous – is vibrant and full of life. The songs, by Alan Menken and Howard Ashman, are bursting with emotion. This is a classic – and with good reason. Princess Ariel wants nothing more than to leave her underwater kingdom and live on land, especially when she spots a handsome young prince. To get what she wants, Ariel strikes a deal with the devil – in the form of sea witch Ursula. What could go wrong? If you haven't seen The Little Mermaid since the very early '90s (like me), you owe it to yourself to pick this new 4K Blu-ray release up. You won't regret it, and you'll have all the songs stuck in your head for a week.
Special Features to Note:Most of the features included on this new 4K Blu are vintage, but still worthwhile. The best consists of grainy video footage of the cast recording their lines. It's jarring to watch, but also remarkable (and highly entertaining). The new featurette "Alan Menken & the Leading Ladies" features Menken and Jodi Benson, who voiced Ariel in the film, gathered together with several other Disney voice actresses: Paige O'Hara (Belle from Beauty and the Beast), Judy Kuhn (Pocahontas Singing Voice from Pocahontas), Lillias White (Calliope from Hercules) and Donna Murphy (Mother Gothel from Tangled). They all reminisce about their past roles and their work with Menken. And yes, they sing. 
Special Features Include:
Sing-Along Mode – Sing along to the movie in this  sing-along version of the film.
Alan Menken & the Leading Ladies Song – From the voice of a mermaid to the tunes of a muse, the music of Alan Menken has scored the soundtrack for some of Disney's most iconic leading ladies. Join Alan, Jodi Benson (Ariel), Paige O'Hara (Belle), Judy Kuhn (Pocahontas Singing Voice), Lillias White (Calliope) and Donna Murphy (Mother Gothel) as we celebrate the music of their films in honor of the one that started it all ... "The Little Mermaid."  In this discussion, the ladies will share their memories of musically creating their characters with Alan, discuss what it means to be part of the Disney Princess/leading lady legacy and create new memories as they sing with Alan around a baby grand piano.
"What I Want From You...Is YOUR VOICE" – Enter the recording studio and get an inside look at the cast of "The Little Mermaid" in their original recording sessions.
Stories From Walt's Office – Gadgets & Gizmos – Like Ariel, Walt Disney was a collector of many different things from miniatures to early mechanical characters that inspired the invention of audio-animatronics. We take a look at some the collections that Walt kept in his office in the third episode of this series.
#TreasuresUntold – Join Ruby Rose Turner and Olivia Sanabia from the Disney Channel Original Series "Coop and Cami Ask the World" as they take a deep dive to explore some hidden treasures and fun facts about Disney's "The Little Mermaid."
DCapella "Part of Your World" Music Video
Classic Bonus Features – revisit four exciting bonus features from previous releases including:
Deleted Character: Harold The Merman
Under The Scene: The Art Of Live Action Reference
Howard's Lecture
Audio Commentary With Ron Clements, John Musker and Alan Menken
Robin Hood
Hey, a Robin Hood movie! They haven't made one of those in...eight years. The new Robin Hood, which stars Taron Egerton as the legendary outlaw, flopped at the box office and received dreadful reviews. But it is really that bad? I'll say this: it's never boring, so that's something. This take on the story, courtesy of director Otto Bathurst, is highly strange. For reasons that I still can't quite put my finger on, the movie blends the past, present, and future, creating a highly inaccurate historical landscape in which people fire bow and arrows like machine guns, and characters wear cool leather jackets that look like they were purchased at H&M. There's also some awkwardly shoe-horned stuff about politics that doesn't quite work. And oh yeah, the movie heavily rips off both Batman Begins and The Dark Knight (it even ends with a previously good character having half his face scarred and turned into a villain). But despite all this foolishness...Robin Hood can be entertaining. The action is fun, and professional movie bad guy Ben Mendelsohn gloriously hams it up as the Sheriff of Nottingham. If you watch this, I promise you won't loathe it. But don't expect it to become your new favorite Robin Hood, either.
Special Features to Note:This Blu-ray release comes with a seven part documentary, clocking in at over an hour, which just goes to show you the home video world is weird. Films that I consider to be modern classics end up with quick 10-minute featurettes and nothing more, while Robin Hood gets an in-depth making of doc. Go figure. Here, the makers of the movie talk about how they felt there was "something about the story that hadn't been told" in films before. Everyone interviewed here talks about how different, and original, and new the attempt to tell this story was. We get lots of talk about counter-culture, and about how the actions of the characters are rooted in politics, which is something most previous Robin Hood films neglected to delve int. There's also a focus on the action, and the attempt to make it "modern" – i.e., bow and arrows that fire like machine guns. This leads into a fascinating look at how the archery was done (mostly) practically, via speed shooting, allowing Egerton to fire several bows at rapid succession. I'll admit it: it looks cool.
Special Features Include:
"Outlaws and Auteurs: Reshaping Robin Hood" (7-Part Documentary)
Outtakes
Deleted Scenes