Halsey Hosts An Average 'Saturday Night Live' That Doesn't Rely On The Usual Tropes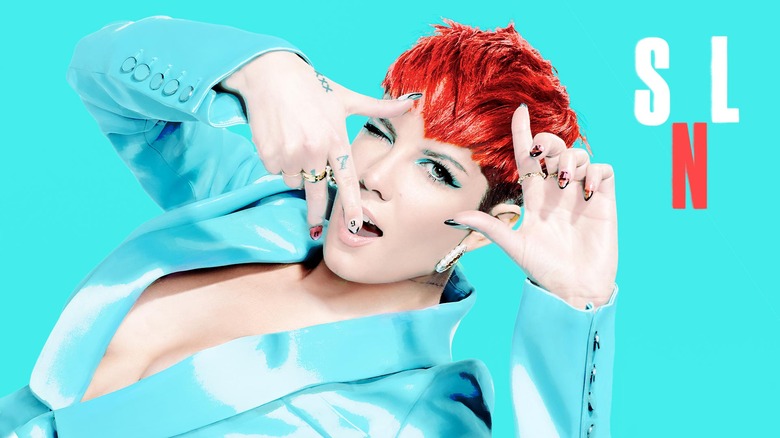 This weekend brought one of those rare instances where the host of Saturday Night Live also doubles as musical guest. Chart-topping singer Halsey joined the ranks of Justin Timberlake, Paul Simon, Britney Spears, Lady Gaga, Miley Cyrus and more with her hosting debut this weekend, where she also performed two songs. Unfortunately, the show around her didn't really let her break out too much as a commendable comedic presence, but the episode wasn't entirely a wash either.
So let's dive into the best and worst sketches of the Halsey hosted Saturday Night Live.
Black History Presentation
First up, the black cast members of Saturday Night Live took the time to give a heartfelt tribute to the long history of black performers who have been part of the legacy of the late night sketch show. It's touching, relevant and passionate.
The Best
State Meeting – Virginia governor Ralph Northam is in hot water for an old yearbook photo where he appeared in blackface, and the state's Attorney General Mark Herring also admitted to wearing blackface once too. So of course the state government needed to have a meeting to determine whether or not anyone in the administration had made the same mistake in the past, and boy, the results were not encouraging. But this presentation of totally clueless racism was absolutely hilarious.
Riverdale – Since this sketch was about Riverdale, right off the bat I was worried it would be something that didn't register with me at all. But you can enjoy this sketch without knowing anything about The CW series, because the laughs come from a character who would have worked on any show needing an extra as a corpse. Pete Davidson does a fine job in this rare instance playing a character where he doesn't break like he usually does. Furthermore, he's hilarious as this over eager extra who knows way too much about how corpses behave in a morgue.
Parents Call – This is one of the sketches that really allowed Halsey to play a bit more of a character than just a normal woman, and she made for a solid suburban mom. But it's Beck Bennett who steals the sketch as a loud, quickly frustrated father who had his legs shattered in a golf kart accident. Everyone has had a conversation with their parents like this from time to time, and it's just nice to know you're not alone. This one had some technical gaffes both from the cast and camera work, but it wasn't enough to ruin this one for me.
The Average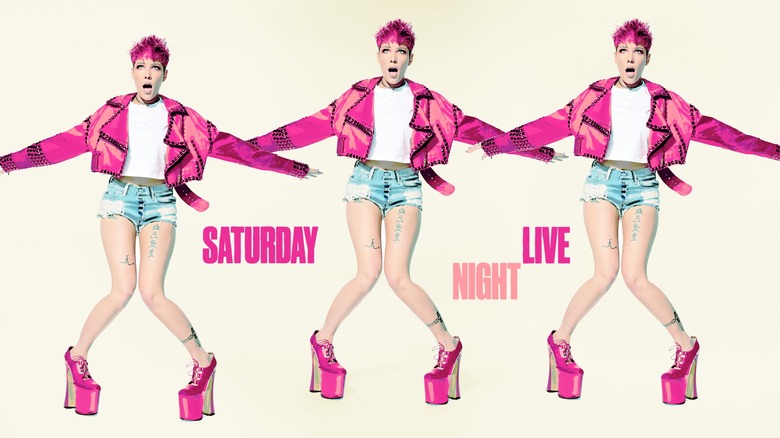 Valentine's Song – Music video sketches can be hit or miss, but this one came close to feeling on par with some of the great music videos of the past by The Lonely Island. In fact, this veers into the territory of "(Do It On My) Twin Bed" thanks to Halsey, Aidy Bryan and Kate McKinnon all giving their Valentine's Day woes about having their romance ruined by their mother, boss and kids. It doesn't quite become great, but it's still a very amusing song.
Maurice – Kenan Thompson saves a sketch from what otherwise would have been much more bland and uninspired. The nonchalant approach he has to being a gay cam performer making thousands of dollars is a simple premise, and even though it never reaches the level of being uproarious, it landed some good laughs.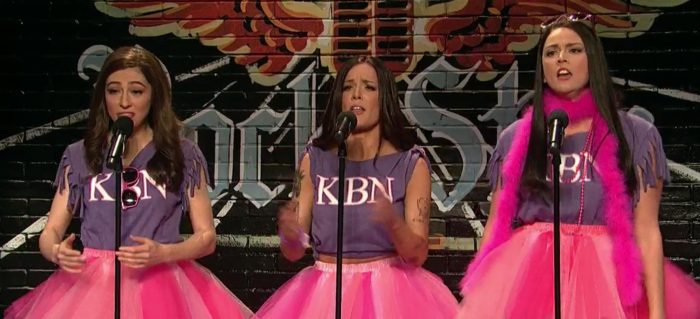 Sorority Karaoke – This sketch doesn't appear to be online due to the song "What's Up" by 4 Non Blondes playing throughout, which is a shame because it's another decent bit from the night. Though it does repeat a similar formula we've seen before (featuring a group of guys in a bar singing along to a song and sharing dark, inappropriate memories), the sorority scavenger hunt angle did spice it up a bit. However, I thought it kind of fizzled out in the end rather than coming to a proper conclusion, which can be an SNL trademark.
Women of Congress – What if the strong women of Congress were given their own Charlie's Angels style show? It might go something like this. Unfortunately, the high number of "characters" means this sketch isn't much more than an opening credits sequence with one scene from the proposed spoof show. Granted, it's great seeing all these women playing these parts, but I think this could have been a lot funnier in the end.
The Worst
Them Trumps – Imagining Donald Trump as a black man who doesn't get away with everything that Trump gets away with was a weak premise to begin with, and it doesn't get any better here. Not only is it shorter, but it's not even as funny as the first iteration of this sketch, which already wasn't great. Not even Kenan Thompson can make this better.
Meet the Press – While the media certainly deserves to be skewered endlessly for their coverage of this Jeff Bezos dick pic blackmail scandal, this was not the best way to do it. Though it was nice to get a version of Meet the Press that didn't focus on any of the stupid antics of Donald Trump,
Weekend Update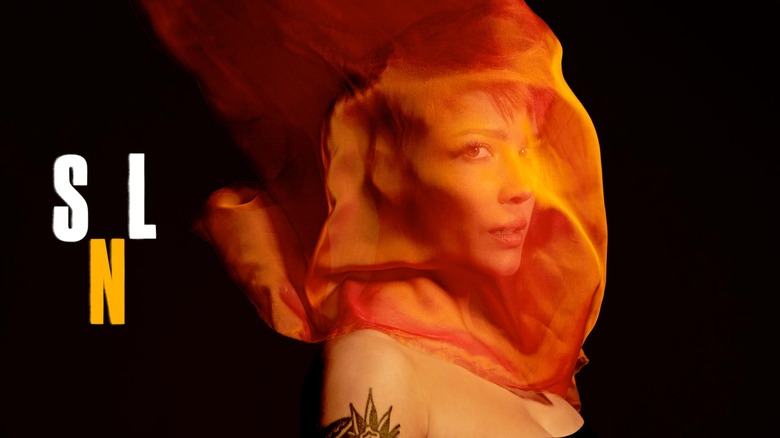 This was one of the best editions of Weekend Update in a long time. Not only was the back and forth between Colin Jost and Michael Che fast-paced and playful, but the way both of them kept dunking on Governor Northam was laugh out loud hilarious. That complete dope of a politician deserves to get skewered left and right for his stupidity and poor handling of this blackface scandal, let alone the blackface act itself.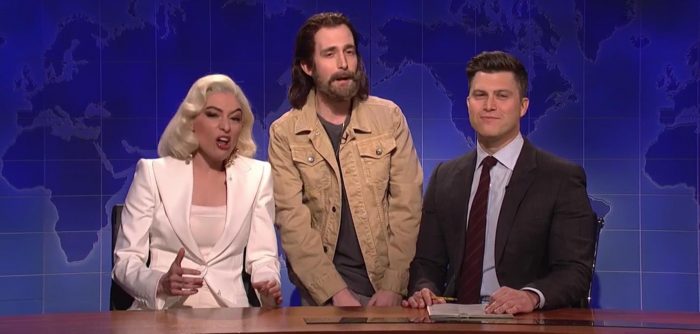 Melissa Villaseñor's Grammy Picks – Here's another sketch that didn't make it online due to the song rights for "Shallow" by Lady Gaga and Bradley Cooper (or Ally and Jackson Maine) from A Star Is Born being performed. This Grammy bit was clearly just an excuse for Melissa Villaseñor to do her impressive Lady Gaga impression, but wasn't there anyone better than Kyle Mooney to play Jackson Maine? Surely, Beck Bennett would have been better in that role.
Nico Slobkin and Brie Bacardi – I wasn't expecting to like this new addition to the Weekend Update roster of characters to be so entertaining. But Mikey Day and Heidi Gardner are perfect as this totally dysfunctional Instagram couple who can't help but fight and freak out on each other before resolving things in the goofiest way possible. Wouldn't mind seeing these two become recurring characters.
Guy Who Just Bought a Boat's Respectful Valentine's Day Tips – Even though Alex Moffat clearly has fun as this character who is like a douchebro version of Kevin Nealon's Mr. Subliminal, but instead of giving subliminal comments, he's always referencing his small penis. It's somewhat amusing because of Moffat's flow, but it's not one of my favorite bits, and it's rarely great.
The Host
Halsey didn't really get a chance to pop like other musical guests pulling double duty as hosts, but she certainly had no trouble fitting in. Even though she was mostly relegated to playing regular characters, she didn't seem nervous and showed some natural comedic talent. It would be nice to bring her back for an episode that actually gives her a little more to do so she can really stretch her legs. Maybe it would be better if she just hosted and didn't have to worry about performing songs too, especially since one of them required her to paint while singing.
The MVP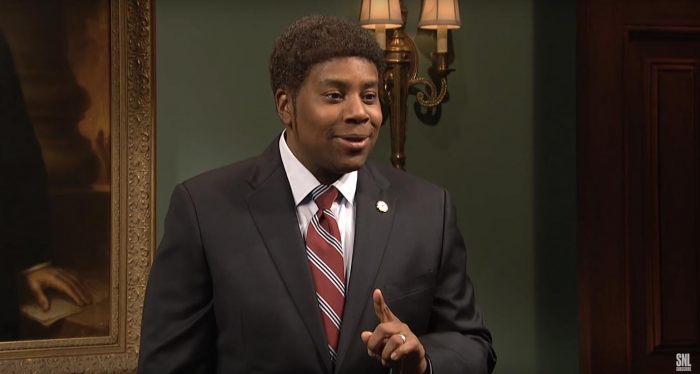 Kenan Thompson – This was clearly a great night for Kenan Thompson. Even in the "Them Trumps" sketch gave him the opportunity to deliver the one single laugh that came from the sketch. But it's his part in the "State Meeting" sketch, not to mention the Black History Presentation that really let Thompson do what he does best. It's really going to be a major loss to SNL whenever he decides to leave the series.
The Final Word
Halsey did the best with what she was given, and she had no problem getting comfortable with the rest of the cast. It would have been nice if she had more to do, but that's likely the fault of the writers for having an episode that was mostly average. At the very least, it was nice to see an episode that was full of so many original sketches instead of the usual game show and talk show premises. It would have been better if the sketches were stronger, but you have to appreciate when you get an episode like this.