Exclusive: 'Altered Carbon' Vinyl Soundtrack Collector's Edition Arriving Next Month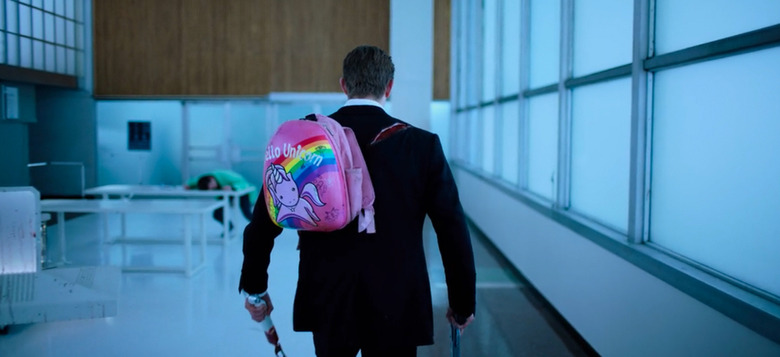 Lakeshore Records will be dropping a a collector's edition vinyl soundtrack to the Netflix sci-fi series Altered Carbon next month, and we have your first look at it. Featuring original music by Jeff Russo, a cover of a White Zombie song, and some eye-catching pink artwork, this is going to be one unique, unusual release. See the Altered Carbon vinyl soundtrack art premiere below.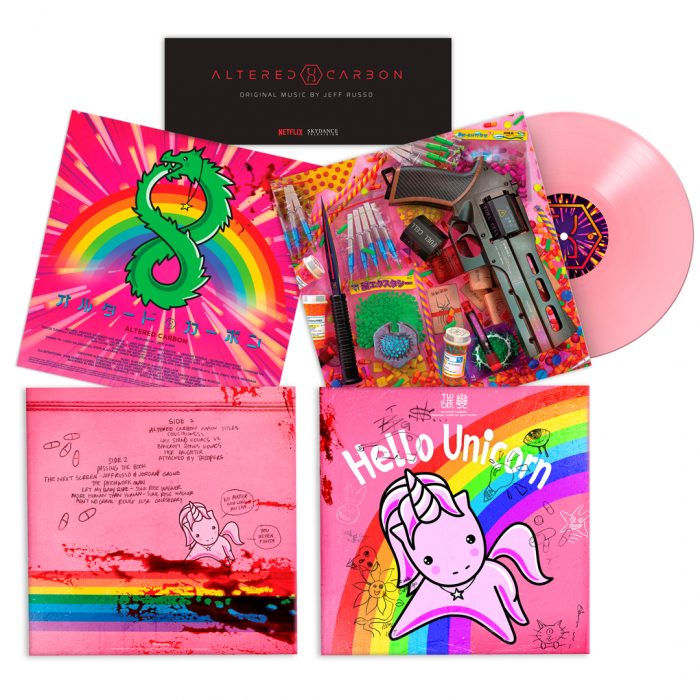 Behold, in all its pink glory! Hello Unicorn, obviously a send-up of Hello Kitty, pops-up early in Altered Carbon when one of the characters uses a backpack featuring the cartoon character to stash a gun. Even if you've never seen the show (which is currently streaming on Netflix), this is neat. The music contained within the grooves of that pink LP comes from Jeff Russo, a prolific composer responsible for music from Fargo, The Night Of,  Star Trek: Discovery, Legion, Snowfall and more. The release also features songs by Jeff Russo & Jordan Gagne, Sune Rose Wagner (Ravonettes) and series star Renée Elise Goldsberry (who was also in an obscure Broadway show called Hamilton; maybe you've heard of it). Also included: cover songs by White Zombie – "More Human Than Human", RL Burnside – "Let My Baby Ride" and Johnny Cash – "Ain't No Grave".
The vinyl will be released Friday Feb 22, 2019. A pre-order link is available here.
And here are the details, including track list:
PINK VINYL LP
Catalogue #: LKS35314LP
UPC: 780163531428
List Price: $26.98
In Store Date: Friday Feb 22, 2019
Altered Carbon is an American dystopian sci-fi cyberpunk tv series created by Laeta Kalogridis and based on the 2002 novel by English author Richard K Morgan, of the same name. The first season, 10 episodes, premiered on Netflix on February 2, 2018. It has been renewed for a 2nd season.
The series takes place over 360 years in the future, with most episodes set in the year 2384, in a futuristic San Francisco, known as Bay City.  In the future, a person's memories and consciousness can be decanted in an alien created disk-shaped device called a cortical stack, which is implanted in the vertebrae at the back of the neck. These "stacks" can be transferred to new bodies after death, this theoretically means anyone can live forever.
Side A: 17 Minutes
Altered Carbon Main Titles 1:40
Last Stand Kovacs V 10:34
Bancroft Shows Kovacs 3:45
Attacked By Troopers. 1:03
Side B:  15 Minutes
The Next Screen – Jeff Russo & Jordan Gagne  2:43
Let My Baby Ride – Sune Rose Wagner 3:47  (RL Burnside cover)
More Human Than Human – Sune Rose Wagner 1:53  (White Zombie cover)
Ain't No Grave – Renée Elise Goldsberry  2:49  (Johnny Cash cover)