'Parks And Recreation' Reruns Heading To Comedy Central Starting In January 2019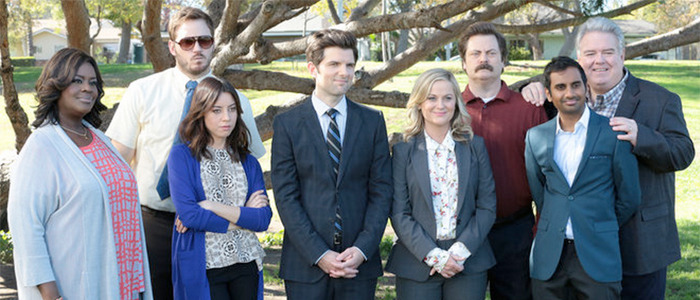 Comedy Central already has reruns of The Office airing all the time, and they've just picked up the syndication rights to the spiritual sister to the mockumentary series that takes place in the historic town of Pawnee, Indiana.
All seven seasons of Parks and Recreation are heading to Comedy Central starting in January of 2019. Just like The Office, the arrival of Parks and Recreation reruns on Comedy Central will be ushered in with an all-day marathon. Find out when you can start catch Parks and Recreation reruns on Comedy Central below.
Comedy Central announced their acquisition of every single episode of Parks and Recreation just before the weekend. The Emmy-winning comedy series from NBC was one of the most beloved shows on the network when it ran from 2009 through 2015, and it's been a staple part of the Netflix library for years now. Fans can now enjoy Parks and Recreation intermittently on Comedy Central once the show premieres on January 21, 2019, which is Martin Luther King Jr. Day.
For those who may not be familiar with Parks and Recreation, the series follows the same mockumentary style of The Office, and it even hails from the show's creator Greg Daniels and producer Michael Schur. Here's the official synopsis for those looking for some extra information:
Parks and Recreation follows Leslie Knope (Amy Poehler, "Saturday Night Live"), a mid-level bureaucrat in the Parks and Recreation Department of Pawnee, Indiana, and her tireless efforts to make her quintessentially American town just a little bit more fun.
In the Pawnee Parks and Recreation Department, Leslie's office mates include Chris Traeger (Rob Lowe, "The West Wing"), a health nut who wants to live to be 150 years old, and Tom Haverford (Aziz Ansari, "Human Giant"), a fashion-obsessed wannabe player whose greatest dream is to own his own nightclub. Leslie's boss, Ron Swanson (Nick Offerman, "Children's Hospital"), hates the very government he works for, and sports one of the most impressive moustaches on primetime television. Rounding out the cast are: Adam Scott (Party Down") as Leslie's husband and former campaign manager, Ben Wyatt; Rashida Jones ("The Office") as her best friend, Ann; Chris Pratt ("Guardians of the Galaxy") as shoeshine boy extraordinaire Andy Dwyer; and Aubrey Plaza ("Funny People") as Andy's wife, April, who doubles as Ron's sullen assistant. Also starring are Retta ("It's Always Sunny in Philadelphia") as the fun-loving Donna Meagle and Jim O'Heir ("Castle") as the department's punching bag, Jerry Gergich.