The 15 Most Beautiful Animated Movies Ever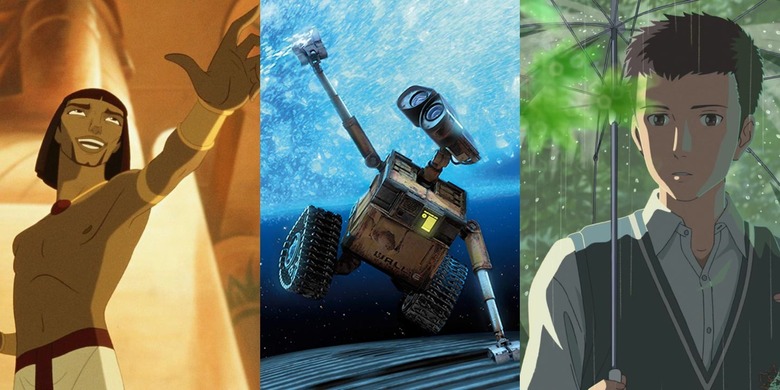 (Welcome to Let's Get Animated!, a column that spotlights the best of film animation. In this edition: the most beautiful animated movies.)
Over the weekend, one of the most imaginative and visually striking animated movies ever made hit theaters. Spider-Man: Into the Spider-Verse is being hailed as a groundbreaking achievement, and a testament to the creative heights that animation can reach. But it's not the first animated movie to push the boundaries of the medium.
Animation so often gets dismissed a "children's genre" that it's often overlooked how damn beautiful these movies can get. Cinema is first and foremost a visual medium, and no other medium can test the limits of the imagination and realize the potential of filmmaking like animation. So in honor of the release of Spider-Man: Into the Spider-Verse, here are the 15 most beautiful animated films ever.
15. The Prince of Egypt
Up until 2001, The Prince of Egypt was the most expensive animated film ever made, only to be eclipsed by Disney and Pixar's CG-animated features. And the results show: This Biblical epic marries traditional animation with computer generated imagery in a dazzling and ambitious film. Over 350 animators from 34 different countries worked on the Biblical tale of Moses and the Israeli peoples' exodus out of Egypt. But it isn't just the scale of The Prince of Egypt that is impressive, it's the sheer artistry: The angular character designs recalling Ancient Egyptian art, the breathtaking action sequences, and the haunting visions of the plagues that descend upon Egypt, all make The Prince of Egypt a stunning feat of animation.
14. Kubo and the Two Strings
Kubo and the Two Strings is a unique blend of clay models, 3D printing, and paper in an ambitious stop-motion animated movie that looks like Japanese origami and ink wash painting comes to life. The 2016 film is not the only visually stunning film to come from the innovative animation studio Laika, which has (almost) singlehandledly kept the stop-motion genre alive while the rest of the industry shifts over to CG animation. But the epic fable of a young one-eyed storyteller named Kubo who embarks on a mission to defeat the Moon King is perhaps the most captivating.
13. Sleeping Beauty
Just look at the backdrops! Those striking backgrounds are painted by artist Eyvind Earle, who designed them to look like medieval unicorn tapestries on display in museums. These works of art, he said, "would fit perfectly with the cartoon medium. They have crisp edges, [and] the planes are not defined very well except by a kind of superimposition for distance rather than the linear perspective." His designs ended up informing the entirety of Sleeping Beauty, with slim silhouettes and bold lines becoming the order of the day. While the characters and action in the foreground of the 1959 film could never match the heights of Earle's intricate backdrops, it resulted in one of the most unique Disney animated movies ever.
12. Song of the Sea
Song of the Sea is a gorgeous Gaelic fairy tale with animation that looks like it came out of an impressionist painting — or a children's storybook. Whatever the case, the picturesque animation style of this 2014 Irish animated fantasy has a timeless feel that carries you gently through the lovely story of a young boy who discovers that his mute little sister is a prophesied selkie who must free supernatural creatures from the curse of a Celtic goddess.
11. Spirited Away
I grappled with which Hayao Miyazaki film to include on this list, as all of them could apply — be it the steampunk splendor of Howl's Moving Castle, the rich landscapes of Princess Mononoke, or even the adorable spherical designs of Ponyo. But none of them can outdo the ecstatic beauty of Spirited Away. The story of a young girl who gets trapped in the spirit world is utterly transporting, chock full of rich imagery and dazzling sequences. But Miyazaki's masterpiece is never afraid to sit back and let the visuals speak for themselves in tender, contemplative scenes that immerse the viewer in the enchanting world that the legendary filmmaker has created.
10. Legends of the Guardians: The Owls of Ga'hoole
I know, I know, you're thinking, "What is this Zack Snyder owl movie doing on here?" Or maybe "Oh my god, I forgot Owl City was on the soundtrack for this totally forgettable movie." And you're right on both counts — except for the fact that this movie is unfairly stunning. Legends of the Guardians: The Owls of Ga'hoole may boast a clunky title and an even clunkier plot, but the 2010 American-Australian animated movie has some of the most breathtaking CG-animated shots in existence. Snyder takes his hyperstylized video game sensibilities and obsessive use of slow-mo and applies it to soaring flight sequences and thrilling battles that will forever make you look at owls differently.
9. Fantasia
Disney's experimental musical film was a feat of animation when it was released in 1940, and remains so today. Pairing several pieces of classical music with animated segments, Fantasia was bold, innovative, and an absolute delight to watch. Over 1,000 artists and technicians were used in the making of Fantasia, who color-keyed segments scene by scene so the colors in a single shot would harmonize between proceeding and following ones. The sequel, Fantasia 2000, is just as beautiful as the original, but credit should be given to this monumental film.
8. WALL-E
We can't get through this list without mentioning Pixar. The animation giant practically pioneered CG animation as an art form, delivering classics like Toy Story and Finding Nemo. But Pixar's most stunning achievement to date is still its post-apocalyptic robotic romance, WALL-E. The sci-fi film stands apart not just for its long stretches of silence, but in its realistic camera movements — Pixar hired the Oscar-winning cinematographer of Blade Runner 2049 and every Coen Brothers movie Roger Deakins as a visual consultant for the film, and his influence is keenly felt. The animators went out of their way to establish a level of visual realism by mimicking the features of a physical camera, including tricks like barrel distortion, camera depth, and lens aberration. And let's not forget the absolute beauty of the fire extinguisher dance.
7. The Adventures of Prince Achmed
The oldest surviving animated film in history was a pillar of cinematic history and an utterly gorgeous one at that. The 1926 German animated fairy tale by animation legend Lotte Reiniger predates Snow White and the Seven Dwarfs by 10 years and pioneered silhouette animation, a technique invented by Reiniger that involves manipulating cardboard cutouts and thin sheets of lead under a camera. Loosely based on stories from One Thousand and One Nights, Prince Achmed follows a dashing hero on a flying horse who braves all manner of obstacles to win a princess' heart. It's a mesmerizing and seductive fairy tale told through dainty, intricate silhouettes.
6. The Tale of Princess Kaguya
Drawn to resemble free-hand scribbles and Japanese woodblock prints, The Tale of Princess Kaguya is a pinnacle of animation and one of the most divine films to come out of Studio Ghibli's impressive catalogue. Director Isao Takahata pays homage to Japanese folkore in a story of a rural couple who find a tiny girl in a bamboo stalk and raise her into a beautiful noblewoman. It's a powerful and heartbreaking film that is as ephemeral as its wild and fluid animation style that feels like a watercolor painting come to life.
5. Fantastic Mr. Fox
Wes Anderson's first stab at animation is still his best. Based on Roald Dahl's children's book of the same name, Fantastic Mr. Fox made a great argument that our most symmetrical auteur was meant to work in animation this entire time. Animated at just 12 frames per second, Fantastic Mr. Fox 's stop-motion animation proved to be the perfect outlet for Anderson's meticulous idiosyncrasies and his fantastical visual style. That odd blend of childlike wonder and adult humor that pervades all his films fell comfortably into place with Fantastic Mr. Fox's story of a trickster fox who returns to a life of crime for one last disastrous job.
4. Akira
Katsuhiro Otomo's masterpiece of animation looks, acts, and breathes like a live-action film, but goes places that live-action could never dream. Every frame of this 1988 anime film is painstakingly animated, right down to the vibrant colors, the intricate backgrounds, and the groundbreaking depiction of light. Animated strictly through traditional cel animation, Akira manages to look both painfully realistic and eerily uncanny at the same time. You know how Pixar was lauded for mimicking live-action camera movements with WALL-E? Otomo does all that and more with Akira, and by hand. The bright lights of Neo-Tokyo pulsate and glow, while the city itself brims with such life that it feels like it could emerge from the screen. And that's not even getting to the film's heart-pounding bike sequences and disturbing shocks of body horror, all barreling toward a weird, metaphysical finale.
3. Waltz With Bashir
Waltz With Bashir is perhaps the most unique entry in this list, boasting an animation style that was created solely for this film alone. A documentary about the experiences of a 19-year-old IDF infantry soldier during the Lebanon War, Waltz With Bashir is animated through a combination of Adobe Flash cutouts and classic animation in a unique style invented by Yoni Goodman at the Bridgit Folman Film Gang studio in Israel. Not to be confused with rotoscoping — though the animation's uncanny realism and bold lines would make that an easy mistake to make — it's not dissimilar to the cut-outs used in The Adventures of Prince Achmed, but done in a much more painstaking manner: each animated hand drawn puppet is sliced into hundreds of pieces and moved in relation to one another to create the illusion of movement. All that hard work paid off, resulting in a stark, surrealistic animated film that feels like a cross between a comic book and the manifestation of memory.
2. Paprika
I don't think I've seen anything as imaginative, anything as bold, and as weird as Satoshi Kon's Paprika. Sure, live-action films have tried to imitate its premise to lesser effect — you can see its influence in Inception and other mind-bending films that try to capture the effect of dreams. But nothing beats this epoch of Japanese animation (well, apart from the No. 1 choice). Kon plays with our perceptions in an elusive and almost invisible way in his final feature film. In his more grounded, but still surreal, dramas you can see it: his reality-distorting editing in Perfect Blue, his quick inserts and cuts in Millennium Actress. Kon is firing on all cylinders with 2006's Paprika, which takes his envelope-pushing directorial flourishes and applies them to the world of dreams in a story following psychologist who enters her patients' dreams. It's a simple premise that begets a rather convoluted story, but in the end, this cerebral oddity of a film is something better experienced than explained.
1. The Garden of Words
"In the mornings, in the moment I woke up, I realized I was praying for rain." Makoto Shinkai, the director behind last year's global mega-hit Your Name, has become known for layering metaphysical plots onto photorealistic renderings of modern-day Tokyo. Together with his studio CoMix Wave Films, Shinkai brings to magical, ethereal life the otherwise unremarkable settings of Tokyo's streets — usually under a hazy layer of rain, snow, cherry blossoms, or a combination of all three. But boy, no one can animate rain like Shinkai. Especially in The Garden of Words, the anime filmmaker's 2013 short film that follows a teenage boy who keeps running into a mysterious 20-something woman at the Shinjuku Gyoen National Garden where they both take shelter on rainy mornings. Using a combination of hand-drawn animation, rotoscoping and computer animation, Shinkai expands this barebones premise into a tender, atmospheric experience that envelops the viewer and turns mundane scenery into pure visual poetry.