Mailbag: Is Star Wars Aging Up? Christmas Movies, TV Show Recommendations, Release Date Calendars & More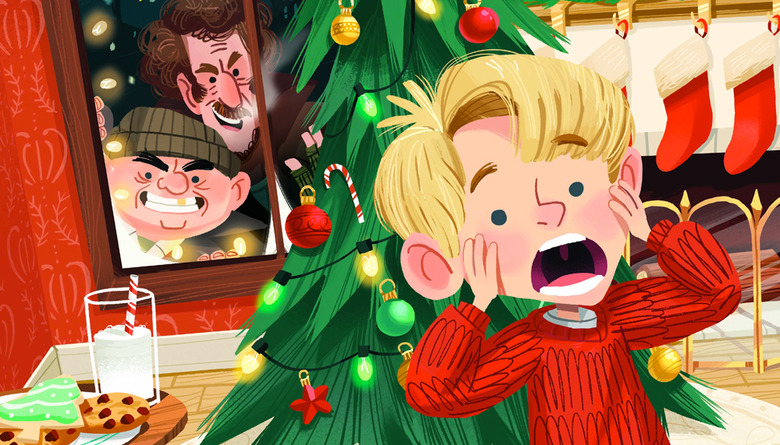 On the December 13, 2018 episode of /Film Daily, /Film editor in chief Peter Sciretta is joined by /Film managing editor Jacob Hall, senior writer Ben Pearson and writer Hoai-Tran Bui to answer questions in the Mail Bag.You can subscribe to /Film Daily on iTunes, Google Play, Overcast, Spotify and all the popular podcast apps (here is the RSS URL if you need it).
Opening Banter: Peter plug's his feature today: Keto at Disneyland: How to Eat Low Carb at Walt's Original Magic KingdomFeedback:
Mike from Yonkers writes in "Hey Slashfilm crew,  
After seeing the officially announced cast for "The Mandalorian", I have to say I'm quite surprised at how old it is. It's the first live-action Star Wars property to not have anyone in their principle cast younger than 35. I did some math and the average age of the cast is 54 years old, much higher than any of Disney's SW films (TFA and Solo are the youngest at 38, TLJ and Episode IX at 41, and Rogue One at 44). What do you think this says about the show itself?
Do you think some of the oldest cast members have long contracts? I'm not trying to imply anything morbid, just wondering if someone of an older age wants to be tied up with a multi-season show for a number of years.   I'm really excited for what this could mean. With Dave Filoni's involvement, I've already wondered if we'd see the return of some of his Clone Wars characters. Maybe some of these actors will portray older versions of them.  Thanks again for a great podcast! Mike from Yonkers Note: For the averages, I only used the ages of non-returning actors. For example, Daisy Ridley was only used for TFA when she was introduced and not TLJ and IX."
Saul writes in "Hey guys,   Just heard the episode where you discuss Netflix's new Instant Replay feature.
I have had first hand experience with this feature. My daughter has been watching Moana or Coco about 10 times a day and there are times where she wants to rewind to listen to a song all over. About a few days ago I noticed that little box pop up that says "Replay Song" and have since shown my daughter that if she wants to listen to a song all over she can just press the enter button once it pops up. Needless to say it's a lifesaver. I haven't seen this feature pop up on any other movie or TV show. I don't know if it's just for the kids movie musicals, I for one am ok if it's just for that.
  Thanks for the show."
We asked for observations about the
Avengers: Endgame
trailer. Brian writes in "The way the title reveals itself, with the Avengers A bringing its own shattered pieces back together, almost like an explosion played in reverse, suggests to me that reversing time, or time travel in some way, is definitely a component of the story."
Jason from Kuala Lumpur, Malaysia writes in "Hi Peter and Slash Film crew,  I really enjoy listening to the podcast everyday, and thank you for all the awesome reviews, news, and coverage.   I know I am many days late on sending in my thoughts around the Avengers 4 movie title but here I am.
End Game as a title is fine, good, reflects the storyline and desperation and etc. However, I feel what probably will resonate best is Avengers: Assemble.   In all 3 Avengers films, there has not been any "Avengers, assemble!" roll call by any character except for the very close one in Age of Ultron by Cap, but cut right at the moment he was about to say "assemble".   Calling it Avengers Assemble gives out that positive vibe and bound to resonate with fans who have been wanting to hear that out loud for the longest time. It is also literally assembling all the heroes for a final assault, and assembling both generations of Avengers and handing over the baton.
  Yeah, just my thought.   Thank you!"
Steve B writes in in response to our Christmas movie argument: "Most films are not just one genre. '21 Jump Street' is a comedy, but also an action movie. Shaun Of The Dead is a comedy but also a horror movie.  In that vein, I say Die Hard is an Action film, a Heist film, and also a Christmas movie. The whole reason John McClane is in Los Angeles in the first place is to see his family for Christmas. Argyle is playing 'Christmas' music in the limo. They debate cutting power to a portion of the city because it is Christmas. The thieves did not pick that day at random. Christmas is a plot point to the film.  It COULD have been written for John to have come to L.A. to see his family for Holly's birthday, or for his kid's school recital, but then it loses something for the plot. Could 'Planes, Trains and Automobiles' work as a Christmas movie instead of Thanksgiving? Yes, but it would lose something that Thanksgiving gives to that movie. If the genre (including a holiday) has a plot point to the film, and taking it away lessens the film, then I THINK it's reasonable to count it as part of the film's description.  For these reasons, I think that Die Hard is a Christmas movie. If others feel it isn't, I'm cool with that, as long as they are OK with me thinking that it is."
And a couple weeks ago Brad talked about being at Top Golf and I was sad they don't have one in Southern California. Sean B writes in to inform me that
"Topgolf is coming to LA."
Previously Peter asked for some tv recommendations, shows with a few seasons that are serialized and great that he may not have seen. We read some feedback in a previous mailbag, but have received a couple more since:
Shaneez (last time you weren't sure if I was a he or a she when you mentioned me. I'm a He) from Los Angeles writes in "Happy Thanksgiving Peter! Great fan of the pod.  I know I'm a little late but here you go.
Definitely The Expanse. I wrote about it in the past to you too and you were kind enough to read it out in the pod. Get past the 2 episodes you watched before and it's really good.   Also – I know you want serialized, binge worthy and NOT some slow burn. Look no further than The 100. Yes , I know what you're thinking. I hate CW shows too. They are too campy. And don't get me wrong The 100 is kinda there as well, but good Lord is it super super binge worthy. Esp the first two seasons. I know you long for the days of Lost and you love Survivor. This is like a mash up of both and it's highly addictive. The later seasons lose some quality but I still can't stop watching it.   And Justified is another great show. Unfortunately the first season is episodic with a greater story arc in the background but the later seasons are just too good.
That's all for now. Wish you well for this holiday season."
Michael from Kansas City writes in "I swear I don't work for HBO... but especially
in light of the sad news about Ricky Jay's passing, I feel compelled to kindly yell at you again about watching Deadwood.  He's a minor player in the cast but for fans it's a treat to see him as a games dealer, nodding to his appearance in Mamet's "House of Games" as well as his magic and card handling persona in general.
"
In The Mail Bag:
Albert Jackson in Texas writes in "On dec 10th podcast said best brisket besides in Austin....  Curious name of bbq joint in Austin that had best brisket ?"
Peter: Franklin's, but you can't beat the experience of the Salt Lick
Jacob: Franklin's is the best and there is nothing like it. Sorry.
Ryan in San Diego writes in "Love the podcast  
Maybe you guys will be able to help me with this, I have a hard time keeping track of when new movies release, and it seems like all the sites that keep track of new releases always post a score of some sort.  I consider critic and fan rankings to all be spoilers. I like to go into movies with a blank slate. I need help finding an app or a website with will show a calendar of upcoming movie releases. That just has release date, and the movie poster, maybe with the option to watch a preview for the movies I have never heard of.  Without any rankings/ratings. If I wanted to see a movie and it has a really low score, i might skip it for another movie, so I would rather just not know what others think.
Ideally a way to thumbs up and thumbs down to make a personal list would be awesome.  I have and love the AMC A-List, so I am willing to take a chance on what others may not have enjoyed.  When I go see a Dwayne Johnson movie, I'm not expecting anything amazing, just an enjoyable couple of hours.  Thank you"
Peter: BoxOfficeMojo release calendar
Jacob: I, too, use Box Office Mojo whenever I plan/schedule /Film stories.
Ben:
HT:
Anthony W writes in "Hello Slashfilm Daily Crew,  I have a question regarding the general attitude toward movie remakes. I just don't understand the general cynicism towards announced projects.    
I work in the theatre world, where we regularly see multiple productions and revivals of shows. We will go even go see the same exact production if there is an interesting actor change, just to to see their interpretation of the role. Or a revival, with the same exact script but a different, updated take. This includes the shows that have been captured on film. Those often spur me to go see different productions to see how people interpret them.   Now of course, I understand they are different forms of entertainment. But it seems like getting a new version of a favorite story should be fairly similar. Is it the Hollywood influence or something I am just not seeing?
 Thank you so much, I love the podcast!"
Other articles mentioned:
All the other stuff you need to know:
You can find more about all the stories we mentioned on today's show at slashfilm.com, and linked inside the show notes.
/Film Daily is published every weekday, bringing you the most exciting news from the world of movies and television as well as deeper dives into the great features from slashfilm.com.
You can subscribe to /Film Daily on
iTunes
,
Google Play
,
Overcast
,
Spotify
and all the popular podcast apps (
RSS
).
Send your feedback, questions, comments and concerns to us at
peter@slashfilm.com
. Please leave your name and general geographic location in case we mention the e-mail on the air.
Please rate and review the podcast on iTunes, tell your friends and spread the word!
Thanks to Sam Hume for our logo.