POTD: The Millennium Falcon Has Been Completed At 'Star Wars: Galaxy's Edge'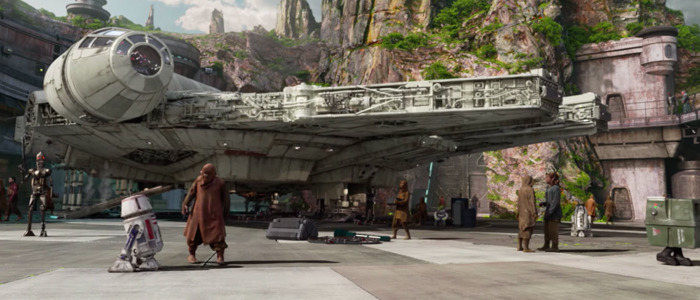 Not too long ago, a bunch of new details on the upcoming Disney Parks attraction Star Wars: Galaxy's Edge emerged, revealing some new information on the attractions that will populate the meticulously crafted new par of Disneyland and eventually Disney World. Now we have another glimpse at all the hard work that's been going on behind the scenes thanks to a new photo from inside the park showing the life-size Millennium Falcon that will be on display outside the ride that allows attendees to pilot it.
Check out the Star Wars Galaxy's Edge Millennium Falcon below.
This first look at the Millennium Falcon was posted through the official Disneyland Twitter account: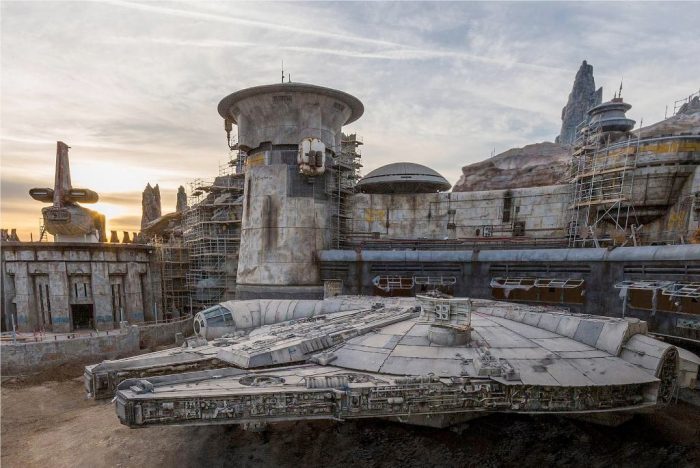 As you can see, even though the Millennium Falcon is done, the rest of the exterior surrounding it is still under construction. There are scaffoldings all over the place as Disneyland continues to build the rest of the new planet Batuu.
With the kind of numbers that are expected to swarm Disneyland when Star Wars: Galaxy's Edge, there will likely be a lot of people who only get to see this exterior of the Millennium Falcon. But honestly, just standing outside a life-size version of my favorite ship in the history of sci-fi would be a treat in itself. Thankfully, this Millennium Falcon will offer much more than that.
As we recently learned, there will be 200 cockpit controls in the Millennium Falcon that guests will use to control the ship. In response to their controls, the ride will utilize real-time video rendering technology. You'll be waiting in line for a long time to fly the Millennium Falcon, but the ride will accommodate up to 1,800 people an hour, so it might not be all bad.
Star Wars: Galaxy's Edge opens next summer.