Jason Momoa Returns As Khal Drogo And Really Hams It Up On 'Saturday Night Live'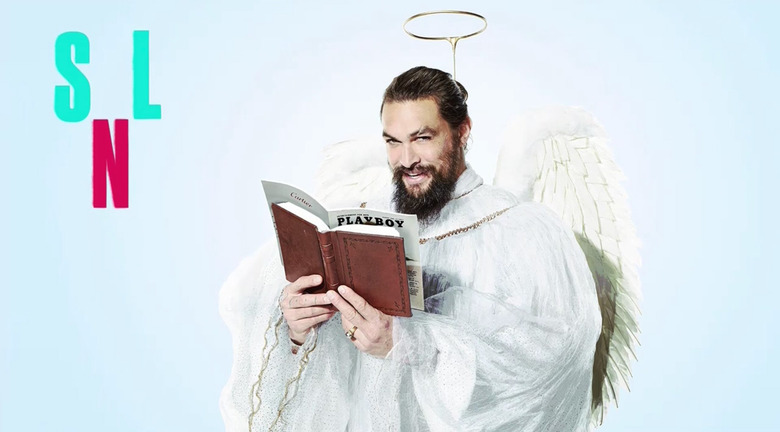 Aquaman is coming to theaters later this month, so there's no better time for Jason Momoa to make his hosting debut on Saturday Night Live. You may not know this, but Jason Momoa is a bit of an SNL nerd, and he was positively giddy with excitement when he walked out on the stage in Studio 8H. Actually he was pretty giddy the week leading up to that moment too.
The result was Jason Momoa giving a hosting turn along the same lines as when Dwayne Johnson returns to SNL, and we ended up with a generally hilarious episode. But if you were hoping for an Aquaman sketch, you'll mostly be disappointed. However, the monologue comes close to giving us an Aquaman sketch. You'll see what we're talking about below.
So let's run through the best and worst sketches of the Jason Momoa hosted Saturday Night Live.
The Best
Elf on the Shelf – The Elf on the Shelf has become a magical Christmas tradition to instill the belief of Santa Claus in kids, but as those kids get older, the elves on the shelves start to see some pretty weird shit. In this case, Jason Momoa is really just exasperated about what his kid is doing now that he's 13, and he's really like a new kid. This is one of those sketches that they'll start playing during the SNL Christmas Special that airs each year.
Day of the Dorks – Man, Jason Momoa channeled John Belushi in this sketch so well, at least if John Belushi was a muscular monster instead of just a loud goofball. In this parody of Revenge of the Nerds, the douchebag fraternity is trying to figure out how to stop The Dorks from beating them in the big Olympiad competition, and Jason Momoa's suggestions as the giant, dimwitted Beef are a little worrisome.
First Impression – Lord knows how many women fainted when they saw the Dadbod version of Jason Momoa. Honestly, that's a big part of why this sketch is so good. It's so hilarious to see Jason Momoa made up as a 50-something father and desperately trying to find his daughter's boyfriend, who has inexplicably started a game of hide and seek as a first impression. It's a weird sketch, but it's damn funny too.
Trump Brothers Bedtime -
The Average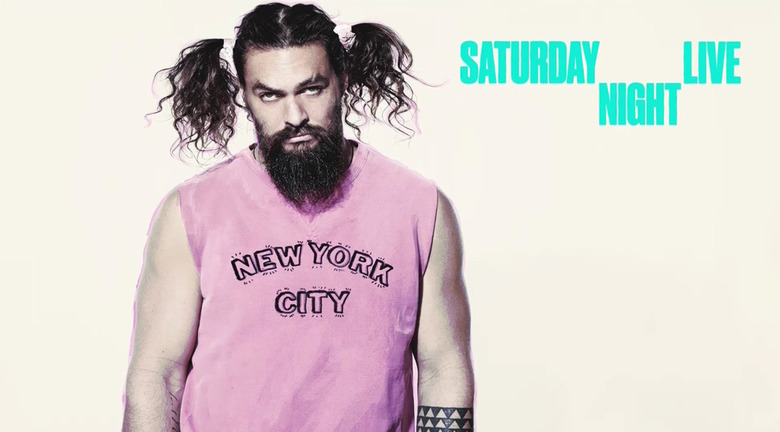 GE Big Boy – When you've got a big man staying home to do the house work while the wives go out to bring home the bacon, you need some heavy duty appliances to get the job done. That's where GE's Big Boy line comes into play, and these appliances are heavy duty and inconvenient. It's just a good commercial parody.
Rudolph's Big Night – Santa's reindeer were pretty huge douchebags to Rudolph thanks to his red nose. But what happens when Santa gives his the big job of leading his sleigh? Well, Rudolph gets revenge by getting in the face of all those other reindeer. I can't believe it's taken this long for a sketch like this to happen. It's also the perfect role for Pete Davidson to take on, and it might have been a little therapeutic as he likely pictured all those who keep harassing him about Ariana Grande while yelling at his cast members.
Khal Drogo's Ghost Dojo – Having Jason Momoa as Khal Drogo from Game of Thrones should be something to get excited about. However, this sketch was a little messy and disjointed. It felt like a normal talk show at first, but then it turned into Jerry Springer, and then it took a jab at AMC's post-show programming. Everything just felt all over the place, but there are some solid jokes for Game of Thrones fans, even if there are a few too many line flubs.
The Worst
An Extra Christmas Carol – There are only so many parodies of A Christmas Carol that can be done, and most of them aren't very good. Despite the efforts of a flamboyant and fun Jason Momoa, this one just didn't do anything for me. No matter how good that robe looks and how mesmerizing Jason Momoa's dancing is, the sketch didn't work.
Gemma Sleigh Ride – Despite Jason Momoa's enthusiasm and Cecily Strong's always perfect rendition of this character, this was the worst iteration of this sketch yet. None of the jokes land, and it just feels like a waste of Jason Momoa's comedic energy.
Them Trumps – This sketch puts a lot of production value and set up for what amounts to only a couple real jokes. While the perfect recreation of the style of Empire adds something to the proceedings, the punchline is just that if Donald Trump were black, he'd be in jail already. That's some poignant social commentary from SNL, but unfortunately, the sketch around it isn't good. That's just how it goes sometimes.
Weekend Update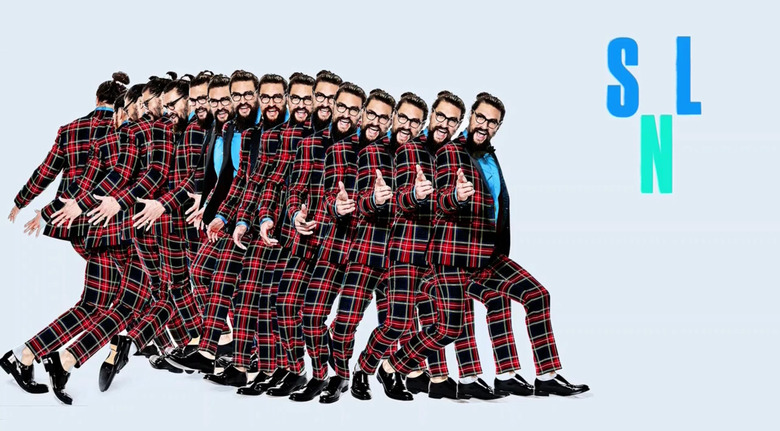 Weekend Update delivered some outstanding one-liners this week, including an amazing reference to Krang's body suit from Teenage Mutant Ninja Turtles, which just goes to show you how the times have changed at SNL with pop culture references skewing into the 90s. But aside from that, this was just a good round of jokes from Colin Jost and Michael Che.
Travel Expert Carrie Krum – In what seems to be an adequate replacement for Vanessa Bayer's Jacob the Bat Mitzvah Boy, Aidy Bryant brings a young character to the Weekend Update desk with some vacation tips. Unfortunately, all her vacation tips are centered around her small personal experience and involve a lot of her cousins (who are boys!). It's such a cute character, but if it's meant to be recurring, I feel like it will have diminishing returns. But then again, there's a lot of inspiration that can come from the various vacations people went on as kids, so maybe it could be a new staple.
Michael Che on Bidets – This was a fun change of pace, and it reminded us how good Colin Jost and Michael Che can be when they mess around with each other. Che switches sides of the desk in a clumsy way to chime in on bidets. He even makes a great meta reference to how Leslie Jones yells at Colin during her segments. I wish stuff like this happened more often.
The Host
When Jason Momoa strolled out onto the main stage at Studio 8H in pink pants and bare feet, I knew he was going to be amazing. While he was clearly excited and nervous all at once, he didn't let that stop him from having one hell of a good time during the show. He threw himself into each and every sketch and really showed off his skills, both in character work and physical comedy. He's the kind of host that should be welcomed back all the time, and I can't wait to see him return in the future.
The MVP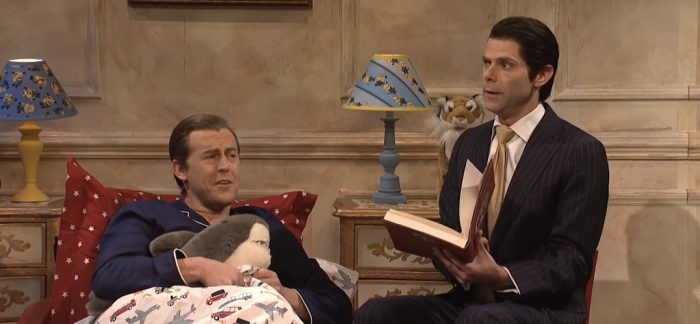 Mikey Day & Alex Moffat – Not only do these two continue to be great as Donald Trump Jr. and Eric Trump, but throughout the night, they did great character work, especially in Day of the Dorks and Elf on the Shelf. Mikey Day had a little bit of an edge over Alex Moffat since he was in more of the sketches, but they were both so great together in the cold open that I couldn't help but give them both the title this week.
The Final Word
This episode sets the bar reasonably high for the Christmas episode, the last episode of 2018, to deliver next week. Jason Momoa brought so much energy and enthusiasm to the show that it's going to be hard to top. But if anyone can do it, it's next week's host Matt Damon, especially if the episode brings the usual guest stars who tend to pop up during the holiday episode before Christmas. We'll just have to wait and see what happens.