VOTD: Steven Spielberg Looks Back On 'Schindler's List' After 25 Years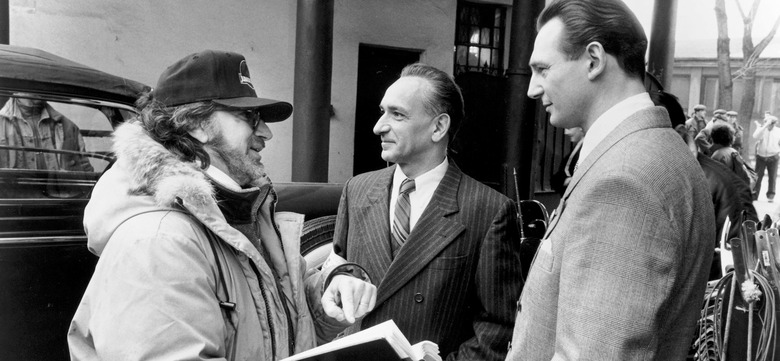 This year marks the 25th anniversary of Schindler's List, and the film is back in select theaters for a limited time starting today. It's a milestone motion picture, earning Steven Spielberg his first Oscar for Best Director, not to mention taking home Best Picture.
But more importantly, it's probably the most harrowing and acclaimed depiction of the Holocaust that the big screen has ever seen. Schindler's List inspired survivors to tell their stories, and it also inspired Spielberg to start the Shoah Foundation, an organization that exists to further the remembrance of the Holocaust to ensure that what happened all those years ago during never happens again.
In a new interview with Lester Holt on NBC Nightly News, Spielberg sat down for an extensive 22-minute segment about Schindler's List, looking back at the making of the movie, the legacy it has created for victims and survivors, and the people who have been touched by the film over the past two and a half decades.
First, if you've somehow avoided seeing Schindler's List, here's the re-release trailer and the official synopsis:
Businessman Oskar Schindler (Liam Neeson) arrives in Krakow in 1939, ready to make his fortune from World War II, which has just started. After joining the Nazi party primarily for political expediency, he staffs his factory with Jewish workers for similarly pragmatic reasons. When the SS begins exterminating Jews in the Krakow ghetto, Schindler arranges to have his workers protected to keep his factory in operation, but soon realizes that in so doing, he is also saving innocent lives.
Schindler's List Steven Spielberg Interview
Spielberg talks about how Schindler's List came into his life, and believe it or not, it wasn't a movie that the filmmaker sought out to make himself at first. In fact, it was Universal Pictures executive Sid Sheinberg who first stumbled upon the book that inspired the film. Before there was even a fraction of interest in turning it into a movie from the filmmaker himself, Sheinberg had bought the rights to the book for Spielberg to direct.
Schindler's List ended up being a life-changing experience for Steven Spielberg, not only as a filmmaker, but as a Jewish man. He's talked extensively in interviews about how the film helped him become more in touch with his heritage, something that he was embarrassed about for a long time when he was younger. But this movie awoke something in him, and it gave him a newfound voice that he wanted to give to survivors who hadn't yet told their story of living through this dark period in history.
This is a must-see film, not only because of the incredible storytelling on display by one of the most gifted filmmakers of all time, but also because of the importance that this moment holds in history. In today's cultural climate, it's more important than ever to remember the tragedies of the past so that we aren't doomed to repeat them.
Schindler's List is back in select theaters now. Find out where you can see it right here.